Eddie Bauer sent us over one of their new trail shoes, the Highline Trail earlier this summer and since then these lightweight trail shoes have been tested in the wet New England mountains and the dry Colorado desert and we enjoyed these colorful kicks no matter what the climate!
Outsole
The Eddie Bauer Highline Trail shoe has a SportGrip® XT all-season outsole. The tread pattern has miniature cleat shaped grips that are about a 1/3 inch deep that add just enough grip without being too clingy. The underarch has gaps where you can see the midsole – definitely one of the aspects that makes this shoe so lightweight. From the past few months I've been using this shoe it appears that the outsole of this shoe grips really well on dry rocks, and although it is lightweight I found that it was quite durable. Would I call this the kind of outsole you would put on a "trail" shoe? No. I would define this shoe as more of a lightweight all-terrain trainer. I've worn it doing everything from high intensity workouts at the gym, to climbing big and small mountains and trail running and it performs decently in most fields, but I prefer a bit of a stiffer outsole on my trail shoes.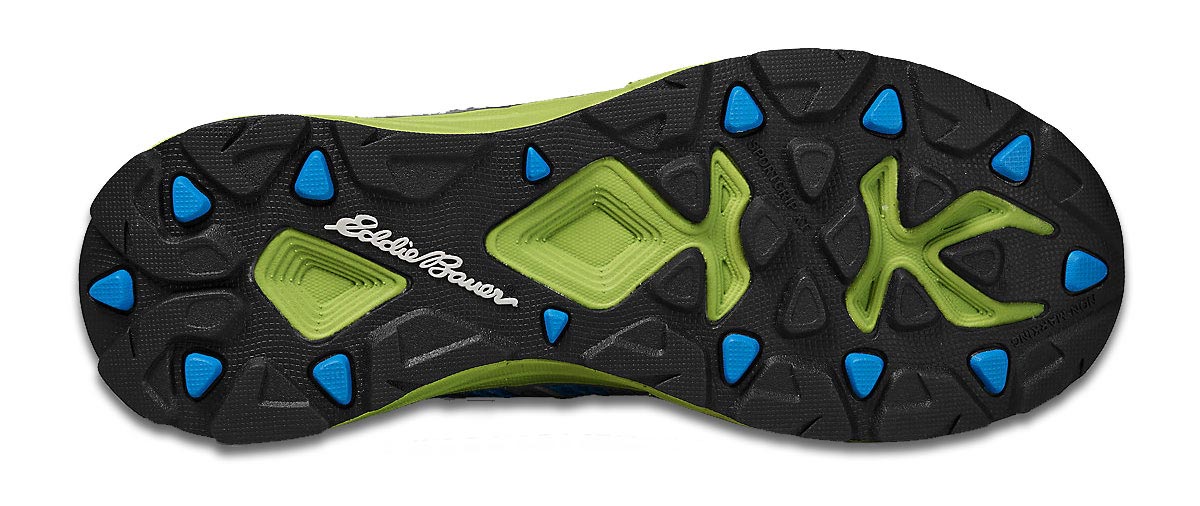 Midsole
The midsole of this shoe is made from MidLite premium EVA and has an InsoFit cushioning EVA footbed. This provides just enough cush so that you don't feel every rock you step on, but not so much that you don't feel connected to the ground. This feature is great for getting a good ground feel during a mild trail run, but at the end of a 8 mile mountain trek my feet were a bit tired of feeling so much of the rocks and roots they stepped on. I love doing outdoor high intensity interval training in these shoes as they transition well from pushups to hill sprints and are lightweight enough I don't get too annoyed during core exercises.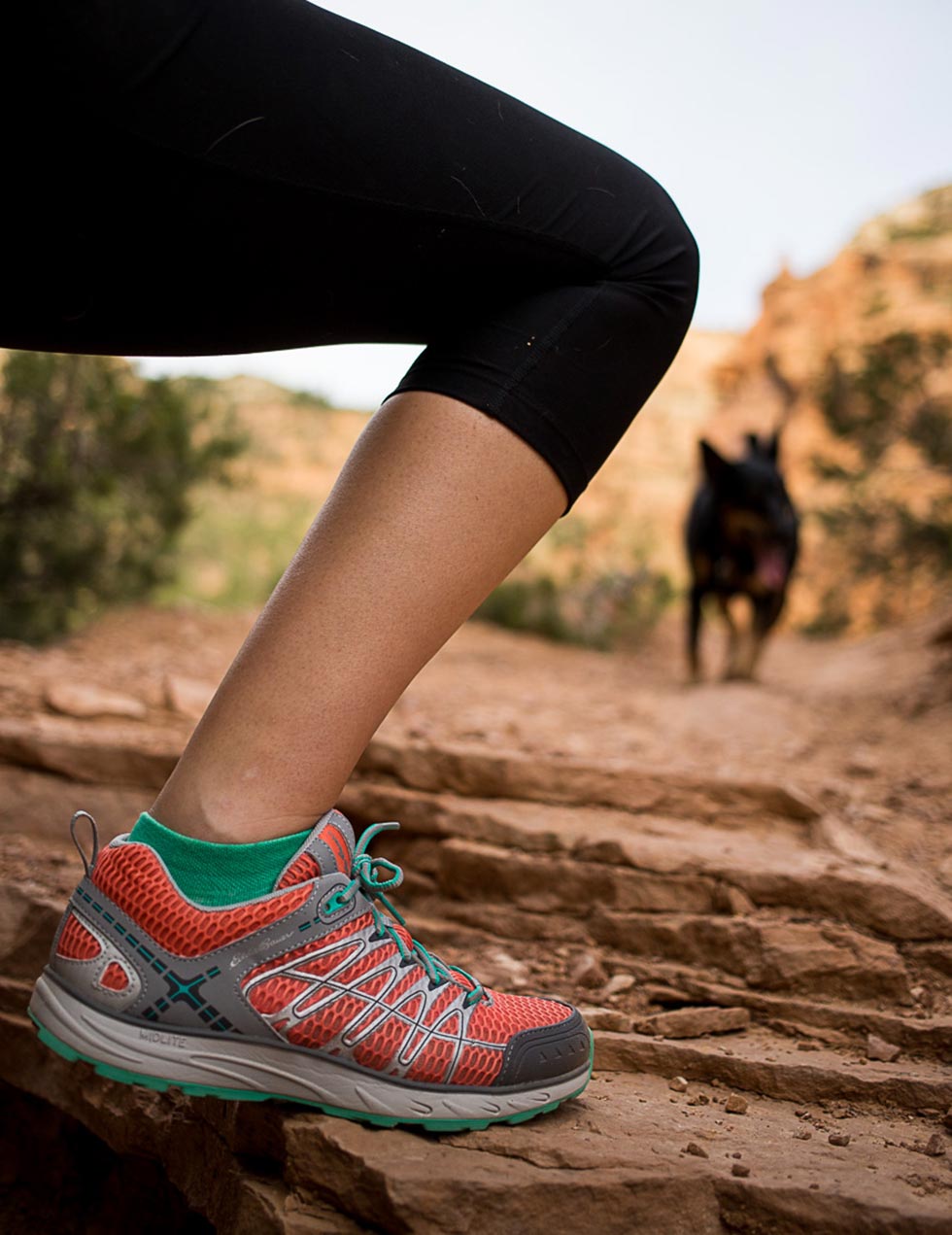 Upper
The duo layer mesh upper of this shoe is super breathable, but also has the tendency of allowing a fair amount of dust, dirt and sand into this shoe. Perhaps not the best shoe for running on the beach, but great for hot days or people with exceptionally sweaty feet. The laces are threaded through rubber anchors and the mesh upper is thick enough that it hugs your foot tell for a comfortable ride. The tongue slides down a bit to one side or the other while you are running but not so much that it is bothersome.
Fit
The Eddie Bauer Highline Trail shoe has a narrower fit and a smaller toe box. I normally wear a size 9 in most running shoes, but sized up to a 9.5 in the Highline. The heel cup has a lot of cushioning and holds the heel in place well. The midfoot is quite narrow, but the upper and lacing is flexible enough to accomodate a wider foot. The toebox of shoe shoe was where I ran into some problems. It is very narrow. I had to size up and wear the shoe a few times before the toe box broke in well enough that my toes weren't rubbing and even so I wouldn't wear this shoe for longer than a 5 or so mile run or 3 mile hike for fear of a few blisters. Anything shorter than that though and I think of the toe box as more aerodynamic like a lean, mean fighting machine.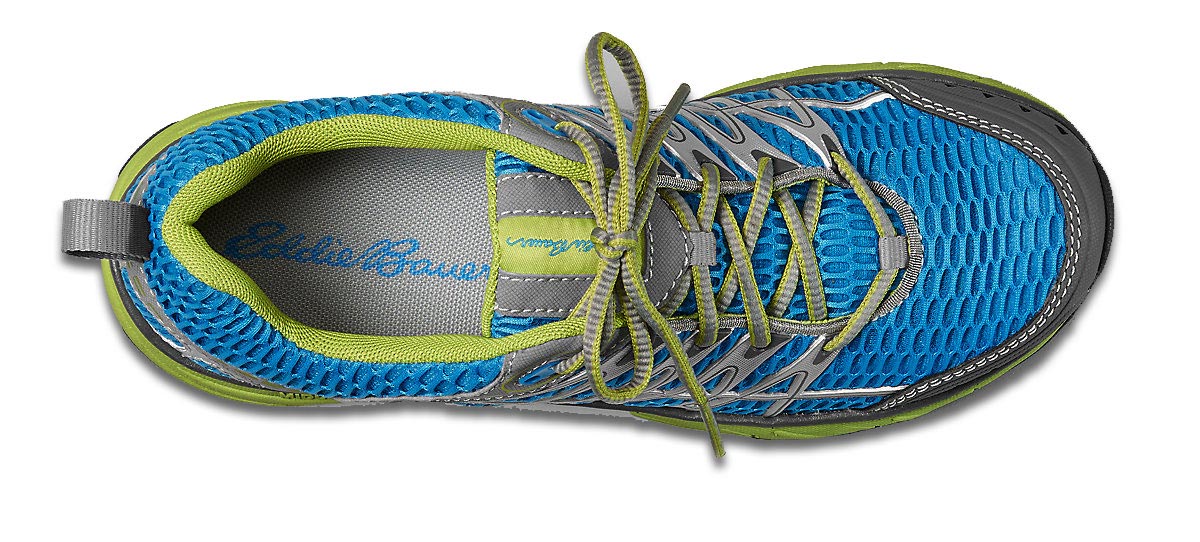 Ride
I always find it rather exciting to try out shoes from a brand that isn't known for their shoes – you never really know what to expect. I anticipated the Eddie Bauer Highline Trail Shoe to be good for light hikes, trail running and gym workouts and was thrilled when the shoe met my expectations. There isn't a ton to this shoe, but that's what I love about it – it's super lightweight making it great in a variety of settings. There is something really nice about pulling on a pair of lightweight shoes before an adventure and thinking 'this isn't going to be so bad' because exploring is always more fun when your feet feel like they can fly. The tread on the outsole is just enough to be grippy on a hike with some decent verticals, but not so grippy that it's too much to wear to the gym. I tested these shoes hiking on several mountains in different climates, they performed much better on a dry day on Camel's Hump in Vermont than they did on a rainy day on Sugarloaf in Maine. I ran in these shoes a few times through the woods and on pavement and wouldn't rely on the stability of them for long runs, but for anything less than 5 miles I thought they performed decently.
Overall
If you are looking for a lightweight simple trail running/light hiking shoe, the Eddie Bauer Highline Trail is a great fit at an affordable price.  They don't take up much space or add much weight to a carry on or backpack making them a great jack of all trades shoe for your multitude of outdoor adventures.
View More:
camp & hike
,
Eddie Bauer
,
footwear
,
hike
,
run
,
running shoes
,
trail running
,
trail running shoes
,
travel