A question we get a lot here at Gearist is "What Bike tools Should I carry?" Or some form of "What's in your bike repair kit?". I put together this list of products that I've been using, why I use them and some tips to get the most out of them. I've found that these tools cover most emergency roadside repairs to get you off the side of the road and moving again.
I often ride in unfamiliar places far away from services, so it's important for me to have backups and be self-sufficient. CO2 and a pump. An extra tube and a patch kit… see where this is going? Even when you're close to home in a group, the extras can help out a friend and save the ride for everybody. Don't forget to check your supplies, at least at the beginning of every season to make sure everything works. I've had glue in patch kits dry up. CO2 inflators with dried out gaskets and things get misplaced on the road that you forget about later.
Here at Gearist, we write about products that we actually use and hope you find helpful. Our content may include affiliate links to those products. If you click through and make a purchase, it doesn't cost you anything and we get a small commission to keep this train moving.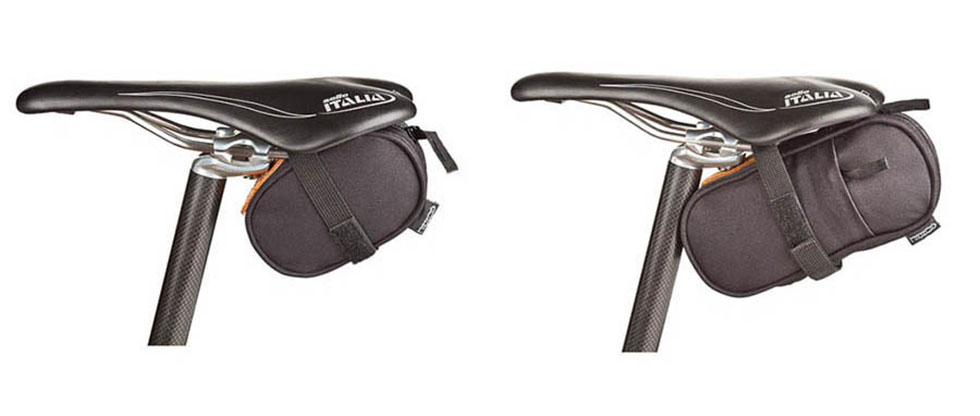 Arundel Seat bag
I've tried many bicycle seat bags and keep going back to seat bags from Arundel, particularly the Arundel Dual and Tubi . With today's saddles getting more contoured, the Arundel seat bags are designed to tuck out of the way to eliminate any rub against your expensive cycling shorts and bibs. They fasten with a single strap that runs through your seat rails and compresses the contents for a rattle free ride.
Designed to carry two road (or one mountain bike sized) tubes with a few extras, the Arundel Dual is my primary go to bag. I carry just one tube, and it allows enough room for all of the extra goodies.
The Arundel Tubi was originally designed for tubular tires, but with the longer shape I can fit a mini pump in here. I like to carry one on my commuter bike or when I'm touring. With the mini pump in the bag, everything stays together, Whether from bike to bike or for security reasons. I also carry a larger multi tool in here that has wrenches for fenders on the commuter bike.

Topeak Micro Rocket Al pump
One of the lightest, smallest and easiest to use in its category, the Topeak Micro Rocket Al mini pump weighs in at a mere 65 g (2.29 oz) and measures 16cm (6.3 ") long. Meant to be used more as an emergency pump, It takes alot of strokes to get up to a rideable pressure. Even if you use CO2, the Micro Rocket Al is great way to start your tube before hitting your cartridges. I can fit one inside of the Arundel Tubi bag or I use the included water bottle mount on other bikes. If I'm riding with a group and need to get going quickly, I'll head straight for the CO2. Otherwise, I'll usually spend the time to inflate entirely with the pump- Keeps a cartridge out of the landfill.
Continental Race Inner Tube & Homemade Tire Boot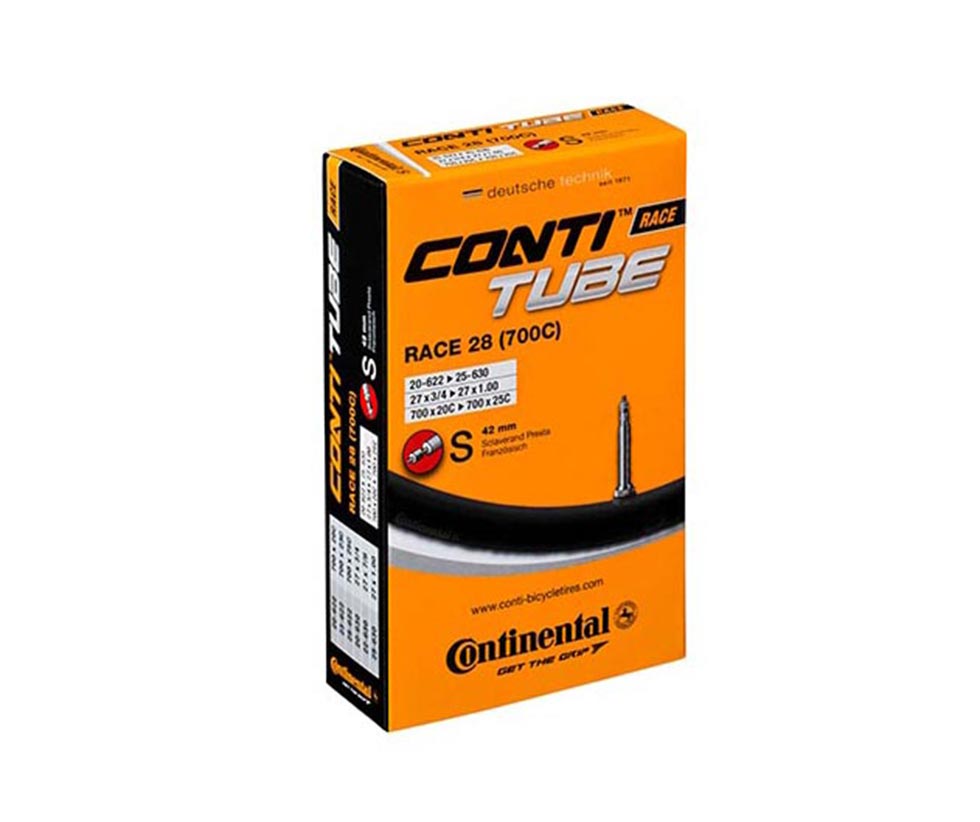 Make sure you have right size tube with you, both in diameter and stem length.  I use Continental Race Tubes: Reasonably priced and decent performers in quality and longevity. I also cut a tire boot out of tyvek- old race number bibs or tyvek envelopes work just fine.  Whenever I get a new tube, I inflate it at home first to make sure there are no leaks. I'll put a small piece of innertube over the valve stem and wrap the tyvek tire boot around and put it in a ziplock bag. This is a "just in case" thing to protect the tube from abrasion (learned from experience).  Lastly, don't leave your punctured tube on the side of the road.  Put it in the ziplock and throw it in your jersey pocket.  You can patch it later (see below).
Park Tool VP-1 patch kit or Rema Tip Top patch kit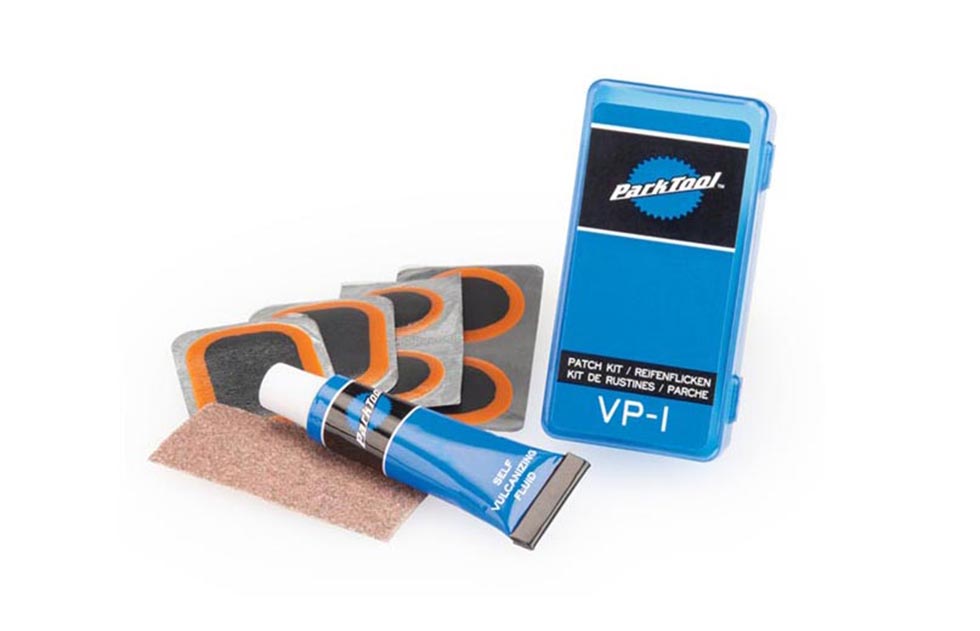 Never, ever depend on just having one extra tube. Most patch kits come with enough material to repair up to 6 punctures. I hope you never need them all, but it's good to know your covered.   I either use the Park Tool VP-1 or Rema Tip Top, depending what's inexpensive and available. I replace these at the beginning of every season or after each use so I'm sure to have fresh glue. I then use old kits immediately to patch my punctured tubes I've been saving.  It's a win / win!
Genuine Innovations AirChuck

The Genuine Innovations AirChuck is as close to simple as you can get in an co2 inflator. Ours weighs 16g grams, made from metal and is easy to use with it's push-to-inflate technology on both presta and schrader valves. I've used a bunch of other of inflators over the years and found that simple is better. The only minor downside is that it only takes threaded cartridges, but that hasn't been a problem anywhere in the US for me. I rarely use CO2, but I'm sure to check the inflators during my pre season check to make sure they work properly.
Extra CO2 cartridge(s)
Depending on your strategy, you'll want an extra or two. With different volumes available for different size tires, make sure you have the size you need. If you're not using the Genuine Innovations AirChuck as above, make sure you have threaded / non-threaded cartridge as needed. Like your punctured tubes, make sure you take your used cartridges home with you.
Crank Brothers Multi Tool M17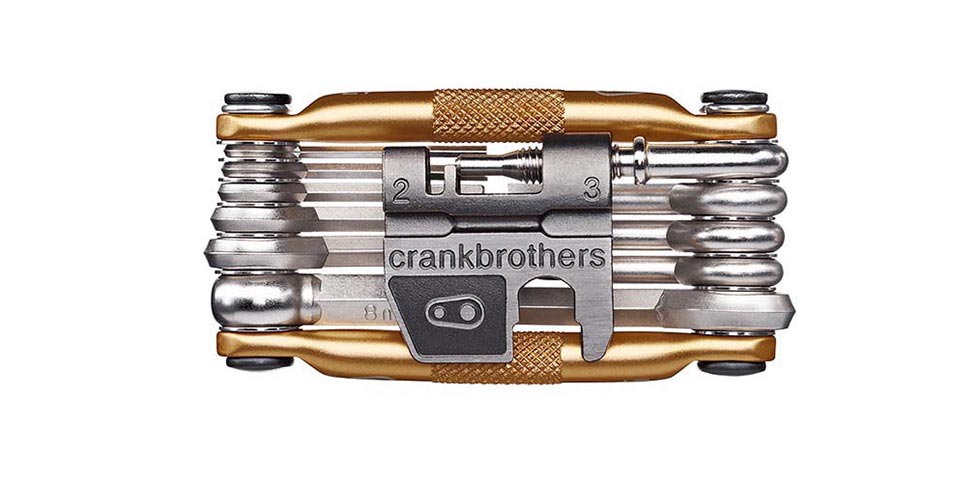 Packed full of tools, this Crank Brothers Multi Tool probably has more than you need, including a chain tool. Even though I carry a quick link (see below), the chain tool is a must have for me. It saved me one day when I ripped off my rear derailleur and had to shorten my chain to make my bike a single speed. I've also found that during group rides, it's a lifesaver when needed.
Topeak Alien 2 Multi Tool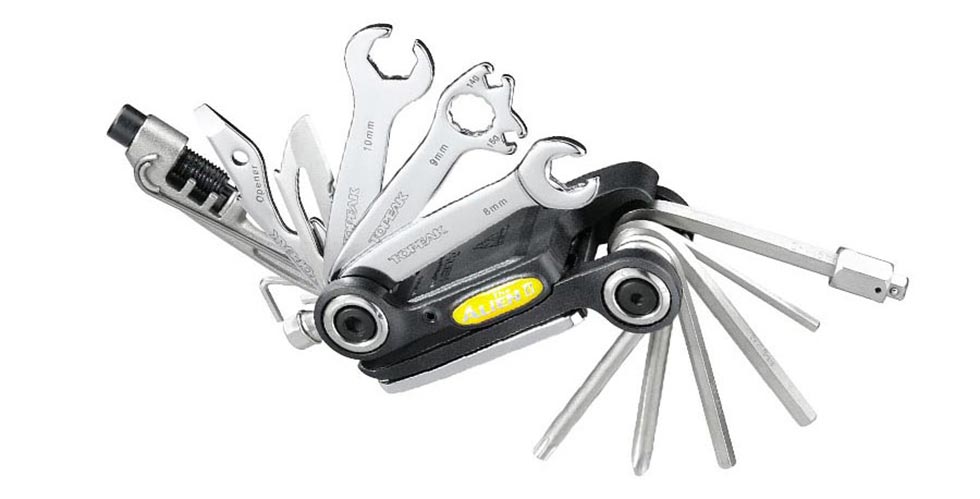 Instead of the Crank Brothers M17 Multi Tool above, one of Topeak Alien 2 Multi Tools is in my bag that goes along with my commuter and touring set up. It's heavy and bulky, but has features I need like open end wrenches for my fenders and a 10mm allen wrench. With additional things like a bottle opener and a sharp blade, it really is the Swiss-Army knife of the bike tool world. Whichever way you go with a multi-tool, take a few minutes to poke around your bike with it to make sure its got everything you need.
Soma Steel Core, Park Tool TL-1.2C or Pedros Tire Levers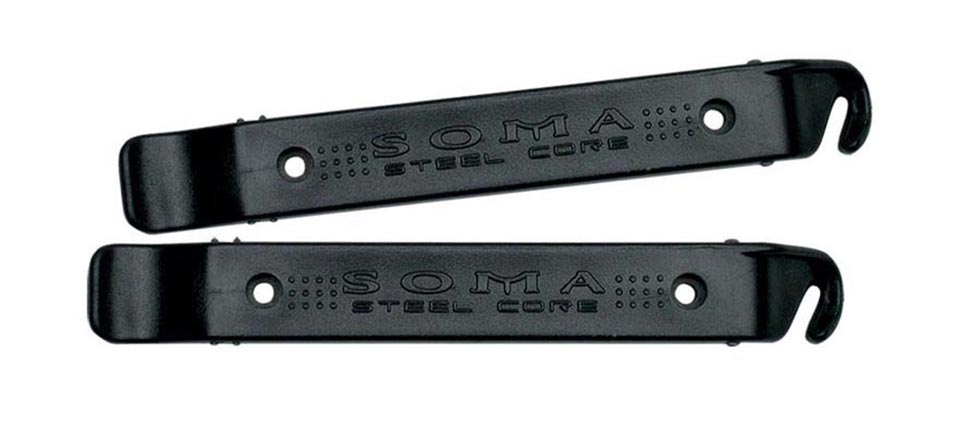 For such a simple tool, tire levers are one of those items where everyone has a favorite. I used to think my technique was good enough where I could use anything. With the increasing popularity of tubeless setups, bicycle tire fit has gotten tighter than ever. One day I was humbled after a 30 minute wrestling match trying to change a flat. Two broken levers and some really sore fingers later, I bought the Soma Steel Core Tire Levers. The Soma tire levers have a solid piece of steel running all the way to the tip of the lever to prevent breakage with a tight rim / tire combination. They haven't failed me yet.
If you find that you don't quite push the limits to change a tire (you have practiced at home, right?) The classic Park Tool TL-1.2C tire levers are a good choice. Lightweight and inexpensive. Pedros Tire Levers are also a favorite for those who like a wider shape.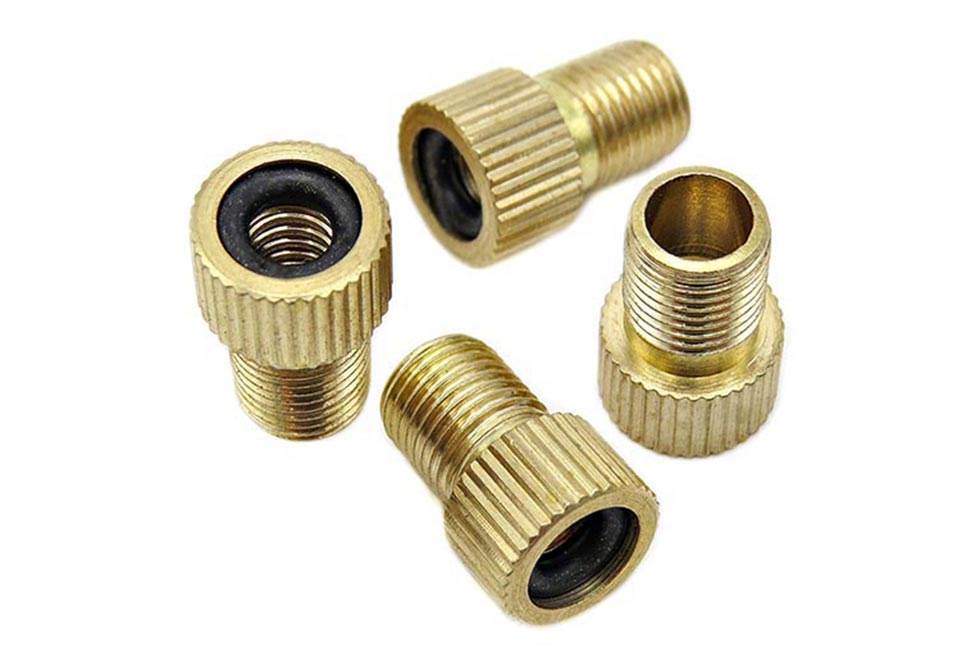 Presta Valve Adaptor
If you're new to this game and you have presta valves on your bike, you probably found that out the hard way when you pulled into the gas station to add air to your tires. If you're caught in a pinch check out this video we did on a hack. Since you're reading this, plan ahead pick up some of these "real" adaptors to keep around. I usually keep one in my Patch Kit Box so it doesn't get lost.
KMC Missing Link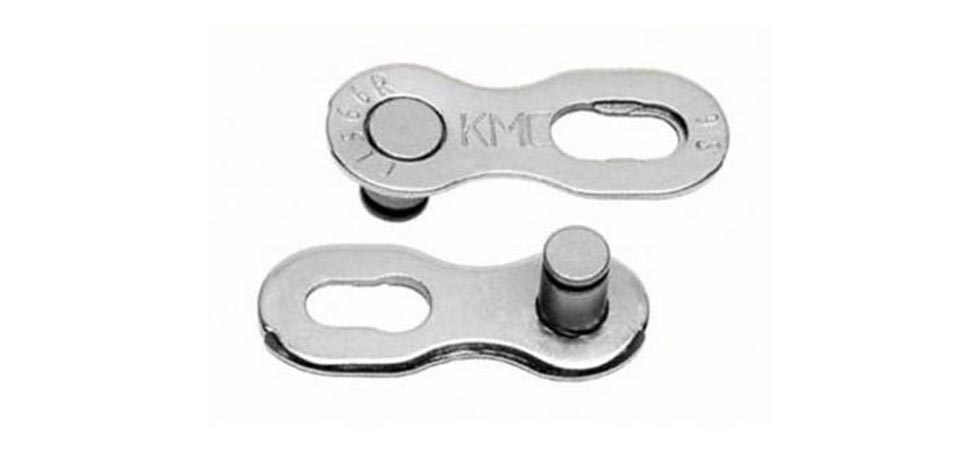 Most chains I've seen lately have a quick connect master link that allows for easy removal of the chain without a tool.  The master links also make a for a quick fix to a broken chain. I'm pretty competent with a chain tool but these can get you moving again in seconds while getting minimally filthy.  I've been using the KMC Missing Link brand lately, but other reputable brands are Wippermann>, SRAM, and Shimano, depending on your needs.  Make sure to buy a master link compatible with your chain, depending on how many speeds (9 /10 /11/ 12) you have.
Wet Ones Antibacterial Hand and Face Wipes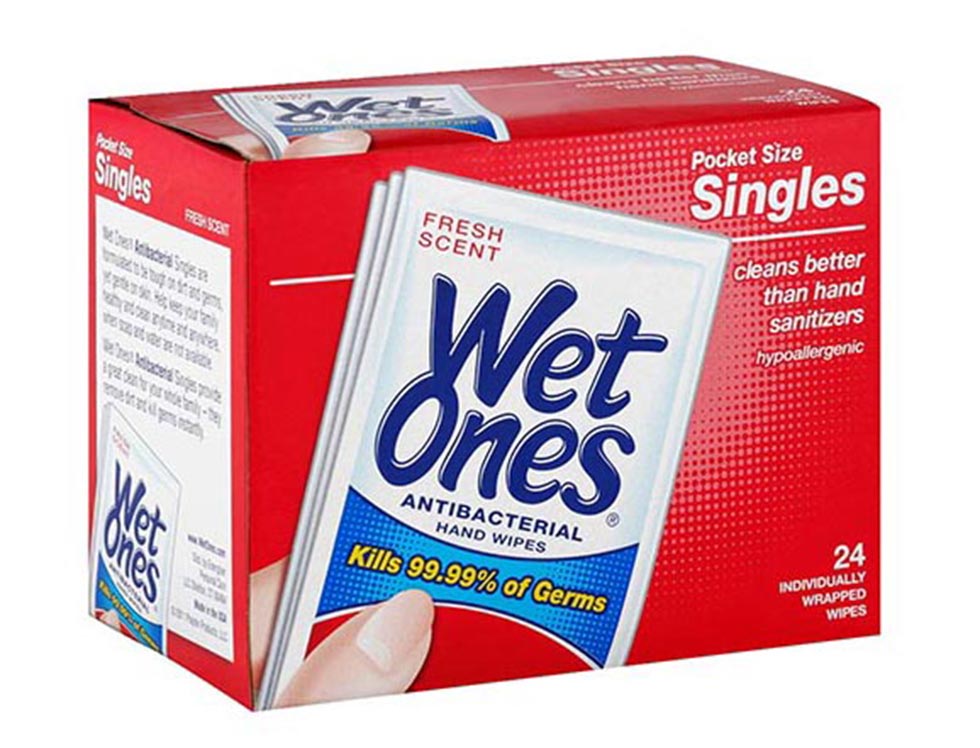 These could be one of the most used items in my seat bag and I always have a few on hand. Good for post flat fix clean up, after a bathroom stop or general cleanup.
View More:
accessory
,
Arundel
,
bike
,
commute
,
Continental
,
Crank Brothers
,
cycle
,
Genuine Innovations
,
Park Tools
,
Rema
,
Soma Fabrications
,
Topeak