While we adore sleeping in the great outdoors, finding comfort on the ground (or in a hammock for that matter) can be one of the most challenging parts of any trip. Not only because of random, pokey things on the ground but also because of losing body heat to ground conduction.
Even when you do find something that aims to address these issues, the trade-off in weight can be significant. Today we're going to look at something we've had since the early spring and have had in temps below freezing and up to the 70's – the Insulated Static V Lite Sleeping Pad from Utah-based Klymit.
The Klymit Insulated Static V Lite is one of four sleeping pads in Klymit's Winter Sleeping pad lineup. With an R-Value of 4.4, it holds its own for warmth against pads like the Exped Synmat 7, Therm-a-Rest NeoAir Xlite and the Big Agnes Insulated AirCore Ultra. Weight and packed size in this group are all similar, but the one place that the Klymit stands out is an unconventional 23 inch width, where most of the others are 20 inches wide.
If you're not in market for a wide 25 inch pad, the extra 3 inches of the Klymit is a welcome feature.
Materials and Construction
The body of the Insulated Static V Lite is made from a durable, yet smooth, 30D polyester top and bottom.
Underlying that, and a feature which I don't think enough attention is paid to much of the time, is an antimicrobial laminate to stave off the funk (honestly, people sweat ALL THE TIME while sleeping so why would it be different when not in your bedroom?).
On the inside of the pad we find Klimalite synthetic insulation (not to be confused with ClimaLite fabric from adidas) which, according to its description, "slows the transfer of air between the top and bottom halves of the pad for improved thermal performance" – more on this later.
The layout of the sleeping pad itself is where a good deal of the technology comes into play.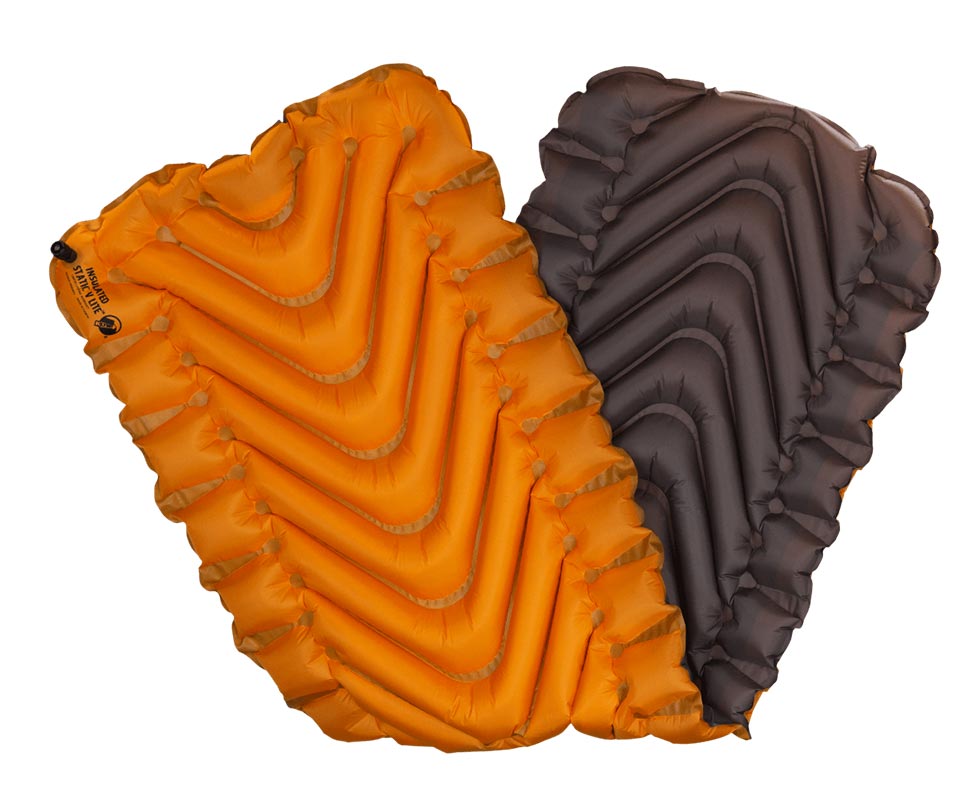 First, the V-shaped chambers are something that Klymit has put to use since its inception and for good reason. These provide an excellent, multi-axis weight distribution that truly enhances comfort.
Second, the space in between the chambers (wells) are very deep. Why is this important? Well, in pads where the top surface is flat (or close to flat), the insulation in your sleeping bag underneath your body compresses and ceases to work. In this case, the insulation is able to expand into these gaps and while it's not 100%, it allows for much more insulation and loft.
Framing the main, V-shaped chambers is a side rail on each side which go a long way to keeping the body in place during sleep – which, if you toss and turn even half as much as I do while camping, is a big deal.
Probably one of my most oddly favorite things on the Klymit Insulated Static V Lite is the air valve. Many valves twist down only so that you either have to have a very talented tongue or you lose air but in the case of this pad, the valve simply snaps closed and THEN you twist it closed, losing no air in the process.
Also included with the pad area patch kit which stows in a pocket in the included storage sack – because a patch kit left at home does you no good.
Performance
Before I get to the comfort and insulation and all that, I want to tell you about the coolest part of the Insulated Static V Lite and that is just how quickly it inflates.
In many air mattresses you've got to use a ton of air (and brain cells) to get the thing inflated but in this case, Klymit advertises it as being inflated in, "as few as 10 breaths". When I read this I actually laughed out loud – and then I inflated it in 10 breaths. For real.
Also making the inflating that much easier since I didn't lose any air was the valve which I spoke about above. So, as far as inflation goes, this thing is on point.
Now for the insulation; I slept with this pad in a hammock above and below freezing where a pad is truly necessary and felt perfectly comfortable. The side rails also kept the pad underneath me without having to do that weird hammock rolly-poly thing when a pad slips out from under your body.
On the ground the insulation was spot on, even on ground that hadn't seen sunlight since last fall. What's impressive is the quietness (yes, sound can be an issue with insulated sleeping pads) and the pretty much unnoticeable nature of the Klymalite insulation.
As for comfort, I love the fact that the wells in between the channels are so deep and their ability to allow sleeping bag insulation to do its thing. However, if you're using an ultralight sleeping bag without a back, it may be a bit cooler than you'd like since those don't have the insulation to fill the wells.
Whether on my back, stomach or sides I was thoroughly impressed with the fact that sharper parts of my body like my hips and shoulders could be in full content with the pad without compromising the structure and comfort.
Finally I want to mention the weight and packability which are key elements to this being such a solid option for backpacking trips and other things where space and weight are at a premium.
The pad alone comes in at 19.4 ounces and the pad in it's storage bag including the patch kit comes in at 20.2 ounces. Now, does Klymit make a pad lighter than this? You bet – in fact, their Inertia X Lite pad comes in at a minuscule 6.1 ounces but nothing else that is insulated comes close.
As for packability the entire thing rolls up and into its bag at about the size of half a foam roller and stows easily.
Overall
The price tag of the Klymit Insulated Static V Lite is about $95 and while there are cheaper, and much more expensive insulated pads out there (even by Klymit) the weight, packability, comfort and insulation of this pad make it well worth the cost.
This is a pad attuned to the human body instead of just being a blank, air mattress that simply keeps you off of the ground.
As someone who has a tough time getting comfortable in camp, I was asleep inside of 5 minutes. Good stuff indeed.
View More:
Backpacking
,
Camping
,
Klymit
,
sleeping pad