As late summer days are quickly becoming reminiscent of the chilly fall days to come, camping trips, picnics in the park and hammock excursions need a little something extra. Okay, okay I'm feeling a little déjà vu as I write this review – just about this time last year I was testing the original Puffy blanket from Rumpl, and here we are a year later with the Down Puffy – same concept different materials and a higher price. Is this indoor/outdoor blanket just as durable, water resistant, washable and fantastic as the original? Keep reading and I'll tell you!
Materials and Construction
The folks at Rumpl sent us their Down Puffy blanket to test out measuring 54×80″ (the only size it comes in), in black with white trim. Rumpl Puffy's use the same technical materials found in premium sleeping bags and puffy jackets; the outer material is made from durable 20D Ripstop Nylon with Durable Water Repellant finish that is water, stain, and odor resistant – and with sustainably sourced 600 fill duck down insulation this blanket is machine washable as well! The stitch work was inspired by the textures found in nature. The Down Puffy weighs a little over a pound and stuffs into a sack that is 7 x 7 inches.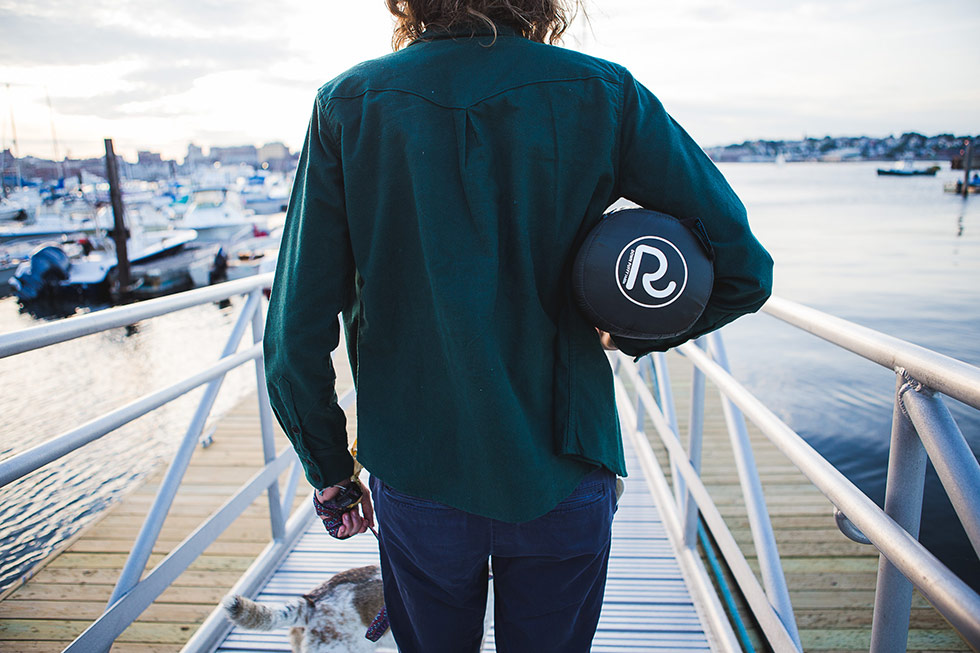 Performance
The afternoon the Rumpl Down Puffy showed up on my doorstep I was heading out to play with my pup in the park in my neighborhood – with a quick "YAHOO!" I ripped open the box and stuffed the blanket in my pack. That was the first major difference between the original Puffy and the new Down Puffy – it is much more "stuffable". Not only did I have an easy time stuffing the blanket into my pack, I was also relieved that this blanket was much easier to pack back into its stuffsack than its predecessor. Since that initial park jaunt – where I lay upon the comfy blanket while reading a book and watching my pup chew on every stick in our vicinity, I've brought this puffy along on a camping trip, a hike and a roadtrip around New England. It makes a great hammock blanket, extra layer over a sleeping bag or lap blanket in the car on chilly mornings. My dog especially loved being wrapped up in it while sleeping in the tent. This blanket is so lightweight it is great to bring along on a hike if you know you want to picnic at the top but don't want to get chilled – honestly forgot I had packed it until we got to the top and the wind picked up and I reached for my jacket and yelled out another "Wahoo!!"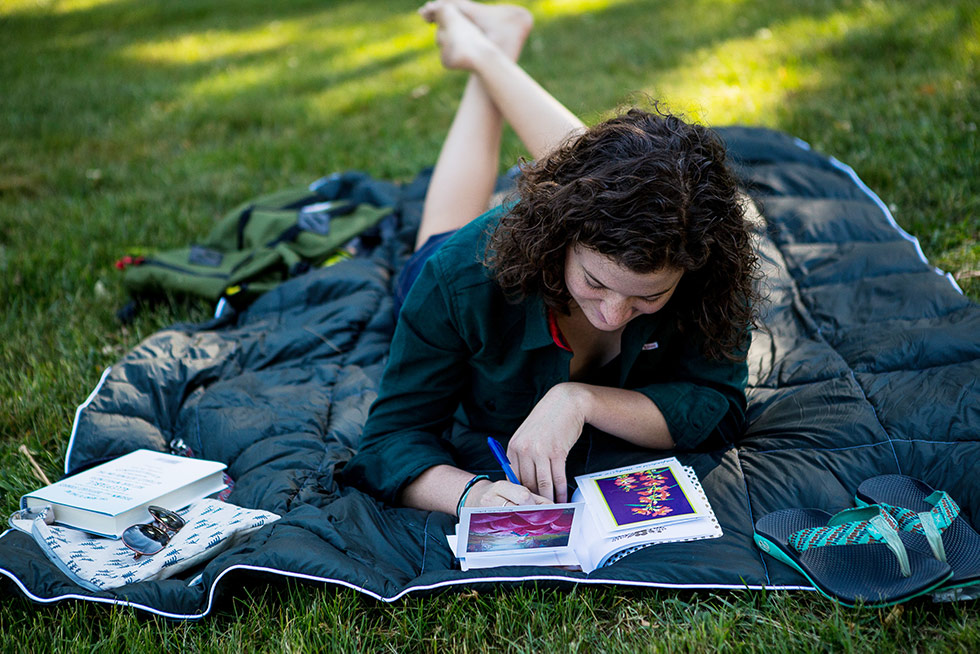 When on the road this puffy has been a picnic blanket, hammock blanket, and cozy cuddling blanket by a campfire. The blanket provides exceptional warmth, whether from a chilly ground below you or cold air above. The blanket requires a little bit of elbow grease to stuff the synthetic material into the stuff sack, but once in, it becomes portable, taking up the same amount of space as a mid weight sleeping bag.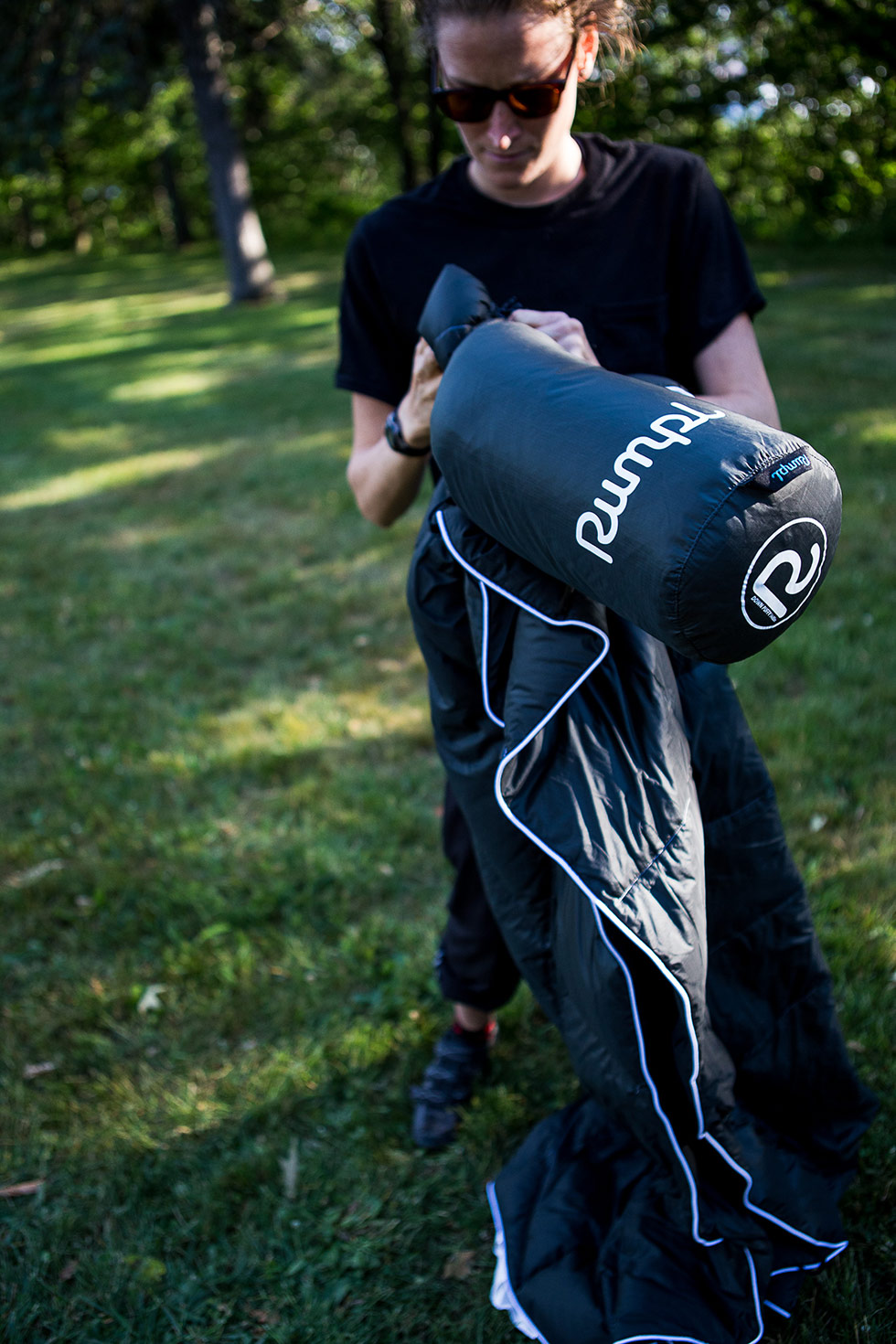 The best feature of this blanket is the fact that it has a DWR finish and is machine washable – taking away those little fears I associate with bringing any nice blanket with me when I travel. I don't worry about getting it dirty, or getting it wet as it washes well and a few drops of rain for spilt drinks will slide right off of the surface of the blanket.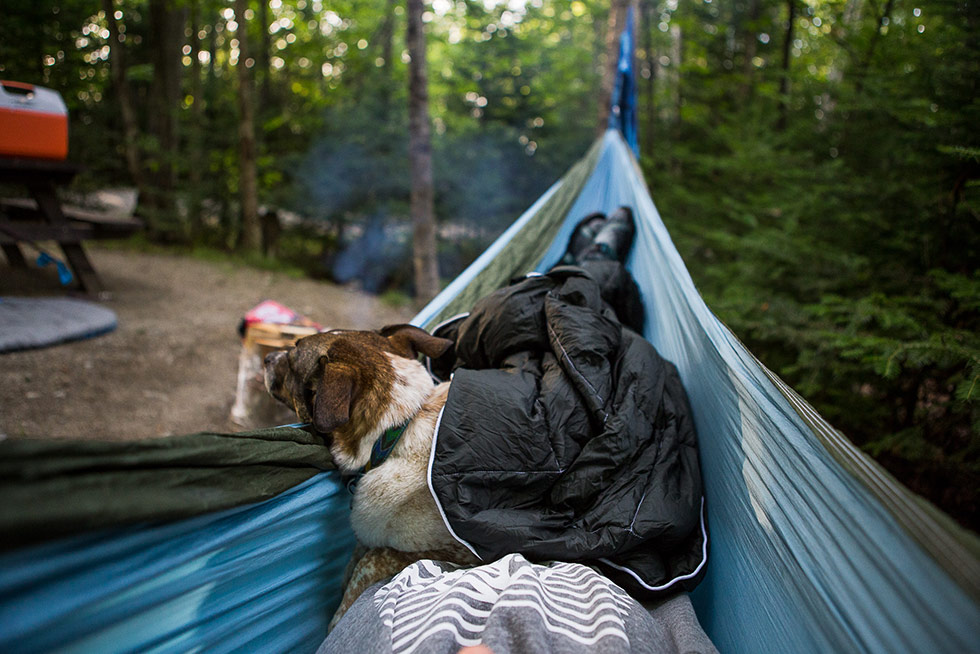 Overall
At $199 this Down Puffy is a step up in price (and I think quality) from the original Rumpl puffy and makes a great investment that has a 1 year warranty and is made with high quality durable materials. If you want to upgrade your campfire, hammock, or couch game, this blanket will do the trick – after all Rumpl does call it the "Cadillac of outdoor blankets" for a reason!
[photos by: gpowersfilm.com]
View More:
accessory
,
blanket
,
camp & hike
,
Rumpl
,
travel