Ferrari calls it Rosso Corsa. Porsche has Guards. Prince even wrote a song about a Corvette in the color. Red. It's the color of speed. And passion. After spending an evening with Trek's product team and a little spin, I've got no doubt that they had a little of both in mind when developing the new Trek Super Commuter+ 8S.
No, we're not going automotive here at Gearist and Trek isn't either but they're making a big push to replace at least one of those cars in your driveway with their flagship e-bike. Don't have a car to replace? Then say hello to a viable option to the headaches of mass transit and goodbye to the downsides of a slow, sweaty bike commute.
 Parts & Components
Most manufacturers use off the shelf e-bike components when designing a bike, and Trek is no different. But the key word here is design, and what you do with those components makes all of the difference in the final product.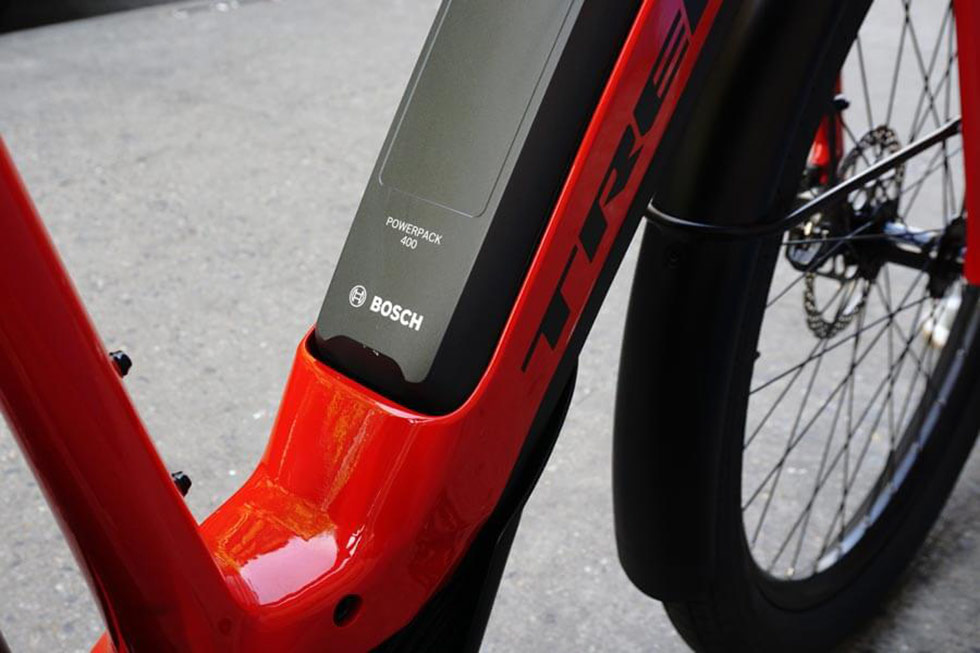 Trek went with a pedal assist system for the Super Commuter. There's no separate throttle to get moving, the motor kicks in once you start pedaling. Starting with an industry leading 350w Bosch Performance Speed motor, Trek uses a hydroformed aluminum frame integrating a 500w Bosch Powerpack battery (our test bike was equipped with a 400w) for a clean look and a low center of gravity. The combo is good for a pedal assist up to 28mph with a stated range of 18-80 miles.
A carbon fiber thru-axle fork up front coupled with high-volume Schwalbe Super Moto-X 2.4 tires on 27.5-inch rims rounds out the rolling part of the goods. Shimano hydraulic disc brakes handle stopping duties, working well to counter the added speed and weight (more on this later) in wet or dry conditions. A host of other parts help take care of the "commuter" part of the package: custom fenders with an integrated pannier rack in the rear and what I think is the coolest looking headlight ever, the Supernova M99 headlight with daytime run lights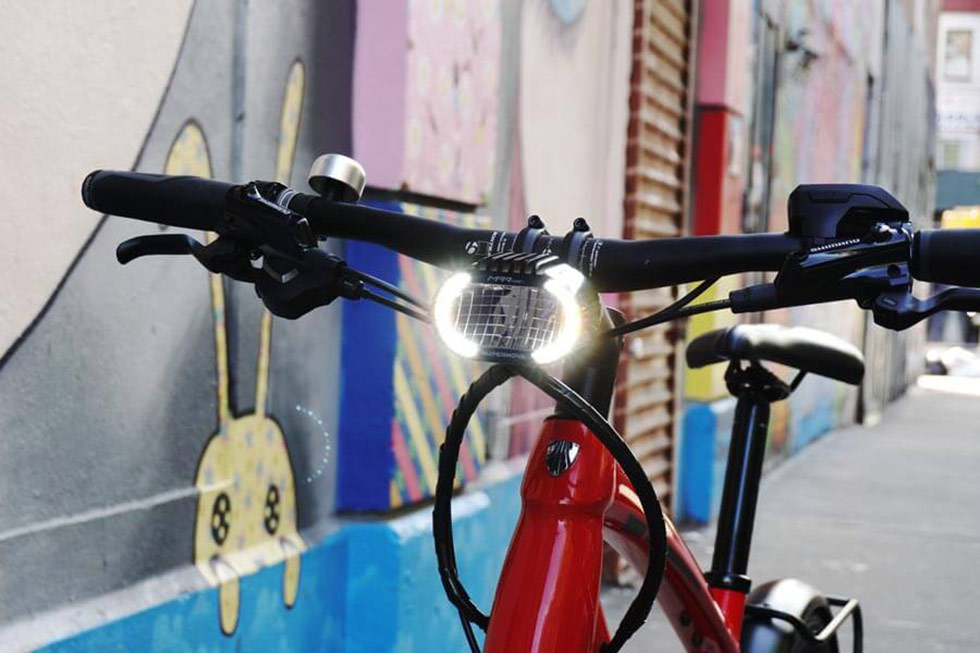 Details
I was immediately impressed with the Super Commuter+ 8S at first sight. It really is a good looking bike with a refinement in the details not present on other "Commuter" labeled bikes I've tested – both traditional and electric. Nothing looked like an after thought. Running through a list of questions with a Trek product manager revealed every little detail was purposely considered for a comfortable, durable, safe, practical commuter bike. In the past, I've had hassles with seemingly small things like pannier fitment (Trek tested several brands) mounting lights (Trek included a killer setup) and fender misalignment after some use (not gonna happen here thanks to good design). After getting all my initial questions out, it was time for the most important one: How's it ride?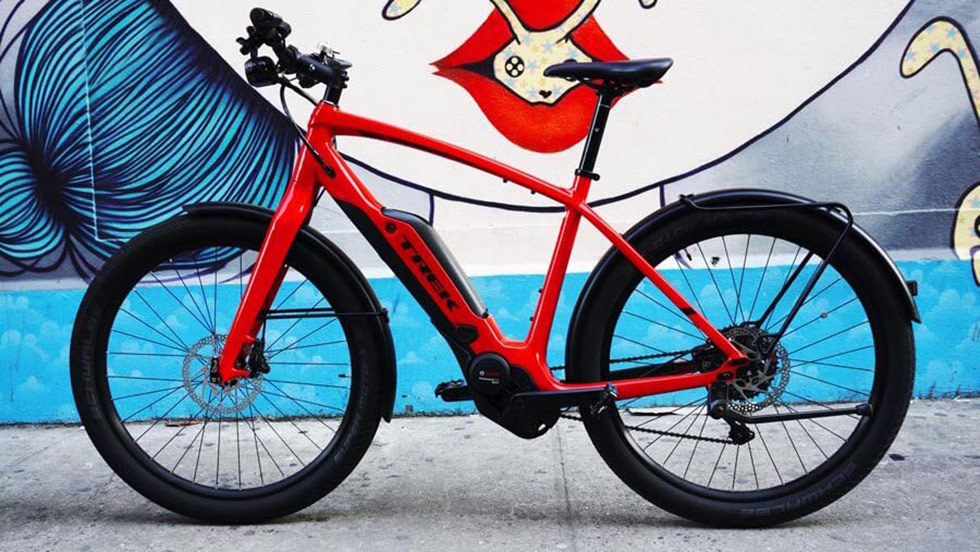 The Ride
With 4 different sizes available, I hopped on a 50cm, which is what i ride in a traditional road bike.  With a small adjustment of the Bontrager H1 saddle, I felt right at home. Not too stretched out, and not too cramped. The contoured Bontrager Satellite elite grips were a nice touch. They even had little bar ends to mix up hand positions.
I was only able to put in a few miles here in NYC on the Super Commuter+, with everything from stop-n-go tight turns through the lower east side and a fast wide open climb over the Williamsburg Bridge. Seeing that bike weight comes in at around 52 lb. with comfort-oriented geometry, I was expecting the bike to feel and handle like the other commuter bikes I've ridden – slow and steady. It was more like riding a high-end mountain bike as opposed to a delivery truck.  Trek opted to forgo a suspension fork, relying on the high volume tires and carbon fork to soak up bumps and keep the front end pointed in the right direction.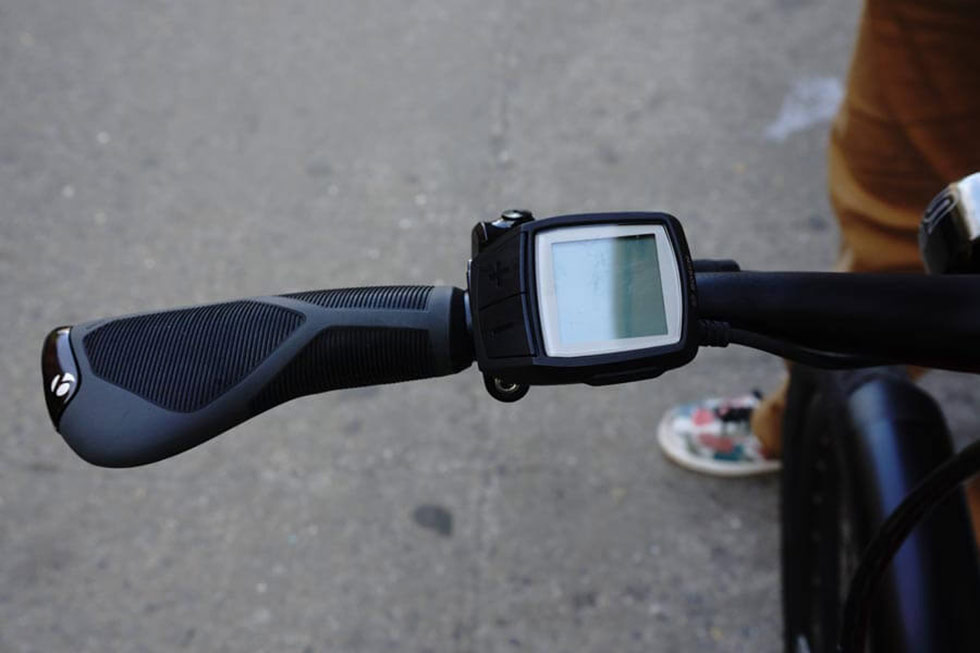 This was my first experience with the Bosch system. Similar to other e-bike systems, Bosch uses their small, easy to use Purion display to show battery level, range and speed along with four selectable power levels to assist the rider, but this is where the similarities end. The application of power with the Bosch was smoother than any other system I've tried, resulting in a natural bike like feel opposed to a bike-with-a-motor feel. While the differences aren't noticeable when cranking at top speed on an open road, unpredictable slower speed power surges are all but absent. The result is better low-speed handling, a huge plus when you're trying to squeeze through stop and go auto traffic.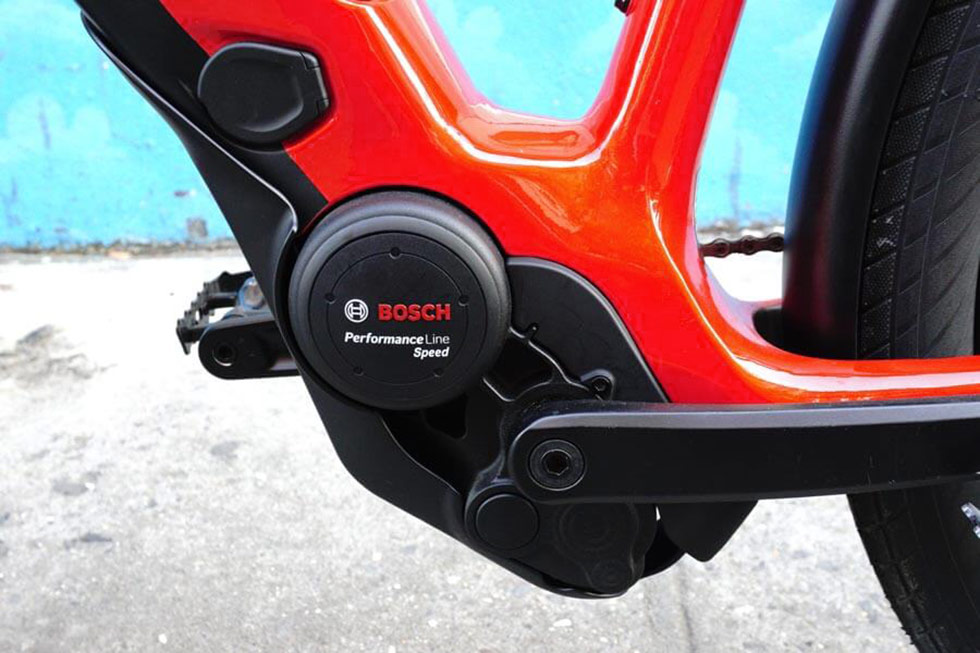 Overall
The Trek Super Commuter+ 8S is my current clear favorite of all the bikes I've ridden in the commuter category, but nothing is perfect. Two issues stand out to me. The first is the pannier rack. Like everything on this bike, it looks sleek and serves its function well but is missing a top shelf. This kills a little of the versatility for me. The second issue is a big one: the price tag. $5k (yes five-thousand dollars) isn't cheap. It's actually downright expensive. Or is it? If you own or have owned a car, you know they're not cheap either. Not cheap to buy, and definitely not cheap to insure and maintain over time. If you're legitimately looking to replace an auto or delay the purchase of new one, the Super Commuter+ 8S price tag starts looking a lot more reasonable. Even stacked up against the costs of train or bus tickets for a mass transit commute, it starts to make perfectly good sense.
 It's tough to get a long-term impression with a short-term ride, but the Super Commuter+ 8S definitely warrants a look if you're even remotely interested in an alternative to the usual.  And by usual I not only mean autos and mass transit but lower-end e-bikes as well. If the price tag scares you a little, Trek has an entire line up to consider which you can check out below.
View More:
bike
,
Cannondale
,
commute
,
cycle
,
e-bike
,
Trek