Specs and takeaways:
Name: Nike Zoom Fly 5
Weight (men's size 11): 10.93 oz / 310 g
Stack height: Heel – 39mm // Forefoot – 31mm // 8 mm heel-toe drop
Sizing: True to size
Pros: Great looking; good traction, durable
Cons: Thicc; Recycled ZoomX Foam; underfoot suction cups
Best for: Long runs with some pickups; Half-marathon+
Price: $160
---
Where to buy
---
The duck-billed platypus is a weird animal. While it's a mammal, it has a bill like a duck and it lays eggs. We know it's a mammal but there's still this lingering doubt when you see one. The Nike Zoom Fly 5 is kind of like that. Not in its looks – because we think the looks of this running shoe are pretty awesome – but in that it's KIND of a race shoe, KIND of a daily trainer shoe and KIND of a tempo shoe. It's carbon fiber plated and has a ZoomX foam core…kind of. 
Nike Zoom Fly 5 Outsole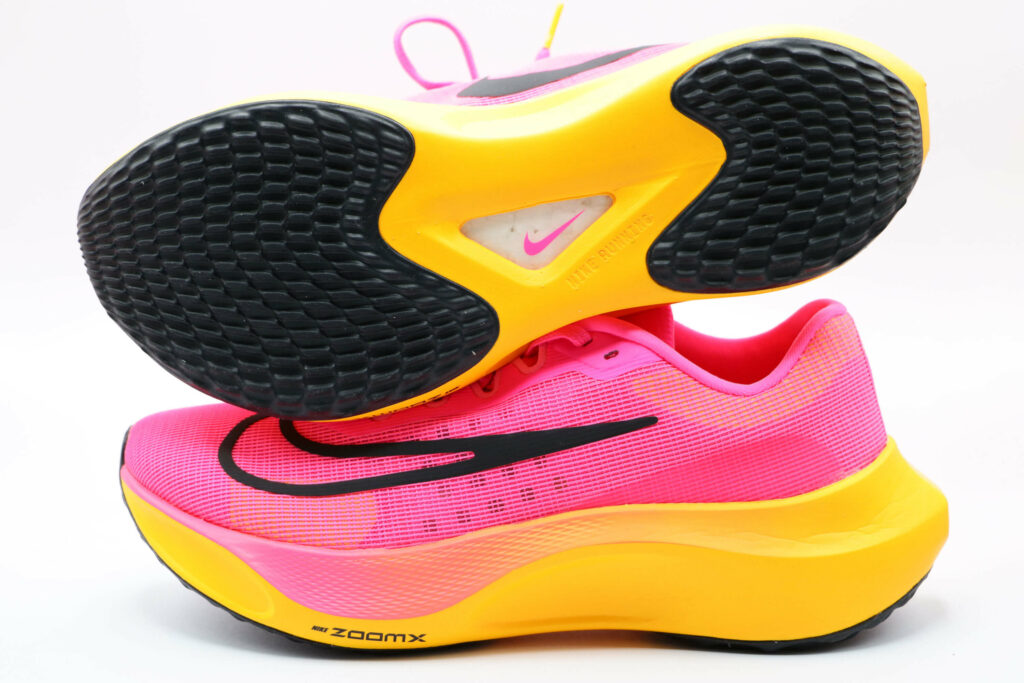 The outsole of the Nike Zoom Fly 5 is fairly straightforward with independent forefoot and rearfoot outsole rubber segments. It's a bit softer of a material than some other high-mileage trainers but the coverage is broad and the grooves therein look to provide traction, even when cornering.
Interestingly, in the midfoot of the outsole, between the sections of rubber, there is a bit of exposed foam with a small, triangular window of sorts. This allows for a view of the ZoomX foam (ish) inside.
[Brandon] There's something very appealing about the seeming simplicity of the new outsole of the Zoom Fly 5. From previous versions grip has been improved even in wet conditions, I found. As far as durability goes, while the softer rubber does show some wear with my 50-ish miles in them, it's nothing bad at all and I'd say that it would be pretty easy to get around 500 miles out of this outsole if you have a relatively clean gait,
[Arron] The outsole of the Nike ZoomFly 5 has a great feel and I could see myself running up to a marathon in these shoes except for one thing….the middle cutout pocket. The rubber traction provides enough grip for any road, including loose gravel and wet slick roads. The middle cutout thought almost suction cups to the pavement, making a popping sound and sometimes feels like it pulls my foot back to the ground.
Nike Zoom Fly 5 Midsole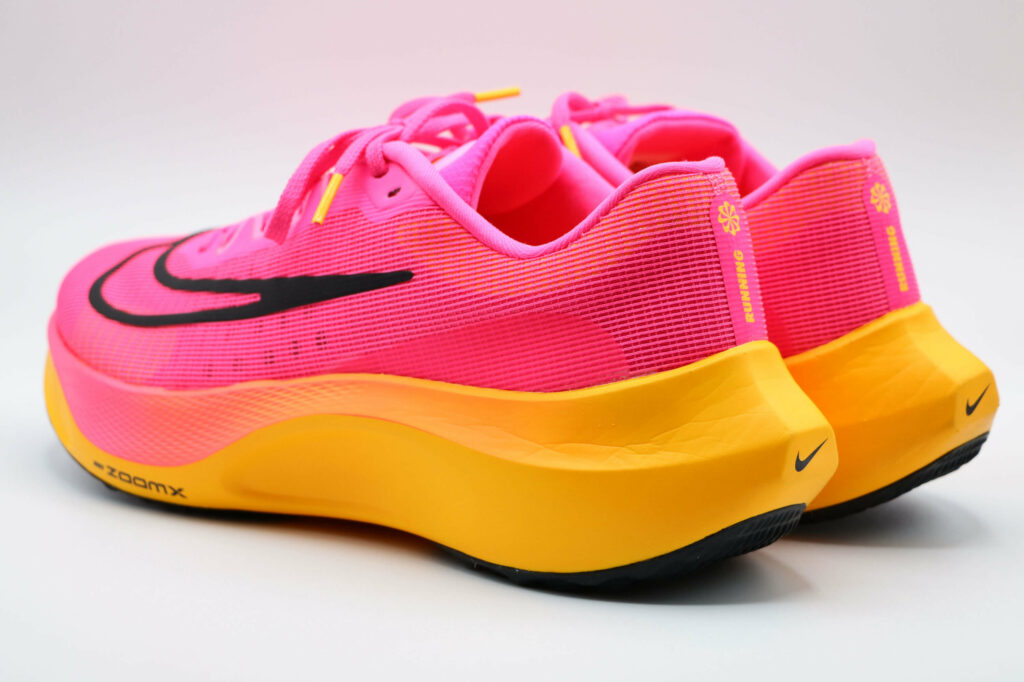 For the first time, ZoomX foam makes an appearance unlike the previous Zoom Fly 4. Sort of (we'll get to that part in a second).
The midsole of the Zoom Fly 5 has three main parts to it:
The top layer of foam as well as the structural carrier foam is Nike's SR-02 EVA compound. This foam begins thinner under the heel and swings down and becomes thicker under the forefoot.
The bottom layer of foam is made from Nike's ZoomX Nature foam. Shaped in the inverse of the top layer of SR-02, the ZoomX core foam begins as thicker in the rear foot and effectively ends just behind the metatarsal heads.
Riding in between the SR-02 foam on top and the ZoomX core of midsole foam below lies the midsole carbon plate which follows the contour of the foams and thus, curves downward toward the front of the shoe.
What does the "Nature" part of this ZoomX core mean? Well, brands like Nike certainly have a lot of remains (scraps, leftovers) from manufacturing generally and in this case, they've got some ZoomX foam. What they've done is to take these scraps, glue them together and mold them the create a recycled version of ZoomX foam.
You can sort of see the curvature of the carbon plate in the graphics on the midsole though we've included an image with a more accurate position of the plate for reference.

[Brandon] As I outlined above, despite the ZoomX core of this shoe the true midsole of the Zoom Fly 5 weighs in with something not quite ZoomX. I'll get in this a bit more in the ride section in a bit but the make up of this midsole makes this the kind of shoe for slower pace long runs. I say that because the midsole doesn't quite have the snappy feel of full-on ZoomX. That said, the carbon plate feels like it does go a long way toward midsole propulsion.
This version of ZoomX foam is firmer than the real deal and, with the wider base of the sole unit, I found the Zoom Fly 5 also a lot more stable than some shoes with aggressive foams can feel.
[Arron] I like the ZoomX foam core in this model, and the carbon plate is springy and responsive. Its not the softest ZoomX foam, so not sure if there are different ZoomX foams but this is definitely firmer than the foam in say, the Nike Invincible 3 shoe. I do think it could be my marathon shoe if the midsole pocket calms down, but as of now I cant get past the sound and feel it makes on ground contact.
Nike Zoom Fly 5 Upper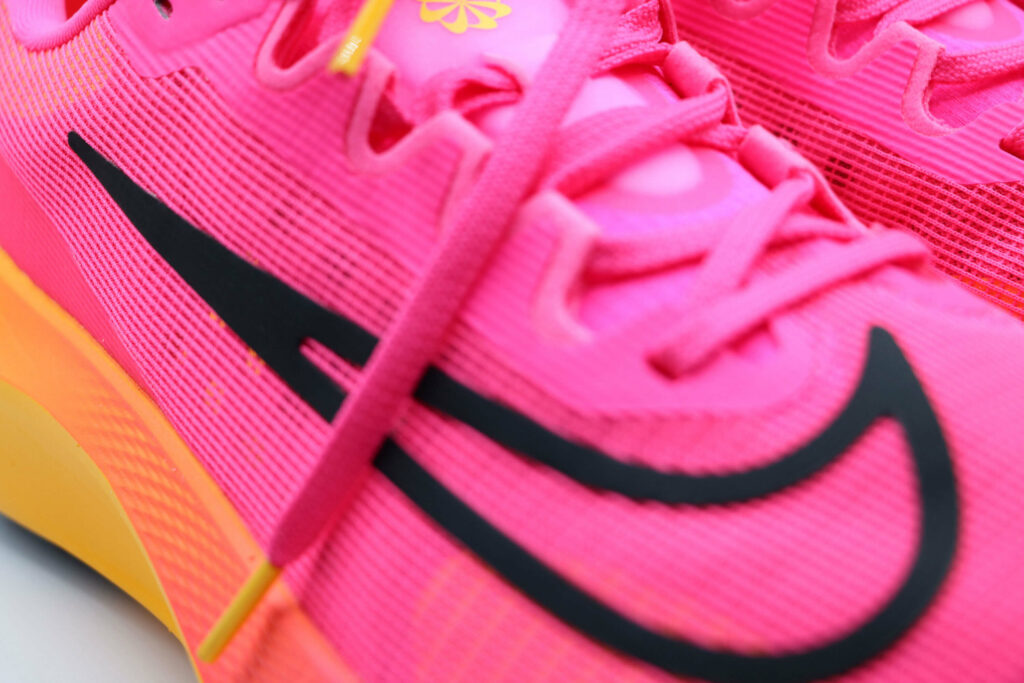 Dual-layered, engineered mesh makes up the main material of the Zoom Fly 5. The internal layer of this mesh holds the support structures of the shoe which leaves the exterior with clean, sleek lines – monochromatic "hyper pink" upper in the case of our test shoes.
The quite free-floating tongue is not gusseted, attaching at the bottom of the throat. Rounding out the rear of the Zoome Fly 5 upper is a heel cup made internally of a well-shaped, not overly padded interior. The heel of the foot also sits down within the midsole EVA foam a bit which extends into the domain of the upper.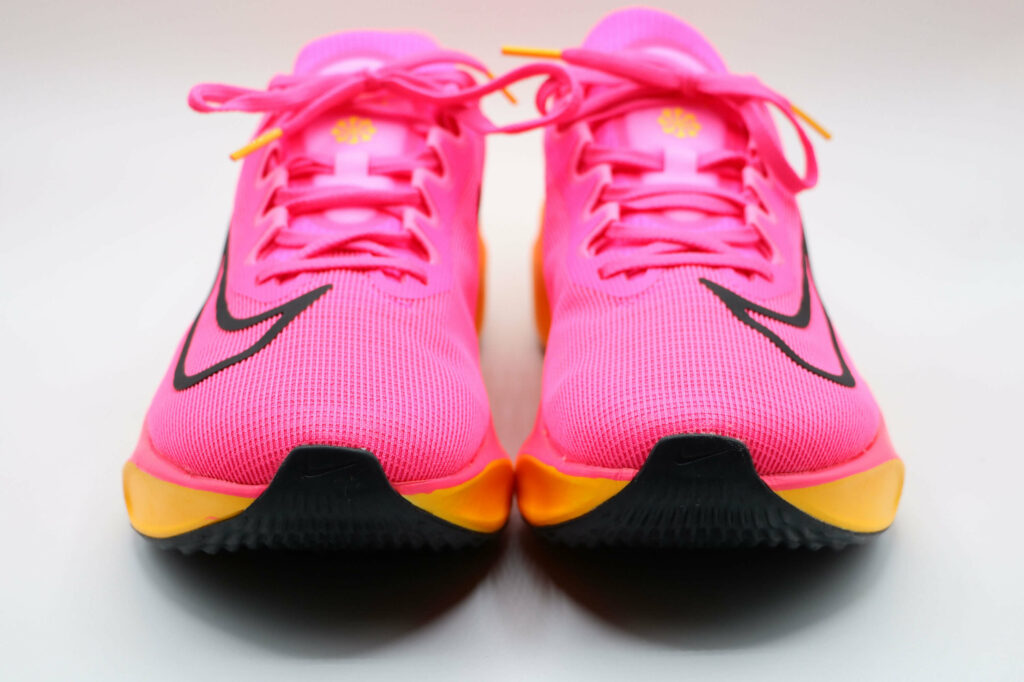 [Brandon] The Zoom Fly 5's upper is, first and foremost, good looking. Does this matter? Depends on the person.
Apart from the loops, the upper is functionally very nice. Everything is held in place nicely when taking turns and such. However, the tongue did slip a few times. Being that its non-gusseted, there's nothing to hold it in place. If you're wearing this shoe for long training runs and race days, keep an eye out for that slippage which can annoy some people.
Otherwise, the durability and breathability of the Zoom Fly 5 upper is great all around and despite no internal bootie or gusset, my foot was held in place well whether going slow or when choosing to pick up the pace.
[Arron] The upper of the Nike Zoom Fly 5 is comfortable and durable so far. The mesh upper provides a nice, snug fit and good breathability. The heel cup fits well and and has enough rigidity to sustain sharp turns and more aggressive running and speed work. I do like the lacing on this model, however the tongue needs to be gusseted or otherwise locked in place. After about 10-15 minutes, the tongue has a tendency to slide to one side and becomes annoying. It isn't uncomfortable, just annoying. If they fixed the tongue, maybe with something like an internal bootie found in so many other shoes these days, this could be one of my favorite uppers on a Nike road shoe in a very long time.
Nike Zoom Fly 5 Fit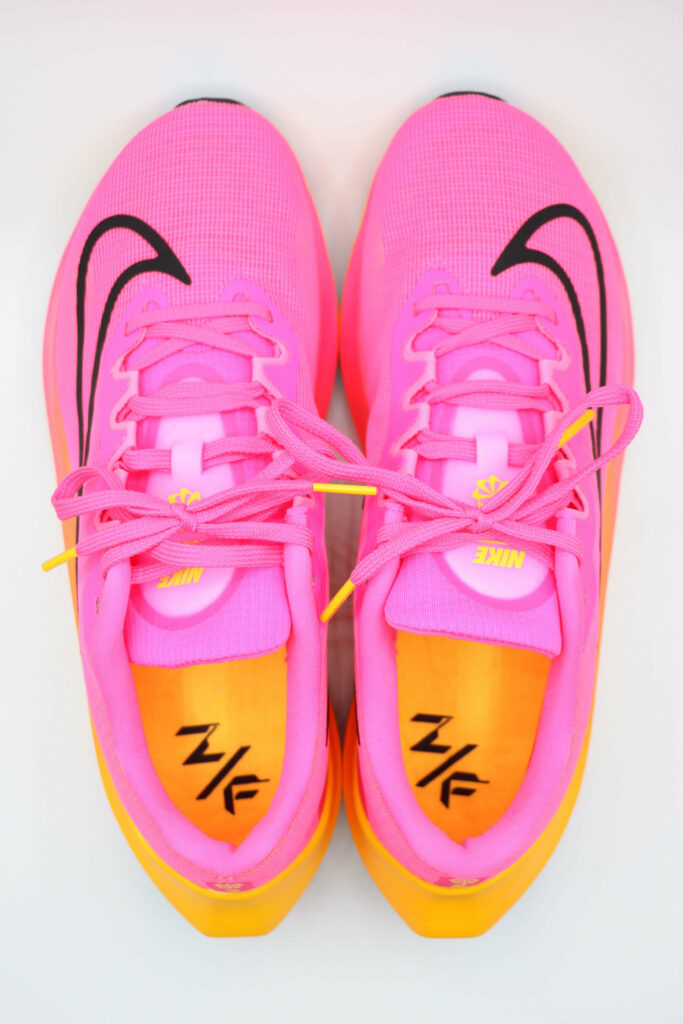 [Brandon] First, I found the 5th version of the Nike Zoom Fly fit true to size in my men's size 11 (US).
The fit of the Zoom Fly 5 is pretty familiar for a Nike running shoe. In this case, the heel cup is well-shaped and I found no slippage. Through the midfoot, despite there being no bootie to speak of, the internal support structures – which use loops tying that structure to the external mesh – gave a solid lockdown to the foot. In this area, the shoe can feel a bit narrow(ish) thanks in part to a bit of the midsole EVA SR-02 foam wrapping up into the upper.
The toe box of this new upper is a good one. It gave me a good amount of vertical room while also avoiding a pinched or narrowed toe. This is definitely one of the things which can make or break a running shoe review for me and, despite some other shortcomings, this isn't one of them with the Nike Zoom Fly 5.
[Arron] The fit of the Nike Zoom Fly 5 for me was spot on. Good toe box, good heel cup and the arch was very comfortable. It is true to size and I felt no rubbing due to excess fabric even after longer runs. The shoe didn't need to retied or adjusted, except for the tongue if I stopped for another reason.
Nike Zoom Fly 5 Ride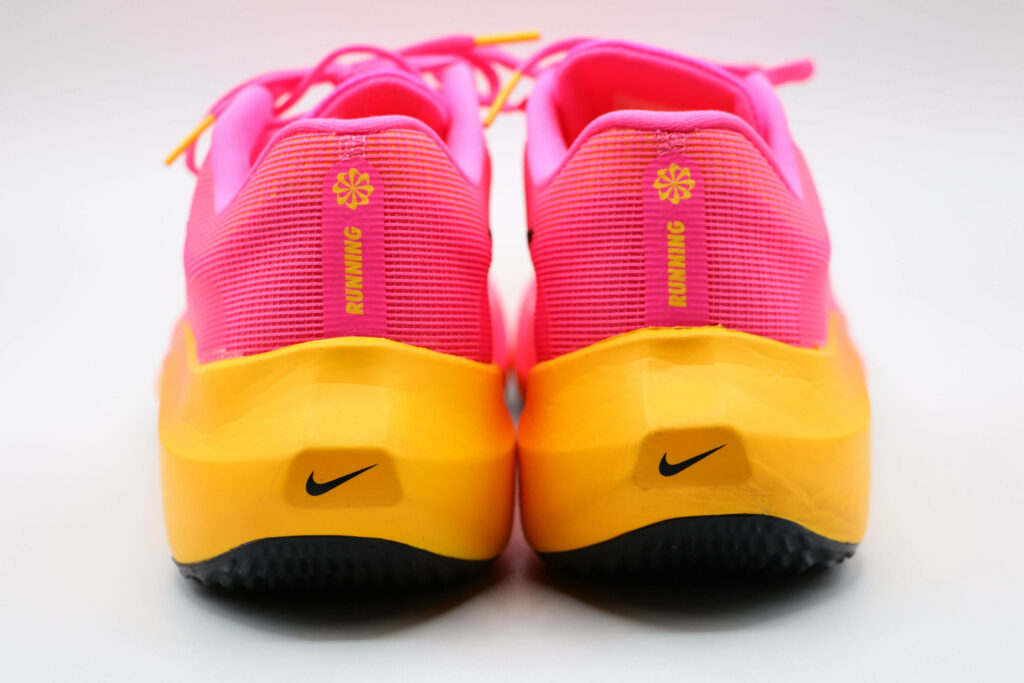 [Brandon] The ride of this Nike shoe is where some consternation comes to play – not just from me but from a fair number of other reviews. Largely, this interesting mystery of how this shoe feels underfoot comes down to the midsole.
If you're looking for the Zoom Fly 5 to be a dedicated, carbon-plated speed training shoe, it's likely that you'll be sorely disappointed. While there is indeed a snappy carbon plate inside the midsole, the combination of foams sandwiching it somehow takes away.
If I'm being honest, the recycled version of Nike's ZoomX foam is just harder than I'd like. Don't get me wrong, it's still a great improvement on old-school foams, but for this it's just not what I'd like.
With that said though, this is certainly a running shoe which is softer and more cushioned than others thanks to the midsole construction. More stable than previous versions (to me), this is a long-distance running shoe whose rate of wear and overall quality could make it a decent one (road) shoe stable for less snobby runners than I.
[Arron] To be honest, the Zoom Fly 5 has a great ride, when midsole cutout pocket didn't feel like suction cups. While some people thought otherwise, I definitely like the ride of the firmer ZoomX foam in combo with the less stiff carbon plate. Maybe it's because I'm not some lightweight speedster.
Nike Zoom Fly 5 Overall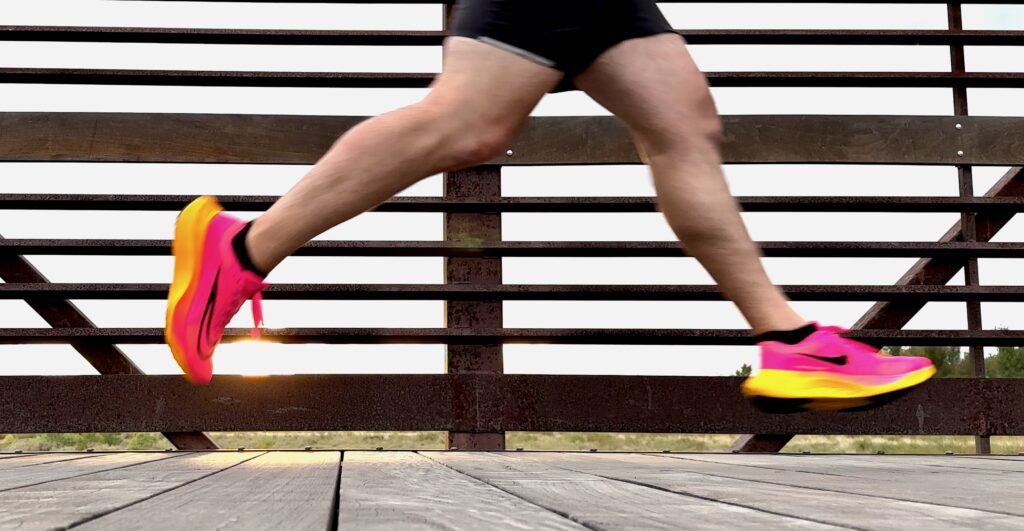 [Brandon] Even though it's ride is a bit less jaw-dropping of a ride than I'd like, there is still a lot to like about the Nike Zoom Fly 5. Shoes like this – especially because of the looks – are those which can go a long way toward being a shoe than can handle the first long weekend training run and race the next weekend.
Durability is good. Looks are great. Upper is good (that tongue though) and the fit is as well.
I'd love to see this same shoe with an updated tongue and "real" ZoomX foam!
[Arron] If you take the tongue and the midsole pocket out of the equation this shoe is outstanding. I hate to be so negative about these two aspects, but for me I can't seem to go through a run thinking how annoyed I am. There are so many good things about this shoe: traction, relatively light weight, fast yet soft, fantastic upper (minus the tongue), looks great and I could go on and on. BUT….they have to fix those two issues.
Have you run in this or any previous versions of the Nike Zoom Fly? What did you think?
---
Where to buy
---
Marathon shoes
,
Nike
,
Nike Running
,
Nike Running Shoes
,
Nike Zoom Fly 5 Review
,
Running shoe review
,
running shoes
,
trail running shoes