Topo's ST-2 is one of four models from their current road shoe collection, and it's a true natural running shoe. Topo describes this shoe as ideal for shorter, but intenser training runs like tempo and speed workouts and I would agree that they are best for that. With a collapsible heel, breathable mesh, and light weight, the ST-2 is a competitive runner's dream.
Outsole
The rubber outsole of the ST-2 is about 4 mm. The rubber does not cover the entire outsole, but streaks around exposed EVA foam in areas where most runners are likely to strike the ground. I have put about 50 miles onto this shoe but you'd never guess it by looking at the outsole. Given my running style I have expected wear fairly uniformly across the mid foot and a bit across the central portion of the heel. Overall I'd say this outsole has kept up really well and I would expect to be able to put several hundred more miles onto this shoe.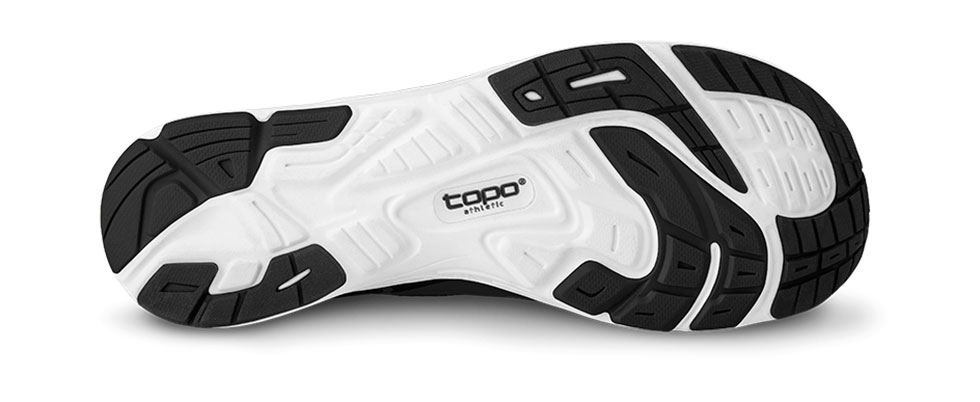 Midsole
The ST-2 has a total stack height of 16 mm at the heel and forefoot so the ST-2 has a zero drop. In other words, you stand exactly flat in the shoe. Minus the 4 mm from the outsole, the midsole makes up 7 mm and the footbed about 5 mm. The midsole seems to be made from an EVA foam and the built-in sock liner has some cushioning itself.
The midsole is pretty flexible, allowing the shoe to bend more than your foot would naturally do so. A thinner midsole is the primary reason for the flexibility, but for some runners this can prove to be too little cushioning for longer stints on the road. Indeed, this is why Topo offers other models in its road line of shoes, but for those of us who take flexibility over cushioning, the ST-2 is a smooth ride with enough bounce for short and medium long training days.
Upper
The upper of this shoe is what makes the ST-2 unique. While other Topo road shoes have offered super flexible mesh as well, the ST-2 has a few stiffer overlays to lend support to the otherwise collapsible heel. More on that in a second. The overlays stretch around the laces and extend to the front of the toebox, where a tougher rubber overlay protects the toes and prolongs the life of the upper in this often exposed area. I have yet to see any wear on the upper. It's impressively think all-around and is the kind of upper you want on a shoe when you're running in the dead of the summer.
Now, to the heel. Unlike traditional running shoes, the ST-2 heel cup is anything but: it's made of a polyester material akin to a thin wetsuit. This material begins at the upper end of the laces and branches out to cover the entire heel. It's thick enough and with a sturdy seam such that it certainly retains its shape. The very back of the heel also sports a stiffer rubber overlay that's roughly 2 by 2" and gives the heel cup some structure. At any rate, this design transfers into an upper that bends and curves around the foot and has a definite smooth look. The flexible heel cup also means that the ST-2 is also very comfortable to wear barefoot, should you like doing so.
Fit
I tested the ST-2s in a size 10, which is what I typically wear in most other shoe models. As always, the toe box was perfectly sized for me; I love the space the shoe gives me in terms of width, and it is just long enough so that my toes don't touch the front of the shoe. The collapsible heel might be a point of concern if you're used to stiff shoes with a true heel cup, but I found the ST-2 to fit exceptionally well around my heel. It doesn't feel like you need to tighten the laces any more in order to get the heel to fit more snuggly. Now, I would say that I have pretty average-sized heels and ankles which is probably why the ST-2 has a perfectly fine fit for me. I could see runners with much smaller heels and ankles have a bit more trouble with this, especially because I looped my laces through the very back laces holes. At any rate, like any good shoe worth investing in, it would pay off to slip into the shoe before blindly purchasing it.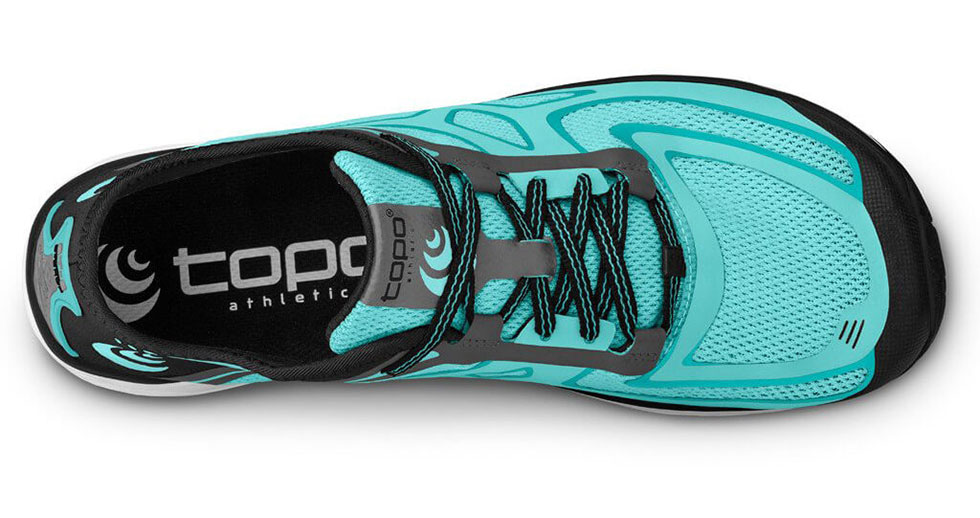 Ride
If you've read any of my other Topo reviews you'll know that I love the minimal or zero drop many of Topo's shoes offer. Even though many zero drop shoes are intended for shorter speed workouts, for example, I still often run in them for longer training runs because the bigger toe box is ideal for my foot. While I often get blisters during long runs in shoes with snug toe boxes, this isn't a problem I've ever had with Topos.
A size 7 ST-2 weighs only 5.6 ounces so it's remarkably noticeable that you've got little weight on your feet. When it comes to working on speed, this is definitely an important thing to consider.
Overall
It's difficult for me to find any kind of fault in the Topo road shoes I've been able to ride in, but at Gearist we don't aim to find a flaw when none is obvious. Credit should be given where it's due, and the ST-2 has earned every bit of praise. Flat, lightweight, breathable, flexible – a few things make a shoe great, and a bunch of bells and whistles usually isn't it. I've always loved how Topo focuses on the things that matter most to serious runners and aims to do them well. The ST-2 is available for men and women and is only $90. That's a serious steal for such good design, and if you're into buying several pairs of shoes to rotate through, this price tag is especially affordable. Overall, the ST-2 gives any other road shoe a run of its money and can easily hold its own as a training or race shoe.
View More:
footwear
,
run
,
running shoes
,
Topo Athletic