Believe it or not, not every shoe from Adidas has to have boost foam in it. Granted, every shoe we've looked at from Adidas in the past few years HAS had at least a little bit of boost foam in the midsole but not the shoe I'm looking at today. Today we're going to be looking at a shoe that is meant to be a light and fast trail racer with fantastic grip. But is a light and fast shoe what you need for your go-to trail running shoe? Let's see.
Outsole
For the outsole of the Terrex Agravic Speed adidas has once again gone with Continental rubber using the Race King mountain bike tire as inspiration. As I noted in previous reviews of adidas running shoes LINKS HERE this rubber is some of the stickiest I've ever tried and the pure, material traction is amazing. With its lugs laid out in a series of chevrons around the perimeter of the outsole, the middle is a series of triangles with their corners cut off. These ~2-4mm deep lugs are only interrupted by three cutouts meant to further save on weight.
I find myself once again proclaiming my love for the Continental rubber which adidas uses in their running shoes. On the rocks around Gearist HQ in Colorado, this stuff has incredible grip and can not only handle the running challenges that you may throw its way, but also makes for a scrambling shoe par excellence . The overall traction with lugs that aren't super deep I found to be very good and very tuned to the racer vibe which this shoe aims for. As for durability, with about 45 miles on these shoes, including the VERY challenging trek up the La Luz trail, the outsole of the Terrex Agravic Speed has held up very well.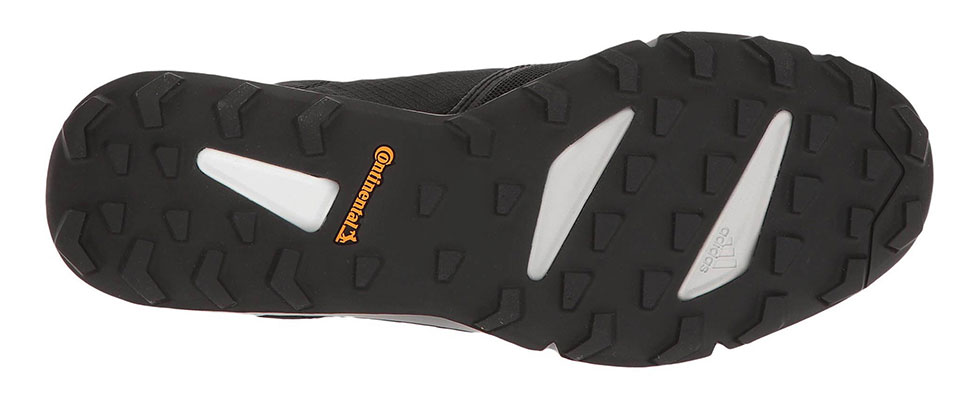 Midsole
One of the words that the adidas Terrex Agravic Speed brings to mind is simplicity. The outsole mentioned above isn't very complicated and just uses a simple design and good materials to get the job done. Likewise, the midsole of this shoe is one that eschews much complexity and opts instead for a simple layout with really only one nod to embedded technology. Made from a simple, lightweight EVA the midsole of the Terrex Agravic Speed has no rock plate in place, simply the foam covered by the outsole. Hidden in the mid foot there is adidas' Torsion Bar which is meant to keep the foot supported while still allowing the front and rear of the shoe/foot to move independently.
I will get more into this in the RIDE section below in a second but for now I want to remind everyone that this shoe is something of a racer (or at least, that's what myself and others think). As such, light and fast is the name of the game so some may find the lack of midsole protection a bit lacking for their taste in an every day trail shoe. To be honest, I wasn't THAT put off by the lack of a rock plate though I do think that an offering with a minimal addition in that area would go a long way toward making this a more "daily driver" trail shoe. The Torsion Bar in the midfoot isn't really something that stood out to me very much and I have to wonder if that's not the point; having a subtle support for forward motion without being too intrusive. Ground feel in this is excellent to the point of likely being harsh to some people who look for more cushioning. For the stack and drop nerds in the crowd (like myself) this shoe comes in with a stack of 25mm in the heel and 17mm in the forefoot for a net drop of 8mm.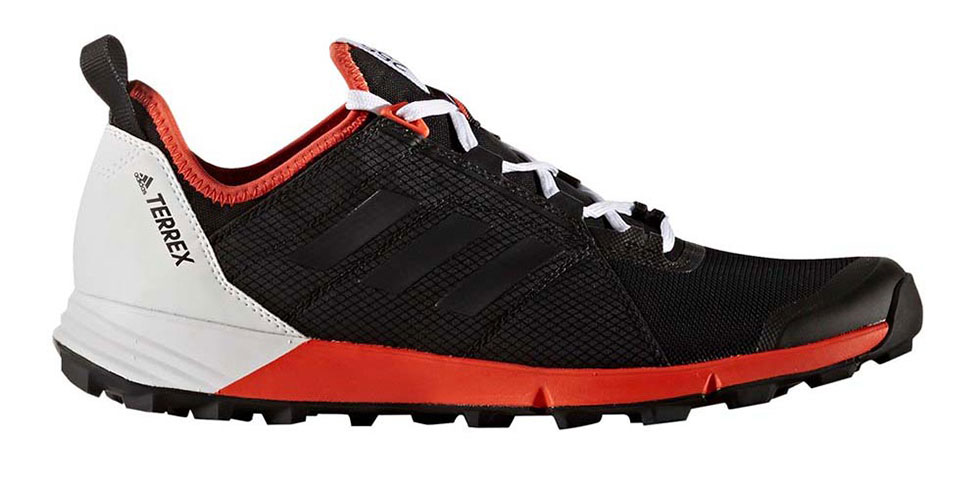 Upper
Beginning with the outside of the upper, the Terrex Agravic Speed sports a few different materials to get its bootie-esque construction dialed in. The forefoot is made from a lightweight and very breathable mesh. Moving to the midsole we find a lightweight, yet rather heavy feeling (I know it's a contradiction but it makes sense!) ripstop material that not only holds the foot in place but also beefs up the construction. The rearfoot comes out of a mesh covered and perforated EVA foam that begins in the top part of the midfoot, underlaying the aforementioned ripstop. The remainder of the EVA is a faux leather application that wraps a very flexible heel counter.
Internally, the Terrex Agravic Speed is something of a contradiction when it comes to the perception (by me) of it being seamless. The internal material is very smooth and comfortable (even in the couple of barefoot miles I ran in it) but there ARE in fact seams – however, they're all very smooth and comfortable. That mesh covered EVA I mentioned above is constructed in a sort of bootie construction (the thing I called "bootie-esque" above). I say this because this material gets rid of a tongue in place of a more sock-like feel but as is reaches the sides of the midfoot, the "sock" feeling gives way to the material blending seamlessly into the ripstop. It remains very comfortable and fitted in this area but I wouldn't call this a true bootie constructed shoe.
The durability of the upper in this shoe has been impressive. There are no picks and stray threads to worry me despite beating the snot out of the shoe on everything from rough rock to roots and branches reaching out to gnaw at it. The minimally-constructed heel counter may leave some people with more narrow heels finding a bit of heel lift, but the internal padding just behind the heel feels like it prevented most, if not all, of that for me. Rounding out the upper at the ghillie-style laces which add to the sock-like construction and a very well adapted toe cap. Made from a welded overlay, this thing is small and flexible yet reinforced both internally and externally to give a very sturdy and protected feel.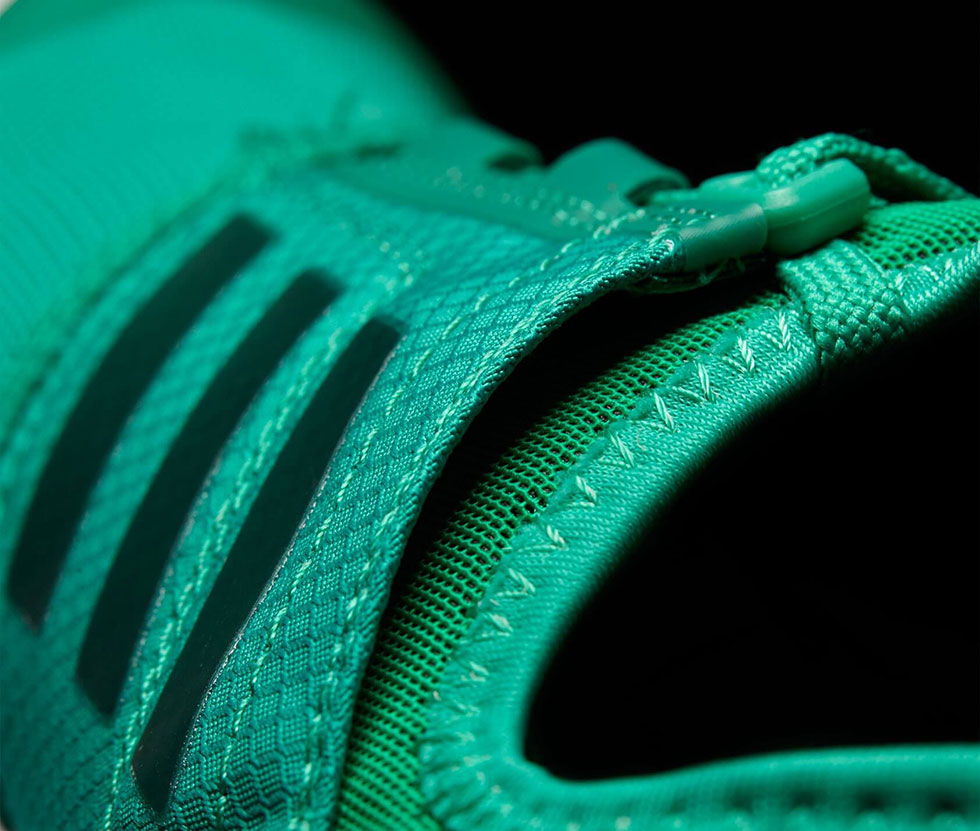 Fit
I want to start the fit section of this review with a question: What comes to mind when you think of the fit of adidas running shoes? Is it roomy? Probably not – and this shoe is no exception. First, let's keep in mind the racer-esque feel and build of the Terrex Agravic Speed. This shoe is meant to be a quick and agile trail ripper and a racing fit can certainly enhance that here just as it can in road shoes. Then there's the fact that adidas is certainly a Euro-fitting brand where the narrowness of shoes tends to be the more predominant feel.
I don't have a wide foot but rather, a very average one. I fit the standard D width of most running shoes without issue and I fit this shoe without issue as well BUT this shoe is narrow. For an average or below average width foot, there shouldn't be much issue but if you have a wide foot at all, you'll likely find yourself looking for more room. While the heel and much of the midfoot is closely and comfortably fitted, the forefoot and toe box is where things are a bit snug. Again though, I do have to say that this closer fit did enhance the racer-y feel of the shoe. As for sizing, I found my size 11's to be right where I should be without any thought to going larger or smaller.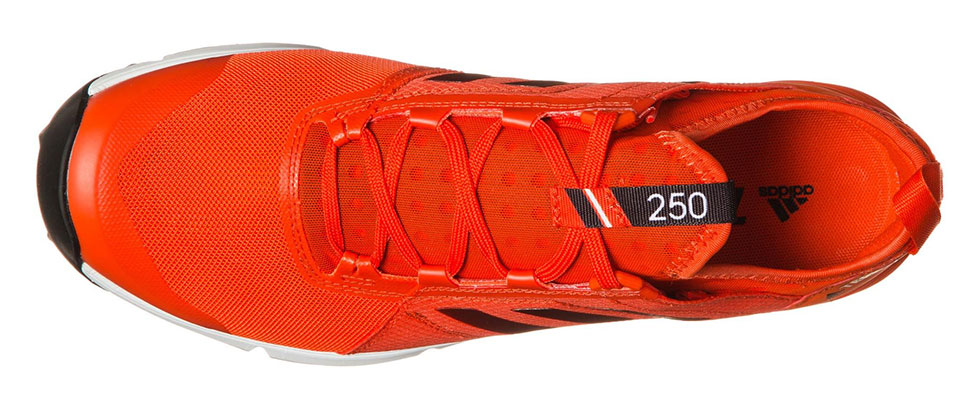 Ride
If you've gotten this far in this review, you've likely just seen me use the term "racer" several times and the ride of the adidas Terrex Agravic Speed is where this is most evident. First, let's talk about the ground feel in this shoe which is probably one of the things that will stand out most on an initial run. With the simple EVA midsole and lack of a rock plate, the ground is very present underfoot. For me, I really like this feeling and I feel like it really enhances my ability to feel speed on trails. However, as trails become very rocky there can be drawbacks with rocky and other pokey bits making their way to the bottom of your foot without being impeded upon. I tend to be one who looks for the smoothest path so this isn't/wasn't such a huge thing to me but it is worth pointing out if you're particularly sensitive.
Once this shoe gets on more flowy, smooth or groomed trail it really came alive for me. The grip allows this shoe to zip around turns and switchbacks as well as making rock hopping a breeze. The weight of the shoe, which comes in at 9.7 ounces (275g), fits so closely to the foot that it just loves to fly and I've found myself well outpacing my fitness on some trails.
With regard to the ride I feel like this is a shoe that is more well-suited to racing or to groomed trail for many people. In that application it's certainly got it dialed while on more rough and technical terrain it could be a case of too much ground feel for some.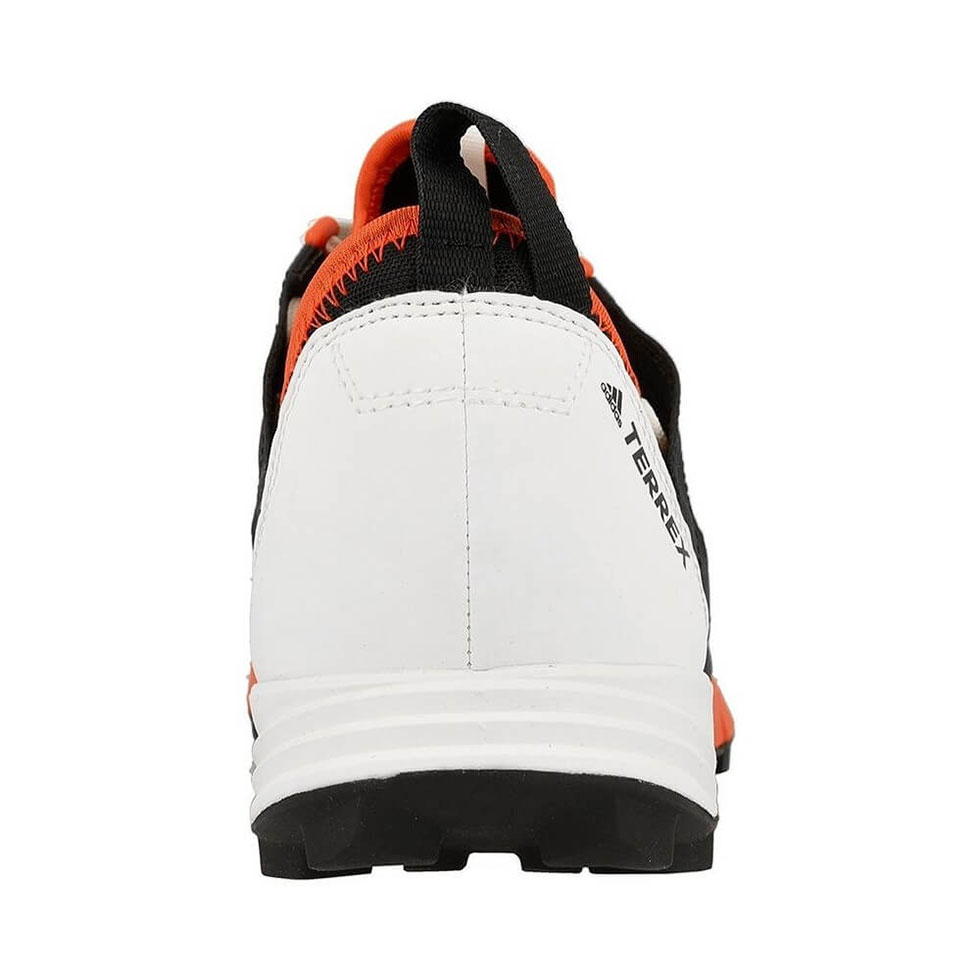 Overall
Apart from their Euro fit and the specter of Yeezy looming over the brand perception, one of the other hallmarks of adidas running shoes has historically been a high price tag. However, the adidas Terrex Agravic Speed kind of bucks that trend with a price tag of $120 PLEASE CHECK THE LINKS BELOW FOR LOWER PRICES WE FOUND. While I'm sure that if boost foam were a part of this shoes makeup the price would be quite a bit higher, I actually think that this is a pretty fair price for what you're getting here.
While this may be a shoe that  won't have the most broad appeal for everyone out there, I do think that when you're looking for a light and fast trail shoe with amazing grip, this should certainly be on your radar.
View More:
Adidas
,
footwear
,
run
,
running shoes
,
trail run