Specs and takeaways:
Name: Arcade Belts Adventure Belt Slim and Regular
Weight: Regular Adventure Belt: 75g (2.65 oz.) ; Adventure Belt Slim: 50g (1.76 oz.)
Sizing: One size fits most – expands up to 40″. More length in other some other models of Arcade Belts.
Pros: Lightweight; low-profile buckle fits well under backpack hip belts and the like.
Cons: Takes a bit of effort to adjust
Price: $31.95
---
Where to buy
---
Materials and Construction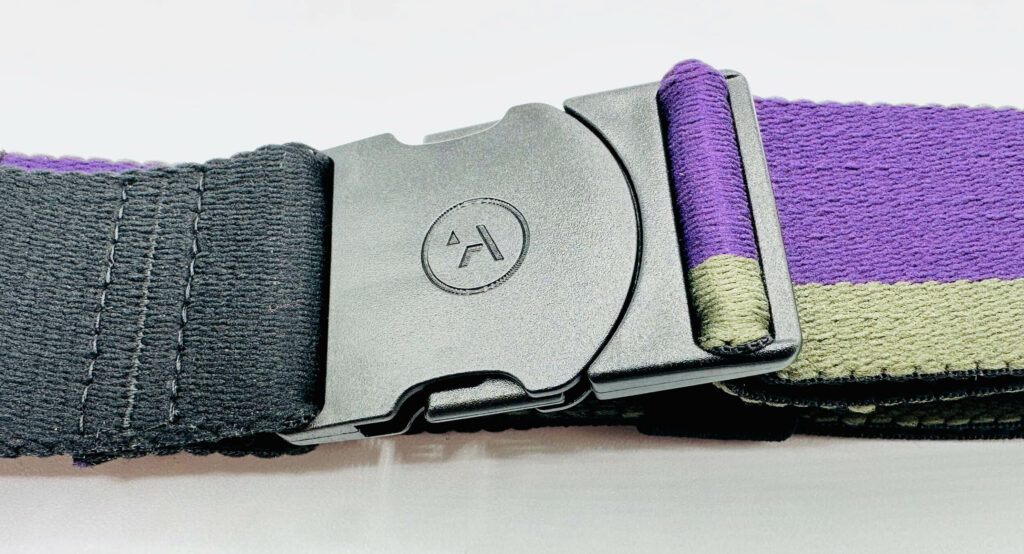 Both of the Arcade Belts we're looking at today are made from 85% Repreve polyester, a material made from post-consumer plastic bottles. The two-piece belt buckles are made from high-density plastic and is roughly 4mm thick. There are also belt loops for keeping excess material under control.
My Take: Right off, each Arcade Belt is light. This stands out to me because the stretchy material making up the main body of the belt actually feels quite dense in your hand. The buckle is wonderfully thin and when I've worn them with packs that include a hip belt, they remain largely unnoticeable.
While I don't really mind it as its not something that has to be done very frequently, adjusting the Arcade Belt is a bit of a challenge. It's adjusted by a normal pull-through on the male side of the buckle. What makes it challenging is the fact that the fabric is a quite dense when doubled-up and the space the belt to slide through on the buckle isn't very large. It's no big deal but it does take a minute to get just right. Also, that tight of a space does well to keep the belt from slipping looser while wearing.
One massive thing to mention here is that, due to the fact that there is nary a scrap of metal on the Arcade Adventure Belts, you can breeze [sic] through TSA without having to take them off!
Performance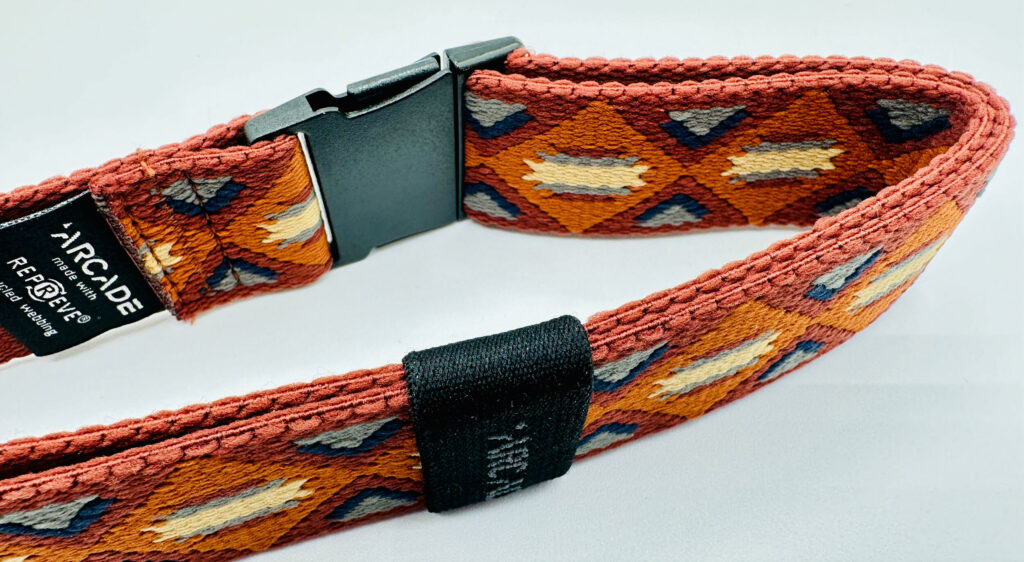 First let's talk about sizing. My waist is currently about 35″ and I've got plenty of room to go down (or, God forbid, up) if needs be. According to Arcade Belts, above 36″ the wearer may want to consider looking at other models which can offer a bit more adjustability. With both belts we're looking at today I don't know that it's necessary as they go up to 40″ with no problem.
Now, I'll say here that in the past, I've used more than one elastic belt which has disappointed in that there is a tendency for it to be TOO stretchy. Sure, they're aiming for amazing comfort but in doing so they seem to forget that performance – you know, actually keeping your pants up during your favorite activities is also pretty important. In the case of Arcade Belts, I've found the material to not only be a more tightly woven stretch but it has also lost none of its shape over the course of the last 2 months of constant wear.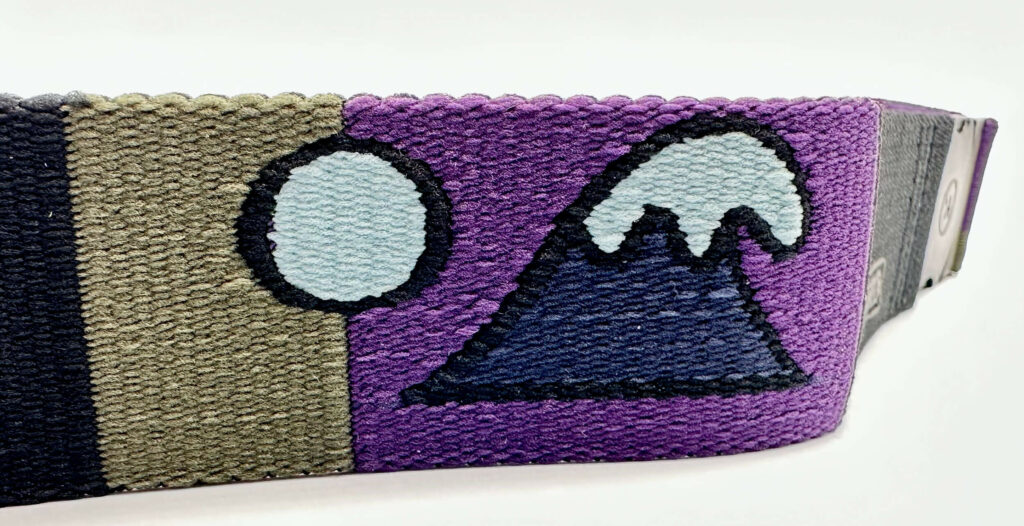 Let's look at a few specific outdoor adventures I've been on while wearing an Arcade Belt (so far).
Trail running: Why was I wearing a belt while running? First, I was wearing a pair of hybrid shorts which included belt loops that I'll probably wear mostly for hiking. Second, why not? The Arcade Belt stayed up well, did not chafe and felt like a normal, elastic waistband.
Hiking and Backpacking: As I mentioned earlier, when wearing a backpack hip belt, the buckle's low profile sat comfortably under the strap and didn't bother me at all. The belt also was adjusted well enough that it wasn't pushed down by the pack.
Mountain Biking: This is hands-down my favorite belt for cycling. It has give for when I'm leaning into challenging climbs but also keeps my shorts from sliding down. I did feel the buckle a bit when leaning into the handlebars a few times but not to the degree that I was bothered.
Skiing and Backcountry Skiing: I cannot wait to wear this as my belt for skiing. Snow is on the ground as of now but not enough that I want to go busting my skis up on rocks and roots just yet. Update on this to come!
Rock Climbing: This has been a great belt for climbing and belaying. It stays out of the way of my harness and also has enough flex to be comfortable when bouldering.
Everyday Wear: As mentioned, I've been wearing an Arcade Belt pretty much whenever I'm something with belt loops for the last two months and I am impressed. While I do have a couple which are a bit more stylistically adventurous, the subtle styling of the belts I tend to wear with my grown-up outfits makes them a no-brainer.
The final thing I should mention relative to performance of my Arcade Belts is that they're both machine washable and dryable. On top of that, since the buckle isn't heavy or made of metal, it won't bang up the inside of your washer of dryer.
Overall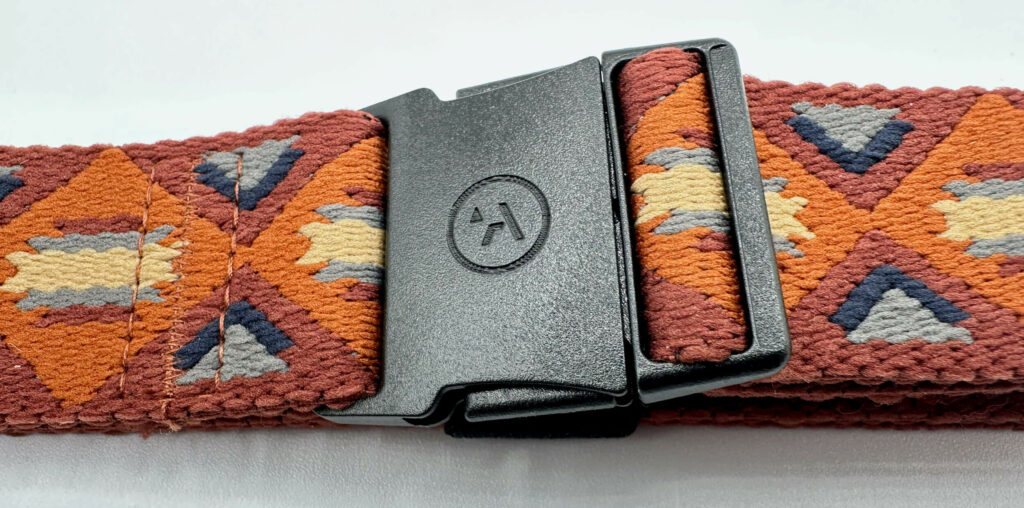 The belt reviewed here today aren't the only things which Arcade Belts makes and in fact, there are some which I'll be looking at in the future which are even more geared toward outdoor function with more formal form and design.
The belts reviewed here come in at $31.95 and $34.95 which is a great value to me. Arcade Belts adventure belts are a go-anywhere, do-anything belt with stylish options for any taste. I don't see them leaving my arsenal any time soon and with Christmas around the corner, if you're related to me, I'd expect to have one of these in your hands in the near future!
---
Where to buy
---
Apparel
,
Arcade Belts
,
clothing