Once an activity relegated to a small handful of die-hard enthusiasts and alternative lifestyle, regular people here in the U.S. are embracing the bicycle commute.
Whether its a desire to skip the subway or the traffic jam, live a healthier lifestyle or just start the day with some activity, there's no denying the numbers are up [LINK].
Here in New York City we've got protected bike lanes, a successful bike share program and building access laws that make commuting by bike more convenient than ever.
One thing  New Yorkers really like is their accessories and the cycling industry hasn't disappointed with a new category of specialty commuting products. Not only do we have functional items like lights, fenders and helmets aimed directly at commuters, but there's also clothing, bags and even special commuter bikes.
An industry leader, Cannondale leads the charge with the Contro 3, a bike specifically designed from the ground up for the "urban mobility user" (their words). Cannonade was cool enough to let us ride one for a couple of months to see what we thought.
The Hardware
When we first got wind of the Contro we took a look at it online we didn't quite know what to make of it. We noticed the $1410 SRP, which elevated it beyond a NYC "lockup" bike. There was an immediate polarization appearance wise. The curved tubes to give more rider clearance over the 29 inch wheels looked funky to the traditionalists.
Then there was a rigid version of Cannonadale's Lefty fork. I'm not even gonna tell you what they said about that. When we picked the bike up though, even the naysayers changed position and thought it looked MUCH better in person.
Looking over the bike, it was easy to see why some choices were made. Cannondale did their research and put together a package that seemed to tick all the boxes of a commuters wish list. A single 38-tooth chainring up front matched with workhorse Shimano Deore shifters and rear derailleur combo gives you a wide range over 10 speeds.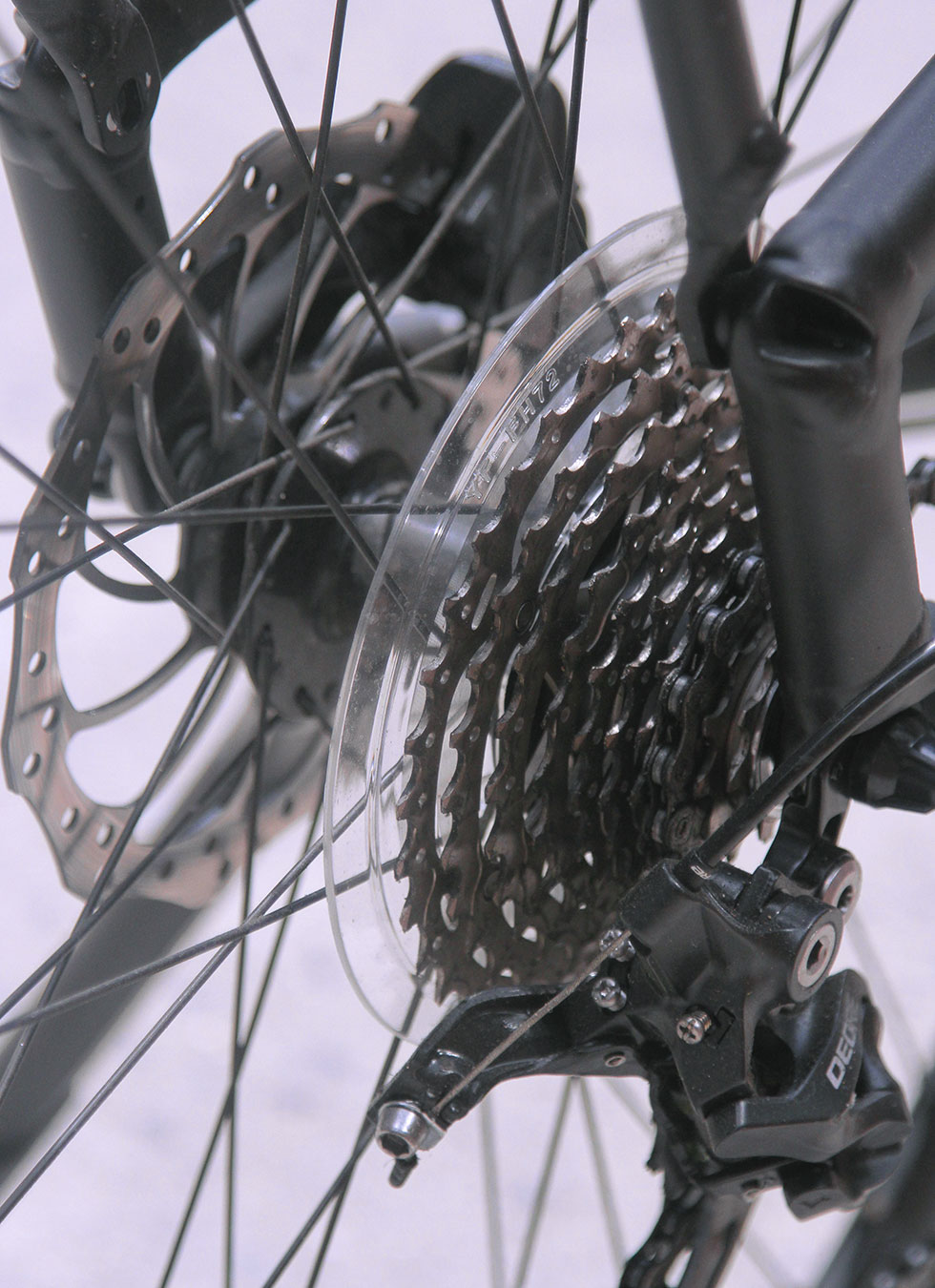 Magura MT2 hydraulic disk brakes work great wet or dry, even while carrying an extra load. V-shaped rims wrapped in fat Schwalbe Little Big Ben tires provide a smooth ride and the 29" wheel size helps roll right over rough roads.
Rounding out the package Cannondale provides and integrated yet removable rear rack for your cargo and metal fenders to keep wet road grime off of you and even a kickstand (more on that later).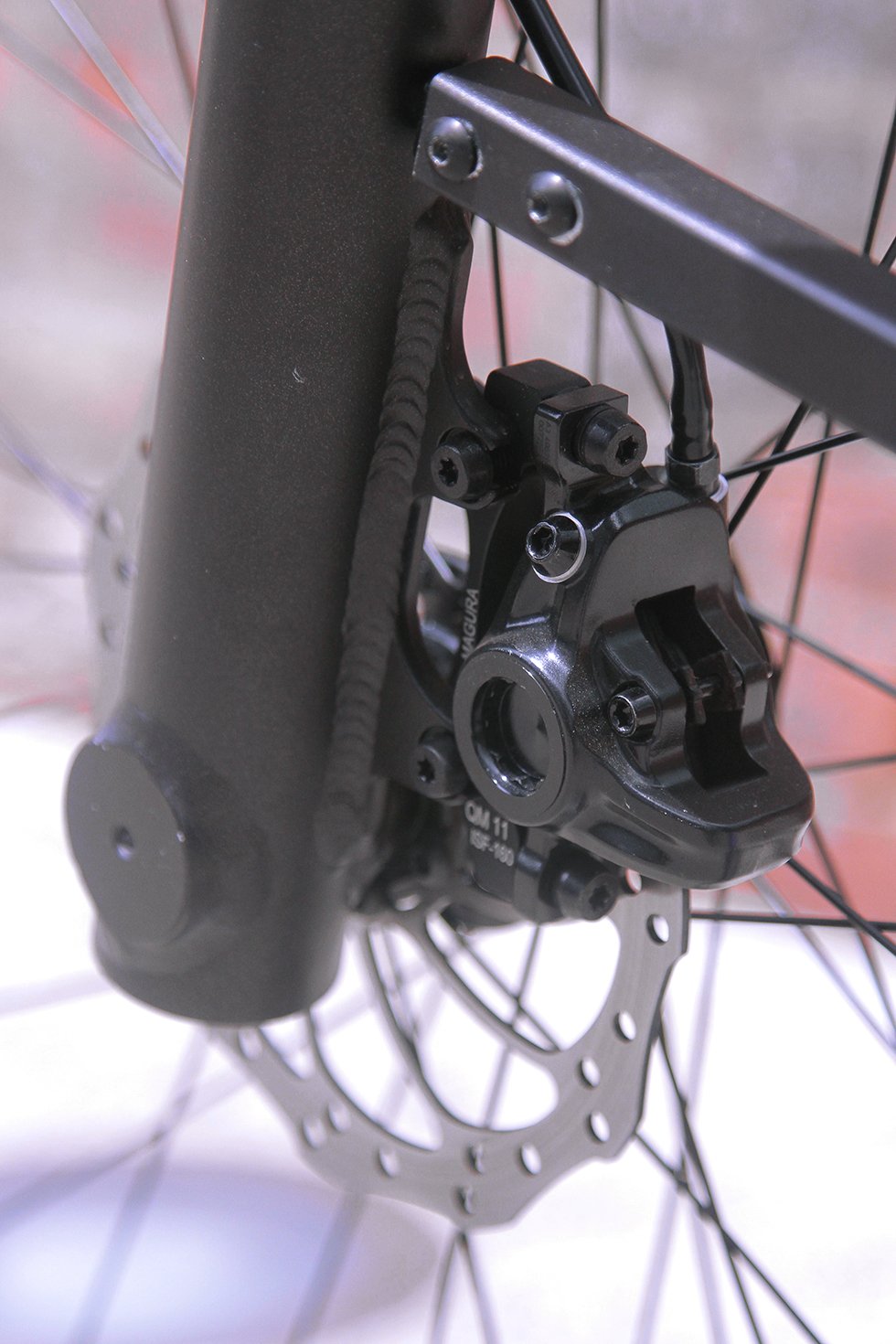 The Ride
I ride a Cannondale CAAD in a 50cm and sizewise the Contro in a medium was a good match. The first ride was a little awkward- the 29's coupled with a semi-upright position makes for a very tall presence on the Contro.
After a couple of blocks i realized this is a definite plus in traffic. Being up a bit higher than a conventional road bike allows you to both see and be seen a bit better.
In the city, the 29's seemed to make for slow acceleration from a stop, but once you got moving the Contro was smooth, stable and predictable. Nimble without being twitchy, it's exactly the combo you'd want getting through the hustle of the city streets.
Unfortunately, when the road turns uphill the 29's feel like they come into play again and make things a bit more of an effort compared to the nice ride on the flats. The excellent gearing choice and effortless shifting helps getting you over the hill, but you do get slowed down a bit.
Even though the wet may not come from above, theres plenty of nastiness on the New York City streets that have an influence on your ride. No one wants to spend the day smelling like the drippings of a garbage truck, and having the built in fenders makes the ride that much more enjoyable- It's one less thing to worry about.
And back to that kickstand. I really didn't think I'd use it, but it was a nice touch when running errands when I was on and off the bike a lot. I even rode the bike to watch a race and in a sea of expensive race bikes strewn all over the place, it was kinda neat to see the Contro standing there on its own when I was chatting it up with people.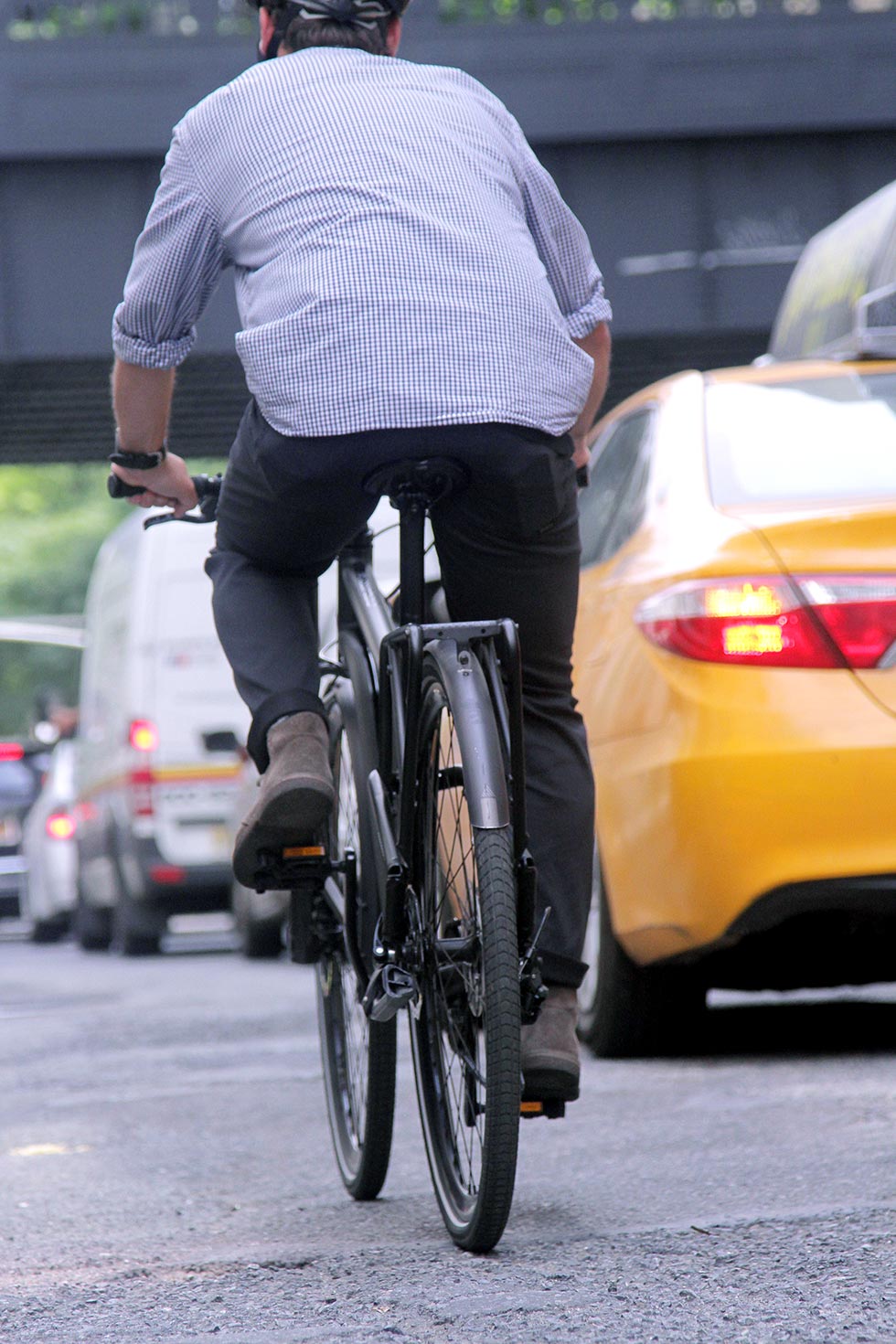 Lastly, it's such a small thing but the Cannondale designed and branded pedals were a winner. They somehow nailed the design of a pedal that worked well with sneakers and shoes in both wet and dry. If I had a need for a standard platform pedal, I'd seek these out!
The Not So Good
My longest ride on the Contro was a 70 mile day- from the hilly Bronx, through Manhattan and ending up out in Brooklyn. Then it was a similar return trip, except a different route and in the middle of the night. Until now I had been using the Contro for my 13 mile commute and was looking to feel out some things that only show up after a few hours on a bike.
The most noticeable was comfort. The Contro was remarkably comfortable for me for the first six or eight miles of a steady ride. Even the stock saddle was comfortable.
Things would go a bit south with the hands and wrists for me after about the 30 minute mark. The stock grips are a little on the small diameter size, and the wide flat bars don't give any additional hand positions like you'd find on a drop bar bike.
To be fair, if this was a bike that I was keeping I would've dialed in the fit a little better- trimming down the bars, replacing the grips with something fatter and adding some bar ends like Ergon GP2 so I can mix up hand positions. Otherwise, for shorter trips and errands its not an issue.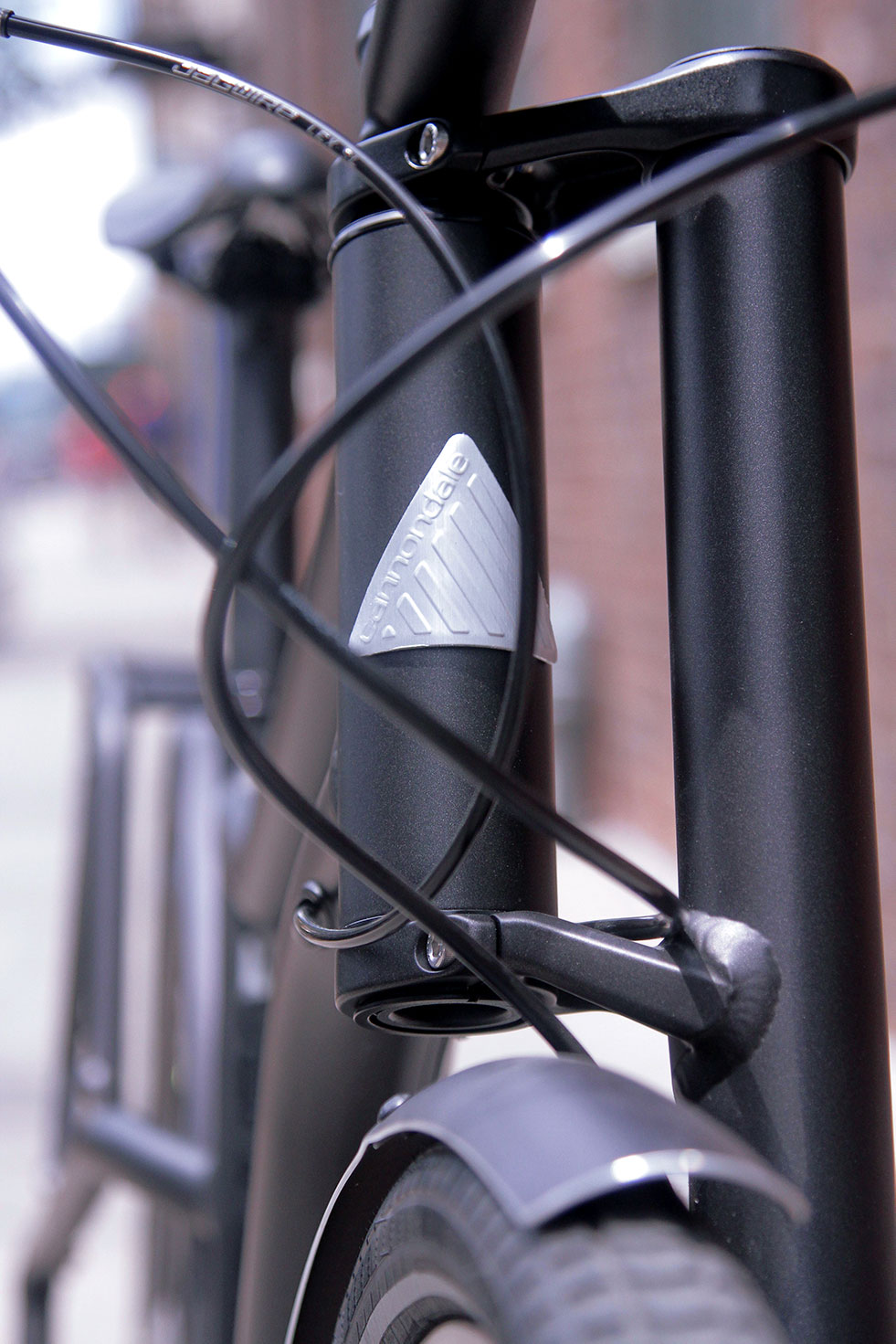 The bars also taper out from the stem. This caused a little bit of an issue with my headlight of choice on the way home at night as the uneven clamping surface would cause the light to come loose and rotate around the bars.
My biggest surprise was when I tried to quickly fit my Ortlieb Classic Panniers (a commuter standard) on the racks to haul some stuff out to the race. In a rush, I figured it would just be a few adjustments and I'd be on my way. Not so easy. For starters, the oversized rack tubing works ok with the top clips. However, you'd need an optional oversized lower hook for these work properly.
Throwing up my hands in frustration, I threw everything into a backpack and tried to use old-fashioned bungee cords to strap the bag to the rack. No dice! There was no place on the integrated rack for the bungee hooks to grab on to.
Admitting defeat, I used the backpack as a backpack and went on my way. Cannondale did build in special threaded bosses to the rack to accommodate Ortliebs very slick QL3 mounting system and it's matching bags. And once again for the sake of fairness, if I bought the bike from a dealer I expect would have been told this. I also most likely would've been set up properly with my existing bags. But something as simple as a bungee hook? That's a stand-out oversight.
Overall
Starting with the original pictures and the marketing hyperbole I didn't know what to expect. I was a little skeptical- to me, any bike is a commuter bike.
A few days with the Contro however, It's apparent that the team at Cannondale did a great job putting together a well riding, seemingly bulletproof, purpose built bike. Not only was it a smooth, comfortable ride for the short haul, it won me over in the looks department as well. A cool matte black finish, minimal branding and a unique design got a lot of compliments and questions during the day.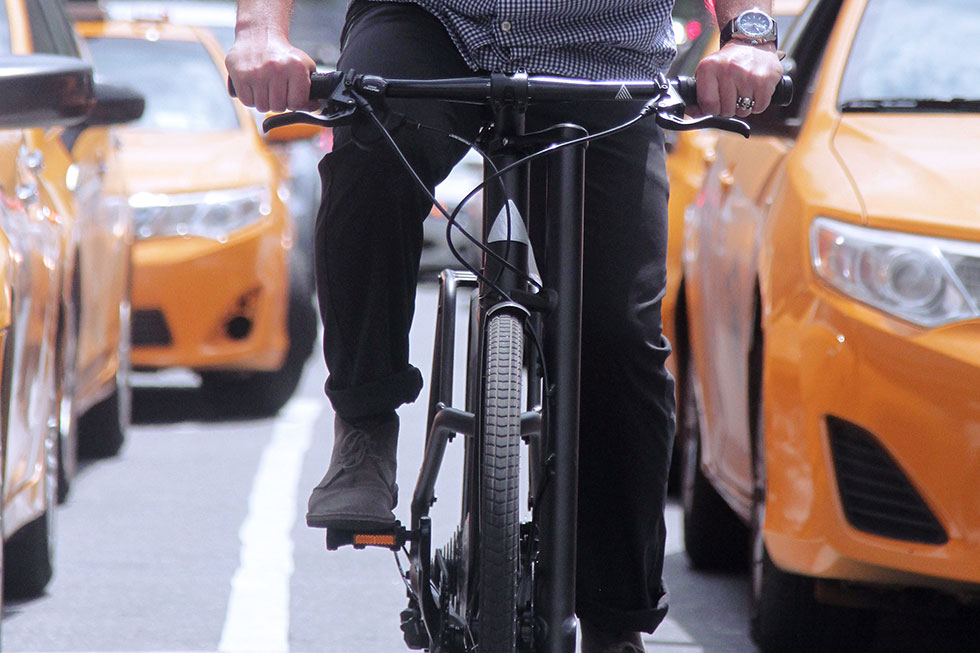 The small details like the tapered bar / headlight issue could've been better thought out. The kickstand was great, but it rattled a little bit. If you buy a Contro I'm sure you'll find a few other small details not to like.
My big issue is with the rack and it's lack of versatility. Maybe for a bike so stylish Cannondale never thought anyone would use bungee cords. Who knows? Regardless, they didn't make it easy to move existing bags from bike to bike with the oversized rack tubing.
I didn't pay for the Contro, but if I had the price point could've been a deal breaker for me. $1400 just seems like a lot of money for a "commuter" bike (though we did find it for $1299 at the link at the bottom of this review).
Alternatively, Cannondale has an excellent line up of bikes in the Quick series starting at about half of what the Contro costs. Although the Quick may not be engineered or designed like the Contro, add a rack and fenders and you're functionally at the same place as the Contro for hundreds less. And the Quick is no slouch in the performance or looks department either.
Once you add all everything up, the Contro would be a great choice for someone who appreciates the style and functionality of a purpose built bike and is willing to pay for it. If you can look past the specialty label of "commuter" and want to save a few bucks at the bike shop, see what the Cannondale Quick has to offer you.
View More:
bike
,
Cannondale
,
commute
,
cycle