With school right around the corner, and chilly rainy fall days on the horizon it's time to upgrade your school,work, or commuting backpack. Big enough to fit a laptop, but not too bulky when empty, sporty enough to wear on a bike but also fashionable. Founded by a bike messenger, Timbuk2 knows how to make a pack that is durable, weather resistant and comfortable and the Tuck Pack is no exception.
Materials and Construction
The Tuck Pack from Timbuk2 is a 20L back pack that has a roll-top clip closure with side zip access and is made of a lightweight durable polyester. There is an additional stealth side zip pocket for secret stuff and several internal pockets and slots for keeping little things where you can find them. The pack also has dual side slip pockets for u-lock or umbrella or thinner waterbottles. The zipper pulls are all reflective and the pack has a vista loop for attaching blinky bike lights. The pack fits 15" laptops in a non-padded pocket.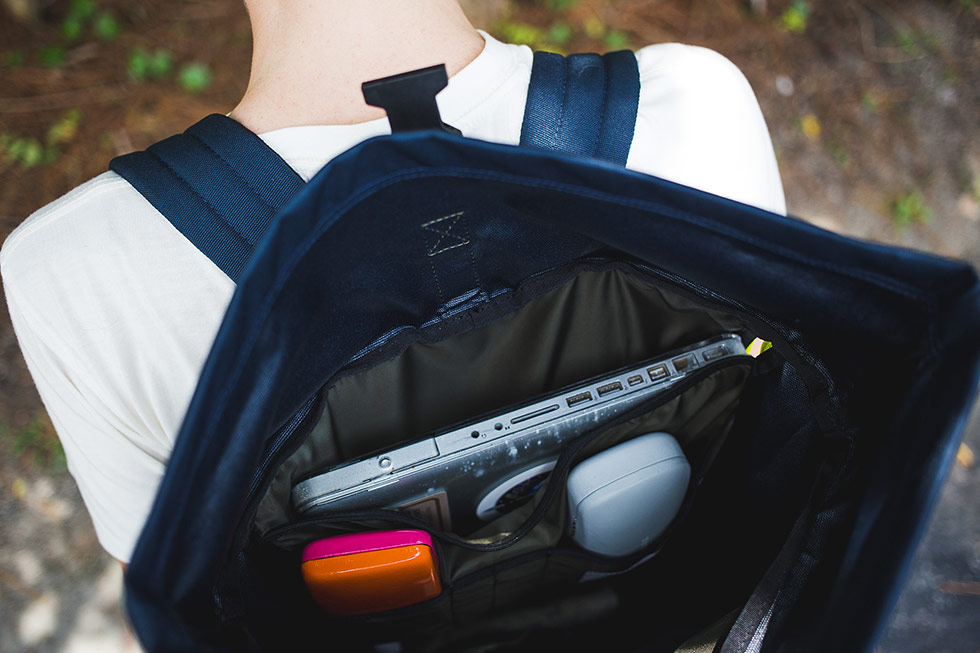 Performance
I work in the kitchen of a restaurant a few miles across town and wear the Tuck Pack every day to work. Most days I bike and find that it sits comfortably on my back despite its lack of cushioning on the back side. You definitely need to be mindful of how you pack it – pokey objects will definitely lower the comfort level against your back. Most days I carry my lunch, water, coffee, raincoat, change of clothes, hat, wallet, phone, keys and notebook.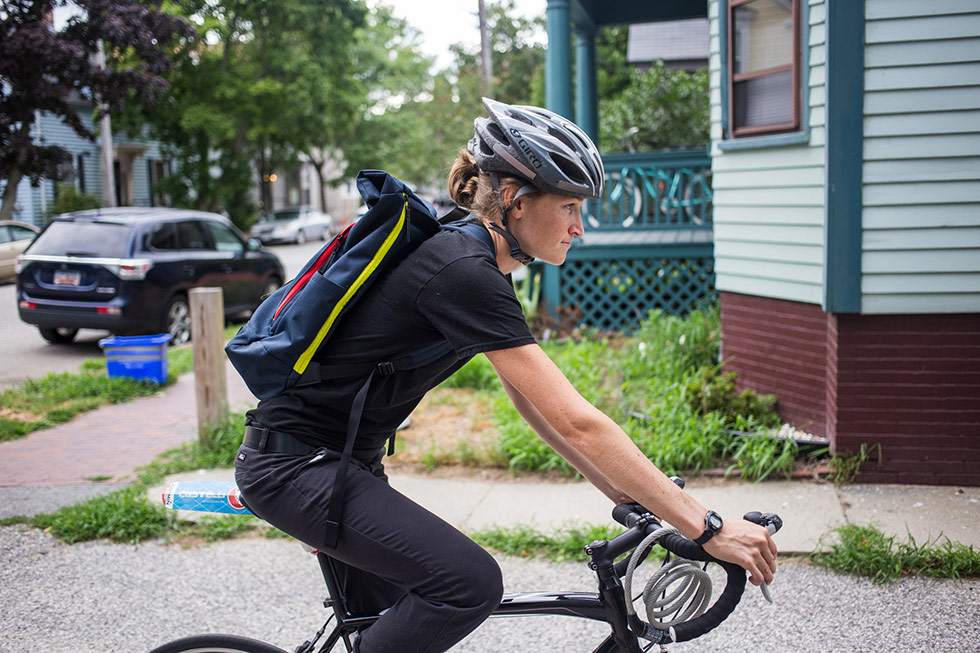 On rainy days I don't really worry about the contents getting wet, the polyester outer holds up pretty well against moderate rainfall for a short amount of time, but I don't carry electronics I really need to worry about. I've also used this pack traveling and found it was a great size to fit under the seat on the plane. It fit my 15" macbook with a hard case but you couldn't pull it out the side zip laptop pocket and had to unclip and unroll the top to access it – a 13 inch should have no problem with this issue.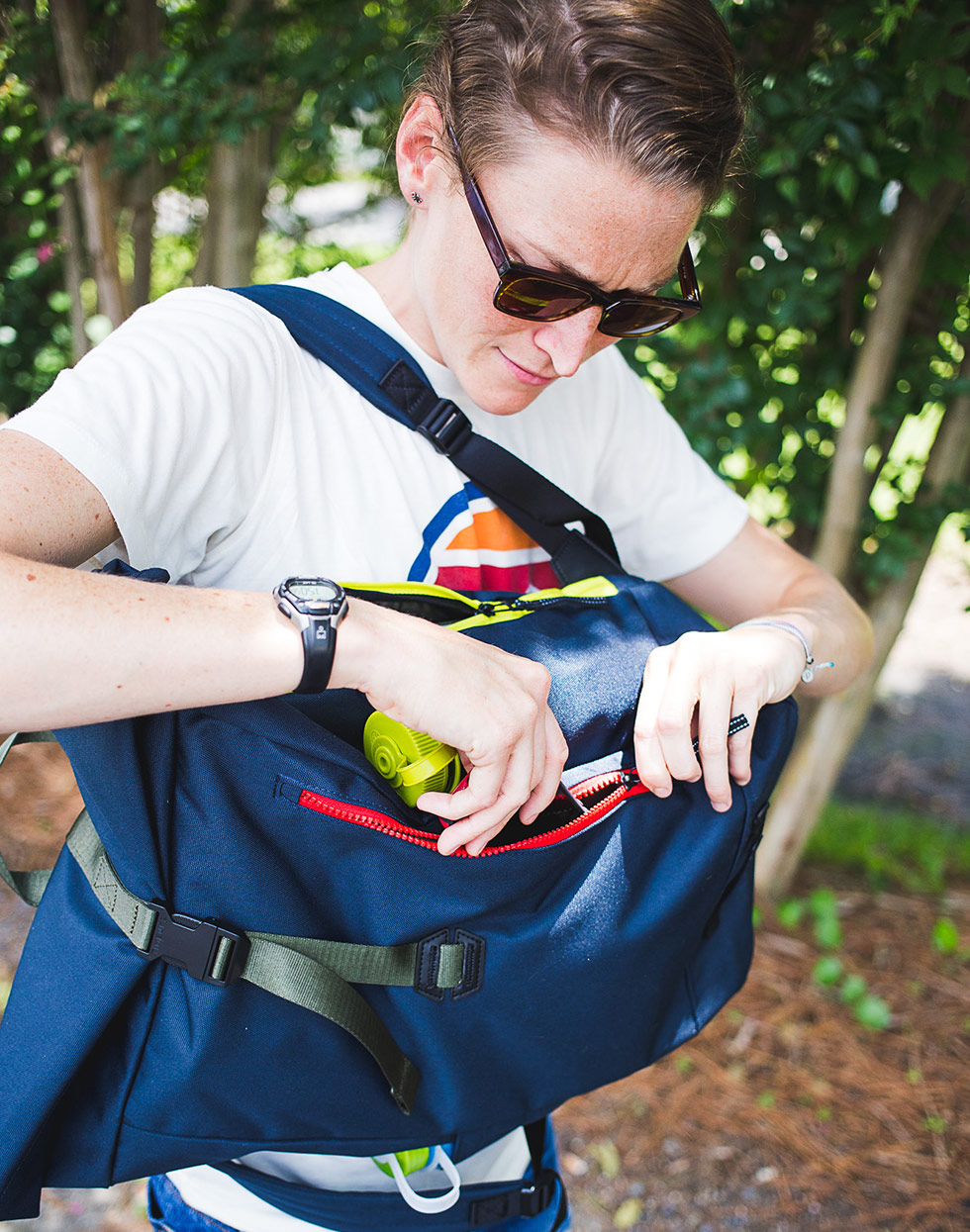 One of my favorite features of this pack is the front zip pocket that is easily accessed when swinging the pack around onto your front while still keeping one of the shoulder straps in place (as shown in this image) – I use this pocket for my wallet, keys, and cell phone so they remain secure but easily accessible. The two water bottle pockets don't fit a 32 oz Nalgene, but fit my 24oz Klean Kanteens/Hydroflasks well.
The only thing I don't love about this pack is that the roll top does provide a bit of a "blind spot" while biking and looking over your shoulder. Aside from that I'm a huge fan of this pack – it has plenty of space and internal pockets for organization – keeping my glasses, pens and notebook separate.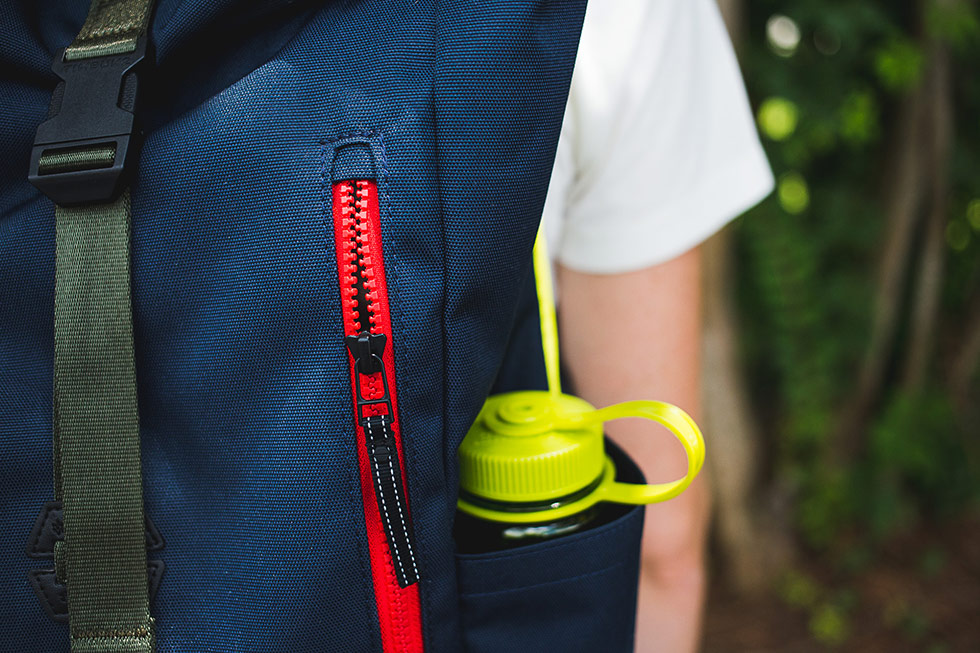 Overall
At $79 this pack is a great value for someone looking to up their backpack game and wants a pack with clean lines that is versatile, durable and very bike friendly.
View More:
backpack
,
bags
,
camp & hike
,
commute
,
cycle
,
Timbuk2
,
travel