The first elliptical trainers hit gyms sometime around 1995 when Precor introduced the EFX. Since then we've seen lots of different sizes, shaped, motions and anything else you can think of in the space where people looking for a solid cardio workout with low impact can be found. The trouble with this though is that you're still indoors on what amounts to a hamster wheel. Why not bike? Good question, and one that I'll touch on later in this review but first, I'd like to introduce you to a machine that gets you outside while still on an elliptical machine – and this time in a lighter and more compact package – the new ElliptGO Arc.
Materials and Construction
Have no fear, I'm going to discuss the chuckles and looks you may get while riding the Elliptic Arc a bit later on in this review. For now however, let's talk about how this machine is made.
The frame of the Elliptic Arc is made from 6061-T6 aluminum which gives it much the same feel as an aluminum bike with regard to flex and handling and also brings the weight in at 37 pounds – which may seem like quite a bit relative to a bicycle but for an elliptical bicycle, it's one of the lightest out there and certainly the lightest by Elliptigo.
The steering is handled by an aluminum fork with attached, frontside linear pull brakes and a 9-potision, height adjustable steer tube. Atop the steer tube is a fairly standard 80mm, 7° stem and the MTB grip wielding handlebars. The wheels are both 20-inches with the rear brake being mounted to the underside of the bottom bracket. Shifting of the 8-speed drivetrain is handled by the Shimano SL-M310 trigger shifter in the right hand (single speed chainring up front).
Now for the part of this bike which is where the action happens, the drivetrain. In all other elliptical models the shape of the ellipse is much longer than in the Elliptigo Arc. In the Arc however, the ellipse is much more compact and circular:
The reason for this shape is due to the platforms (pedals) being on a rocker system where they're attached to the frame by a pivot point which falls in between the headset and the bottom bracket. The rear of the platform swing arms are attached to the aluminum crank arms which power the massive, 60-tooth chainring (I need on of these for my TT bike!).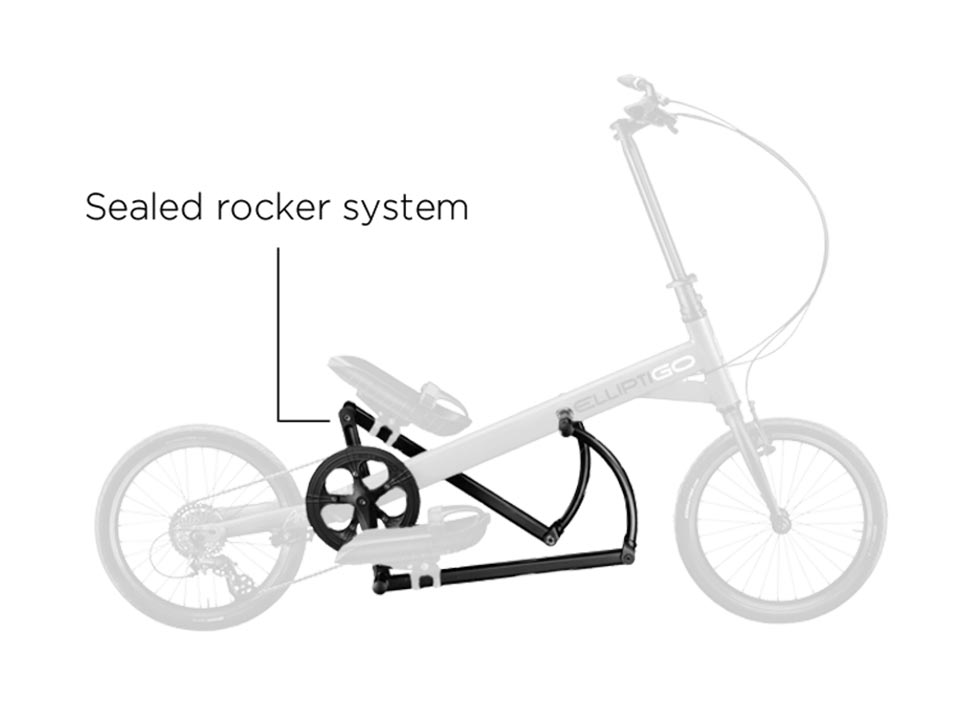 Since there is only a single chainring there is no front derailleur but there is a chain guide/brace to keep the chain from falling off which is a nice touch. In the rear we find the Shimano Altus derailleur which handles the shifting for the 8-speed 11-34 cassette. And where do your feet go to put all this into action? The sit on two composite nylon platforms which have an adjustable height (by sliding back or forward on their mounting arms) and unlike any other Elliptigo models, pivot on the front of the platform to adjust for different riding styles.
Wheelbase 52.6″ (134cm)
Total Length 72″ (183 cm)
Weight 37 lbs (16.8 kg)
Operating Height 50-58″ (127-147 cm)
Storing Height 47.8″ (121 cm) with steering extender
Storing Height 24.5″ (62 cm) without steering extender
Crank Length 175mm
Gears/Speeds 8
Total Gear Range 309%
Avg Gear Step 18%
Gear Ratio Range 1.765 – 5.455
Gear Inch Range 34.1 – 105.3
Gain Ratio Range 2.47 – 7.64
Stride Length 13.8″ (35 cm)
Stride Height 9.4- 11.8″ (24-30 cm)
Front and Rear Brakes Linear pull rim brakes
Grips Clamp on anti-rotation, with Ergonomic shelf
Cranks Custom forged aluminum
Frame 6061-T6 Aluminum
Fork 20″ butted chro-moly with 1.5″ steerer
Brake Levers Avid FR5, two finger levers
Propulsion System Compact Elliptidrive Technology
Drive Arms Chromoly Steel with composite nylon foot platform
Track System Sealed Rocker System
Chainring 60-tooth, 130 BCD, 6061 – T6 aluminum
Cassette 8-speed 11-34 tooth range
Bottom Bracket Isis drive, sealed bearings
Sprocket 16-tooth
Hub 32-hole, alloy Freewheel hub
Steering Column Adjustable height index locking
Steering Extender Chro-moly steel, anti-rotation
Headset 1.5′ threadless
Kickstand Single leg, forged aluminum kickstand
Tires Kenda Kwest
Handlebar Alu. MTB riser bar, 50 mm x 670mm
Stem Forged aluminum, 80mm x 7 deg
Shifter Shimano SL-M310 trigger
Front Wheel 20″ aluminum aero profile rim, 28-spoke
Rear Wheel 20″ aluminum aero profile rim, 32-spoke
Climbing Activity Climb steep hills up to 20-30% grade
Recommended Riding Terrain Flat and hilly terrain
Cruising Speed 12 mph (20 kph)
Sprinting Speed 20+ mph (32+ kph)
Workout Resistance Selection 8 different levels of resistance. 309% total resistance range. 18% difference between levels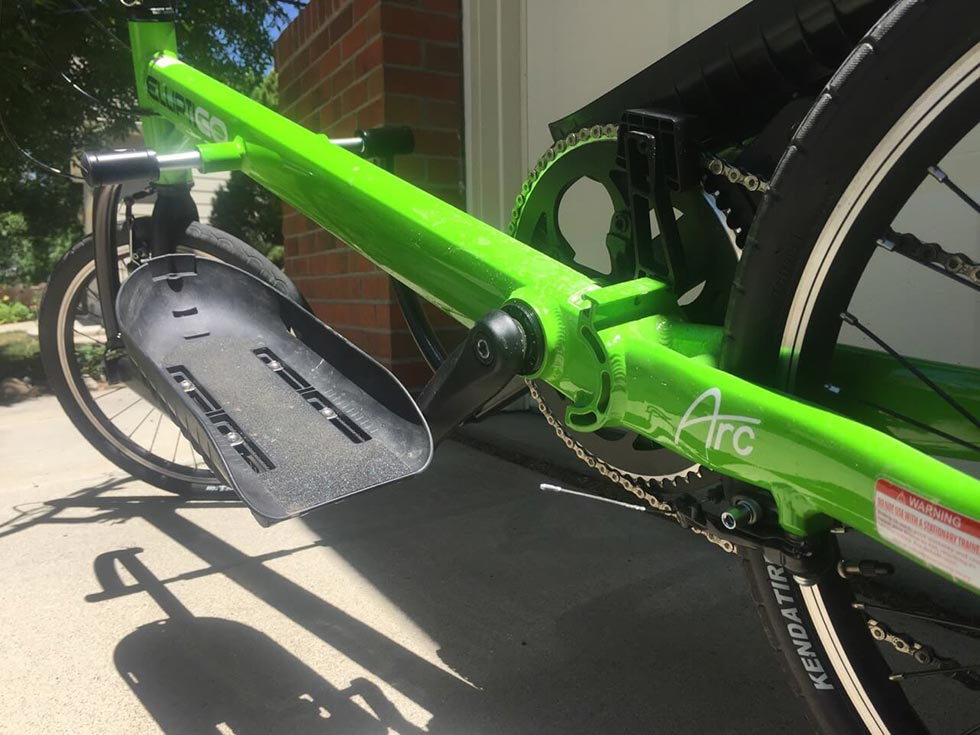 Performance
Now that we know how the Elliptigo Arc is put together let's talk about how this thing performs (and don't worry, I'm still going to talk about the looks and such).
First, when most people see the Elliptigo Arc (or pretty much any elliptical bike for that matter) their first reaction when you ask them to try it out is something like, "I don't know if I can ride it without falling!" Honestly though, it takes about two seconds until you're on it and you're totally at home. One of the first things that I had to get used to with the Elliptigo Arc was the pivoting foot platforms. On one hand, my brain and body were thinking that since it was a running stride shape(ish) that I'd just be relaxing my ankle the way I do when I run. On the other hand, my brain and body were thinking, "Hey, this is a bike so I can pivot my foot around the spindle and pull if I need to." The fact that these platforms pivot is something that I like because it allows me to be aggressive and really have a down & back movement on the platforms/pedals. My wife, on the other hand, had a tough time getting used to the dynamic action which they can take on.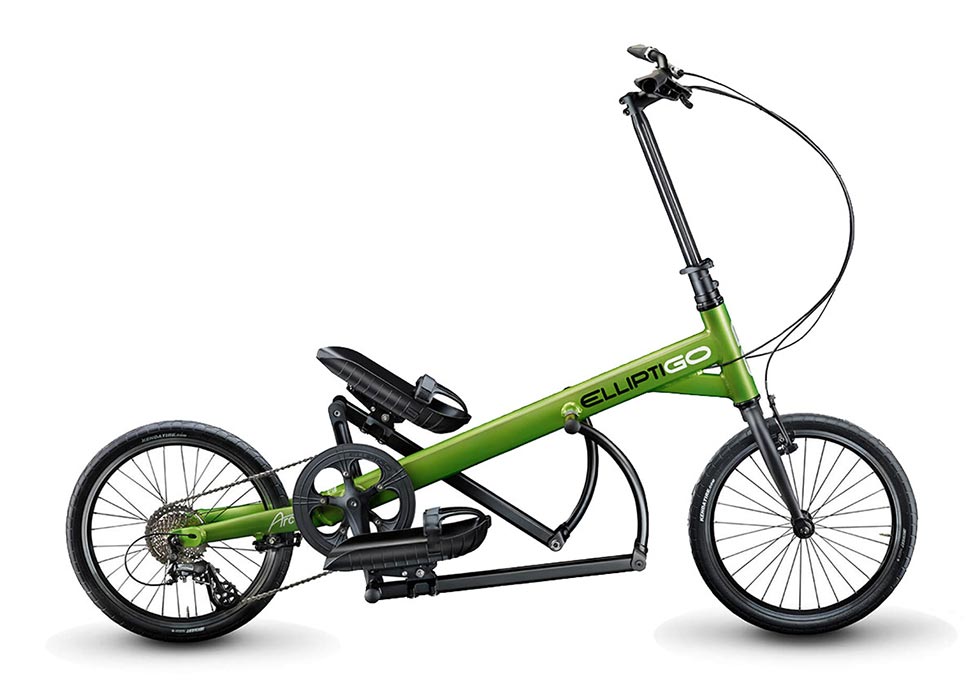 As far as handling goes, I find that the Elliptigo Arc feels almost exactly like I'm just standing up on my bike pedals and going through turns. The main difference being that the smaller wheels don't handle bumps quite as smoothly as larger bike tires. One thing I do want to point out about the handling is the way you have to look at going through corners. When on a bicycle, you always keep your inside pedal up as you go into a turn so you don't catch the pedal or crank arm on the ground. On the Elliptigo Arc – which is different in this regard than other elliptical models since their propulsion systems are on a track – you have to think about the position of the rocker arms. In order to get the best inside ground clearance in a turn that I've found is to have both feet level (not pedaling) and the inside foot forward. Honestly, I didn't ever hit the ground in a sharp turn so this may not be an issue, but it is something to consider.
About now you're probably wondering if you can take the Elliptigo Arc on trails and to that I'd say, maybe. Here's the thing to consider: with smaller wheels, a low-to-the-ground frame and a long wheelbase relative to the frame height, you're limited to the types of bumps or mounds you can go over. Think of it like one of those low-sitting semi trailers getting stuck on a railroad crossing. Now with that said, I took it on some groomed trails and paths that I knew to not have bumps and such like that and while it was tricky (and I needed different, more knobby tires) it was fun trying to get used to it.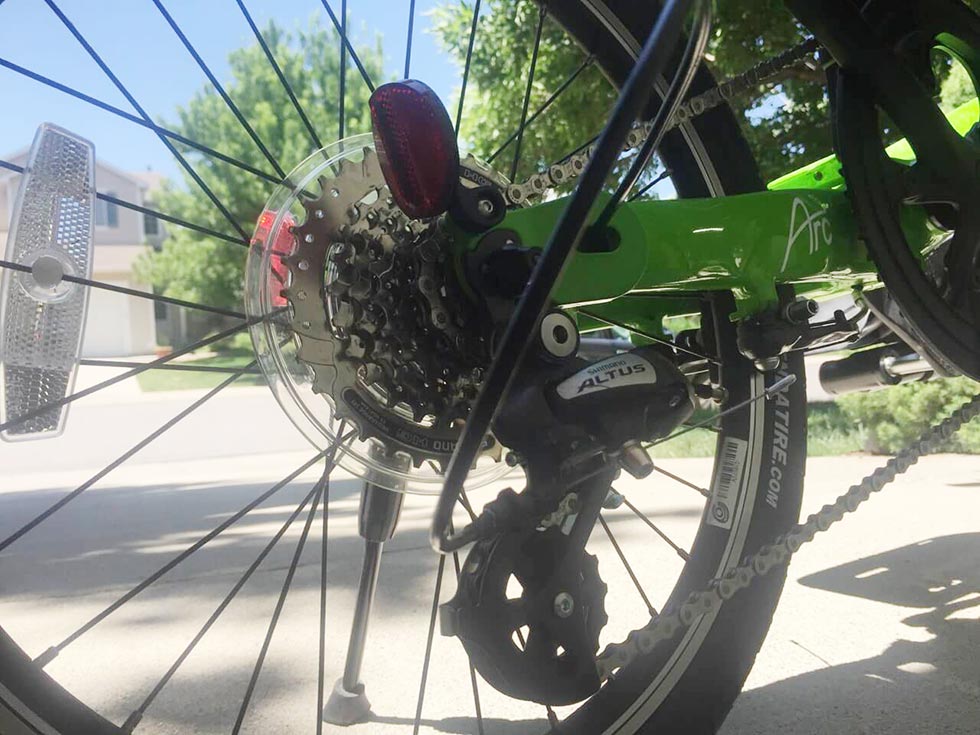 Now for the workout aspect of the Elliptigo Arc and this is where I have to say that I was truly surprised. I did workouts up to an hour on the Elliptigo Arc, but the longer ones were admittedly much more cruisy. When I really got down to pushing the pace, this workout was intense. I honestly felt more like I was doing a track speed workout that anything else. On the last workout I did prior to writing this review I had a headwind out of the northeast which was a great reminder of one of the potential downsides (or upsides, depending on how you look at it) and that is that in the case of a headwind, with your body so upright your torso acts like a sail and the resistance really cranks up. I tried to duck down to get a bit more aero but then I was a bit concerned about handling. As for climbing, I didn't do anything super steep, but I did find myself on occasion using all the gears to climb and had no problems at all.
When it comes to performance, Elliptigo claims, "Burns 33% more calories than a traditional bicycle" and I've got to say that while I can't put a firm number on it like that for myself, I will tell you that I had no problems using this on non-running days and even on days where I felt the impact from earlier runs was doing a number on my legs and feet. The workout you get from the Elliptigo Arc is nothing short of legit.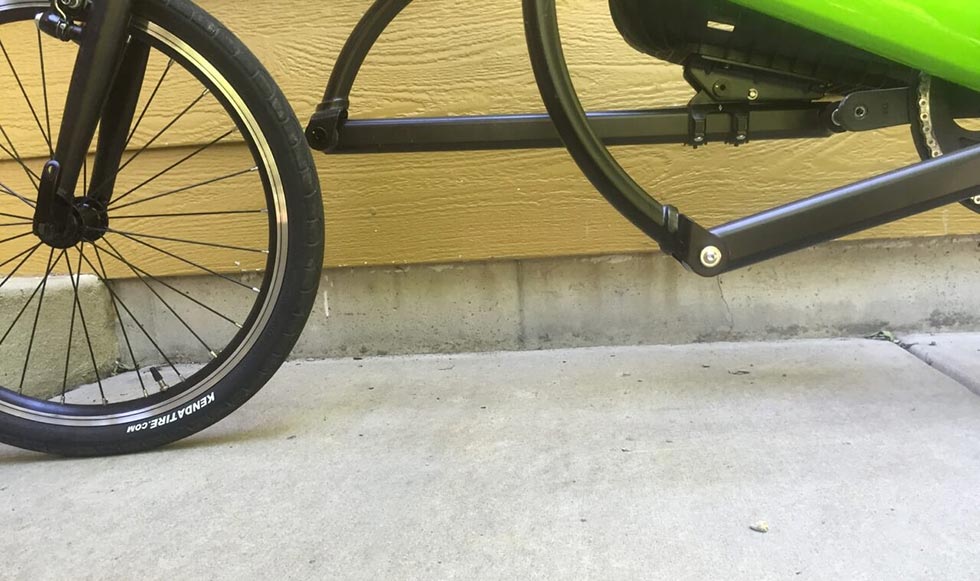 Overall
There are a couple of things I should point out here that should be considered. First, there is no included water bottle cage with the Arc though it is possible to mount one in a few places. There are also toe cages which easily attach and add the aspect of upward pulling if you need it or to simply keep the feet in place a bit better. Maintenance is pretty much the same as with a bicycle so consumable like tubes, tires and chains will need to be replaced about the same as a typical bike. Also, in case you're thinking that you can just throw your Arc on a bike trainer when the weather shuts down the outdoors, this is not currently the case with the Arc.
I've put it off until now but it must be talked about: when you ride an Elliptigo, people look at you funny. They just do. Chances are they've never seen one to begin with (though with more people using them this will keep changing) and if they have seen on online somewhere, chances are they've never seen on in person. On top of that, cyclists (speaking as a cyclist) definitely aren't sure what to make of it and try to blow by you – though I've admittedly hammered and hung in with a couple of people on bikes who were super confused that I could go that fast doing what essentially looks like running. The top speed of the Elliptigo Arc, according to Elliptigo, is 20mph but I can tell you for a fact that I've had it up to 25mph on a flat road – of course, I felt it but isn't that what it's all about?
Let me put it like this: Rick Barry was a pretty famous pro basketball player back in the day. One of his claims to fame was that his career free-throw percentage was right at .900 – that is an insane number. In fact, in the 1978-1979 season he only missed NINE free-throws for the entire season. He achieved this by shooting underhanded from the free-throw line. This is a style which, even then, was laughed at by his fellow players and fans. One of his colleagues came to him one day to improve his abysmal free-throw shooting – a guy named Wilt Chamberlain – whose free-throw percentage was somewhere around .500. Off the court, Wilt worked to mimic Rick Barry's underhand shooting style and in the 1961-1962 season improved his average to around 61%. However, because Wilt felt "silly" he went back to shooting overhand – and back to shooting poorly. My point in saying this is that because we're not used to seeing things that are different we don't embrace the obvious benefits and the Elliptigo Arc is absolutely worth looking at.
The Arc is not cheap, but it is the most affordable of the Elliptigo models at $1300 – about the same as a good, entry-level bike. So, take stock of your workout situation and if you need something for recovery days or to crossgrain, this is a truly incredible workout when you are ready to throw down.
View More:
bike
,
cycle
,
ElliptiGO
,
run