One of the many, many cool parts of being a new parent is getting to buy new toys and such for your child which inevitably are just as cool for you! My daughter is now seven and a half months old and absolutely adores the outdoors, which works out nicely for mom and dad.
The Kelty FC 3.0 came when my daughter was about 6 months old. She was the perfect size to be able to take advantage of almost the entire adjustable range of the FC 3.0 (since we plan on using it constantly and updating this review as she gets bigger).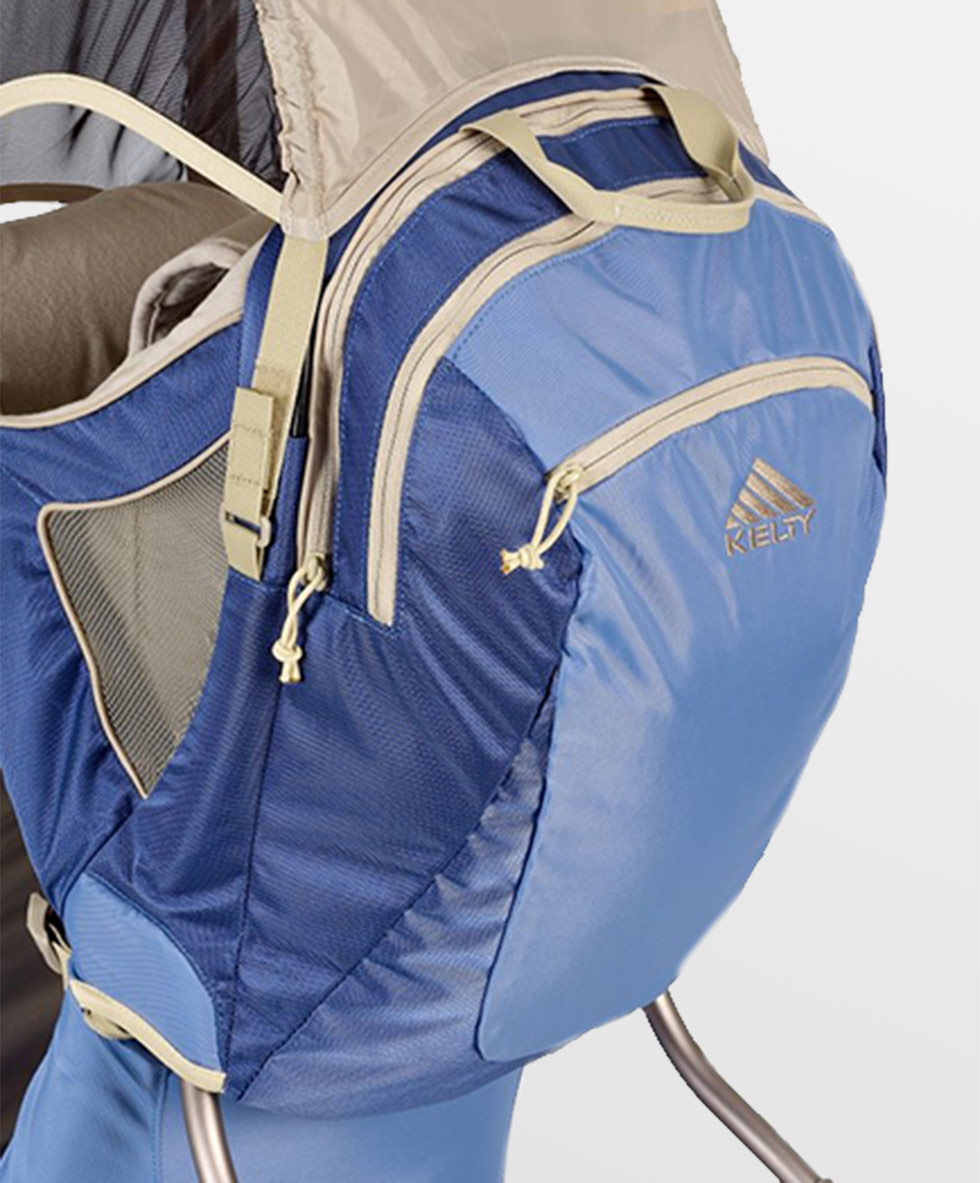 The FC 3.0 is part of a lineup of several child carrier backpacks offered by Kelty. The 3.0 comes with a ton of room in several pockets to store pretty much anything you could need for a quick walk around town or for an all day hike. The pack is JPMA Certified which is a major point since this pack will be carrying some really precious cargo.
Since we originally published this article, Kelty has released the newer Kelty Journey Perfectfit Child Carrier. It has similar features with the added bonus of being almost a full pound lighter! You can check it out at the links below
The FC 3.0 includes it's own weather hood that can be deployed easily with the child in the pack (though, some cooperation on your kid's part certainly helps). Since this pack is one that is meant to be set down with the child strapped in, Kelty uses an auto-deploy kickstand that folds in and out when the pack is taken on and off. Also on the pack are toy loops so your child will hopefully ignore the temptation to pull your hair as well as a removable, washable cockpit pad.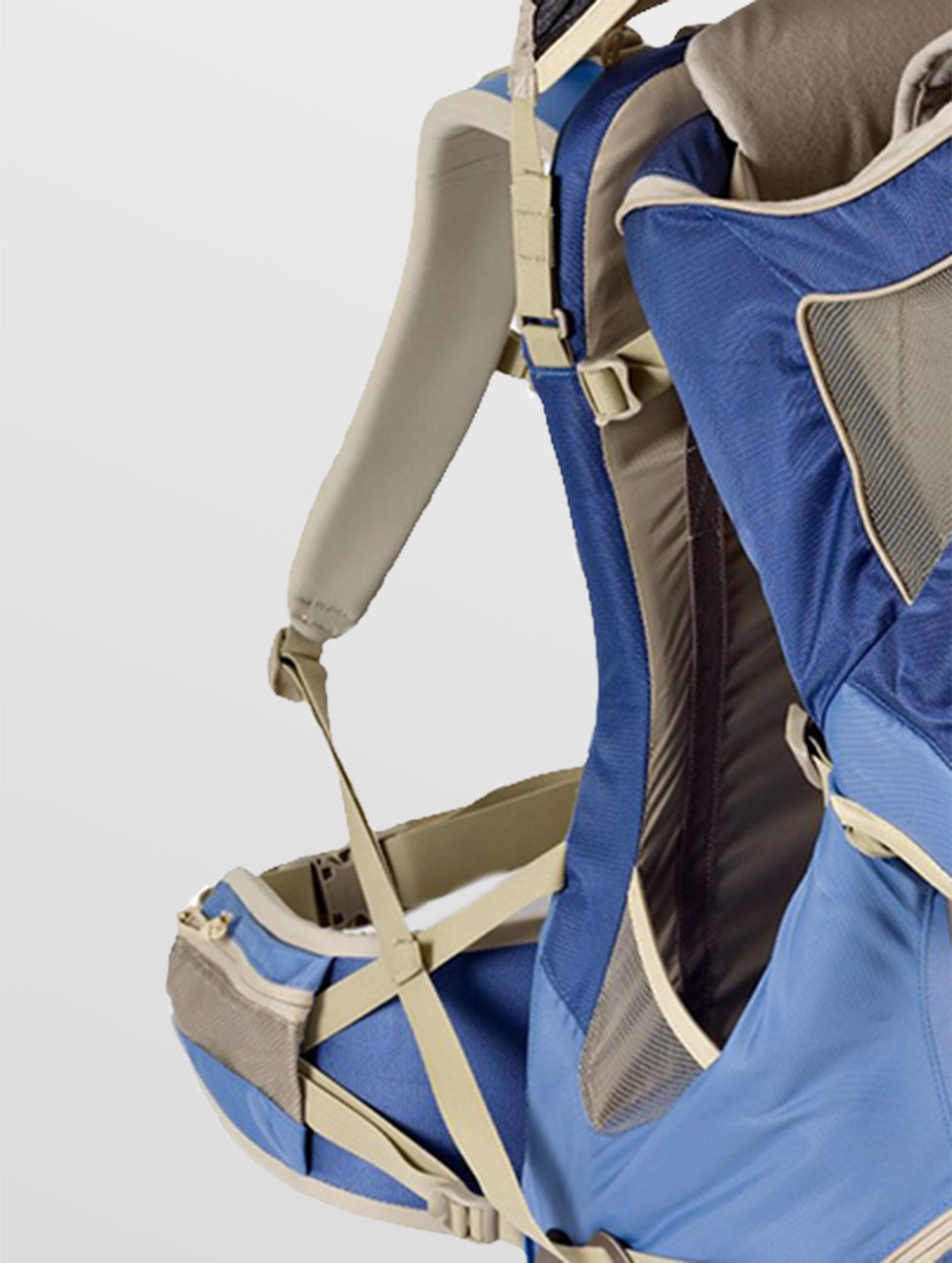 On the waist retention belt, which is hugely adjustable, are two storage pockets that are super easy to get to. There are two carrying handles that make getting the pack on with your child already strapped in not so hard. The shoulder straps, sternum strap, waist belt are all laminated, contoured and almost infinitely adjustable. Also on the FC 3.0 is an easily adjustable lumbar support pad that allows for different parent to change the pack to their body in about 5 seconds.
The specs on the pack are as follows:
Weight: 7 lb. 6 oz. / 3.3 kg
Maximum Load Weight: 50 lb / 22.6 kg
Dimensions:
Length: 19" / 48.5 cm
Width: 15" / 38 cm
Height: 30" / 76 cm
Volume: 1100 in3 / 18 L
Torso Fit Range: 15″-18″ / 38 cm – 45.7 cm
Out of the box I was shocked, and I do mean shocked, at how light this pack was. With the light weight in mind, the aluminum frame is extremely sturdy and well balanced. Getting our daughter in was easy enough, though it did take me a minute, though I'm sure it would have been less had I not been too excited to read the manual, to figure out that I need to take her out to adjust for her height. The five point retention system on the FC 3.0 is very secure and keeps all the clips out of the way and out of the eyesight of the little one, so no worries about clips being undone.

Earlier I mentioned the almost infinite adjustability of the FC 3.0; this is very true and makes it so customizable that taking turns carrying is incredibly easy. That said, the adjustability is almost too much! Don't get me wrong, that's not a bad thing by any stretch of the imagination. What I mean is, when my wife was the last one to wear the pack and then I put it on, I have a hard time remembering which adjustments were where (kind of like adjusting the drivers' seat in your car). When I mentioned needing your child's cooperation with putting on the weather hood, I said that because should your little bundle of joy start grabbing the hood support pieces, it can quickly become frustrating. My solution was to just give her a toy or something else to play with until the hood is on (about a minute).
The one challenge that I don't think is truly able to be addressed simply by the nature of a pack such as this is getting the pack on. With child strapped in, you have to be patient and very aware of your surroundings so you don't know things over (trust me). Once you've taken the time to figure out the best way to get in and out of the FC 3.0 it really is very easy and not at all a problem.
We love this pack and more importantly, our daughter loves this pack. It is definitely her favorite over the stroller since she's up nice and high and can see everything. If you've got a little one you definitely need to give this pack a try.
View More:
camp & hike
,
Kelty
,
kids
,
travel