If you're anything like me, when you go up the mountain for a day of skiing or snowboarding you want to get every ounce of the day on the hill that you can. With those hours come a bit of need for some audio stimulation to make lifts go by quicker and give a nice boost on your way over the lip of a new run. Unfortunately, for some of us, traditional headphones or earbuds simply don't get the job done while we're wearing our helmets. Many companies have begun to integrate wireless audio into helmets but the majority of helmets don't include sound. This is where the Chips bluetooth helmet audio from Outdoor Tech comes in.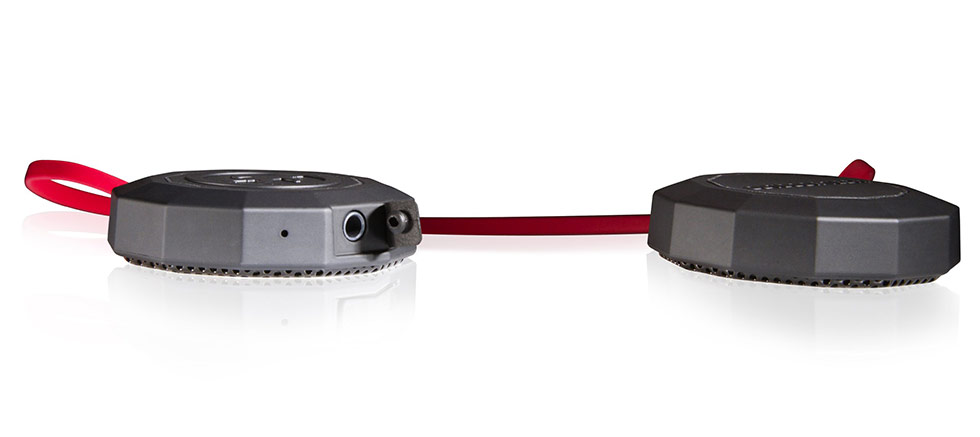 Made from durable yet lightweight materials, the Chips are minimally designed to drop into the ear flaps of your snow helmet – if that helmet has flaps built to accept audio, which most do these days. At only 1/2 inch thick and 2 inches across and .18 lbs, they disappear into the helmet and aren't noticeable at all. The two sides are joined by a flat cable that fits into a helmets cable channel nicely but is also malleable enough to lay comfortably across the top of the neck/base of the skull.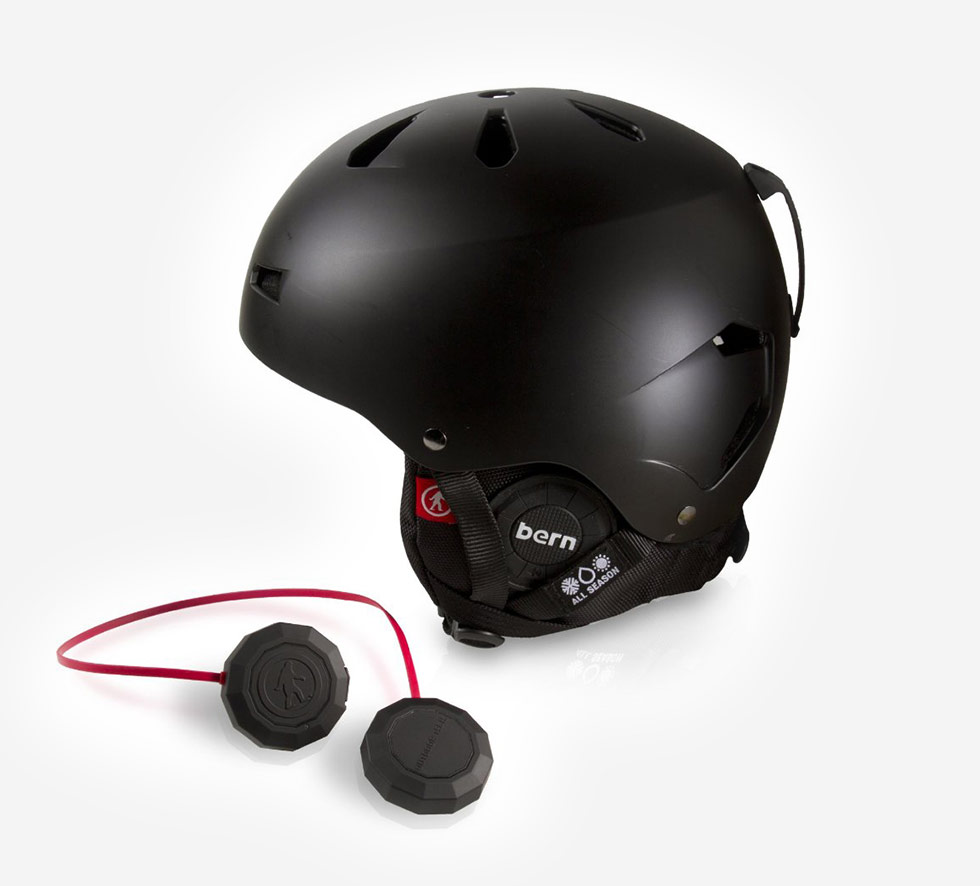 On the performance end, the Chips really stand out. First, let's talk about times: these speakers rock 9-10 hours of play time. Honestly, we were never able to run the battery dead, even on days as long as 8 hours of constant playing with a few phone calls dropped in for good measure. Equally impressive is their standby time of 280 hours. That's 11.5 days of waiting for you to get your butt outside. The 40mm drivers deliver a really full-bodied sound up to 120 decibels. So we're clear, that's enough sound for the person next to you on the lift to hear what you're listening to pretty well – so make sure no children are beside you if you've got some questionable tunes playing.
As you'd expect the Chips are water resistant to the IPX4 standard, which basically means that when you sweat through your earflaps or wipeout and get a head full of snow, your speakers are going to be just fine. Additionally, the Chips are tested to work down to -4°f but you'd be pretty hard pressed to get so low since your head will go a long way toward keeping the Chips warm. The bluetooth in the Chips connects easily and remembers paired devices so there's no having to re-pair them with your phone after not having done so for a while. While the bluetooth does have it's standard 30 foot range, I'm betting that the only time your phone and helmet are going to be 30 feet apart is if you've just eaten it hard enough for one or the other to roll down the hill.
The controls on the Chips are made up of two buttons – one on each ear. The buttons take up pretty much the entire outer surface of each speaker which makes them plenty large to be used with even the bulkiest of gloves. Controlling the speakers, whether it's to change volume, tracks or to answer calls (yes, you can answer calls!) is done through an easy to remember series of button presses (see image below). If you're an iPhone user, while there is no documented way on how to use Siri, there is a sneaky workaround: hold down the left button and then hold down the right button.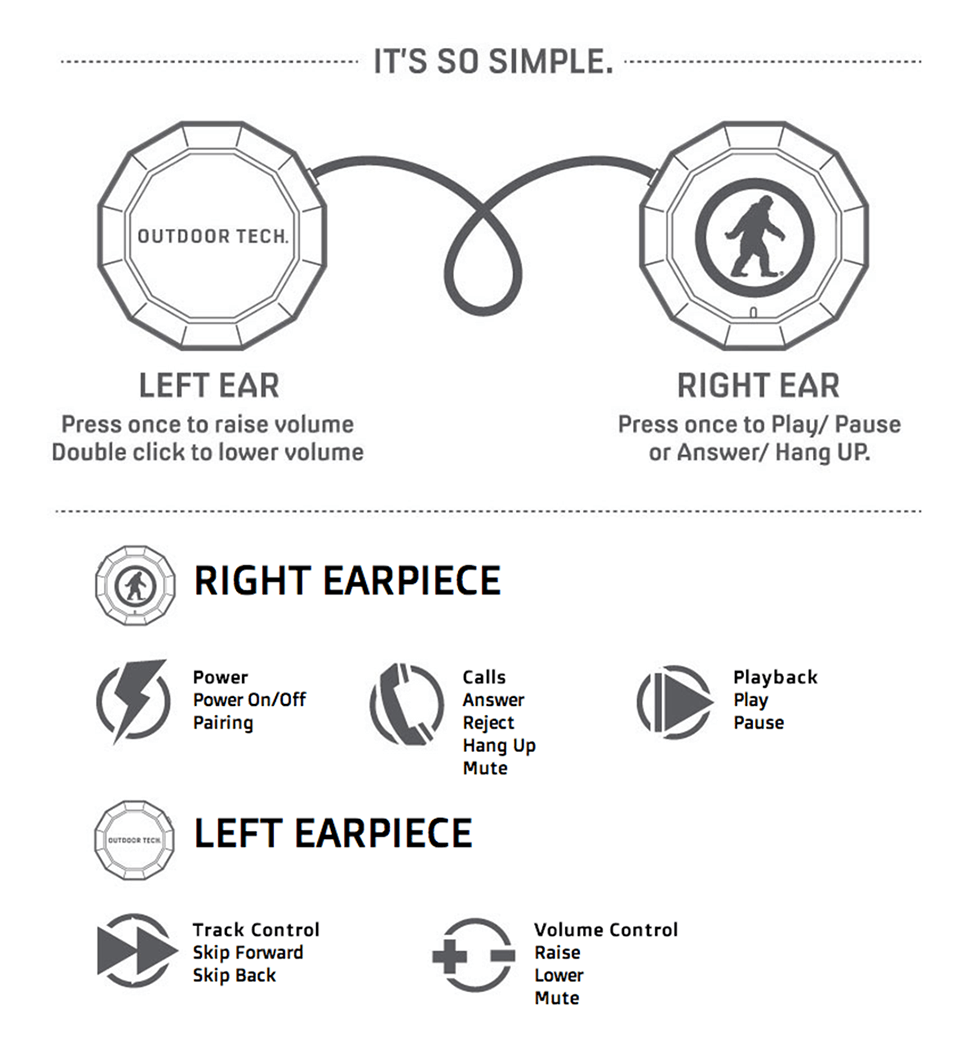 At $129 the Chips are really well priced for such a durable, lightweight and WIRELESS audio solution. They do come with a cable just in case the battery dies so if you're out past their impressive battery life, have no fear. Having been relegated to earbuds and wired headphones up to now, the Chips have been an absolutely must-have addition to my ski/snowboard gear. Even if you don't need music in your ears, having these on in your helmet will keep you in touch while on the mountain without having to sacrifice cold hands or trying your best to get to your phone through layers of clothes before someone hangs up.
View More:
accessory
,
helmet
,
Outdoor Tech
,
ski
,
snow
,
snow helmet
,
snowboard