There is gear that is designed on a drafting table or a computer by a designer or engineer. Sometimes the results are great but there is still no substitute for bringing together the minds and experience of the actual athletes who know exactly what they want to see. Today, I'm taking a look at a hydration vest designed for racing by the super-fast trail runner Stephanie Howe and designed in concert with the folks at Nathan Sports. This is the VaporHowe.
Materials and Construction
Soft. I'm sure I'll be using this word a lot throughout this review. The VaporHowe is built using a very soft fabric – which is perforated in spots – rather than a more traditional mesh. Whereas many if not most hydration packs go-to material is ripstop, I found this to be just as durable. To be fair, this never got torn, so I'm not sure how it would perform with regard to arresting a tear once it starts like ripstop would. It has proven to be quite durable in many situations and conditions (mud sliding and briars, etc).
The vest is made using 2 main fabrics. Everything against the skin feels a bit thicker with a feel that seems like it would shed water ostensibly to cut down on sweat and moisture absorption. The external or outward facing fabric is a bit thinner yet has the same very soft feel. It actually resembles the softness and malleability of a tech shirt. All of the fabric has areas of perforation for better ventilation.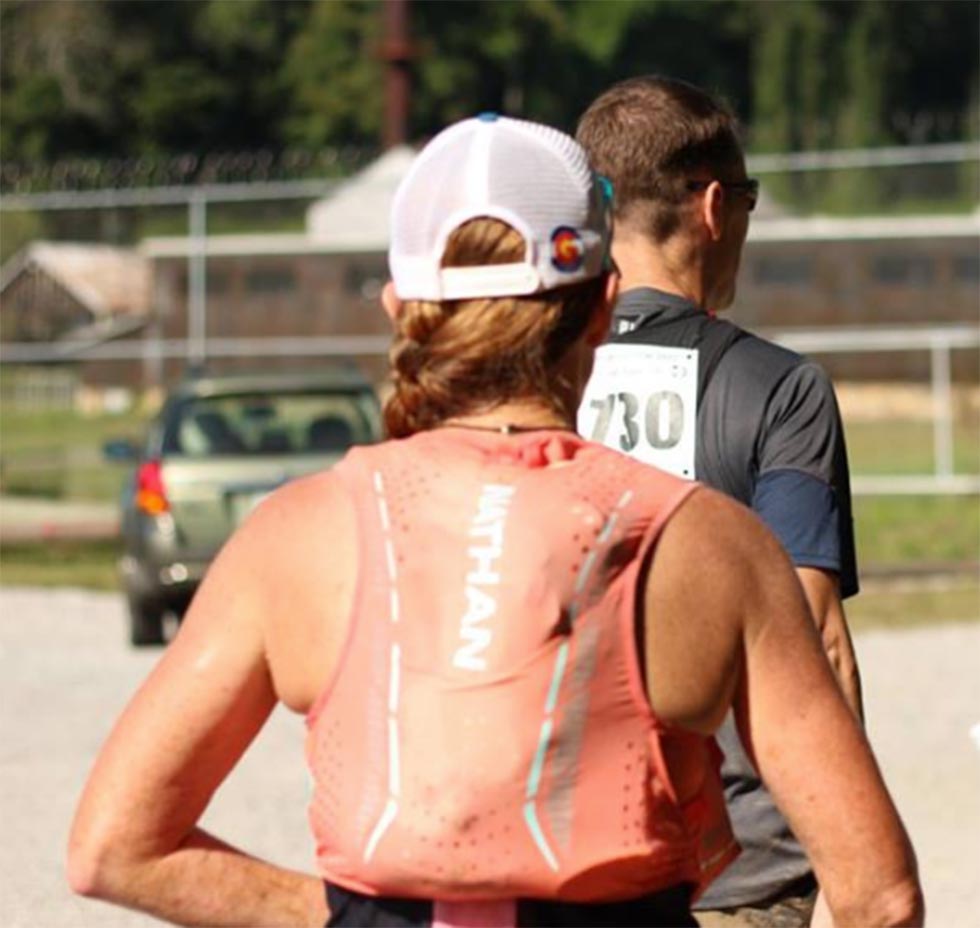 Looking at the front of the VaporHowe, there are two sternum straps which are both vertically and horizontally adjustable. The top right strap is fitted with a magnetic contact point for hose attachment and also includes a removable magnet for your hose. (The VaporHowe does not come with a bladder – more on that later) There are two additional adjustment straps at the love handle area which are hidden in a pocket area so the straps are not flapping around.
Storage on the front is plentiful. There are so many pockets. The right shoulder strap has three. The top is a small narrow stuff pocket that could hold, for example, a lip balm. The middle is the pocket that holds one of the included 12oz ExoShot soft flasks. The bottom is again a small stuff pocket but is topped with a hook & loop closure. The elastic strap at the top (above the top small pocket) is meant to keep the extended bottle straw under control.
The left shoulder also has three pockets. The top is a zippered pocket not quite large enough for a phone) but great for securing keys, I.D. or a credit card/cash and has an additional smaller pocket within for things like salt pills. There is an emergency whistle inside as well. Again, the middle pocket is for the soft flask and the third is identical to the right side stuff pocket.
Moving around to the back of the back of the VaproHowe, the upper half has a hook & loop closed pocket which measures ~8" x ~6" perfect for things like a phone or whatever else you can shove in there. Below this is a fairly large and stretchy pass through pocket that is accessible from each side. This open pocket goes across the lower back and is a good place to shove a jacket or other items that you would like easy access to, without having to remove the vest to get to them. Each of these pockets is easy to reach.
The bladder pocket is large enough to fit a 1.5 liter bladder. There is a hook & loop hanger strap at the top and hose routing options on each shoulder depending on your preference. Though a bladder is not included with the VaporHowe they do provide two ExoShot soft flasks. These flasks hold 12 oz and have straws attached that allow you to drink from them without removing them from their pockets. They also have a plastic spine so that they are easy to get back into place after refilling them and hold their shape as they are emptied.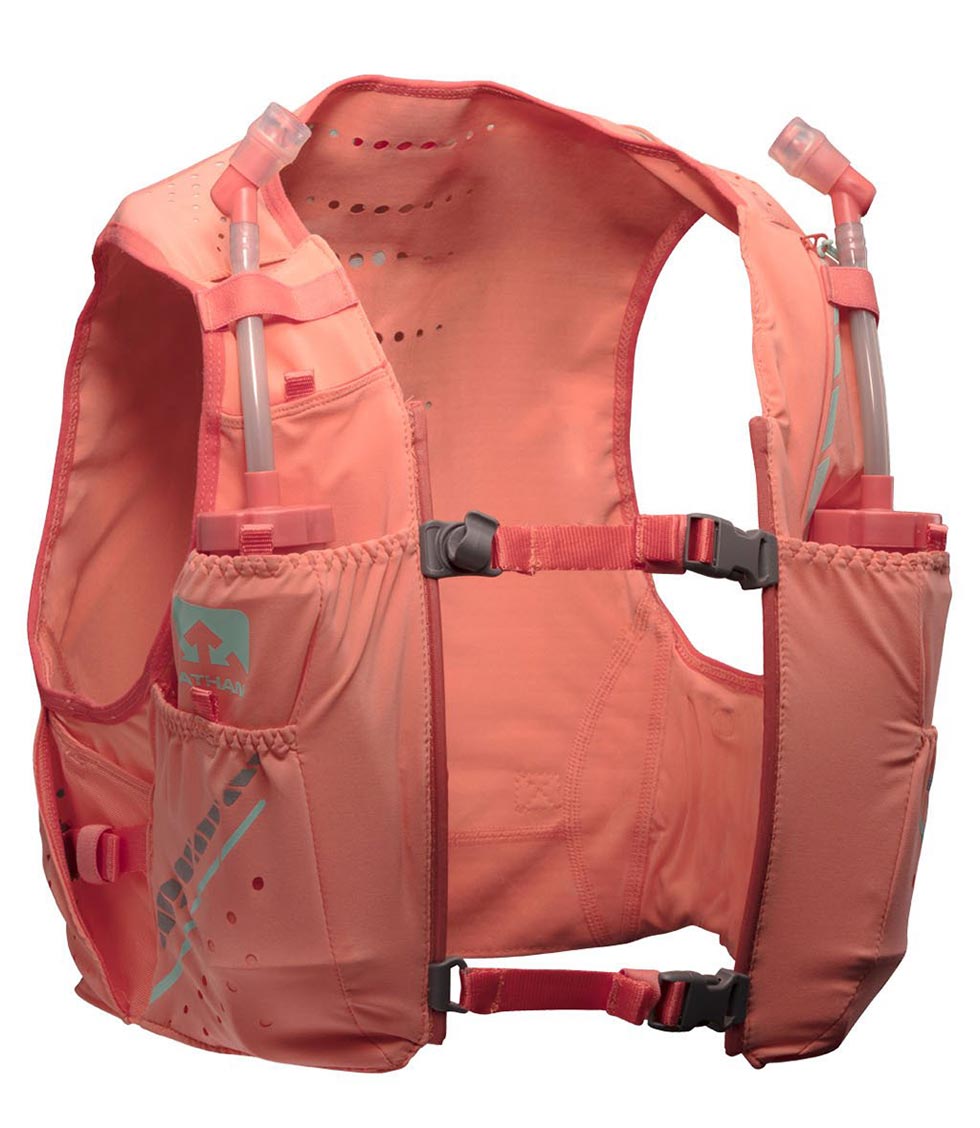 Fit
I typically wear a size Small of Extra Small in tops and went with a size small in the VaporHowe hydration vest. I decided to go with the larger size because I would rather have it be too large than too small. I found the fit to be spot on and with all of the adjustment straps I was able to get a good snug fit even with the pack empty.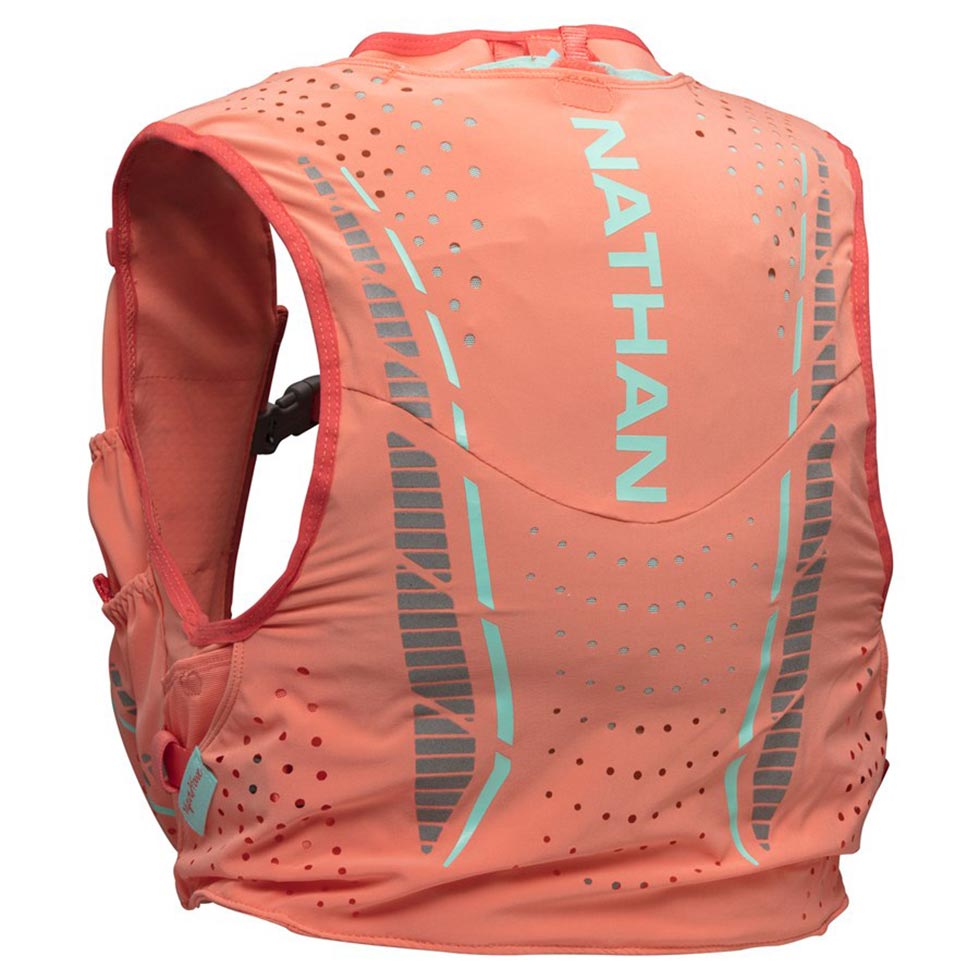 Performance
The feature that really stood out in my mind during the testing of the VaporHowe was its comfort. There are many straps for adjusting the vest to get a great fit which eliminates bouncing and chafing from rubbing, even when loaded down with gear. The fabric is incredibly soft, and with all of the perforations, very breathable as well. It is quite light weighing 6.4 oz/ 181 g (without Soft Flasks); 10.4 oz/ 295 g (with Soft Flasks).
Storage and accessibility is another important feature of this vest. There are numerous pockets on the front, sides, and back of this vest and all of them are accessible while wearing. Being able to reach things easily is, of course, a huge plus when racing.
Hydration Situation
I would love to address the VaporHowe's hydration at this point. As I mentioned above the vest does come with two 12 oz ExoShot flasks that have a straw in the lid. This is such a great idea that makes drinking from the flask easier, however, the threading on the neck is tough to line up just right and requires some patience to get it on correctly, otherwise, there is leakage. I have heard from others that unfortunately had the same issue. It is for this reason that I do not use the ExoShot flask with the VaporHowe during races. It would be a huge hassle at the aid stations. Another flask (hard or soft) will fit just fine. I do, however, use this vest (sometimes with the ExoShot) on many of my training runs. It has the capacity to comfortably carry the 1.5 liter bladder as well as the two 12 oz flasks. This capability has gotten me through some longer unsupported runs.
Durability
The longer I use this vest, the more impressed I am with its durability. When I first started wearing this VaporHowe, I thought I had to be careful with it and use it on gentle runs in nice weather (because of the incredibly soft fabric). Over the months, through different seasons and so many training miles, I have really put it through the ringer. It has been filled with gear, stretched to the max, rained/snowed on, taken through briars and down mudslides of the Barkley Fall Classic and still looks and performs the same as it did on day one. I have washed it in the machine, the sink and hosed it off multiple times. It still looks fine including the orange color and all of the reflective accents. This pack is durable.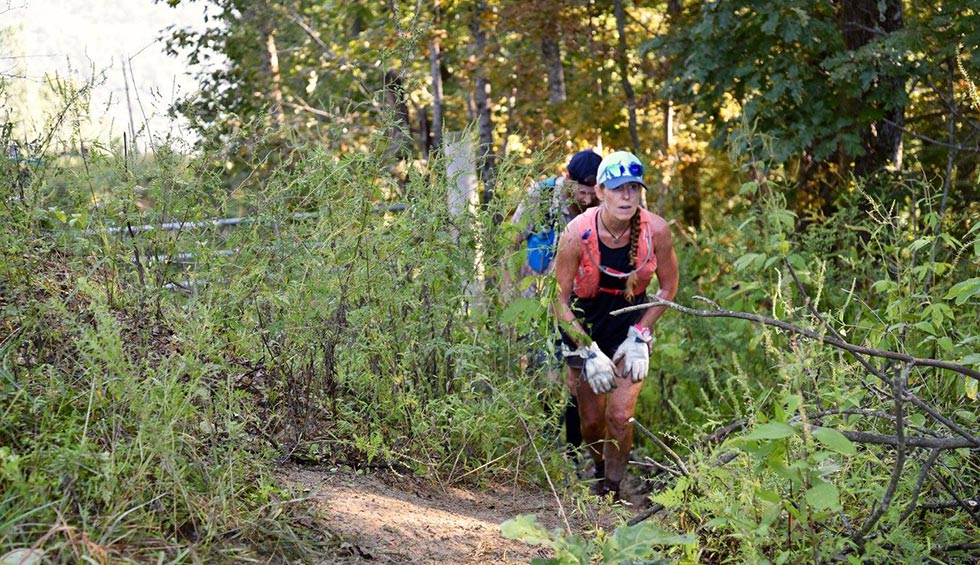 Overall
I have to say that I had my doubts about this vest at first. I was not sure how something with open pockets that was very soft and seemed so fragile could be a worthy partner on my crazy adventure runs. It wasn't love at first sight for me, but I have to say it's now the pack I use on most of my runs.
Yes, this pack is pricey at ~$150 (PLEASE CHECK THE LINKS BELOW FOR MUCH BETTER PRICING!!  |. LINK but I'd say it is worth it. When we are paying upwards of $120 now for a good pair of running shoes, why would you expect to pay less for a piece of essential equipment that will last just as many, if not more miles? With that being said, I do think at that price, a bladder should be included.
The VaporHowe is a very durable, capable and comfortable pack that fits like a piece of clothing. You can go for miles upon miles in this vest and it will last probably longer than some shoes would. I have worn it for hundreds of miles and it has held up like a champ. On a side note, I do love the orange color and have nicknamed it my life vest…it has saved me many times.
View More:
backpack
,
hike
,
hydration pack
,
Nathan Sports
,
run
,
trail running