The last time we looked at the New Balance 910 was in its second iteration (Which you can read about HERE). Now in it's fourth go-round, this popular shoe, built to tackle almost any terrain, finds its way onto the feet of both Lori and Brandon. Additionally, the New Balance 910v4 was Lori's race shoe at the Deception Pass 50k this past weekend (as of this writing). Keep on reading to see why Lori thought it worthy to be on her feet for so many grueling miles!
Outsole
Starting at the bottom of the 910v4, the outsole is made of New Balance's proprietary Hydrohesion rubber that is durable and sticky when wet. The lugs are not super aggressive at ~3mm deep and are a cut-off triangle design which we've seen before in several other NB trail shoes which are ostensibly meant to address the challenge of omnidirectional traction.
There are four flex grooves in the forefoot with the Rockstop rock plate exposed beneath and a midfoot flex zone. The shoe is still pretty stiff even with these flex grooves, but thankfully that does not take away from its great performance on the trail. Lori has 155+ miles (before the race) in this shoe on many different trails/terrain (wet/dry & rocky/buffed-out) and there is little-to-no sign of wear. Traction and ground feel has been great as well and the Hydrohesion is impressive in keeping feet dutifully stuck to the ground, even when wet.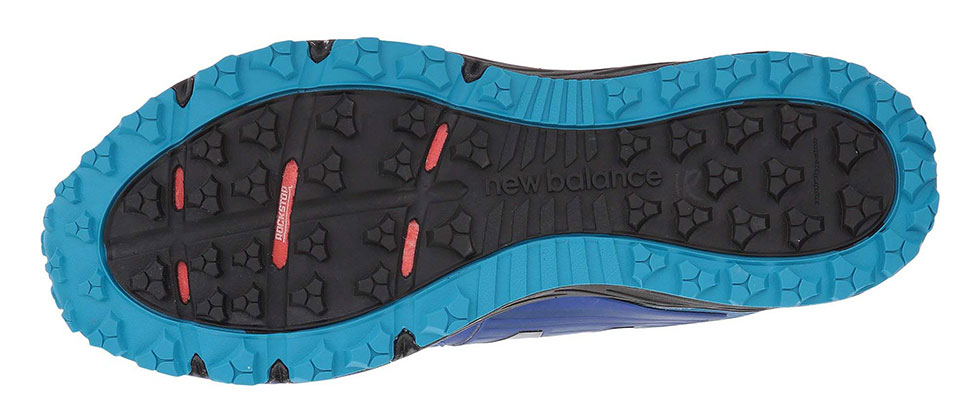 Midsole
Moving onto the midsole, we see that it is made up of single-density, Revlite foam with a stack height of 26mm to 18mm (so a net drop of 6mm). Brandon could definitely tell there was some drop but was still comfortable in it and didn't feel anything over the top. Lori, since she runs like a fairy princess up on her toes, didn't really notice much of the drop at all.
The midsole is fairly cushioned (albeit a bit stiff but we'll talk more about the flex in the RIDE section below, so read on!) and holds up well to rocks. The embedded Rockstop rock plate appears to be only in the forefoot and did well on all terrain without killing the ground feel. Finding a shoe that's not too harsh or with too dead of a ground feel can be tricky – and certainly open to interpretation for each individual – but these seem to ride that line nicely
There was no noticeable break-in period for either of us and the 910v4 was good to go right out of the box.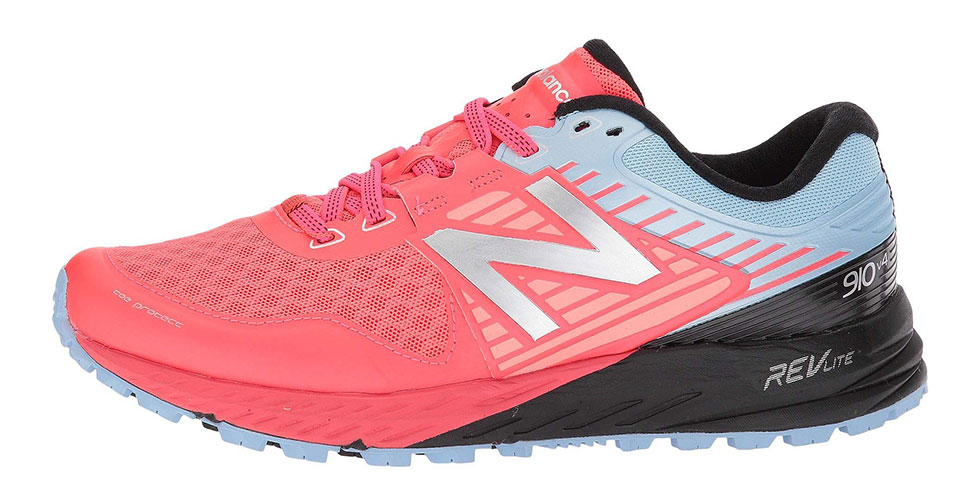 Upper
The New Balance 910v4 has quite a heavy upper from the feel of it. There are a lot of overlays and the only area with the Airmesh mentioned in the shoe's description on the New Balance website seems to be over the toes (the vamp). While it IS breathable in that area, that's really the only breathable spot on the upper. This is a trade-off since a more closed off upper means less debris, mud, water, etc. You will have the added protection from those things, but at what cost? How would it do in hot weather? How is the drainage after a water crossing?
The remainder of the shoe is a lot of bonded overlays from the midfoot, back which do well to support the foot on off-camber and more technical terrain.
Even with all of the overlays giving the shoe a bit of a "plastic-y" feel, it is very comfortable. There are generous amounts of foam around the collar and on the top of the tongue. This, along with the partial bootie construction gives a nice locked-down feeling to the foot. Over Lori's 155+ miles, she found no sign of wear apart from being just a bit dirty…and we all know that "dirty" = a good day on the trail.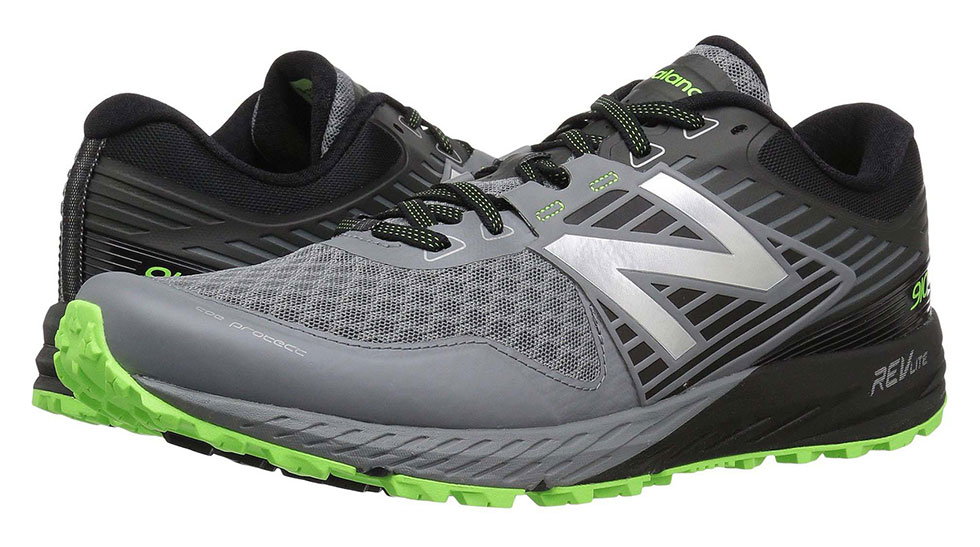 Fit
As far as fit goes, both Brandon and Lori found the New Balance 910v4 to run true to size with lots of good interior space for toe splay and wiggle. They loved the locked down feel and bootie construction even on long runs on rough and technical trail. No hotspots or issues for either Lori or Brandon whatsoever with the fit.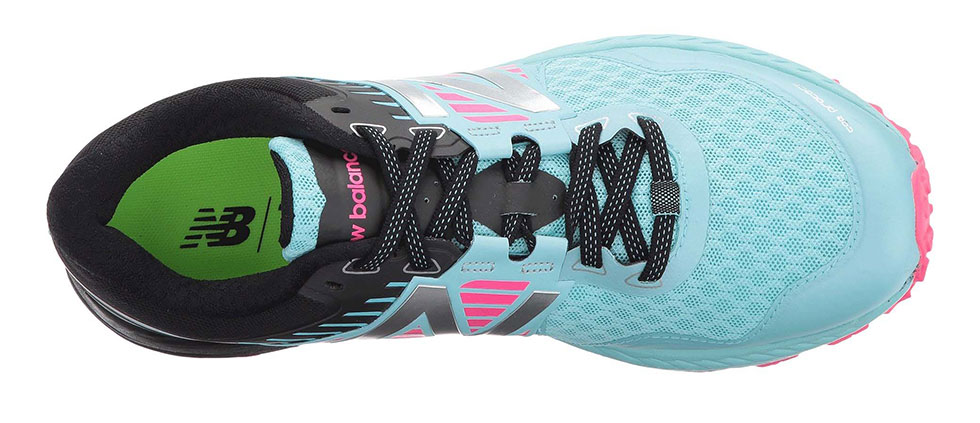 Ride
Both Brandon and Lori found the ride in the NB 910v4 to be quite enjoyable, feeling stable and capable on various terrain. The stiffness of the midsole, which could be a detractor for some, actually gave the 910v4 a good amount of response and pop.
As we mentioned in the Intro, Lori chose this shoe for her last 50k (Deception Pass in Oak Harbor, WA). She needed a trail shoe that would be comfortable enough to go the distance and nimble enough to handle the slippery muddy, rocky terrain. Although feeling stiff, she found the cushioning of the NB 910v4 combined with the Rockstop plate & flex grooves gave a nice feel underfoot and allowed for a smooth easy feeling ride. Lori finished the race without any foot issues and has once again chosen the 910v4 for her next 50k (Terrapin Mountain in Sedalia, VA).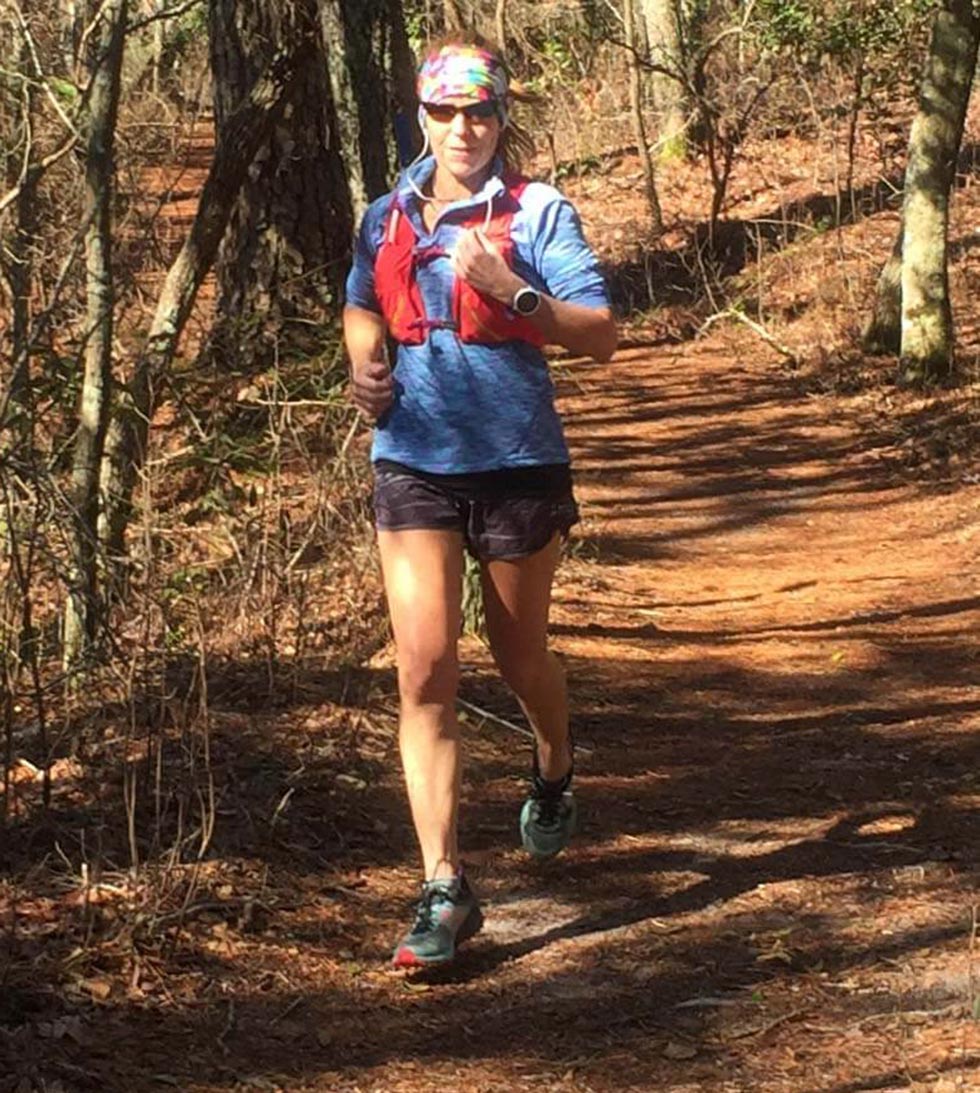 Overall
The NB 910v4 is a solid trail shoe and has been Lori's go-to for many training runs as well as a couple of 50k races. That being said, again, it may be a bit on the stiff(er) and heavy(er) side for some runners with the women's size 8 weighing 9oz and the men's size 9 at 10.4oz.
If you are looking for a trail shoe and want something that will tackle a lot of different terrain, we feel the comfort and ride of this would suit you nicely. Coming in at $109.99 (or as low as $60(!!!) at the links below) seems like a reasonable price to pay for such a capable and versatile shoe. 
View More:
footwear
,
New Balance
,
run
,
running shoes
,
trail run
,
trail running shoes