As much fun as it is to have the privilege of running in so many cool shoes, one of the biggest challenges is getting into the nitty-gritty details of something when said nitty-grittiness isn't always apparent. With the natural/minimal running movement firmly ensconced in a small but important place in the running world, this is frequently the case with shoes that are meant to take almost everything away in order to give a lot back.
When they launched the moniker "Minimus" New Balance thrust itself into the tsunami of natural running shoes while carrying one of the most recognizable names in the industry. Its whose were met happiness, a lot of curiosity and, of course, a slew of criticism from set-in-their-ways stalwarts. While "maximalism" is now encasing many feet in literal inches of foam (including New Balance itself), the Minimus 10v2 continues to be a standard bearer of true natural running shoes.
Outsole and Midsole
Nailing down just the right tread pattern to compliment the human foot is tantamount to talking religion, sex and politics – all at once – the first time you meet your in-laws. It's complicated, there are infinite views and opinions and you're probably just going to wind up pissing someone off. With the Minimus 10v2, New Balance has taken a very well-rounded approach. When broken down, much of the pressure that the foot exerts on the ground is compartmentalized. Each of these compartments in turn has it's own high points and low points.
The outsole/midsole of the 10v2 consists of a kind of honeycombed pod system. Roughly half of the "pods" have a Vibram rubber outsole material that covers a flexible EVA. The honeycombs themselves have a circular cut-out in the center that serves to cut weight on the shoe as well as cut down a little bit of weight (not that it's al that needed in this shoe). Probably the biggest advantage of the honeycomb setup on this shoe is the inherent flexibility that it provides. Since each piece is just under an inch across with a flex groove on each side, they all seem in operate mostly independent of their neighbors.
While it does go without saying to a large degree, the Minimus 10v2 certainly falls under what we consider to be the line of demarcation of a low drop shoe (6mm) with its 4mm drop. While I'm not exactly sure what was behind this choice rather than going with the seemingly obvious 0-drop, it still largely feels like a zero-drop shoe, an aspect which is certainly enhanced by the rest of its barely-there features.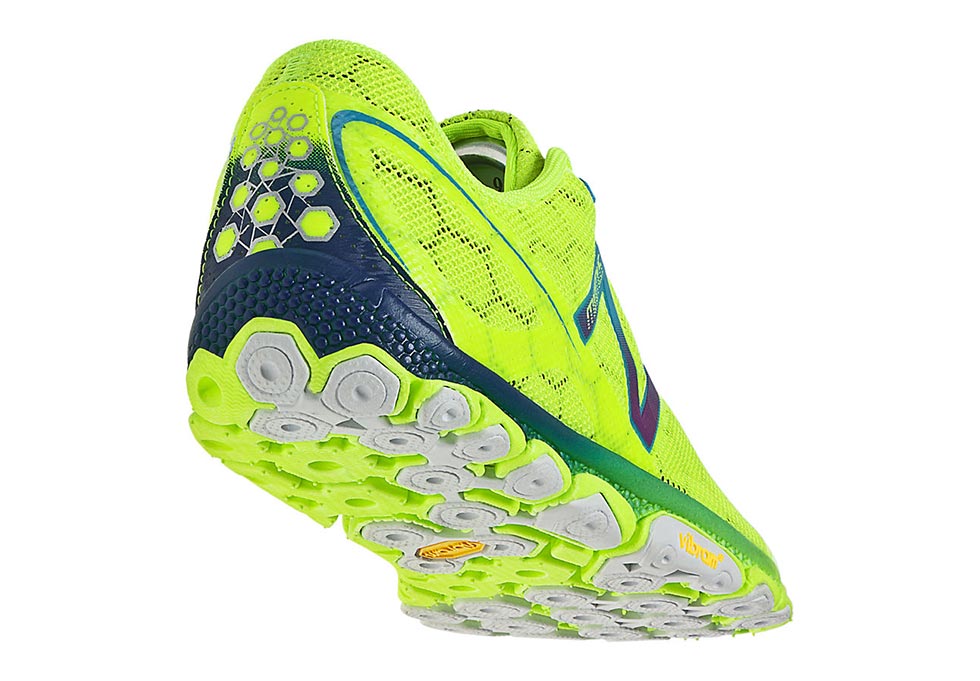 Upper
The upper of the Minimus 10v2 is very interesting in that it's not simply the "one piece" construction that many brands talk about – which many just refers to the upper minus the sock liner area. This bad boy is one piece. For real. The entire upper, even the part underfoot makes up a kind of slipper. In fact, the upper is so minimal underfoot that if you were to venture out on a rainy day in this shoe, there are certain portions of the outsole/midsole that are open enough that they would certainly allow some water into the shoe.
The upper itself is made from a very durable yet super flexible mesh. True to its name, there aren't a lot of unnecessary bells and whistles adorning it. While there is no tongue in the traditional sense, the lateral upper wraps itself around to the medial side which effectively forms a tongue that holds the foot very comfortably and also doesn't slip (pet peeve averted).
There is no rigid heel counter at all (as expected) though the structure is still well in place thanks to the aforementioned one piece construction and its materials. Internally, the minimal sock liner is integrated with the wrap-around upper. As you might expect with a shoe like this, it's internal construction is über barefoot friendly.
Fit
One of the things that I try to be constantly aware of when reviewing something is hyperbole. It's easy to catch yourself speaking with words such as "best", "most" or "favorite". These are finite terms and leave no room for objectively reviewing other products so when I do use them, I do so sparingly. With that caveat out of the way, I will say that the overall fit of the is shoe is one of the most comfortable I've seen. The toe box has ample room and the simple flexibility of the shoe allows the foot to dictate how it performs.Sizing is also spot on and there is plenty of room in the lacing structure to accommodate seemingly many different foot shapes and volumes.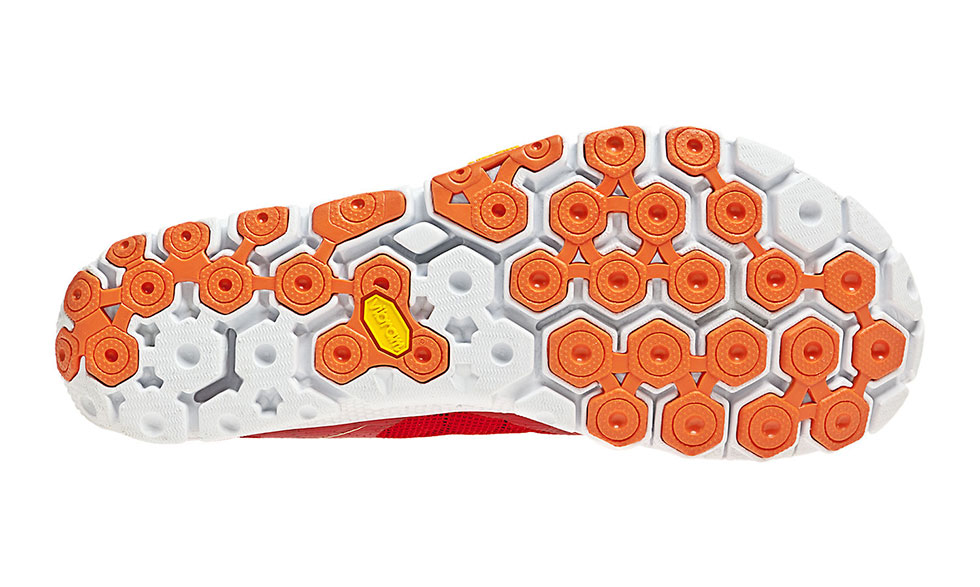 Ride
So here's the thing about a true minimalist shoe; if you don't want to feel the ground, it's probably going to be the wrong shoe for you. The 10v2 is no different. This shoes puts you well in touch with what's happening underfoot constantly. One of the things that kind of threw me about this shoe's ride is the fact that you can feel the honeycomb structure underfoot. This is especially the case in longer runs. I wouldn't go so far as to say it's a deal breaker
but it's certainly noticeable and some testers have actually seen indentations in the bottoms of their feet after long runs with them.
On the road, these those ride really well and give wonderful ground sense. On the trail (which they are NOT built for) they actually have a really pleasant ride, provided you're running on well-groomed and cleared single track. As soon as you encounter anything over mild gravel, you've in for a bit of a shock (again, I must stress that this shoe was NOT built for trail, we simply take all our shoes off road as a matter of protocol).
Overall
At $75 (down from $110) the 10v2 is a well-priced shoe that falls within reach of dedicated minimalist runners and newbies alike. It's weight (6.5 ounces) allows it to almost disappear on the foot (if not for the honeycomb sense underfoot). I really enjoyed running in this shoe and I would be remiss if I didn't mention that it made the trip to the gym on many occasions as a strength training shoe.
The ride of this shoe and its construction live up to its name. It's ground sense is fantastic and while the honeycomb feeling underfoot, especially after longer runs, may be something to pay attention to, it's well worth getting a pair of these on your feet to see if they're right for you.
View More:
footwear
,
New Balance
,
run
,
running shoes