A vest is one of those things that people often have a hard time figuring out when to wear. Whether it's in your everyday life or when working out, it's such an often transitional piece that we're not sure how sorry to feel for our chilly arms while our core is nice and warm. With all that said, a few years back I found my way into a a vest for running and I loved it. It allowed my arms to regulate my body temperature and keep me comfortable (yes, even when it's freezing I get warm).
It's been a while since I've gotten my hands on a new running vest so when I saw what Nike had to offer when they sent over the Aeroloft 800 running vest, I was both delighted and intrigued. Here's why…
Materials and Construction
Before we get into the in's and out's of comfort, fit and performance let's talk about how the Aeroloft 800 running vest is put together and with what. The main fabric of the body of the vest is made from a soft, fine grid ripstop fabric which has a DWR (durable water repellent) finish. This fabric makes up both the inside and outside of the body. The baffles, which stop and give way to non-insulated sections at about the navel on both the front and the back, are about 1.5 inches tall and are filled with 800-fill goose down. In between each baffle is a small, perforated line which are small enough to not negate the insulation but also help with moisture management and temperature regulation.
Apart from the lower third of the body being free from baffled insulation, the sides and on top of the shoulder are as well. The sides are primarily made from a single layer of the same fabric that makes up the body of the Aeroloft 800 running vest. At the bottom and back of the armseye (the hole where your arms come out) the fabric transitions to Dri-FIT mesh panels which give more stretch and flex to afford the more moving areas more comfort while running. Dri-FIT mesh also shows up as the fabric of choice for the collar.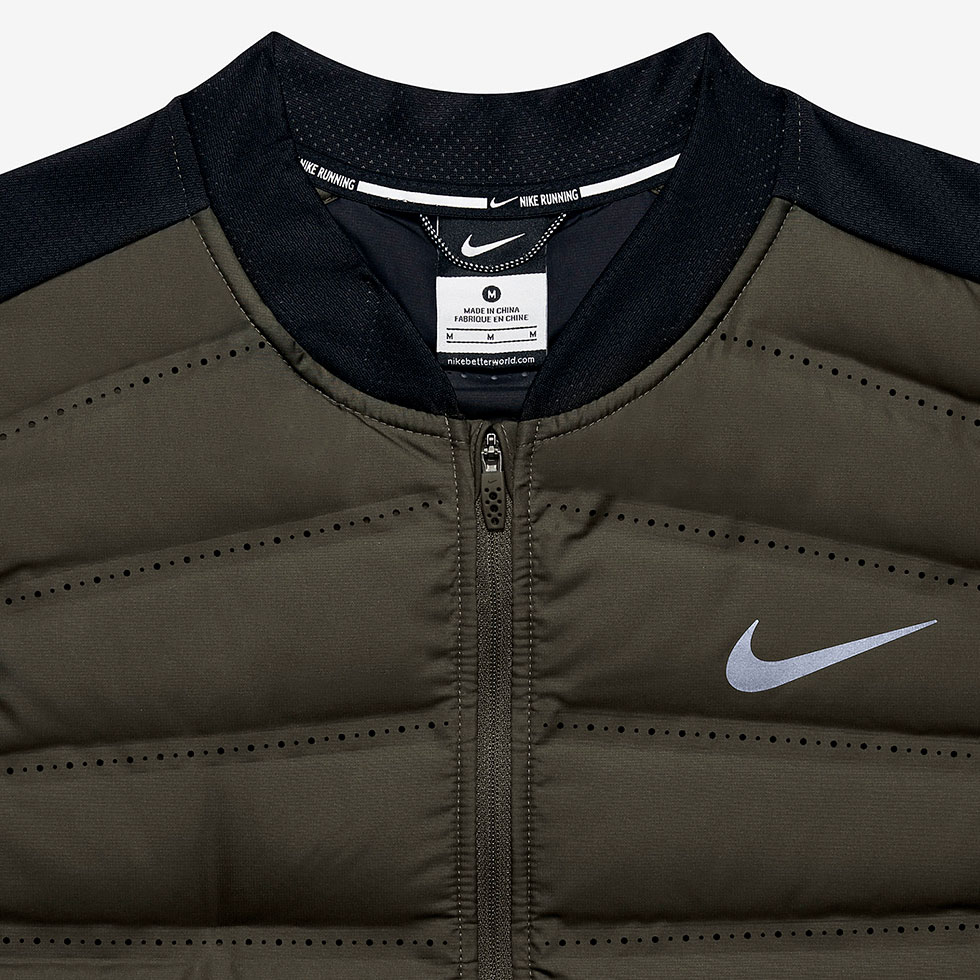 I have to say that the fabric choices in the Aeroloft 800 running vest are certainly to be credited for its light weight with my men's size large coming in at 6.3 ounces. From an insulation perspective I felt very comfortable in this down into some rather low temperatures though, to be fair, it's tough to measure something like that since some of it depends on what you're wearing under the vest as well. I will say that the ventilation perforations are something that I like a lot, particularly when the temperatures were in that gray area where I wasn't sure if a vest was warranted or not.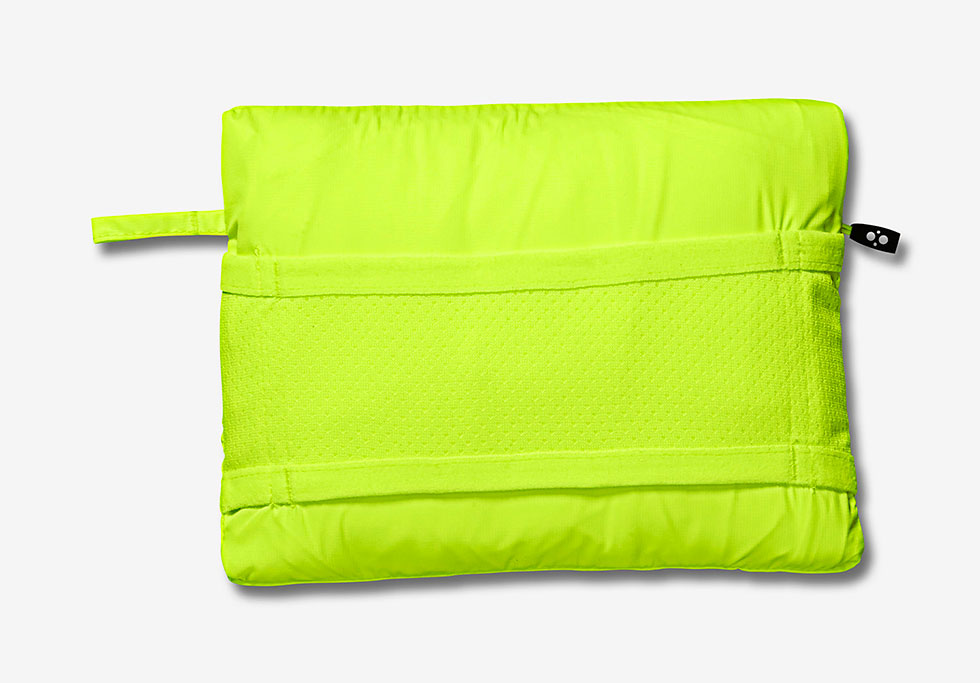 The Aeroloft 800 running vest also features a Swoosh reflective element on the left breast and on the back as an outline of the zipper on the only pocket on this piece. That pocket is a solid size for carrying a phone or keys but it's also a stuff sack for the vest itself, making a good way to pack it away when extra space is needed.
Performance
As I touched on above, the insulation of this vest performs very well and when coupled with whatever you need to keep your arms just-warm-enough, it's a fantastic compliment to the cold weather running gear arsenal. When running I liked the lower collar on this though if you like to have your neck covered when it gets colder it does means having to wear a higher collared piece underneath or wearing something like a Buff or neck gaiter/wrap.
Initially, I thought that the absence of insulating baffles in the lower third of the Aeroloft 800 running vest was a curious decision but in the temperatures I ran in (with one being right around 23 degrees) I felt pretty good about it. I will say that since I'm a pretty heavy sweater that as I ran and sweat ran down my body toward my navel, I did notice that area being a bit colder but not nearly so much as to be uncomfortable.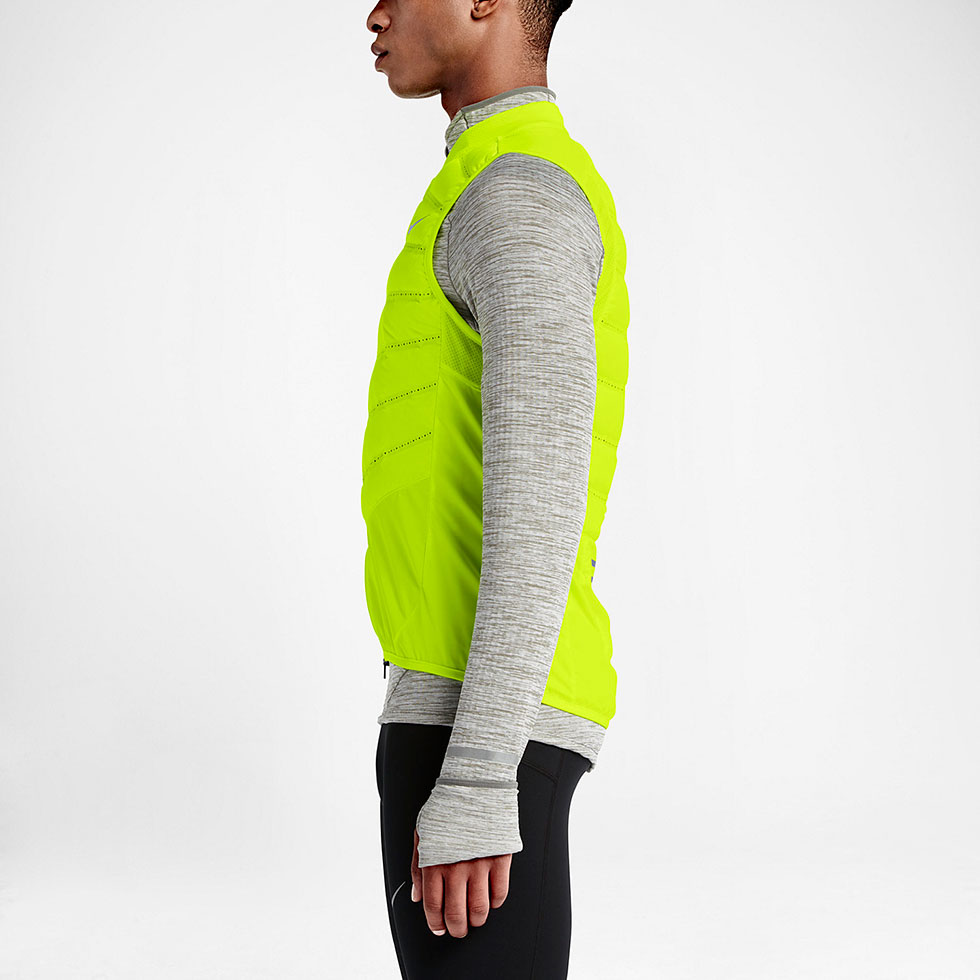 Fit and Wear
The fit of the Aeroloft 800 running vest is an interesting one. First, it should be pointed out that this vest is meant to operate while close to the body and not like a huge puffer. On first putting on this vest it did feel smaller than most size larges. It wasn't tight or constrictive at all but it was definitely not super loose and that is certainly by design. The vest moves very well with the body and doesn't get in the way as something larger might. To be honest, for a down vest it simply feels very "racer-y" and I like it a lot.
I think that this vest would also be a great addition for some cyclists since there is a bit of a drop-tail in the back and certainly for those doing work while doing some hard work on back country ski or snowshoe tours.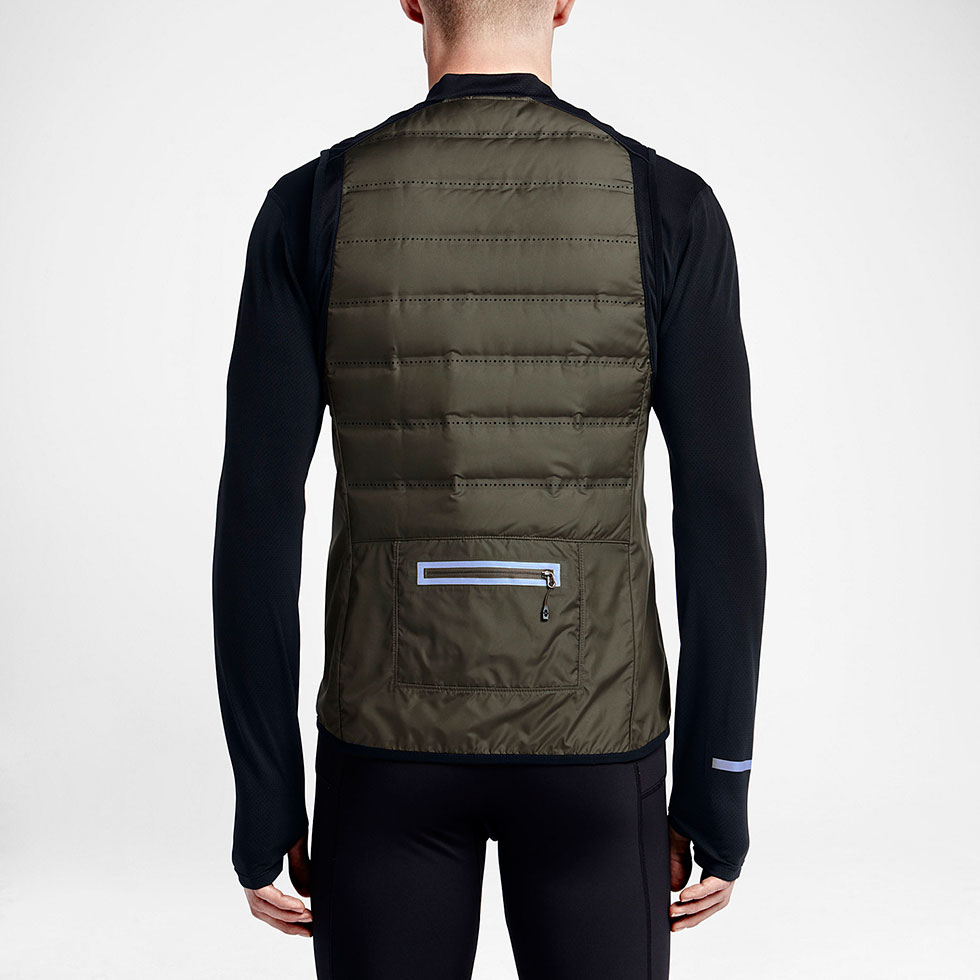 Overall
The only real knock I have on this piece is the price. While it is certainly a very high quality piece of gear and can be used in myriad situations, it still feels on the high side at $180 – though, if you check the links below (particularly Amazon) we did find it for less.
The Aeroloft 800 running vest is a very solid investment in a piece that, with the right, variable baselayers, will be with you for a very long time. The fit is sleek, moves well with the body and the light weight makes it pretty much disappear when you're running. While pricey, this is a very solid and durable piece of gear that any runner would enjoy.
View More:
clothing
,
hike
,
Nike
,
running vest
,
trail run
,
vest