As I write this, much of the United States is in the middle of a pretty epic winter in terms of how cold it's been. When the weather is like this it drives most athletes indoors to their treadmills, bike trainers, climbing wall and the like. However, there are many of us who are too stubborn to be shoved into our various pain caves simply because of a little cold. Personally, unless there is just too much snow or ice on the ground to make road biking practical,
I'm out on my bike bundled to the hilt with the mantra of "HTFU" running through my head. This winter, the Elite Softshell Jacket from Pearl Izumi has been with me on many of these rides both by itself and as a piece of a layered setup that would keep an overly shaky chihuahua from shivering to death.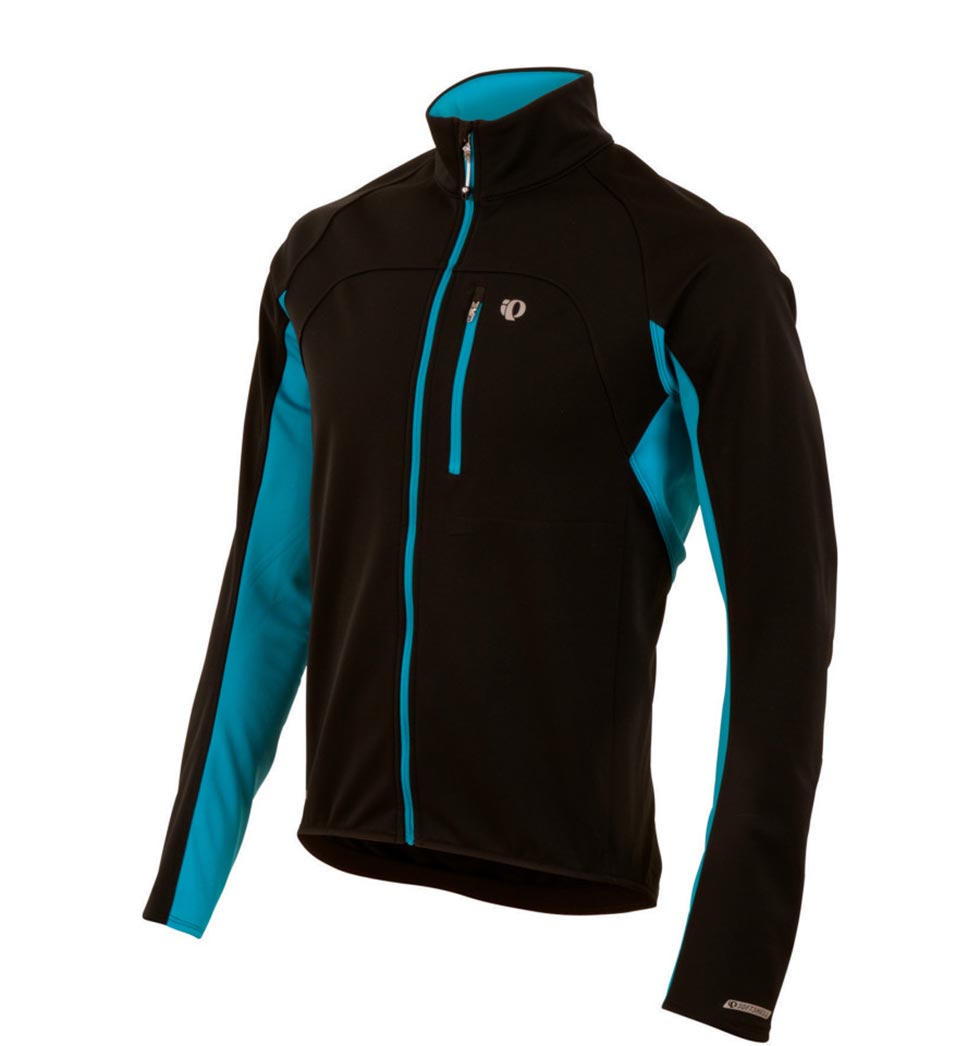 Fabric
The fabric of the Elite Softshell Jacket is not simply one-dimensional, it uses different zones with differing fabric setups to keep you ventilated where necessary and nice and sealed up where the wind would cut. Fabric not laminated with a wind-blocking top makes falls from the arm pits fully down the medial side of the sleeve to the wrist as well as small areas on the lateral side of the shoulder blades. These are areas that are typically out of the wind when on the bike so while the fabric is still thermal fleece backed, the lack of a wind break layer makes for great ventilation in critical areas.
The fabric on this jacket is powered by S. Café. Now, if you're unfamiliar with S. Café, their fabrics are made using with spent coffee grounds. Why? Well, first, it's SUPER sustainable. Think about how many cups of coffee are drunk every single day throughout the world. Now, what if there was a way to use those used grounds for something rather than throwing them away? That's where S. Café comes in. Since this is not a review of their fabric per se, we found this fun little graphic on their website that explains some of the benefits of what they make: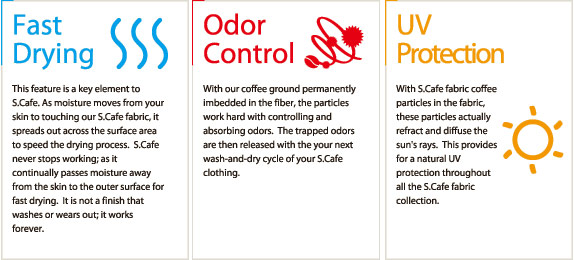 So, now that you know what the fabric in the Softshell Elite Jacket is made of, you can see some of its obvious perks. On the interior, the jacket's Elite Thermal Fleece is super soft and feels excellent next to the skin. The entire jacket is supple and moves with you instead of being stiff and uncomfortable. It stretches plenty to give a wide range of body sizes a good fit whether on a road bike or down in aero position on a TT setup.
Features
Since winter is a time when many riders may get stuck in a bit of twilight or darkness, safety and visibility are very important. Pearl Izumi has done a good job of using reflective elements on all sides of the Softshell Elite Jacket for visibility with traffic, both coming and going (and on the sides). The main zipper of this jacket, typically an area of weakness in the wind, has a full-length internal draft flap. Basically this is a piece of wind-proof fabric that runs top to bottom on the zipper that also has a rubber seal on the front side that meets with the backside of the zipper to seal out not just wind and cold but moisture as well.
Storage on this jacket is quite good for a cold weather piece. There is a breast pocket for a mobile device with an internal port for a headphone cord and the weather proof fabric protects your device on the outside. Internally, this pocket is susceptible to sweat so it's a good idea to throw your expensive phone or iPod into a baggie or something to keep condensation away. The rear pocket of the Elite Softshell Jacket is surprisingly roomy. It consists of a zippered main pocket with two additional pockets within. As with the breast pocket, this pocket has weather-proof fabric on the outside but sweat and condensation could be something to look out for internally.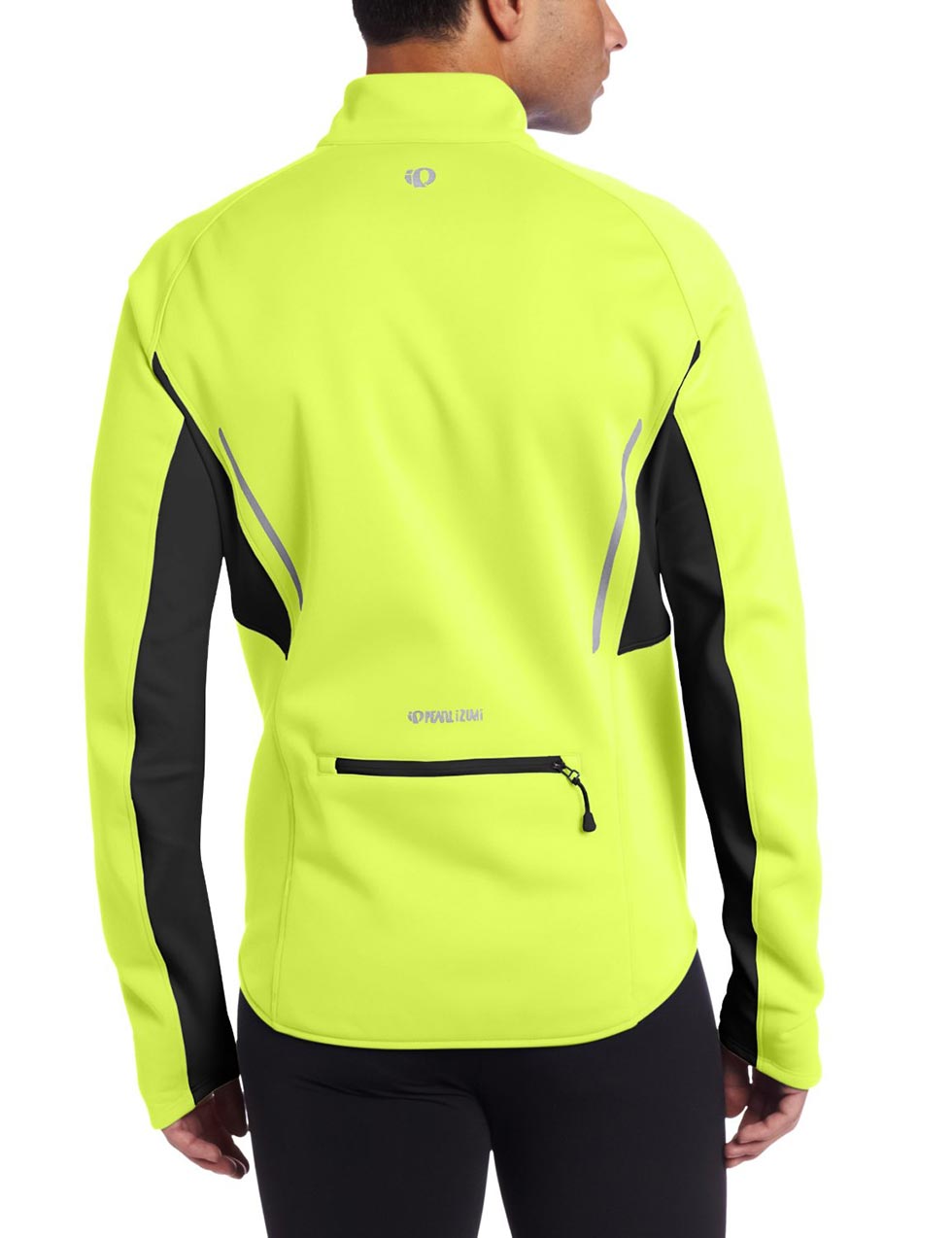 Fit
First, the sizing of this jacket is right where it should be in my opinion. I've seen where a few people think it runs small but I tend to disagree. For me, it fits like a cycling jacket should. It's snug where it should be and the flex of the fabric gives a good range of motion where you need it. Even the collar which, since I have a pretty big neck I sometimes find confining, has a really nice and even fit that doesn't pinch. The collar is also tapered to account for cycling posture.
The sleeves of the Elite Softshell Jacket are contoured, adding to the comfort and range of motion. Additionally, the sleeves are extra long so they don't leave your wrists hanging out in the cold when you get down into your drops or in aero. The hem of the jacket has a drop-tail which keeps your waist and bum covered when leaned over as well. Also, the hem is backed with an elastic band around its circumference which works to seal out draftiness from underneath.
Function
I've worn the Elite Softshell Jacket in a variety of different temperatures and setups. Here are a couple with what I work with the jacket and how it performed:
1. Windy 50ºf worn with a sleeveless, light compression layer underneath Spot on. I was cool to start but as soon as I got going, I was very comfortable. Internally, there were no annoying seams and – being that I'm quite the sweater – moisture was not a problem.
2. Light wind 42ºf worn with the Pearl Izumi Transfer Long Sleeve Base LayerYou know when you go outside for a cold weather workout and you simply nail your gear? Yeah, that was this.
3. Light wind 31°f worn with Pearl Izumi Select Thermal Jersey and Transfer Long Sleeve Base Layer I did NOT nail this one. As odd as it seems, over did it. Now, my hands were cold and my face was struggling but this was perhaps too much.
We'll be reviewing both the Select Thermal Jersey and the Transfer Long Sleeve Base Layer very soon but as far as function under the Elite Softshell Jacket, this is a crazy warm setup. The real problem (although we don't really consider this to be a "problem" at all) is that it's SO warm.
Overall
I've worn the Pearl Izumi Elite Softshell Jacket both on the bike and on some cold runs. The construction of this jacket is über solid and it's functionality is spot on. When I've gotten a bit warm, the zipper(s) allow for plenty of ventilation. When I've needed to carry tools, nutrition and such, there is plenty of storage. While this jacket is not the warmest in Pearl Izumi's lineup (that honor is reserved for the P.R.O. Barrier WXB jacket) this is probably its most versatile within the lineup. When combined with varying pieces, this could easily be worn 3 out of 4 seasons with a ton of comfort and warmth. Well done, Pearl Izumi
View More:
clothing
,
cycle
,
cycling jacket
,
jacket
,
Pearl Izumi