When you're out camping – whether on purpose or because you got lost – making sure your sleeping setup is solid is very important. When I say solid, one of the most important things is getting a barrier between your body and the ground to prevent heat loss by way of conduction. Now if you get caught out with nothing else, something like pine boughs are a great way to not only create a pretty comfy mattress but also to get your body up off the ground. Today though we're going to be taking a look at the Norrsken sleeping pad and Pump Pillow, both from Vaude.
Materials and Construction
Both the Norrsken sleeping pad and pillow rock a 100% Polyamide; 30D TPU coated front side which has a kind of fabric-y feel to it. This material is a tough but still malleable rip-stop to prevent any potential tears from ruining the entire piece. In fact, on one particular trip, one of our resident gear dogs, Sadie, managed to puncture the sleeping pad with one of her razor-sharp dewclaws and the tear was contained to just the hole itself and patched very easily with the included adhesive. One of the advantages I found of the fabric-like finish was that it kept the pad from being slippery under my sleeping bag and kept things in place. The pad's general layout features six central baffles with two larger baffles on the outer edges to keep the user from rolling off too easily.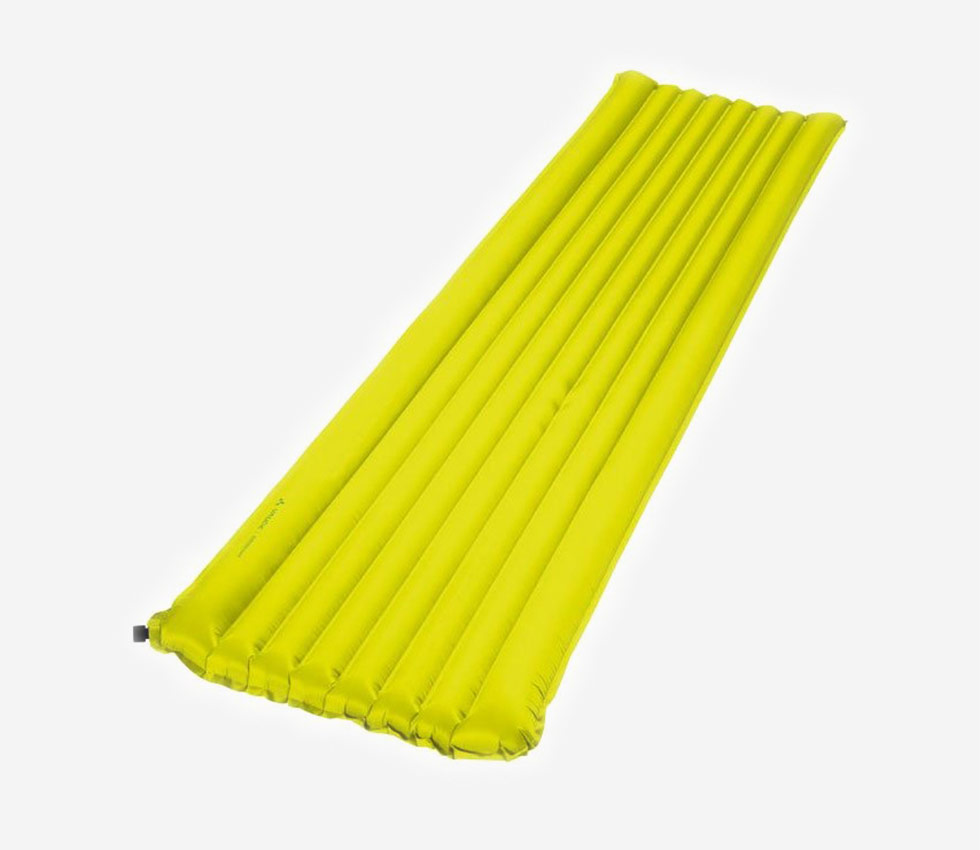 The Norrsken sleeping pad has the additional advantage of including a layer of Primaloft Infinity 80g/m² fill. This means that apart from creating an air-filled barrier between your body and the ground, it has the added advantage a material insulation. The Pump Pillow II is filled with a self-inflating, welded in foam. This foam, apart from being nice and soft, has an additional purpose to its self-inflating. On the pillow, in addition to the inflation valve (self-inflation going to a point but this offers the ability to make it firmer/more full if you want) there is a larger, one-way valve on the back side. This serves to allow the pillow to self-inflate faster and it actually works as a pump! The way this setup works is that there is a two-sides, one-way valve attached to the inflation tube. You attach on end of this valve to the pillow's inflation valve and the other end to the Norrsken sleeping pad's inflation valve. Once the two are docked together you simply roll the pillow up from the end, forcing the air out of the docked vale and into the sleeping pad (see image). While it is a bit more time consuming than inflating by mouth – it takes maybe 5 minutes – the effort involved is pretty much none and it's certainly exponentially less taxing than inflating the thing by mouth.
Performance
I've used the Norrsken sleeping pad in two very different situations. The first was on a night where the temperature was a bone-chilling -6° f (-21° c) when I'd made the decision to sleep in a camping hammock due to the fact that there was about a foot of snow on the ground and I wasn't in the mood to clear it properly for a tent. The size large pad (78 inches) that I have fit well into the Kammok Roo hammock that I was using and regardless of the cold, I didn't have any trouble with the compressed underside of my sleeping bag (rated t0 0° f) being overly cold.
The second situation was a much more typical one which was camping in a tent in temperatures of about 28° f. The ground I was on in one such situation was still slightly damp from recently melted snow and not once did I feel any warmth escaping me.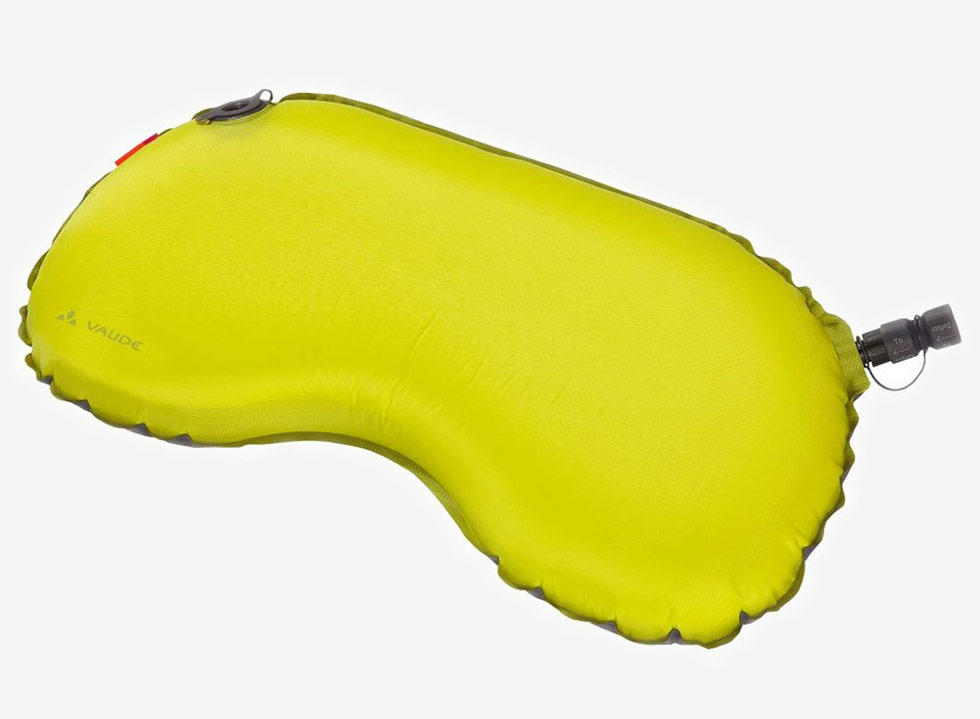 As for the Norrsken Pillow Pump, I didn't use it in the hammock situation because it would likely have fallen out or become otherwise knocked around since it's very light. However, in the tent situation it did a great job of extending the already quite long sleeping pad. Add to that the fact that the soft material of it felt pretty decent against my face and you've got a rather impressive piece.
For reference, the Norrsken sleeping pad comes in the following sizes:
Short: 59 in. (150 cm) long by 21 in. (53 cm) wide by 2 in (5.5 cm) thick
Regular: 72 in. (183 cm) long by 21 in. (53 cm) wide by 2 in (5.5 cm) thick
Large: 78 in. (198 cm) long by 24 in. (60 cm) wide by 2 in (5.5 cm) thick
Overall
Both the Vaude Norrsken sleeping pad and Pillow Pump bring unique features to an otherwise frequently nondescript area. Their light weight, intelligent features and good packing sizes make them perfect for even ultra lightweight excursions. The Pillow Pump comes in at about $50 and the Norrksne sleeping pad can be found from $88-$155 depending on size.
View More:
camp & hike
,
sleeping pad
,
travel
,
Vaude