Recently, bike racks seem to be trending toward hitch mounts as far as popularity. However, the rooftop bike rack is still top of the heap (pardon the pun) with overall use. Where roof racks have tended to be mostly of the fork mounted variety – requiring the front wheel to be removed and stowed inside your vehicle – hitch racks have brought about wheel-based mounting wherein both wheels of the bike can stay put. Boulder, Colorado-based RockyMounts is one of the brands that has adapted this setup for the rooftop rack with their TomaHawk and Brass Knuckles racks. Today we're going to be taking a look at the TomaHawk rack from RockyMounts.
Materials and Construction
The RockyMounts TomaHawk is made from high-grade aluminum fashioned into a single channel track – which is actually two pieces, one on each side of the swing-arm housing – where the tires/tyres of the bicycle rest. At each end of the track is a horizontally adjustable wheel strap which also includes a brilliantly-conceived hook/nub which holds the strap out of the way while the bike is being mounted. If you're worried about fat bike tires, fear not, the wheel straps on the TomaHawk are quite long out of the box but, just in case, there are two strap extenders included giving the straps about 18 inches(!) of room – you know, in case you diced to see if you can fit a motorcycle* on top of your car (*JUST A JOKE).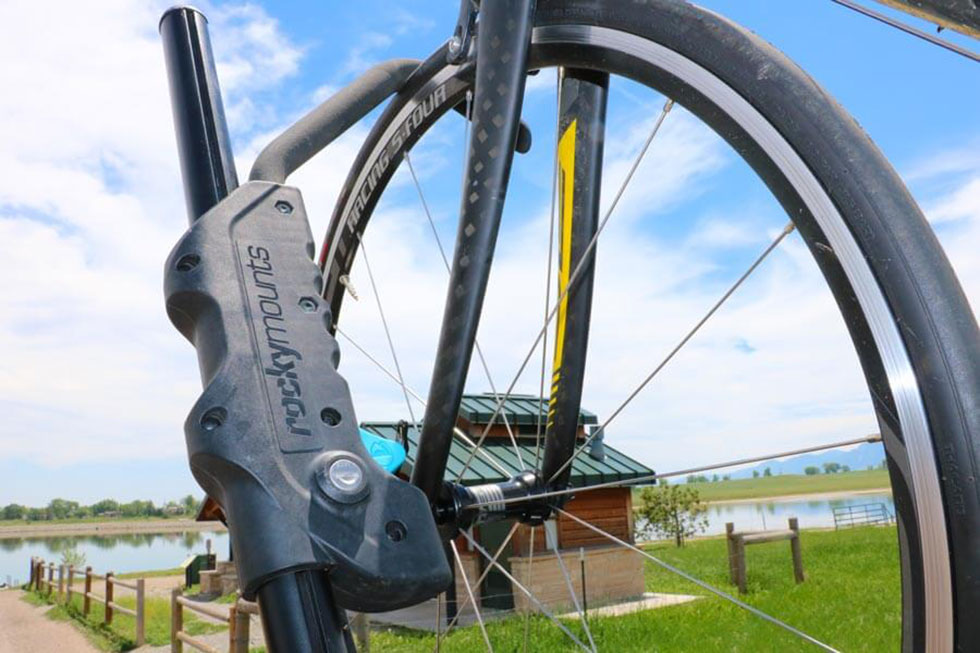 The main part of the retention system is the arm which is topped by a ratcheting, adjustable and padded hook which. When in place, this hook slides out to accommodate wheels up to 29″ and as small as a child's bike. To hold the bike in place this hook then slides down – with satisfying ratchet clicks and locks down onto the from wheel of your ride.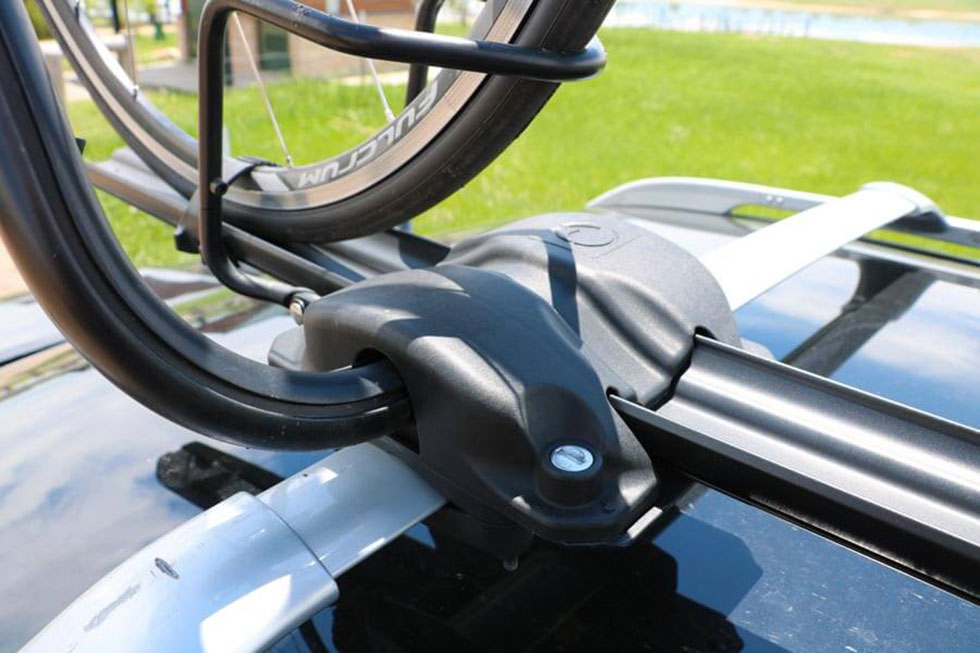 Details from RockyMounts:
No bike frame contact – simply ratchet the hook over the front wheel and secure the front/rear wheelstraps
Fat bike ready (up to 5″ tires) out of the box. Includes two wheel strap extensions
Swingarm easily adjusts for driver side and passenger side installation
Mounts to all styles of crossbars – round, square, factory, aero
Holds all styles of bikes, 20 – 29″ wheels (except those with front fenders)
New Easy-Load wheel straps make loading bikes easier than ever
Optional 2-pack locks (sold separately) lock rack to car and bike to rack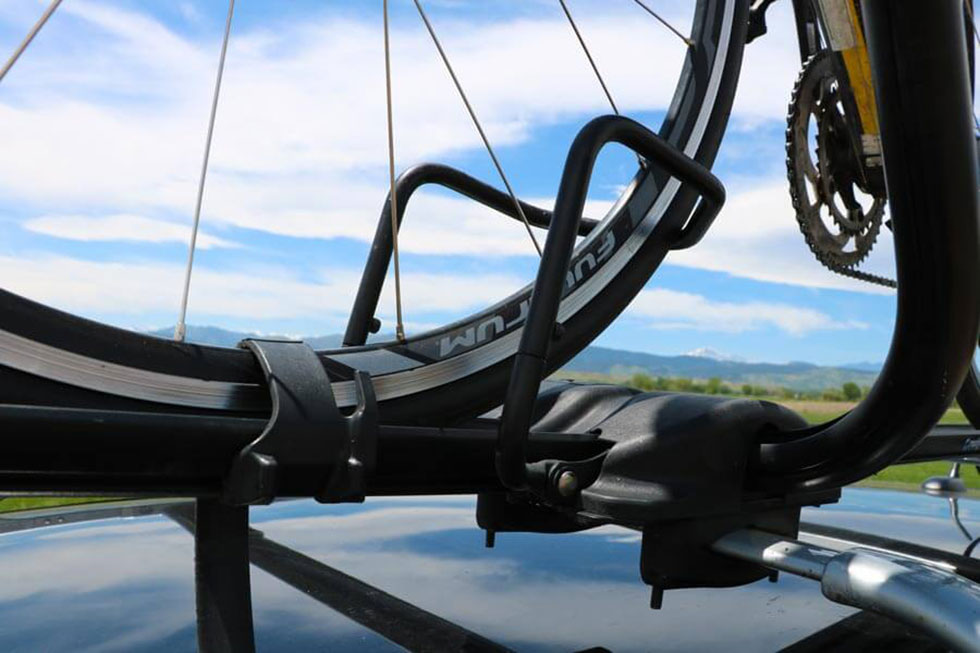 I've had the TomaHawk on my car in rain, snow, heat and everything in between for quite some time now and everything, even the plastic swingers housing has held up beautifully. Also, apart from the fact that RockyMounts offers a lifetime warranty on all of their products, should you need to replace anything on the TomaHawk, pretty much the entire thing is able to be replaced in individual pieces making it a breeze to repair.
Performance
Installation
I have a bit of a confession here: when I'm testing something that I think should be logical and easy to install/setup I purposefully don't read the instructions just to see how intuitive that piece of gear is to get going. If I can't figure it out in about 10 minutes then I'll happily look at the instructions. I figured out everything without a problem with the exception of the wheel strap extensions. I stood there looking at them like a moron wondering what on Earth they could be for and then I looked at the parts list and knew right away what was up. They now sit in the gearage waiting for fat bike season to come back. Apart from that, installation was a breeze and I was done in about 10 minutes.
I will say that it would be nice to have some fore and aft adjustability. On my vehicle, this wasn't a problem at all but depending on the position of some crossbars – and whether they're adjustable themselves or not – I can see where a rear lift gate could bump up against the back edge.
Loading & Unloading
I have a crossover, a 2016 Nissan Rogue to be more precise, so the rooftop is just about eye-level for me. At that level and with me being 6'1″, loading and unloading bikes into the RockyMounts TomaHawk still requires that I open a door and stand in the frame of the car. The loading process though, could not be more simple. I simply fold the arm forward, release the sliding hook with the ratchet lock trigger and slide it to the outermost end. Then I lift the bike up and into the track rail, hold it in place with one hand while I move the swingarm and hook into place on the front wheel. Moving the arm and hook with one hand/arm is very easy and simple making the entire process last about 15 seconds. Once the bike is in place under the hook you're free to ratchet it down harder to make things secure and then get the wheel straps nice and locked down.
https://youtu.be/_QidP5U4SdE
There are some racks on the market which use a similar method of securing bikes but rather than locking down on the front tire/wheel, they lock down by way of the downtube. In the case of those racks – not that they don't hold their own and get your bike from point A to point B – there can be some issues. These include bottle cages that may be in the way of the attachment and the possibility of Fram damage. This is simple, easy and fast – not to mention that you'd be hard-pressed to find a bike that can't fit.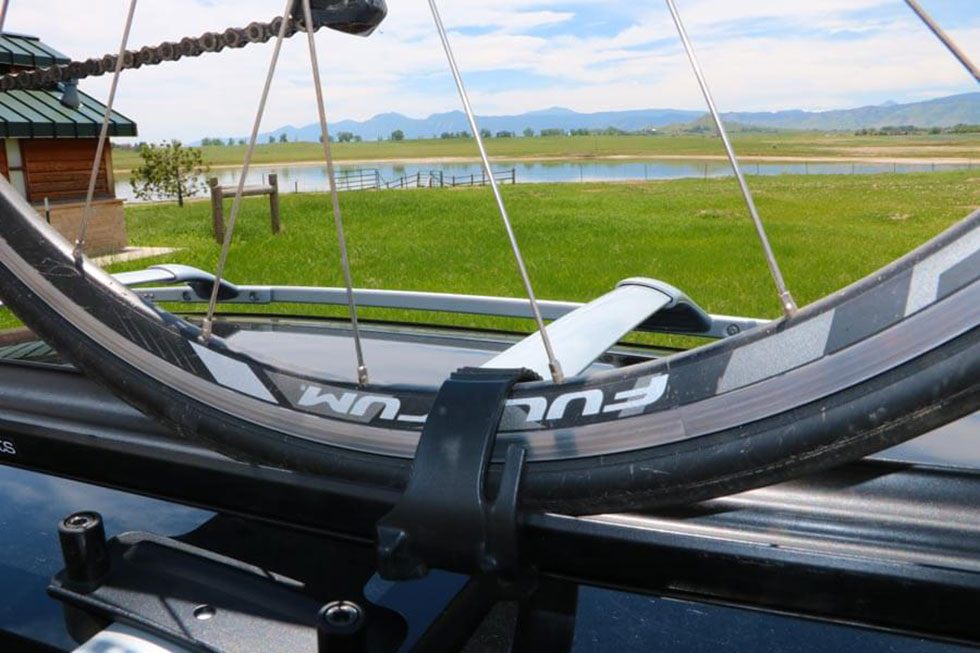 Performance in Motion
First let me mention that the RockyMounts TomaHawk can easily be adapted for loading bikes from the passenger side by switching up the mounting of the swingarm – I kept mine set up for driver's side mounting.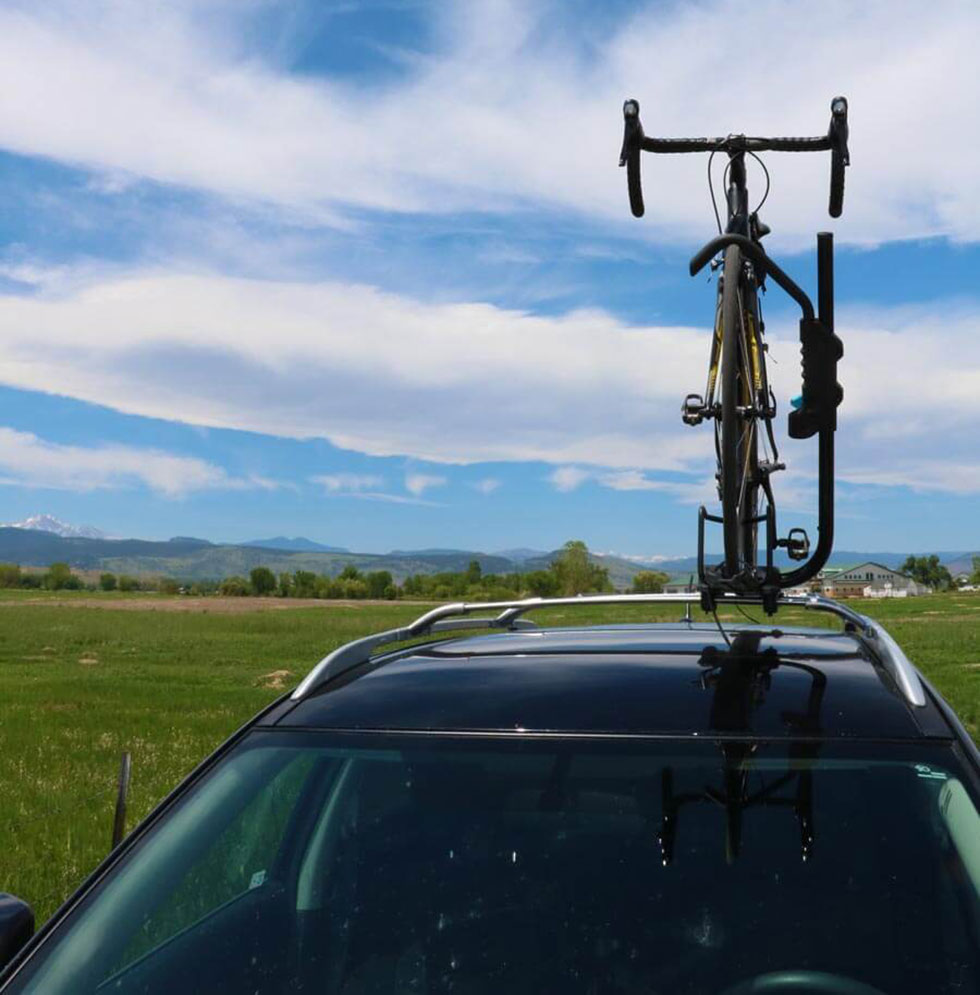 When I got this rack – and my bike(s) – out onto the road I was very pleased with the security and hold the TomaHawk had on things. There was one time when I hadn't cinched the hook down quite as hard as I normally would on the front wheel so I heard/felt some movement. This was fixed in about two seconds by pulling over and simply reaching up and pulling on the hook – I definitely considered doing this while driving down the road but questioned my stunt-driving skills at the last second.Even on rough terrain, things remained in place and well locked-down. As far as security goes, the TomaHawk has an available two lock setup; one lock secures the rack to your roof rack and one locks the hook in place and keeps the ratchet release trigger from being pulled.
When a bike was NOT mounted in the rack I simply felt like I was driving as normal with no rack on the car at all. I have read where some people heard a rattle of something here or there but I didn't notice that at all.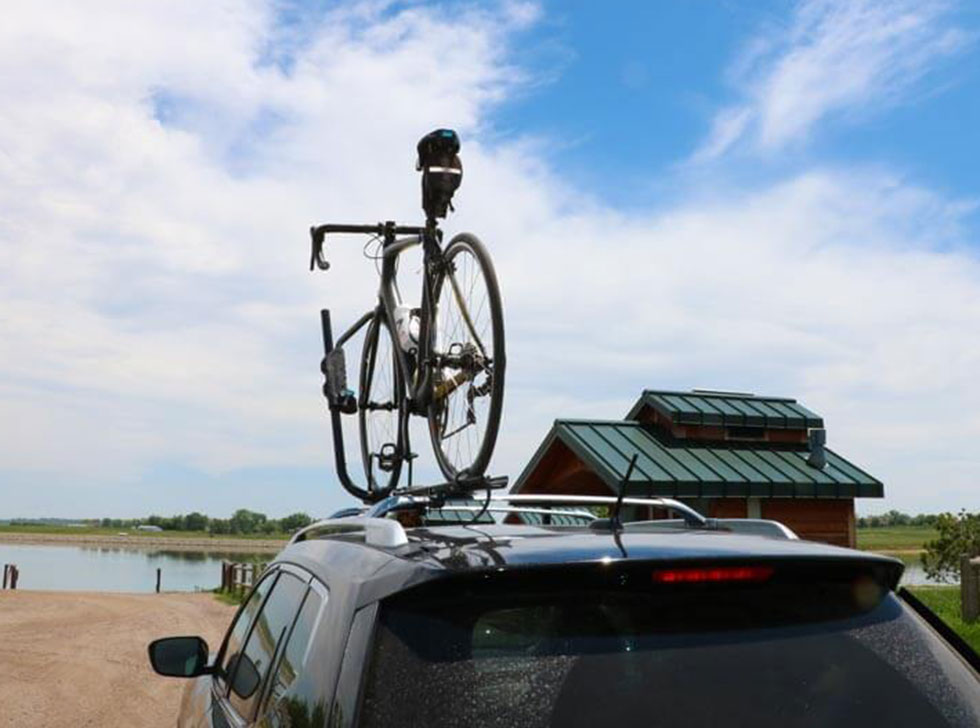 Overall
The ease of use with the RockyMounts TomaHawk and the biggest draw – the fact that you don't need to remove the wheels from your bike, AT ALL – make this a very attractive option for many cyclists who don't want to risk crunching their bike on a hitch mount or simply those who don't have a hitch.
When it comes to getting your hands on a TomaHawk (or it's sibling, the BrassKnuckles) the price tag is also a very welcome part of the picture. At $149 ($219 for the BrassKnuckles) the TomaHawk is a very affordable and versatile option that I'm happy to have in my gear arsenal.
View More:
accessory
,
car rack
,
cycle
,
RockyMounts