Something I hate and something I love: I hate missing out on versions of popular gear. It drives me crazy to look at version two [sic] of a product without having done a full testing and review of version one. I love a really lightweight running shoe – especially in the trail category. This isn't just because I like lightweight shoes (who doesn't?) but it's because we get to see how well a shoe can balance it's light weight with the need for proper trail use. Today we're going to be looking at a shoe that 1) I didn't test in version one and 2) is very lightweight for a trail shoe. The La Sportiva Helios 2.0 is here.
Outsole
The outsole of the Helios 2.0 is something of a paradox. Made from sticky Frixion AT rubber which is placed throughout the outsole, the paradox lies in the lug depth. The lugs themselves – complete with a branded design of the "VA" in the brand's logo – come in with only about 2mm of depth. However, the lugs are placed atop the VA Wave system which, as the name suggests, puts a kind of wave design on thew shoe. This adds quite a lot of depth to the ridges where the lugs are placed – seemingly as much as an additional 6mm. Continuing top look at the VA Wave system, there clearly is a lot of flexibility that is brought to the shoe in the troughs of the 10 "waves" (with 9 troughs).
First let me comment on the Frixion AT rubber in the Helios 2.0 which is wonderfully sticky and I've had more than one shaky moment trying to see where the bounds of that stickiness lie. As far as I can tell with my less-than-exact eye measurements, this shoe has stuck to rock well in excess of 45° – not by way of finding a foothold, but by actual stickiness. As for the lug depth/perceived lug depth, here's the thing about that; the lugs themselves are not very deep at all. That ~2mm depth is at the bottom end of what I'd consider to be an effective lug for a trail shoe. However, the ridges from the VA Wave system add the depth that is needed to a degree. At the same time though, thew waves being rounded and gentle make them less effective as a huge part of the traction system. Something I'll also touch on in the MIDSOLE section below is that the troughs of the waves bring the potentially pokey bits of the trail MUCH closer to offending your foot which isn't really a good thing on more technical trails.
La Sportiva touts the Helios 2.0 as also being suitable for "light road use" and while I have gotten a few road miles in them just to get a feel for it, there's a part of me that hates to put trail shoes onto the road. In any event though, between the ~35 trail miles and ~3 road miles I've gotten in the Helios 2.0 the durability is quite good with little obvious wear.

Midsole
Typically I might put an outsole and midsole so functionally intertwined into a single section ("Sole Unit") but in this case the midsole of the La Sportiva Helios 2.0 is just separate enough to make it its own thing. Built from MorphoDynamic, injection-molded EVA foam, the midsole unit boasts a minimalist-ish 19mm of stack in the heel and 15mm in the forefoot for a nerf drop of 4mm. The MorphoDynamic bit of that means that the material is meant to shape itself to the debris on the ground and thus, provide more traction. Also, as I mentioned above, the VA Wave system is the key component of the midsole and outsole of the Helios 2.0 and also accounts for differing actual stack depending on the part of the sole.
First let me say that weight of this shoe is spectacular with my men's size 12's coming in at just 8.5 ounces. A large part of that is certainly due to the cutaway parts of the midsole/outsole which form the VA Wave design. The flip side to that is that the protection in the Helios 2.0 is minimal – and the fact that there is no rock plate in the shoe serves to add to the lack of protection underfoot. I will get into this more in the RIDE section below so be sure to read on. For now though, let me say that this is precisely one of the places where I look to see just how effectively a lightweight trail shoe can cope with rough trail.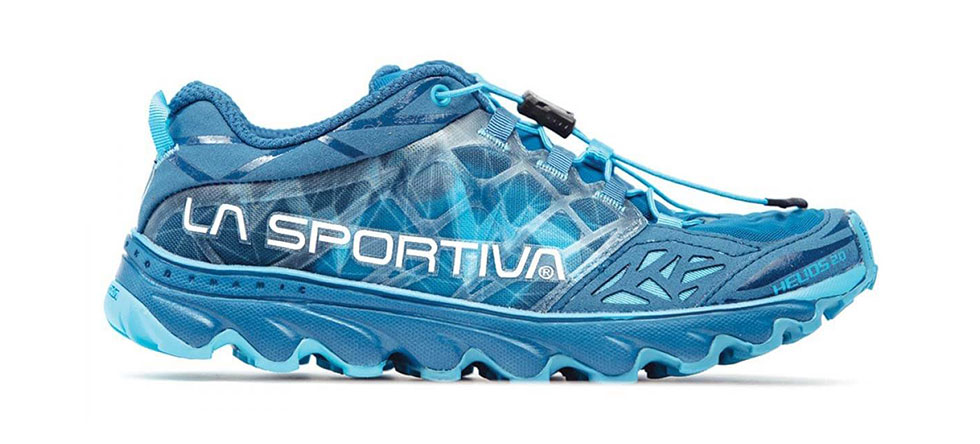 Upper
The upper of the La Sportiva Helios 2.0 again brings some paradoxes to my mind. Made from a combination of HyDrain mesh and wicking EVA AirMesh, the basic material of the upper is very soft and flexible. The majority of the support system is made of bonded TPU overlays, while in the forefoot and heel microfiber supports reinforce the structure. The Helios 2.0 also features an interesting speed lace system over its gusseted tongue.
La Sportiva tends toward using a lot of different materials on their running shoe uppers and this shoe is no exception. I don't really have an objection to the microfiber supports in the heel and forefoot but why are they there when the same function could have been taken care of by the TPU overlay. And again, over the vamp (on top of the toes) why is there a thicker mesh instead of the lighter and more breathable mesh that appear on the sides of the midfoot – again, not really an objection from me but more materials equals more seams and more rubbing potential rubbing points and more weight.
As far as performance goes, I love the soft and flexible feel of the upper of this shoe. While it can take a second to get dialed (both before and during the run), it's well worth it since the fit is so close to the foot. The counterpoint to that, however, is that the copious amounts of flexibility in the upper afforded by the material, and lack of a heel counter (which I generally like a lot) means that on more off-camber terrain I felt my foot to be a little squirrely here and there. This is kind of like the super flexible midsole in that it leaves those wanting more support wanting a bit. On the other hand, if you like light and fast, this has got it in spades. But whether that's a good thing for trails or not is almost certainly in the taste of the individual runner.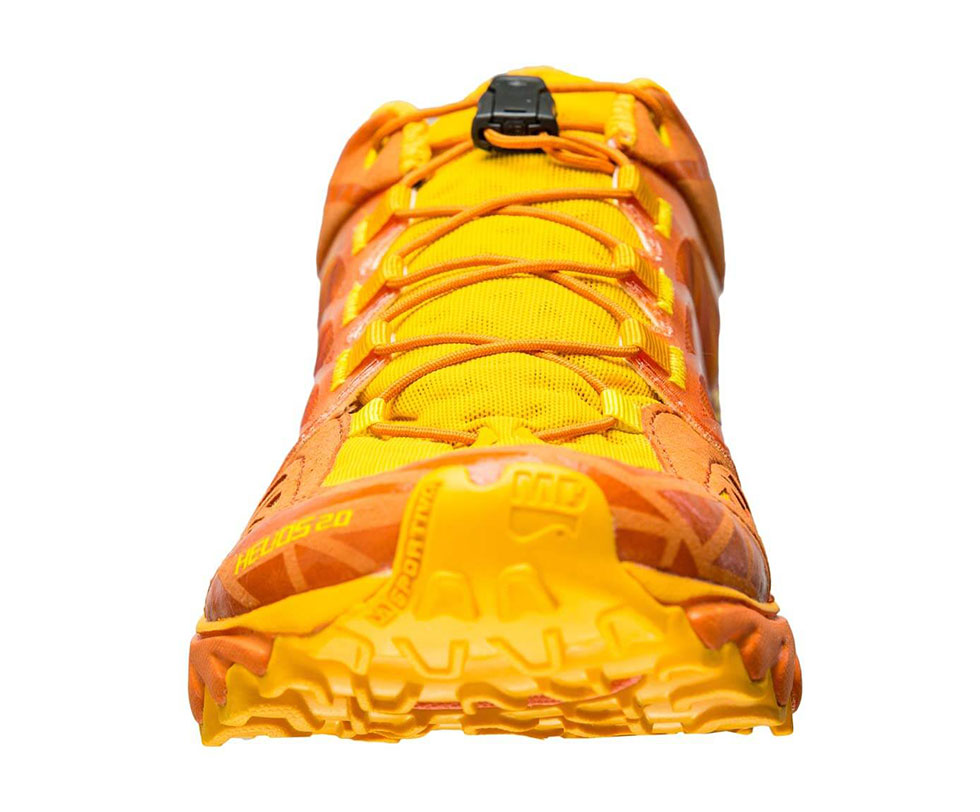 Fit
As you've just read, the upper of the Helios 2.0 is soft and supple (as far as running shoes go) and when you get it dialed, it feels great on the foot. The lack of heel counter makes the shoe really wrap the heel and feels super custom to me in that area. Moving into the midfoot, I really enjoy the way the lace gussets form an almost bootie-like feel wrapping my foot. The forefoot has a solid amount of room though I would like to see a bit more in the way of toe splay and wiggle area.
Now there are a couple of caveats to me enjoying the fit of this shoe so much; First, the upper and fit are so flexible that it can be a bit of a hinderance with regard to support on trickier trails. Second – and I should mention that this is simply the way that La Sportiva shoes are and have been for a long time – this shoe runs small. In fact, while I normally wear a men's 11, I went up to a men's 12 in the Helios 2.0 and it fit's perfectly so size accordingly!

Ride
Remember those paradoxes and love/hate things I've mentioned a couple of times in this review? Well, the ride gives me a bit more. The Helios 2 is a quick shoe. In fact, I wouldn't be hesitant at all to make it a racer that can tear up groomed singletrack like nobody's business. However, most of us find ourselves on a wide variety of trails and "groomed" isn't always in the title. When on my favorite trails in the Boulder area, I've had a lot of fun wearing this shoe. When the terrain turns rocky and I need a shoe that can just roll over sharp and jagged stuff, I found myself having to be more careful than I would like. The interesting flip side to that is that trails with bigger and flatter rocks were great, with the Frixion AT rubber doing its thing with aplomb and me not having to worry too much about taking a small, sharp rock to the foot. I do think that a lightweight rock plate would go a long way toward making thew Helios 2.0 more versatile. Would it add weight? Certainly – but the addition of an ounce is a small price to pay for my money.
Another contributing factor to the overall ride profile of the Helios 2.0 is the flexibility of the shoe afforded largely by the VA Wave system in the sole unit. These large cutaways provide a massive amount of flexibility for a trail shoe while also serving to enhance the MorphoDynamic system. However, many people like to see a bit more in the way of stiffness (mind you, not a "still" shoe, just a bit more stiffness) in a trail shoe and that simply isn't here in this shoe. If you're looking for flexible though, this could be your jam.
Since I mentioned road above I feel like I should also touch on that here. While the ground feel is SO sensitive on trails as to be a bit of a hinderance as the technicality goes up the scale, on a road, the ground feel is a welcome addition and serves the Helios 2.0 very well – though again, trail shoes on the road are just asking for their lugs to be broken down.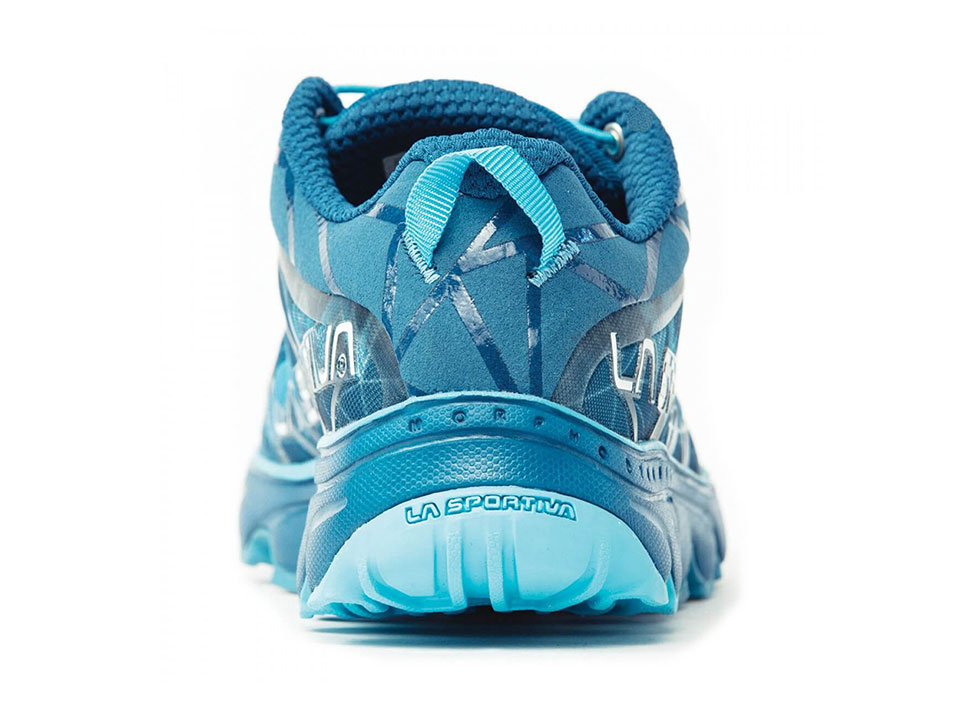 Overall
If there's an overriding theme to my review of the La Sportiva Helios 2.0 it's paradox. However, overall this is a very fast and solid shoe that can handle trails that aren't too rocky or technical like a boss. Other than that, I feel like if I told you where this shoe is going to be best for YOU I'd be grasping at straws. This is a shoe that deserves some miles being put into it before you decide if it's your daily driver on the trails or it's just for fast, non-technical days.
At $125 it's pretty much where I'd expect it to be and while it is one of those shoes that I see as part of the overall uptick in shoe prices, that doesn't bother me too much. A solid offering from a solid brand. While there is room for improvement, I think that for the right person and on the right trails the Helios 2.0 can get it done.
View More:
La Sportiva