Specs and takeaways:
Name: Salewa Wildfire 2 (non Gore-Tex Model)
Weight (men's size 11): 14.7 oz / 410 g
Heel-toe drop: 11mm
Sizing: True to size though wider feet may need to size up
Pros: Adaptive lacing, super sticky outsole
Cons: Will likely be a bit narrow for wide feet
Best for: Hiking to a scramble and upward
Price: $169
---
Where to buy
---
Summer at Gearist's home in Colorado means a big ol', (mostly) warm outdoor playground full of bikes, hikes and climbs and the gear that goes along with it. If you've ever been to Colorado – or any other the Rocky Mountain states for that matter – you've certainly heard of the ever-present fourteeners (a mountain with a summit higher than 14,000 feet) which seem to be omnipresent.
Some of these mountains can be driven up like Pike's Peak or Mt. Evans. Others like Mt. Bierstadt or the one-two punch of Grays and Torreys have trails happily conquered by a good pair of hiking boots. Then there are 14'ers (not to mention more than our fair share of <14,000 feet hikes) which require well-balanced footwear which can both be hiked in and also hold up to above and beyond things like a class 3 scramble.
Today I'll be getting in deep with a pair of approach shoes that tackles technical to smooth trails and rock, whether it's laying flat or completely vertical. Let's look at the Salewa Wildfire 2 approach shoes.
Salewa Wildfire 2 Outsole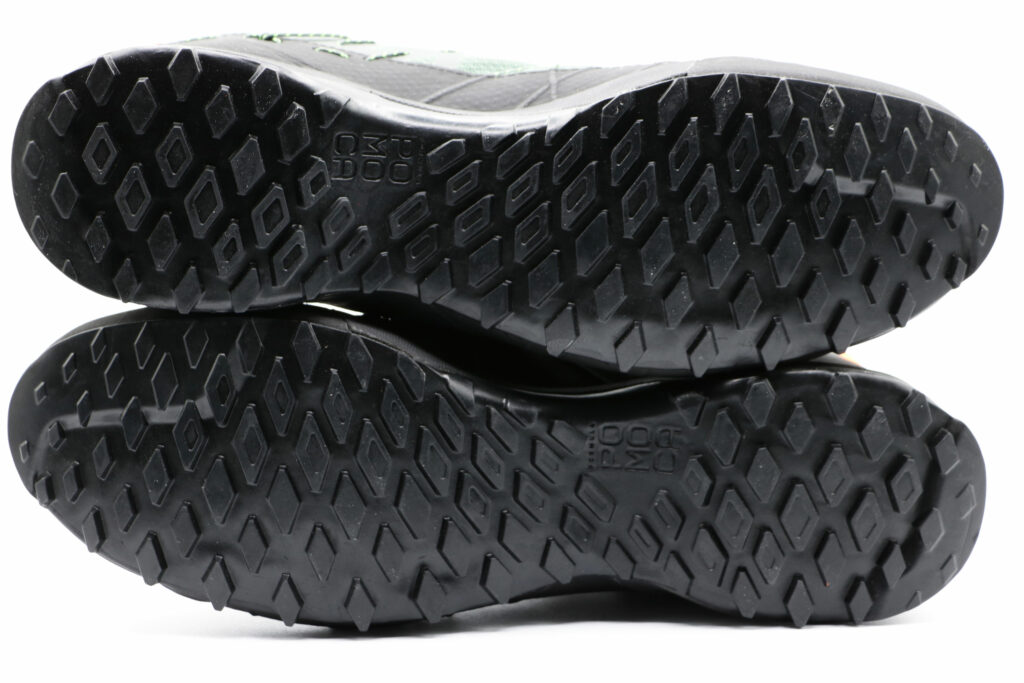 Laid out in a horizontal diamond pattern, the sole unit of the Salewa Widfire 2 begins with the outsole. Made from the maker of some of the most well-known ski skins in the world, Pomoca rubber provides the ground-side-down. The lugs on the outsole range in depth from 3m in the forefoot to 5mm in the heel. In the very back of the sole as well as under the big toe the base of the outsole is level with the lugs. These are not only hight traction areas where the foot approaches or leaves the ground, but they're also the spots where the Wildfire 2 is going to be engaged in more rock climbing-esque pursuits.
First, let me say that the grip of this rubber is fantastic. Their grip and performance on a material level is something I'd expect seeing as it's the same rubber that graces the outsole of more than one pair of the ski touring boots I've tested in the past couple of years. The lug layout is performed well on the more hike-y part of approaches. When the underwhelming climber in me asked this shoe to do some sort of Wonder-Twins-Unite thing to make me feel like I was the second coming of Alex Honnold, the grip definitely stepped up – though I'm sure my skills compare much more closely to my 3-year-old's.
The lugs, especially those toward the back where they're a bit deeper did catch snd hold on to a few rocks here and there. It's certainly not some overwhelming detractor but is worth mentioning. Maybe it's just that they're SO grippy that they held onto rocks for souvenirs!
Salewa Wildfire 2 Midsole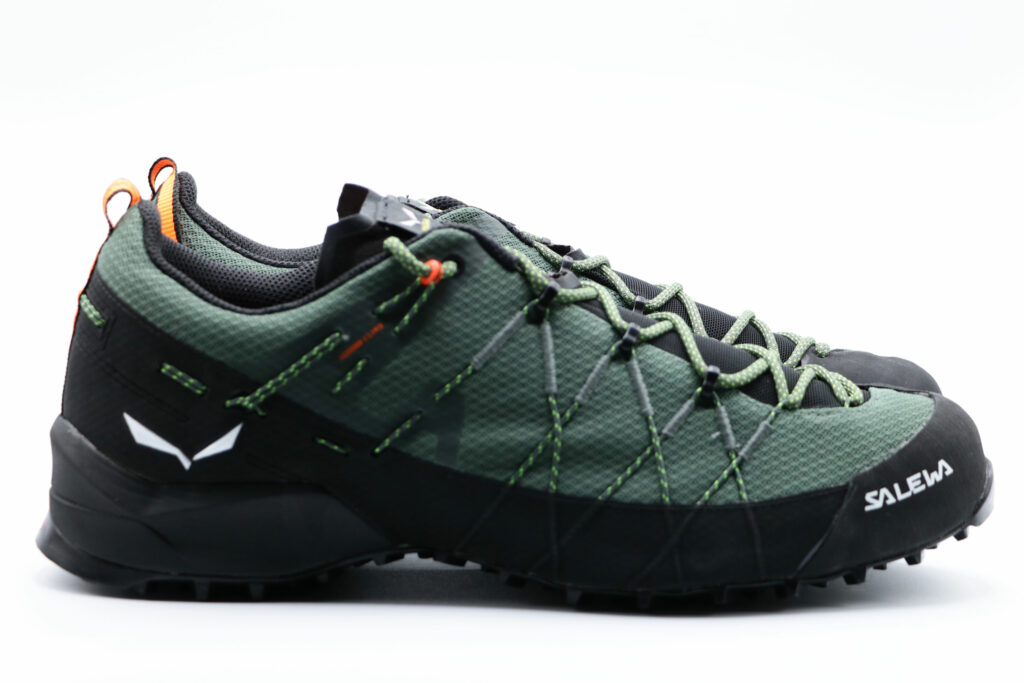 A reasonably standard EVA foam, the midsole of the Salewa Wildfire 2 approach shoes are built to both for comfort and performance while also giving enough terrain feel to adapt to all parts of your adventure. The midsole is designed with a dual purpose of providing comfort and enhancing performance. It offers a cushioned feel to keep your feet comfortable during long hikes or intense activities. At the same time, it is also constructed to provide enough terrain feel, allowing you to adapt quickly to the different surfaces and terrains you encounter on your adventure. This means that you have the right amount of sensitivity and responsiveness to navigate through various landscapes with no trouble.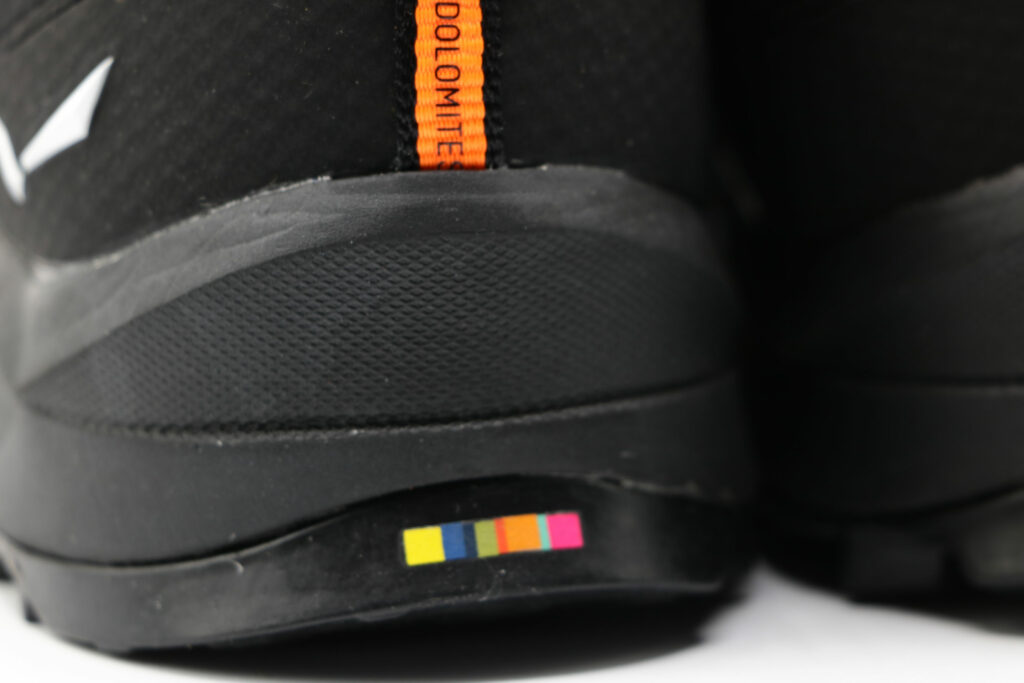 As a hiker, the Wildfire 2 approach shoe performed well over many miles of rough and uneven terrain. The midsole is a simple yet impressive compliment to the Pomoca outsole in navigating alpine trails. When getting more vertical in scrambling, the midsole was flexible enough to work with my feet through the midfoot while still giving me more rigidity in the forefoot and heel allowing for easy adaptation similar to a more specific climbing shoe.
Salewa Wildfire 2 Upper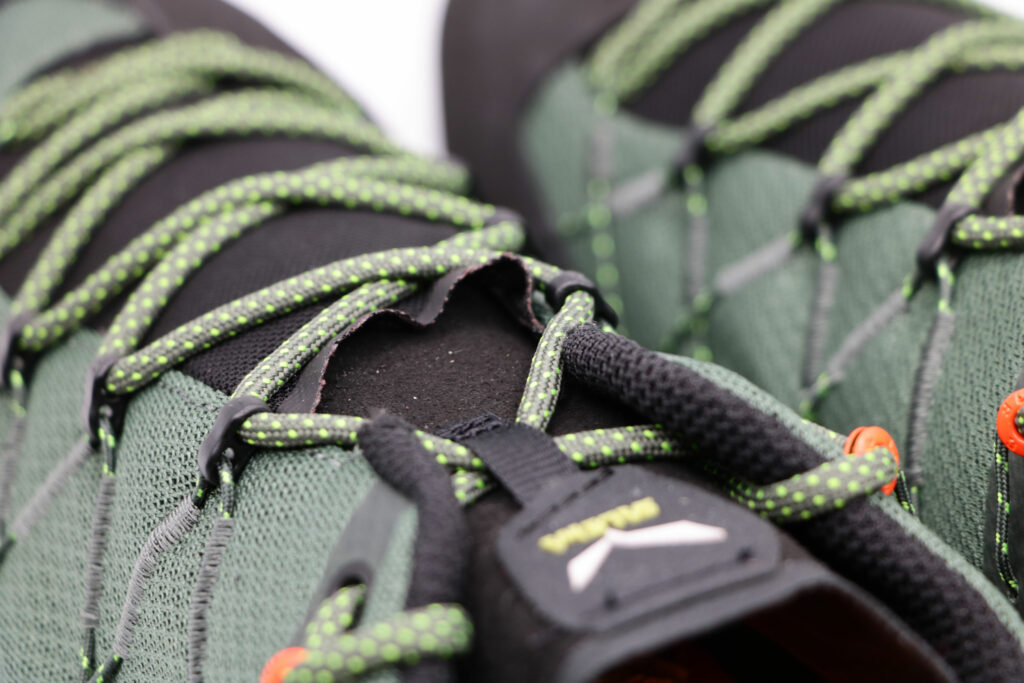 The upper of the Salewa Wildfire 2 is designed to provide excellent breathability, durability, and protection for hiking and climbing activities. It is made from a combination of high-quality materials to enhance performance and comfort.
The main material used in the upper is a recycled synthetic mesh. This mesh construction is designed to be breathable, keeping your feet cool while on the move. The Wildfire 2 also features an Exa Shell Over Injected 3D Cage, which is a 3D cocoon-like structure wrapping around the upper of the shoe. This cage adds stability and support, allowing for precise foot placements on various terrain.
The upper is reinforced with a beefy, protective rand made of durable rubber. This rand wraps around the shoe, providing added protection against rocks and other debris.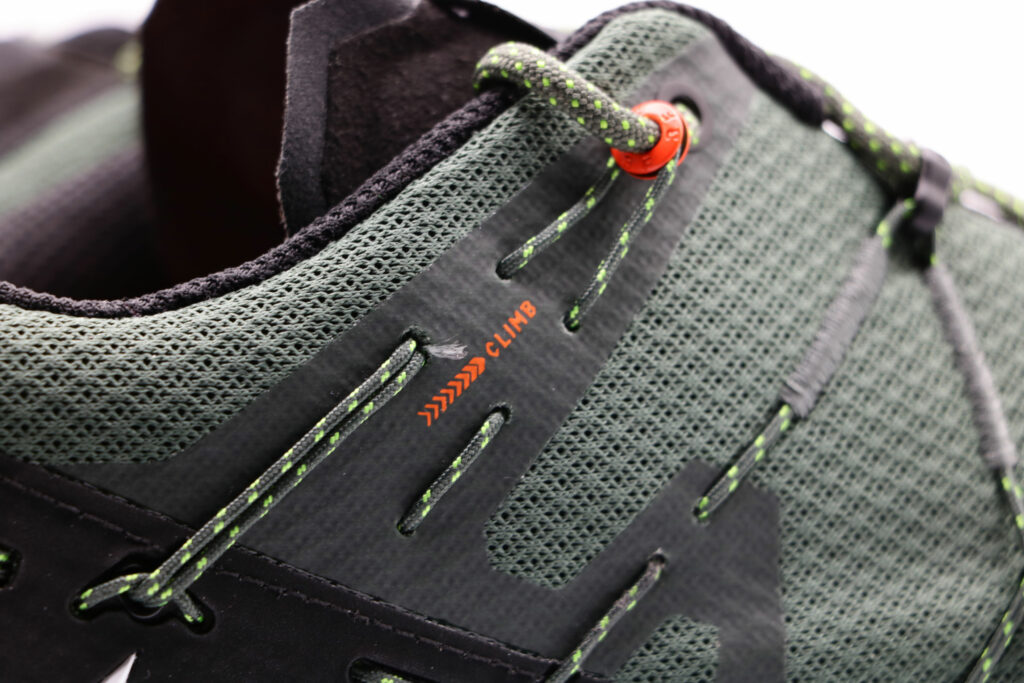 The lacing system of the Wildfire 2 is called the 3F Total System. It combines the lacing, sole, and heel to create a supportive and precise fit, ensuring that the shoe adapts to your foot, allowing for maximum control and stability.
As for my impressions, a shoe like this needs to be secure on your foot while at the same time remaining comfortable given that many approach shoes can verge into being a bit narrow in the toe (which we'll get into in the fit section next). The security aspect is great. Even when on tough scrambles that lean toward climbing, the security of my foot internally was great.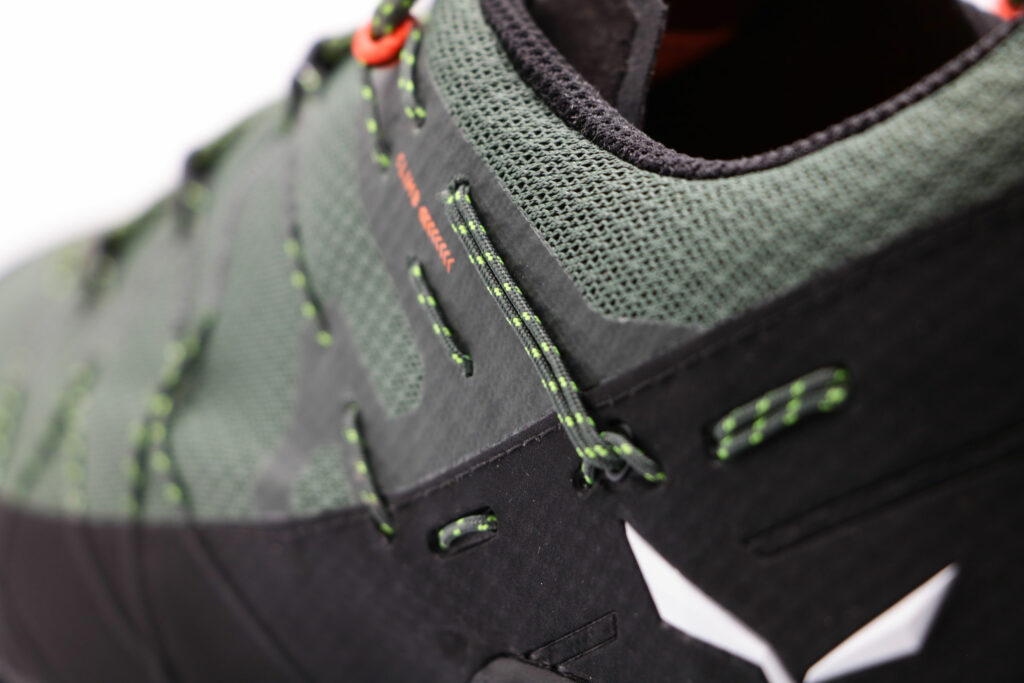 I'm a huge fan of the breathable mesh upper in this shoe. A quick aside; there is a waterproof, Goretex version of this shoe available as well which we did not test. On summer days, particularly for those whose feet run hot, this upper seems a perfect compliment to warmer temps.
The very rugged rand surrounding the upper also goes a long way toward holding the foot in place, especially when terrain becomes more challenging and pulling the foot out of place. Additionally, there is a stretch mesh, external gaiter covering the throat of the tongue which definitely helped keep debris at bay and adding even more comfort to the shoe.
Salewa Wildfire 2 Fit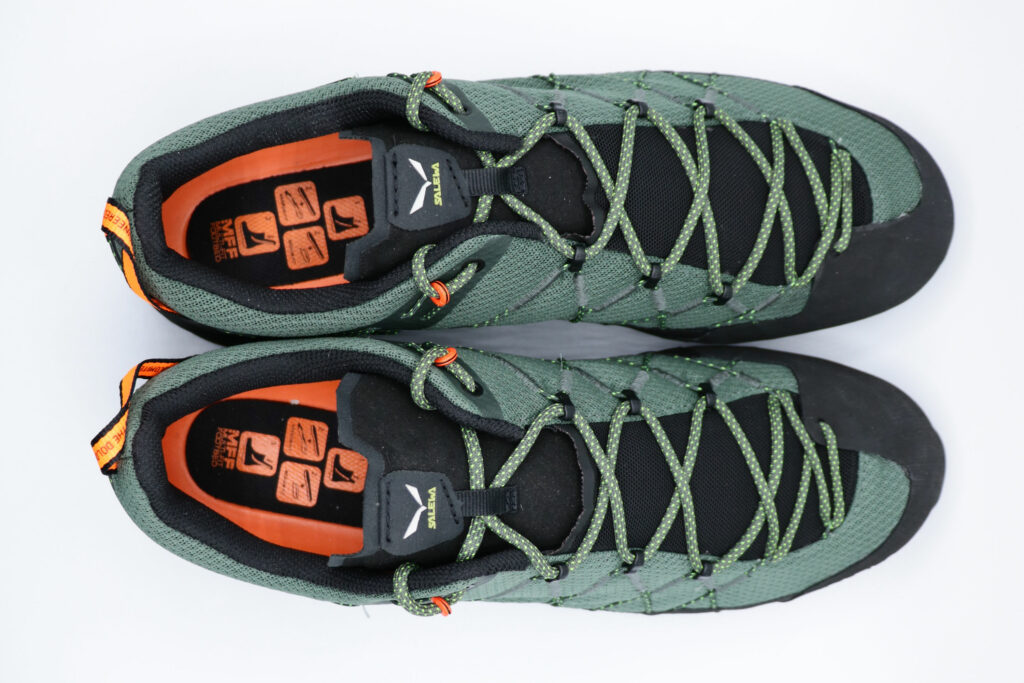 If you've ever worn an approach shoe then you know that the last is necessarily narrow-ish. My feet, which are a very average, men's size 11 (US) are comfortable in an 11. With that said though, I would suggest that finding a proper fit may mean going up by as much as a full size depending on your feet.I say that mostly based on the width of your foot and how you want a shoe such as the Salewa Wildfire 2 to fit you. With such a personal feel for a high end shoe like this, I hesitate to say objectively that it fits true to size so definitely take a look at some return policies before finalizing a purchase.
From a fit and comfort perspective, the Wildfire 2 left my feet comfortable over many miles of just plain hiking (up and down hills). As far as scrambling goes, this is certainly one of the grippiest soles I have ever tested and on top of that is definitely more durable than some rubber compounds which cater to one side of the scrambling VS hiking side or the other.
Despite being set up as an approach shoe I found that the Wildfire 2 fit my feet really well whether walking or turning vertical. No pinching in my toes apart from a wee bit on a steep downhill hike and plenty of sure-footedness on off camber and variable terrain.
Salewa Wildfire 2 Performance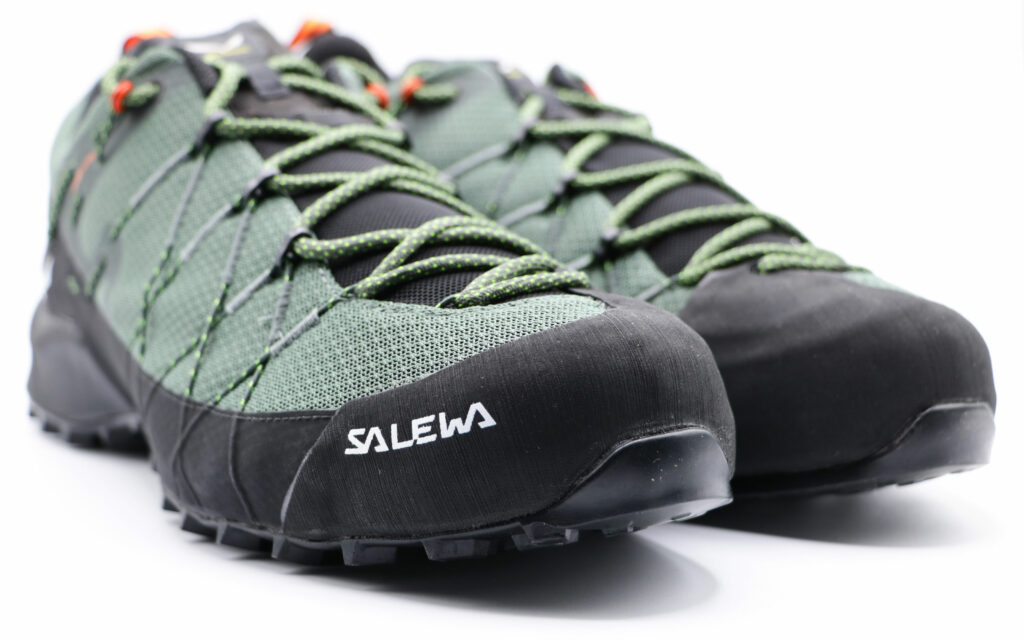 For a three-season shoe, the non-Gore-tex version of the Salewa Wildfire 2 does a good great job standing up to everything from dry, rocky terrain to rooty, peaty alpine forests. As for the scrambling part, the grip and ability to hold an edge or toe is fantastic.
The adaptive eyelets and down-the-foot climbing lacing of this shoe is one of my favorite parts and it's one of the reasons I think that even those with wider feet will be able to find a sweet spot with lacing these up to conform to their feet.
Salewa Wildfire 2 Overall
If you've not ever had the chance to wear an approach shoe – especially if you're finding your hiking boots leaving you wanting when the trails turn into scrambles and maybe even climbs in some place, the Salewa Wildfire 2 is a good place to begin. At $169 it's not really going to break the bank and the terrain that it can open to you is impressive.
Have you ever used an approach shoe or do you stick to hiking boots and shoes? Let us know!
---
Where to buy
---
Approach shoes
,
Climbing shoes
,
Gearist
,
GTX
,
Hiking
,
hiking shoes
,
Mountaineering shoes
,
Review
,
Salewa
,
Salewa Wildfire 2
,
Salewa Wildfire 2 Review