Specs and takeaways:
Name: Salomon S/Lab Pulsar 2
Weight (unisex sizing, men's size 11): 6.52 oz / 185 g
Stack height: Forefoot – 18.5mm // Heel – 24.5 mm // 6mm heel-toe drop
Sizing: True to size
Pros: Light and responsive cushioning, sticky traction, durable construction
Cons: No true rock plate, a bit narrow
Best for: Whip-fast trail racing shoe; smoother trails
Price: $180
---
Where to buy
---
In the pantheon of fast and light trail running shoes, Salomon is certainly one of the brands that is consistently at the forefront of the mind of every trail runner. Prior to the end of 2021 at least part of that was due to trail racing megastar, Kilian Jornet who could be seen crushing records and breaking hearts on the world's greatest ultramarathons.
Today we're looking at a shoe which continues in that vein. A pair of lightweight trail shoes that is eager to go as fast as you can make it. While we didn't review the first version of this shoe, I'm thrilled to bring you our in-depth review of the Salomon S/Lab Pulsar 2.
Salomon S/Lab Pulsar 2 Outsole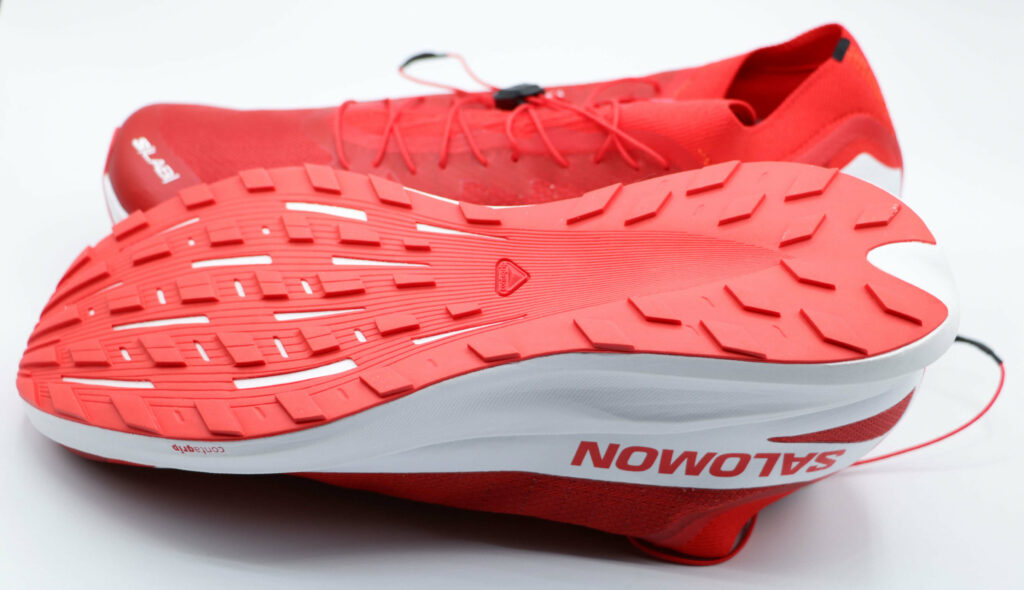 Laid out in 2.5mm deep lugs, the outsole of the S/Lab Pulsar 2 is made using Salomon's Contagrip (note: NOT "Contragrip") rubber. In the base of the outsole rubber, specifically in the forefoot, there are a handful of cutouts which can cut a bit of weight here and there and add some flexibility.
While the shoe I'm speaking about today is the "hard ground" version of this shoe, I suppose, there is a soft ground version of the Salomon S-Lab Pulsar 2. In that model, there is a slight bit more weight thanks to the lugs which come in at double the depth (5 mm lugs) of this shoe and are more suited to, well, soft and often peaty ground.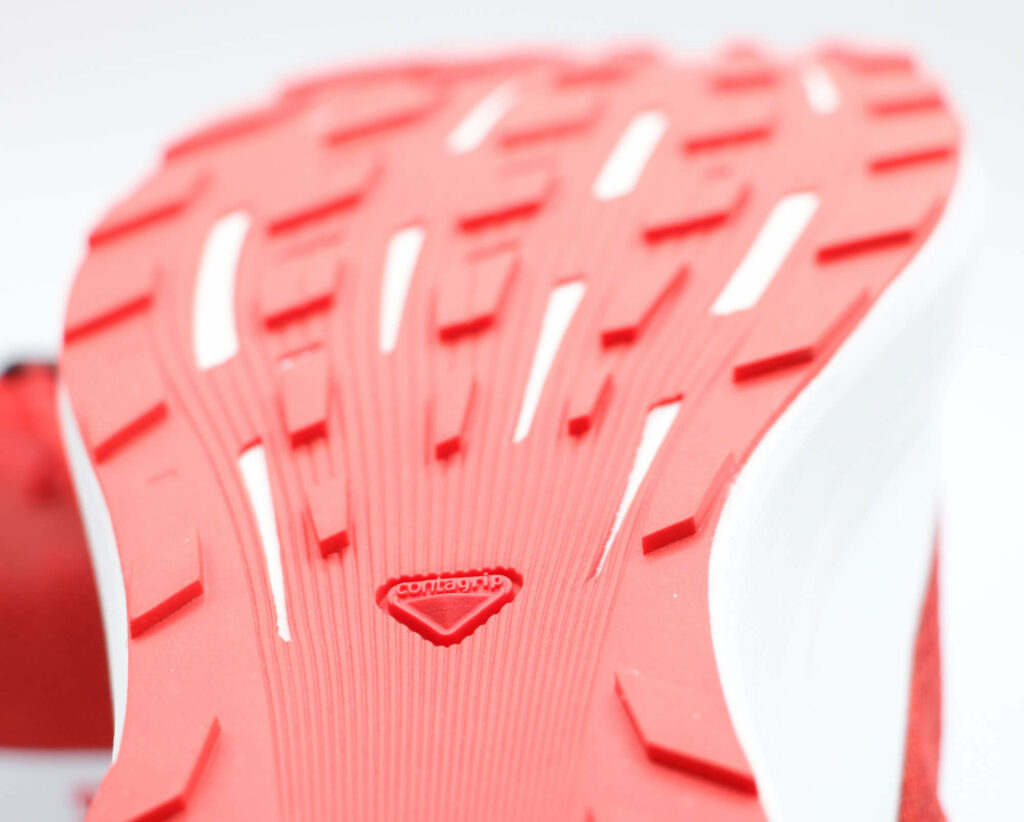 [My take] While some trail running shoes go toward a complex design and layout, the sole of the S/Lab Pulsar 2 is fairly straightforward and sleek. The Contagrip outsole handles pretty much every condition that Colorado brings. With that said, I tested this for several miles on the Cotswold Way in England and I can certainly see where a deeper lug on dirt trails and muddy conditions would be much preferred.
The sharp rocks and technical terrain here in Colorado are where this shoe is at home and the outsole performs wonderfully. From a durability perspective, I've got about 50 miles in this shoe as of this writing and the outsole has minimal significant wear underfoot.
Salomon S/Lab Pulsar 2 Midsole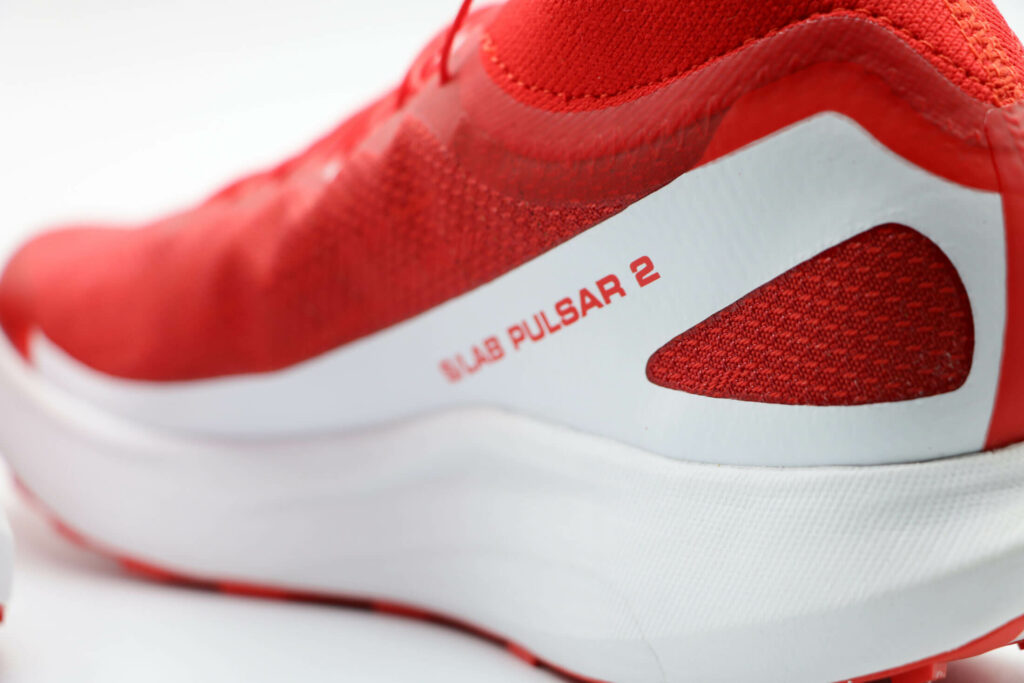 The midsole of the Salomon S/Lab Pulsar 2 is very straightforward in its construction and made from a foam consisting of a combination of EVA and OBC (Olefin Block Copolymer) called Energy Foam which feels quite similar to Energy Surge of models past. This combination is meant to result in a durable, but responsive foam. From the medial midfoot, extending about 4 inches toward the heel is a slightly stiffer bit of foam inserted into the construction for some rearfoot stability. Lacking any rock plate, the midsole stack height of the Pulsar 2 comes in at 18.5mm in the forefoot and 24.5mm in the heel for a net drop of 6mm.
[My take] To be honest the midsole of the Pulsar 2 trail shoe is pretty no-frills. In this case, I like that a lot being that this is a race shoe and not having underfoot protection means saving a bit of weight. That said, I've definitely taken a few sharp rock hits to the foot that weren't terrible by any stretch but were very noticeable without a rock plate to reinforce that area. There is no rock plate in this shoe although there is some very minimal protection from Salomon's Profeel film.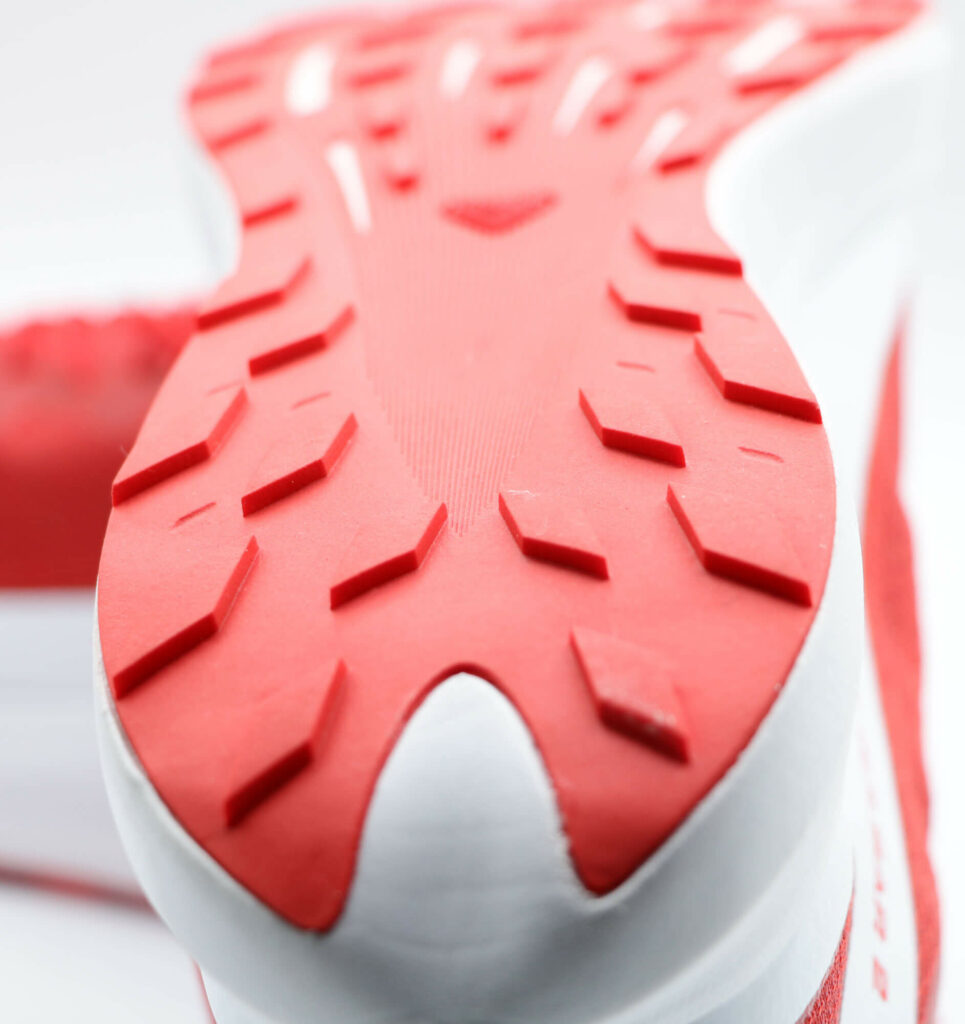 As for cushion, pew people are going to go far enough to call the S/Lab Pulsar 2 a "cushy" shoe. The Energy Foam does feel quietly responsive although because this shoe has a rather pliable midsole, I think some of that is enhanced by the natural, eccentric propulsive aspects of the foot and lower leg.
You'll also notice in the profile images here that there is quite a bit of rocker to the sole unit of this shoe. I've found that this settles out a bit from when they're straight out of the box. Also, it caters nicely to a stride that's looking to roll through the gait cycle – less so for those still ringing the bell on heel striking.
Salomon S/Lab Pulsar 2 Upper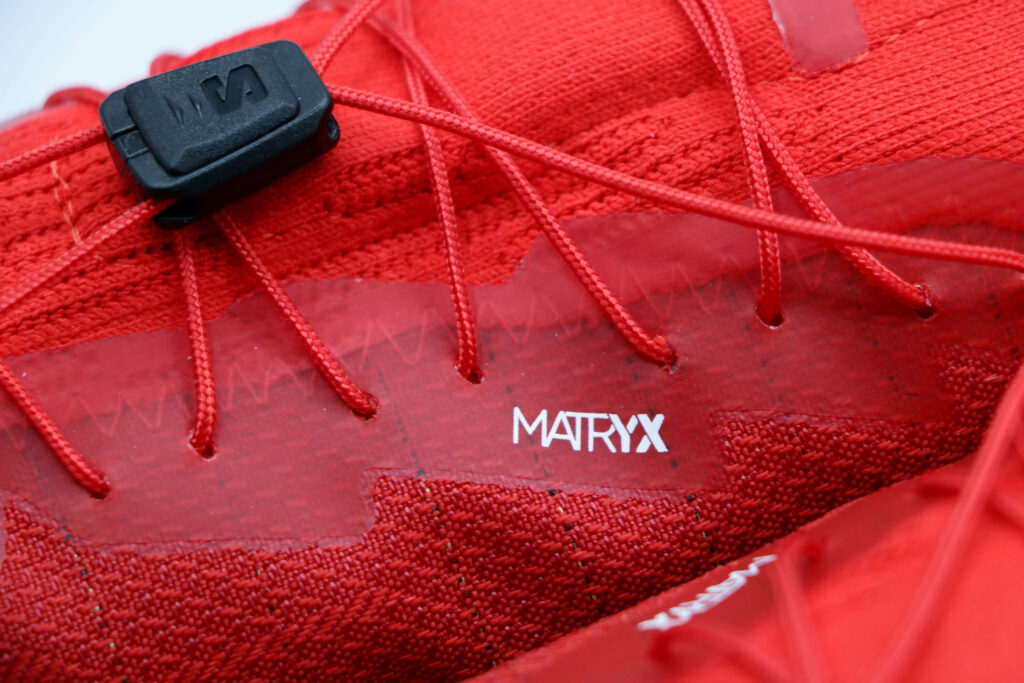 The Salomon S-Lab Pulsar 2 features a primarily Matryx mesh upper which surrounds all but the tongue area and around the collar of the shoe. In the tongue and collar (around the ankle) we find a stretch mesh that clearly aims to give the new upper of this shoe a sock-like, snug fit. The support structure of the shoe lies mainly with the Matryx mesh itself and the aramid fibers embedded therein. The exception to this is in the white design element sweeping from the metatarsal heads, back toward the heel counter. The lacing is made with Salomon's familiar Quicklace system and lace garage.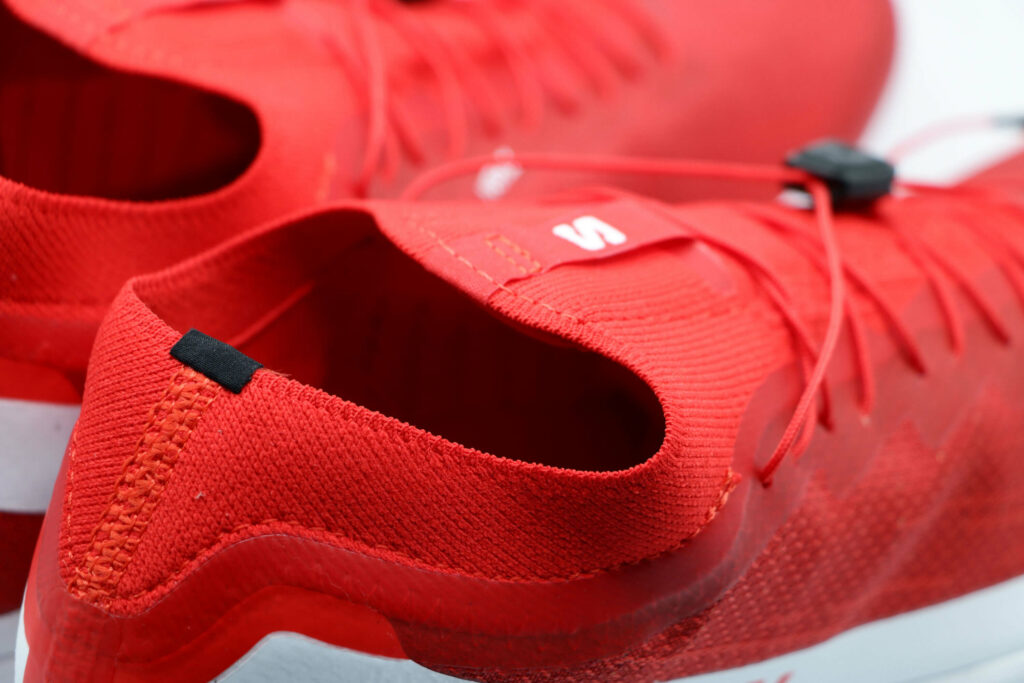 [My take] Ok, I love this upper. It does have some challenges which I'll address in the FIT section below but the new, breathable Matryx mesh and updated heel and tongue construction feels fantastic on my feet and does a ton to compliment the performance of the other parts of the shoe. From a durability perspective, it's kind of deceiving because the mesh feels sol light but man, does it hold up to punishment.
Apart from the materials, the construction of the upper stacks up very well too. The minimal toe cap does a deceptively good job in protecting toes. The secure and user-friendly laces combine well with the stretch mesh of the tongue and collar to really lock down the foot without having to hammer down on the laces.
Around the heel, that stretchy collar held the shoe to my ankle quite well and the minimal padding on the interior of the heel cup wraps the rear of the foot, minimizing slip.
Now, with all that said, I did find myself with a bit of a blister on my achilles after one run. To be honest, I'm not sure if it came from some debris getting stuck in that area or if it's the shoe itself but after that, I simply decided to wear mid-calf socks just in case.
Salomon S/Lab Pulsar 2 Fit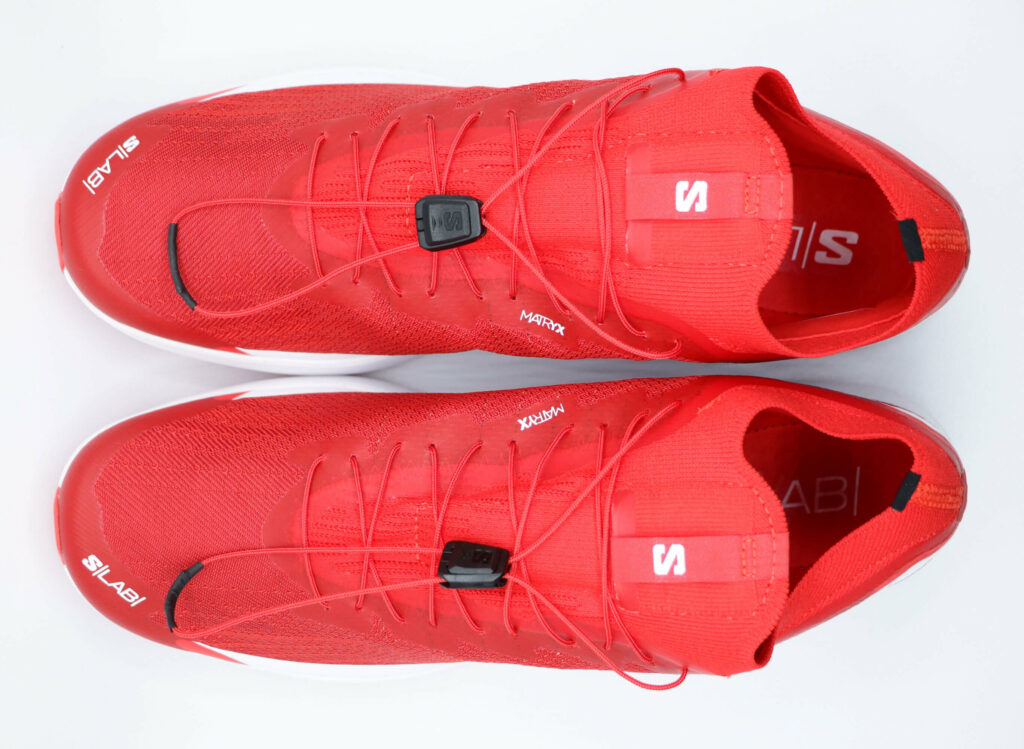 [My take] Salomon is well-known for their narrow fitting running shoes and the S/Lab Pulsar 2 is no exception. Now, I have a very average width foot and this fit me just fine but that's the thing, if fit me JUST fine. If my foot were wider – looking at you, my 2E+, wide feet friends – this shoe would very likely not work for me. Add to the the fact that the new Matryx Mesh body of the shoe does NOT stretch – although the tongue does have some give – and there's a fairly finite width in these shoes.
For a racing flat such as this, this is a pretty common thing in addition to the narrow nature of Salomon. And again, this is a shoe that's made to go fast and part of that is being able to fly around trails and terrain which requires responsiveness, not only from the sole unit of the shoe but also from parts like the upper.
I would suggest that if you have a wider foot and you do thing that the Pulsar 2 is something that you may want to use for short distances, it's well worth making sure the sock-like fit works with your feet.
As for sizing, apart from the width aspect – which again, was pretty much perfect FOR ME – the sizing runs pretty true-to-size in my men's 11. Keep in mind that this racer uses universal sizing.
Salomon S/Lab Pulsar 2 Ride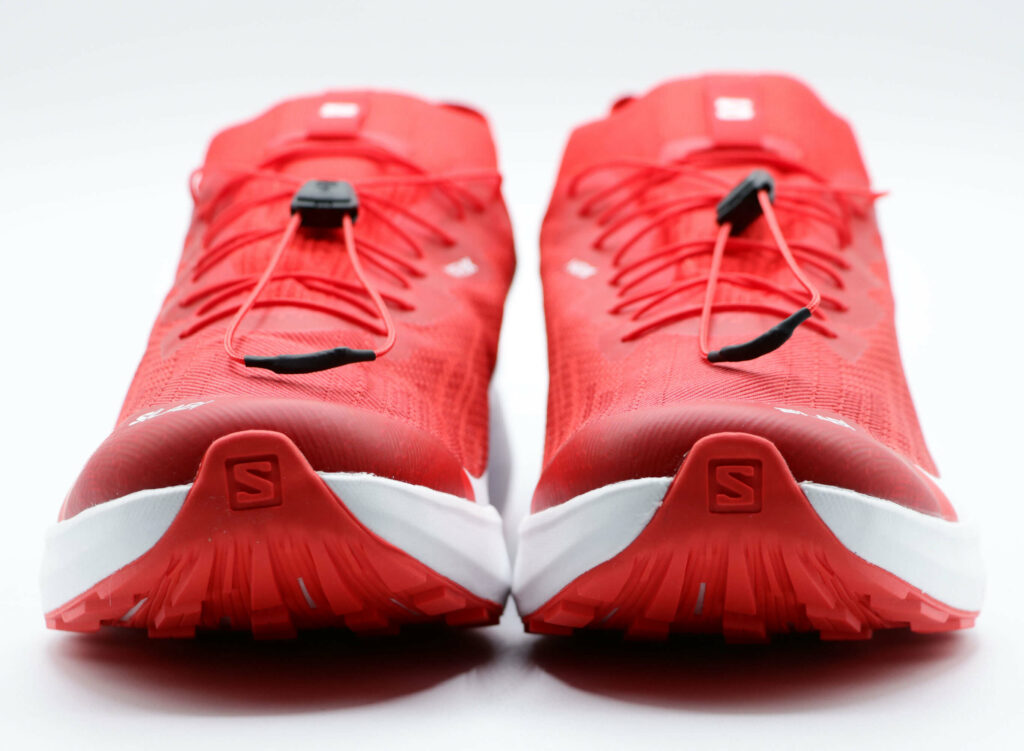 [My take] It's easy to say that a shoe like this is made to break records being that it's one of the lightest trail racers out there. Apart from the materials and such, just why is that?
First, the traction offered up by the Contagrip outsole (again a note: NOT ContRagrip outsole) which in this model has a lower profile lug setup, gave me a lot of confidence in where my feet were landing without being concerned with the material underfoot.
Then there's the midsole which, with its rockered shape and middle-of-the-road 6mm heel to toe drop, offers a smooth and responsive ride. Now, there are certainly some more ultra-responsive trail running shoes on the market but there's a lot to be said for allowing the body and the ground to work together in a trail context. Yes, on the smooth, flat stuff the additional boost of a speed-tuned plate would be great but for me, the more technical and agility-requiring trails are well served by a running shoe like this.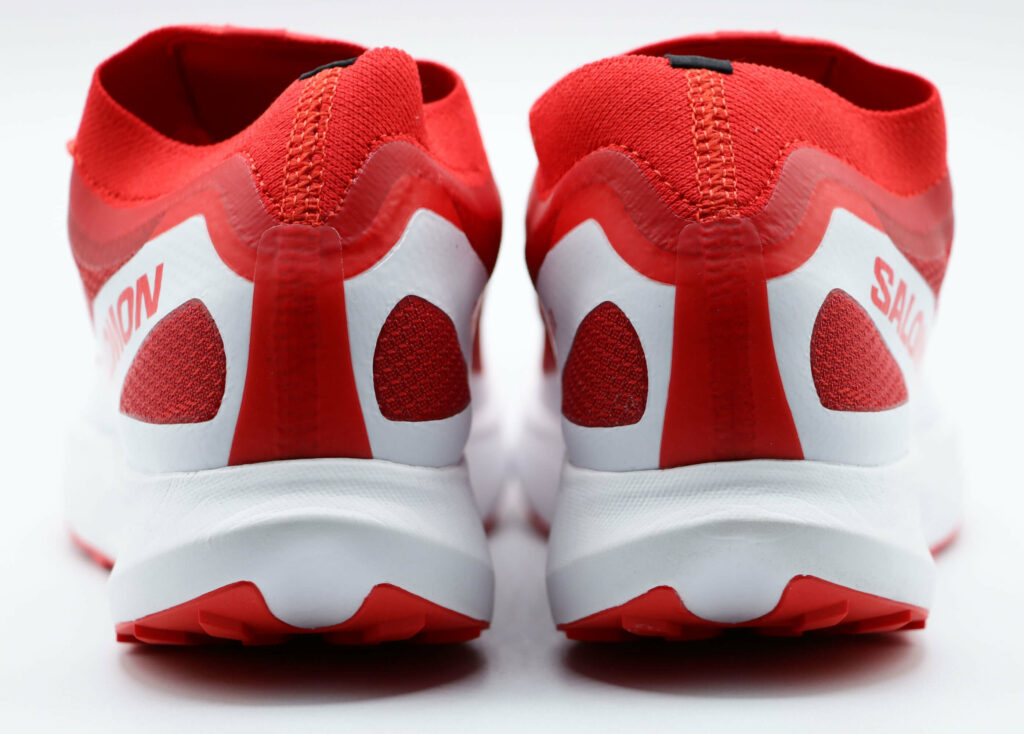 Finally, while I reviewed the upper above, I'll add here that the Salomon S/Lab Pulsar 2 has a great upper for me. I say "for me" because the Pulsar 2 may be a tough ask for those wide-footed amongst us. For me, the upper of the shoe compliments the gently locked-in feeling that my foot has with the shoe.
I don't feel any slipping at all and the compliment to the rocker shape is clear. The Pulsar 2's upper hugs my foot and remains breathable on hot miles while remaining super lightweight (185g in my size and in what would be the men's size 9, 178g).
Salomon S/Lab Pulsar 2 Overall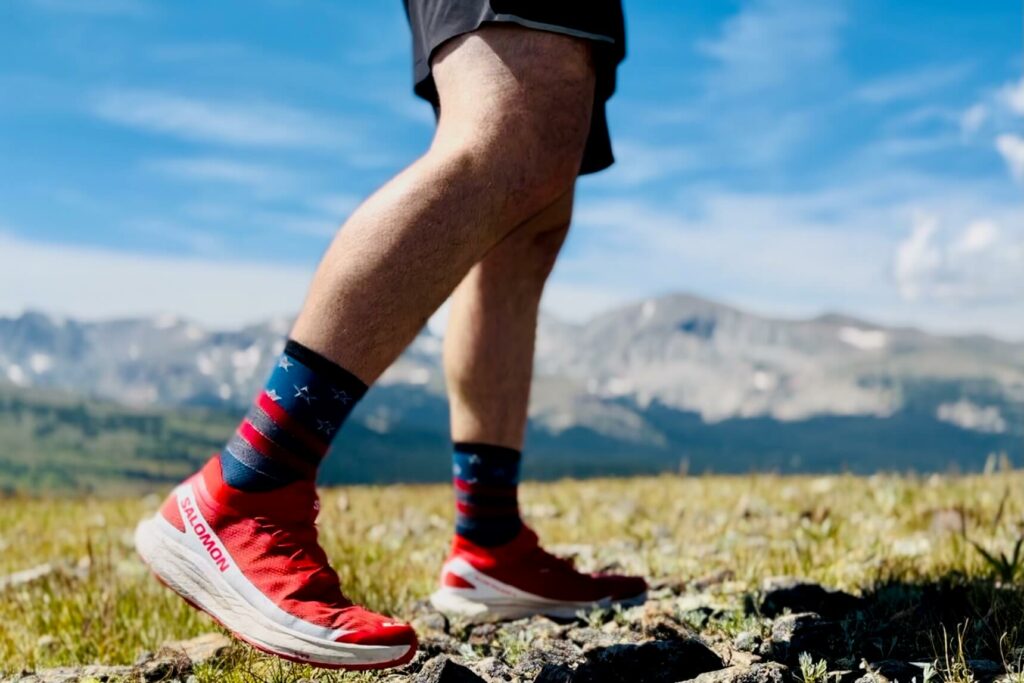 It's been a minute since I've thrown down some speedier trail runs in a Salomon trail shoe (and my definition of "speedier" has definitely changed a bit as well) but this trail running shoe, the Salomon S/Lab Pulsar 2 is a great shoe. Lightweight and quick with a durability which belies its light weight.
At $180, a number of years ago I would have said that this was very pricey but, to be honest, in today's market that's not bad. Especially when you consider the speed and durability that you're getting in a trail racer.
The Salomon S/Lab Pulsar 2 that will be in my lineup for a while (at least until V2 is replaced by V3). Got get some and let us know what you think.
---
Where to buy
---
Brandon Wood
,
Gearist
,
Marathon
,
Review
,
run
,
Running
,
running shoes
,
Salomon Pulsar
,
Salomon S/Lab Pulsar 2
,
Salomon S/Lab Pulsar 2 review
,
trail racer
,
trail running
,
trail running shoes