The Fast Wing Hoodie M from Salomon is a super lightweight trail running jacket that has got competitive racers and weekend warriors in mind. It has a full-length front zipper, a chest pocket that the jacket itself can be stored away in, and a solid fit that gives you lots of range of motion.
Materials and Construction
Nylon composes the entirety of the Fast Wing Hoodie M and makes it incredibly lightweight. At just 94 grams, there's really no reason not take this jacket with you on the trail. The soft AdvancedSkin Shield fabric is double ripstop so it stretches just slightly at an angle and shouldn't rip easily. This material is also designed to be wind resistant but breathable. It will also keep your dry if there's some light rain, but it isn't a rain jacket.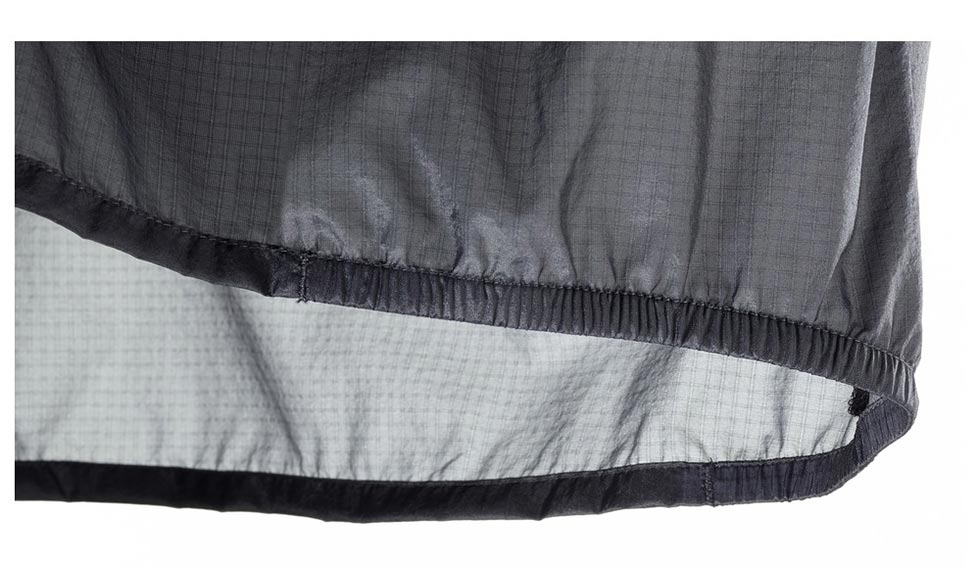 The trail jacket comes with a full-length front zipper and a roughly inch-long clip tag that stretches from one zipper side to the other at chest-height. The purpose of this is that you can unzip the jacket if it gets too warm but the tag will keep the Hoodie from slipping off your shoulders. This is a really small point but a characteristic that I find super useful.
The Fast Wing Hoodie M also has a zippered chest pocket that also acts as its stow-away. In other words, you can push the entire Hoodie into the pocket from the inside and then zip it up into a nice little pouch. Toss it into a running pack and you're good to go.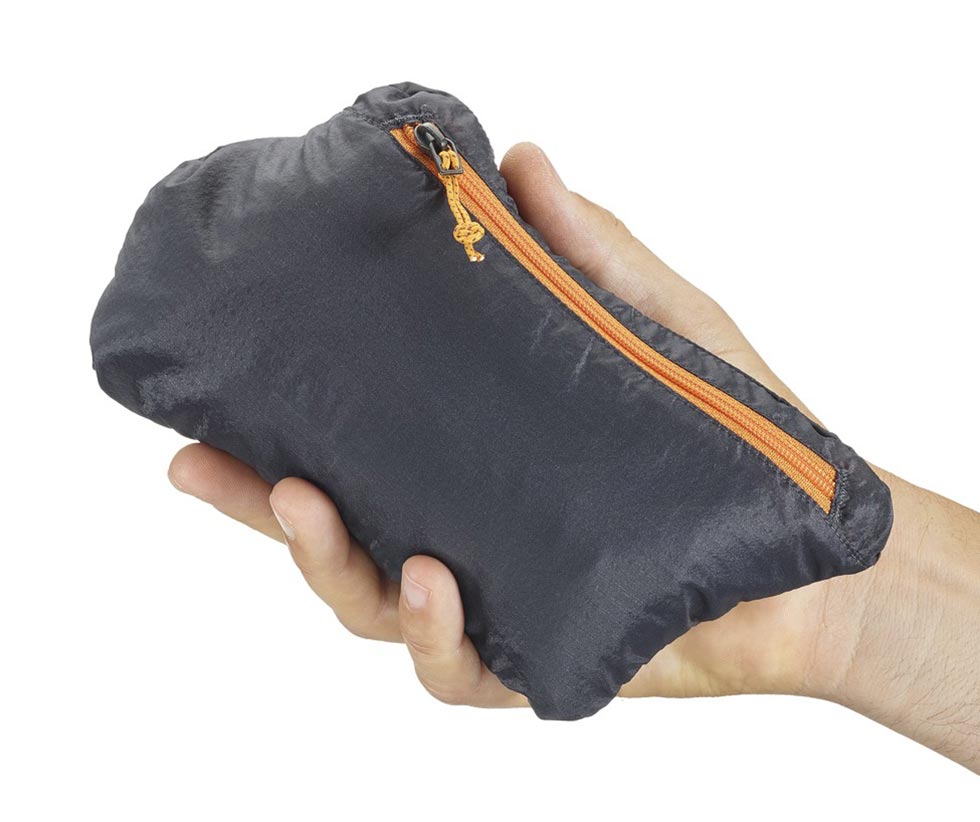 Finally, and for me the most important characteristic of the Fast Wing Hoodie M, is its motion fit and articulated sleeves. There are few things more irritating on a long run than a jacket that doesn't move with your body. Under each admit is a fairly wide opening that will keep the jacket breathable and give you free arm movement not just upwards but also back and forth as they swing past your body. There's also enough material and some stretched cinching at the back of the neck so you can easily rotate your head when the hood is on. Likewise, a little cinching along the sides of the face (right around the cheeks to temples) gives the hood a more comfortable fit. Finally, the hood has a bit of a duckbill that protrudes about 1.5 inches from the head. In the case that you're running through some rain, this helps to keep some water out of your face but it isn't stiff so in heavier rain it will get pushed down. It's not a rain jacket, though, so the folks at Salomon didn't design the hood to perform well in that situation.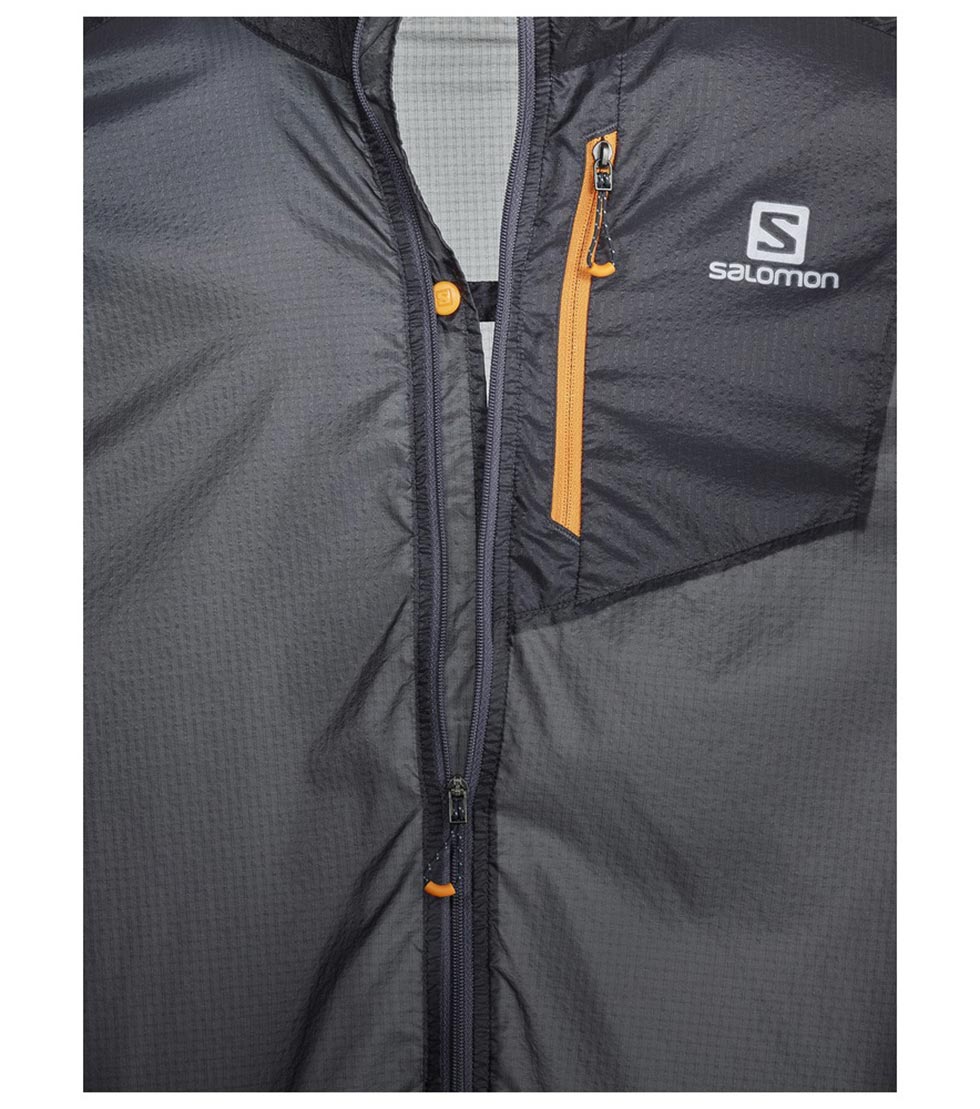 Performance
I tested this jacket in light rain and cold temps over the winter. I found it worked best for me when I wore it with a simple t-shirt underneath because it otherwise gets a little too steamy inside. It worked best for me when it was raining or when temperatures dropped to the 30s and 40s. Finally, during long runs I often stuck it into my pack as a backup layer in case I needed it.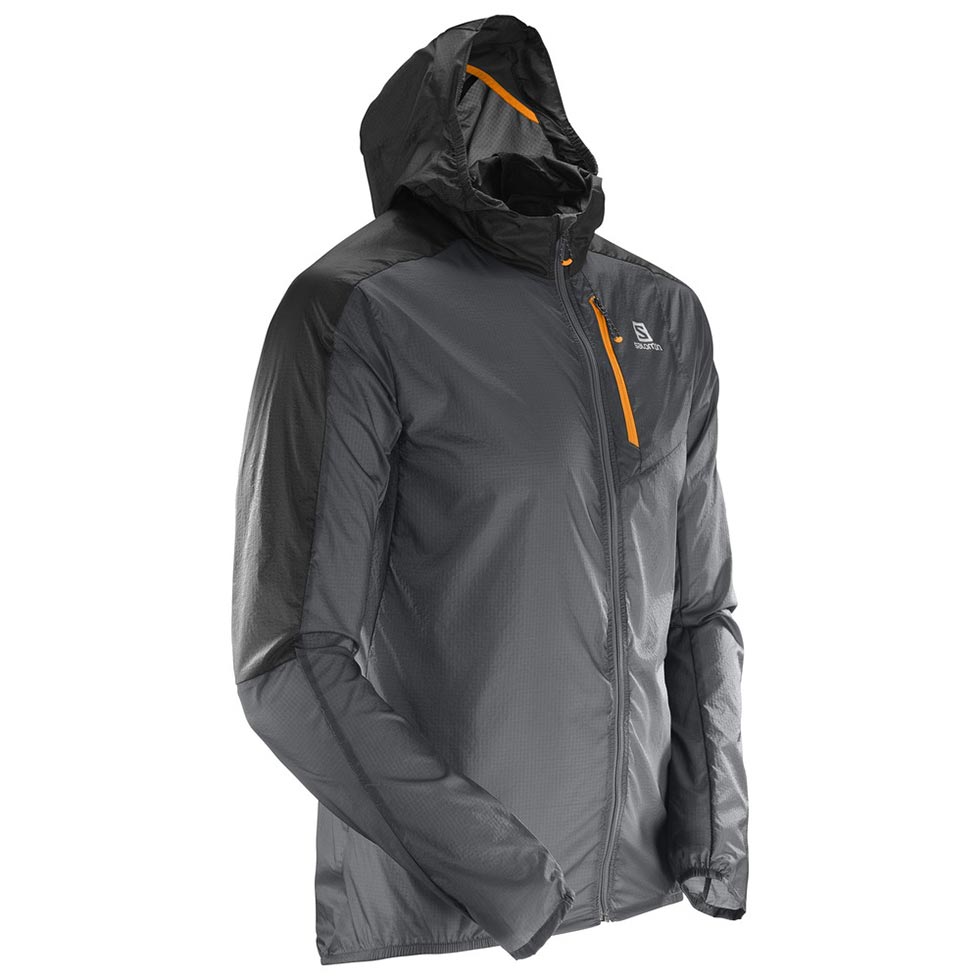 Fit and Wear
Salomon has 4 fit categories that range from Skin Fit to Relaxed Fit. The Fast Wing Hoodie M has an overall Active Fit, except for the hood, so it isn't skin-tight but snug enough to keep from getting in the way on your run. The hood is Skin Fit, which makes it nice and snug around the head. This is particularly useful when you're running; a snug fit around the face is incredibly uncomfortable as opposed to an oversized hoodie that'll bounce around and likely inhibit your peripheral vision.
I wore this jacket in a size large, which was a pretty good fit for me. I'm just over 6' and slim and typically wear a medium in jackets, so the jacket likely runs a little small. I particularly liked how long the jacket was on me, and that it runs a bit longer on the back side. The sleeves are also fairly long so you can tuck part of your hand into it if it gets colder.
The Fast Wing Hoodie M can be washed normally with the rest of your laundry but it's best to air dry it to prolong its life. Somewhat unfortunately, it wrinkles very easily and this doesn't go away when you put the jacket on. The Hoodie can be ironed inside-out for a more sleek look but as soon as you fold it into the carrying pouch the Hoodie will wrinkle.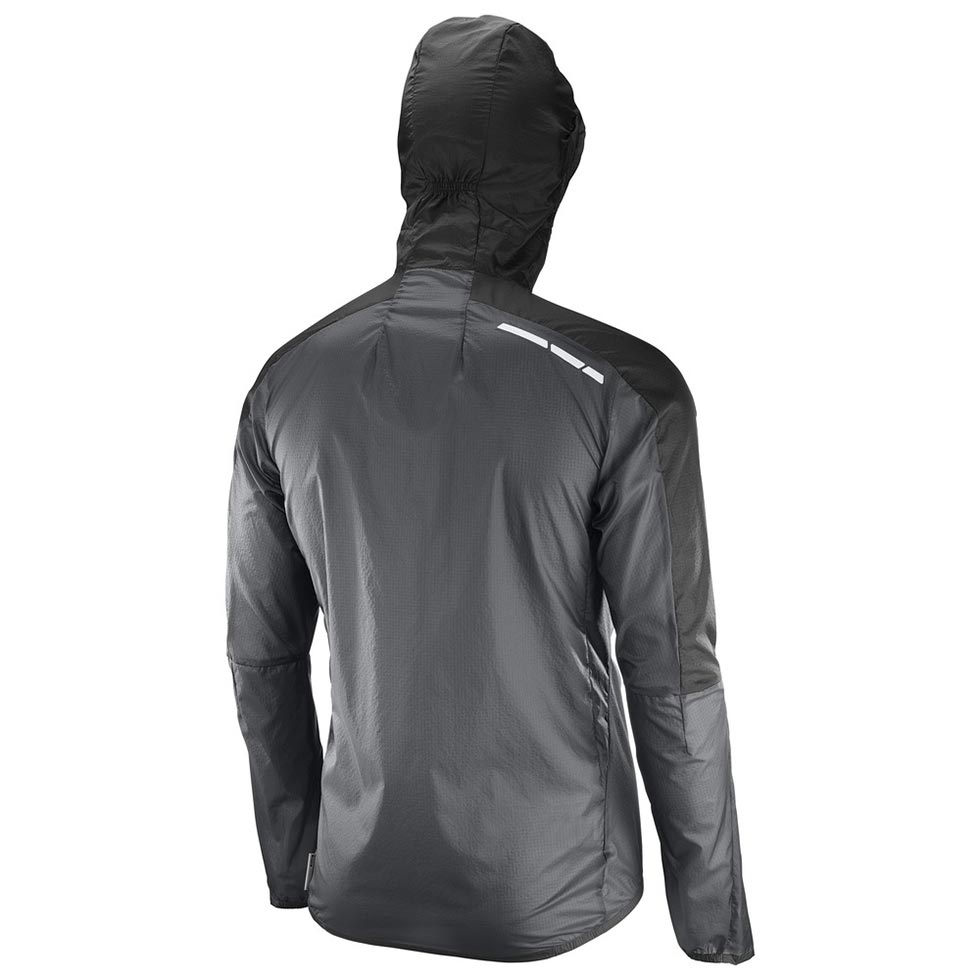 Overall
It comes as no surprise that Salomon's high-quality gear almost always comes with a high price tag. The Fast Wing Hoodie goes for $110. That's pretty comparable to other wind breakers with similar quality. Compared to Salomon's S/Lab collection, the Fast Wing Hoodie M is half the price and works really well for most basic trail runs. Even if you're expecting to encounter heavy rainfall or really low temperatures, the Fast Wing Hoodie M can still be used as a layer over or underneath other tops. Overall, this jacket is super versatile and well-worth investing in.
View More:
clothing
,
jacket
,
run
,
running jacket
,
Salomon
,
trail running