Few athletes are as diverse or at home in the mountains in and around Boulder, Colorado as ultra running icon, Anton Kupricka. On any given day he can found running, riding or climbing the roads and slabs around this endurance sports Mecca.
With such a diversity of action happening, he's someone who needs the right gear to keep up with his demanding life. Today we're going to be looking at a signature hydration pack of his from Ultimate Direction which goes well above and beyond simply keeping you topped up on fluids – the AK Mountain Vest 3.0.
Update 2021
This season finds us on version 5.0 of the UD Mountain Vest. Although you can still find the 3.0 in limited supply and sizes here, The Ultimate Direction Mens Mountain Vest Signature Series 5.0 has a new name and updated features worth checking out.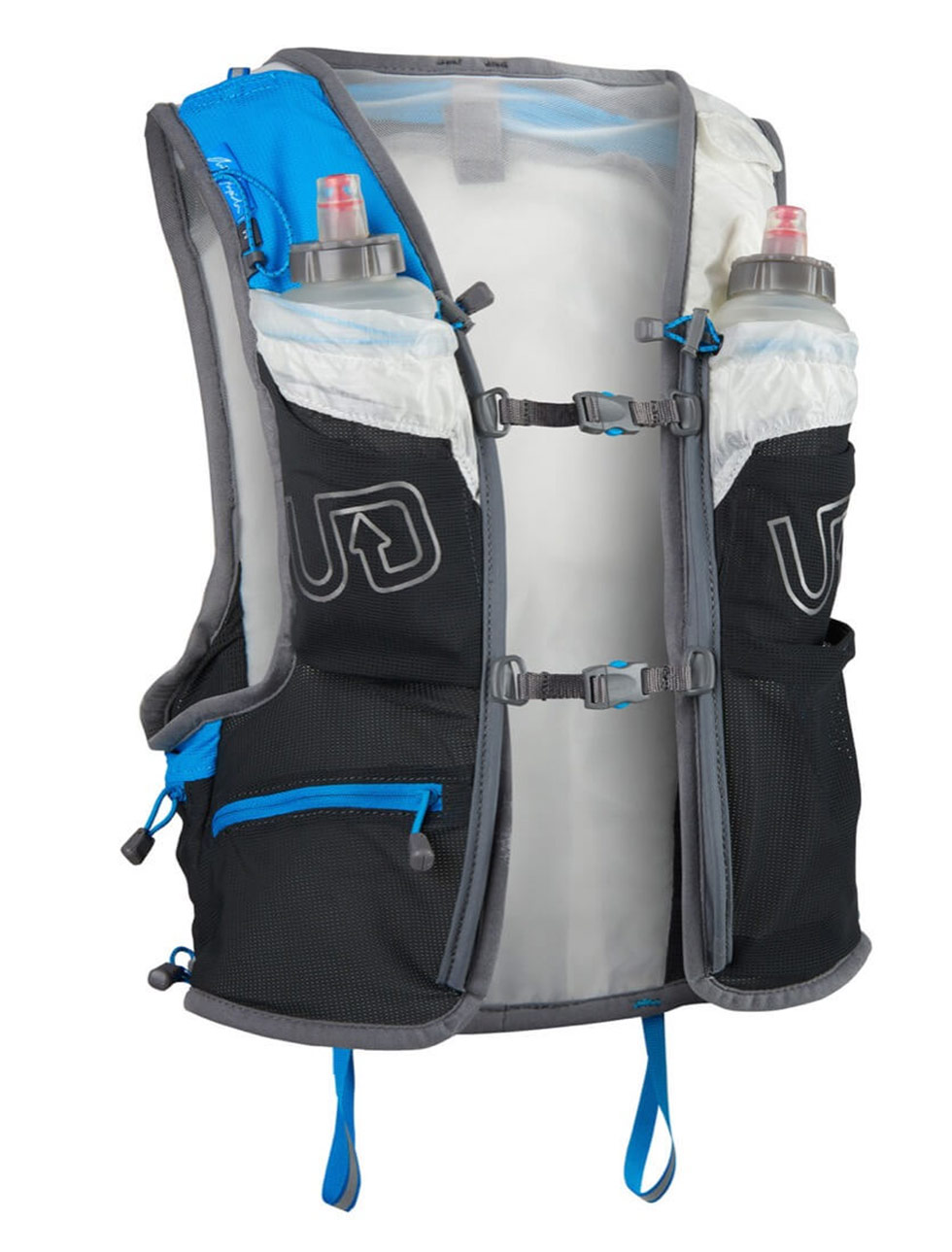 Materials and Construction
The AK Mountain Vest 3.0 from Ultimate Direction is meant to roll light while still maintaining more features than you could ever think of. With that in mind the materials of the vest are lightweight and efficient while still maintaining a very high level of durability.
Beginning with the harness we see a 150g knit mono mesh that we (Ben and Brandon) didn't find stiff or rubbing at any time in the miles and miles we put in this vest.
The material shapes very well to the curves of the upper body and its edges are softened by a microfiber piping that covers both the edges against the body and outward facing. Reinforcing strength comes in the form of 180g Darlington power mesh which stretches and moves differently along different axes for a lot of strength without a lot of added weight.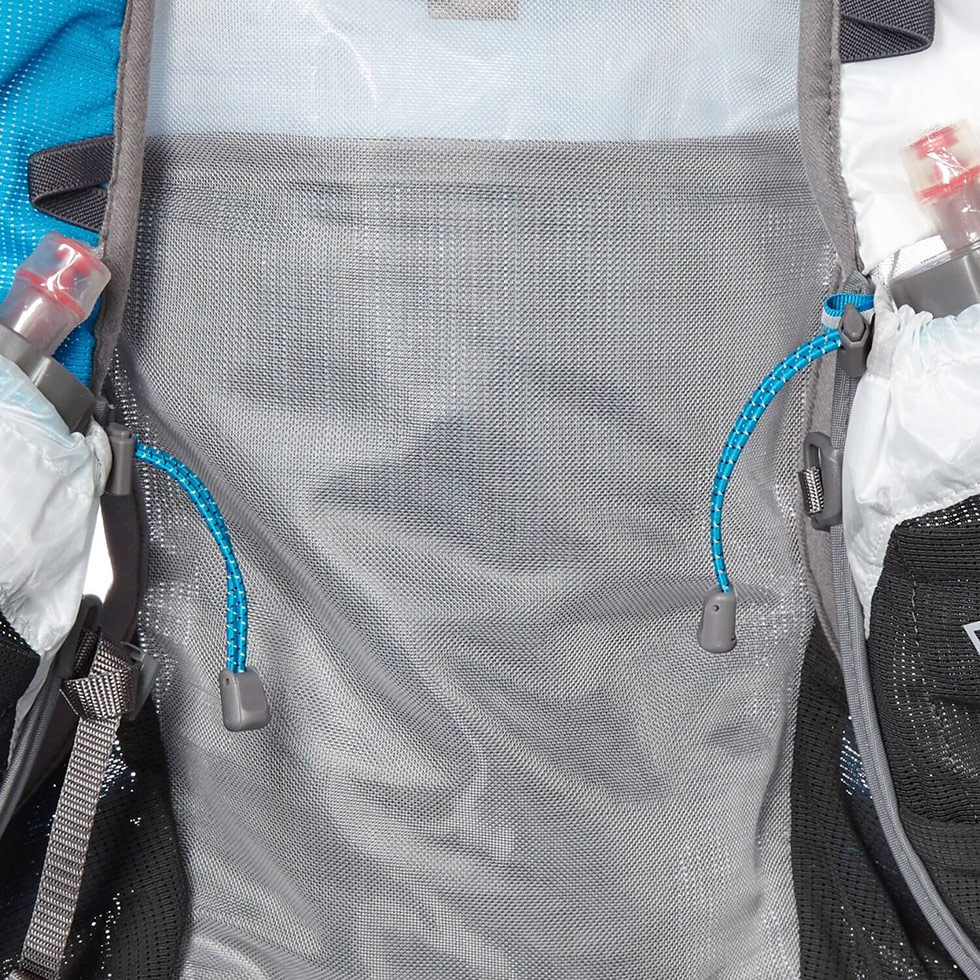 Rounding out the main materials on the pack is a SilNylon/66 which is a 30D, ripstop nylon that is impregnated with silicone that is incredible strong and is also permanently waterproof.
One of the things that I've found to be fairly consistent across the board with hydration packs is that they can stretch out ever so slightly over the course of a run as they become sweat-soaked.
In the case of the AK Mountain Vest 3.0, neither Ben nor myself noticed any stretching to speak of and fact, there is an excellent amount of moisture wicking thanks to the openness of the materials used in the upper (although the piping can hold onto a touch of moisture at times.
As for durability, this vest has held up like a champ for both Ben and myself. The only exception to that I can't blame on the vest but rather, on myself. When I run on trails – in particular when they're remote – I carry a small, lightweight folding knife from Gerber and in this vest the clip which is meant to attach the knife to a belt or waistband has an edge that sticks out a tiny bit.
After well over 200 miles the thin metal edge of the knife decided to break on through to the other side and I would up with a hold in the pocket wall on one of the right hand waist pockets. Not the fault of the vest at all but worth mentioning, if only as a cautionary tale.
Rounding out the construction are the straps which fit the pack to your body. There are two sternum straps which are vertically adjustable on a ~11 inch rail on each side. To adjust the circumference there are two straps hidden in the lower side pockets.
The great part about these straps in particular is that they reside in the zippered pockets so there is no extra strapping floating around.
One place there is no adjustability is atop the shoulders. In this area we often find vertical adjustability to account for people who may want the load of the pack a bit higher or lower depending on taste. This isn't a big deal to me, but as I'll talk about a bit in the fit section, I can see where this might come up for some people.
Features
One of the things that Anton Kupricka was looking for with the AK Mountain Vest 3.0 wasn't merely to have a hydration pack but rather, an adventure pack for days that might begin and end with a run, but might also have a lot of climbing, scrambling and everything in between mixed in.
For that reason(s) there are a ton of features on this vest that make it so much more than just a water carrier.
First, let's start with the things located on the shoulder straps of the vest. Starting at the bottom of each side toward the back (love handle area) there is a ~8.5 inch, zippered, mesh pocket which also houses the horizontal adjustment straps.
These pockets are hugely generous and can easily fit a packable jacket, gloves, beanie, etc.
Moving around the the front of the vest, the bottom of the straps at the front have similarly sized pockets on each side with the only difference being that the lefthand pocket being an open-topped stash pocket and the righthand pocket being zippered.
These pockets are great for fast and easy access to whatever you may need to put in them.
Moving up the straps, the next thing we come to is a pocket that is identical on each side where the included 17 ounce soft bottles are meant to go. Each of these bottle pockets also have a small, square stash pocket on the front of it, perfect for gels or a glove.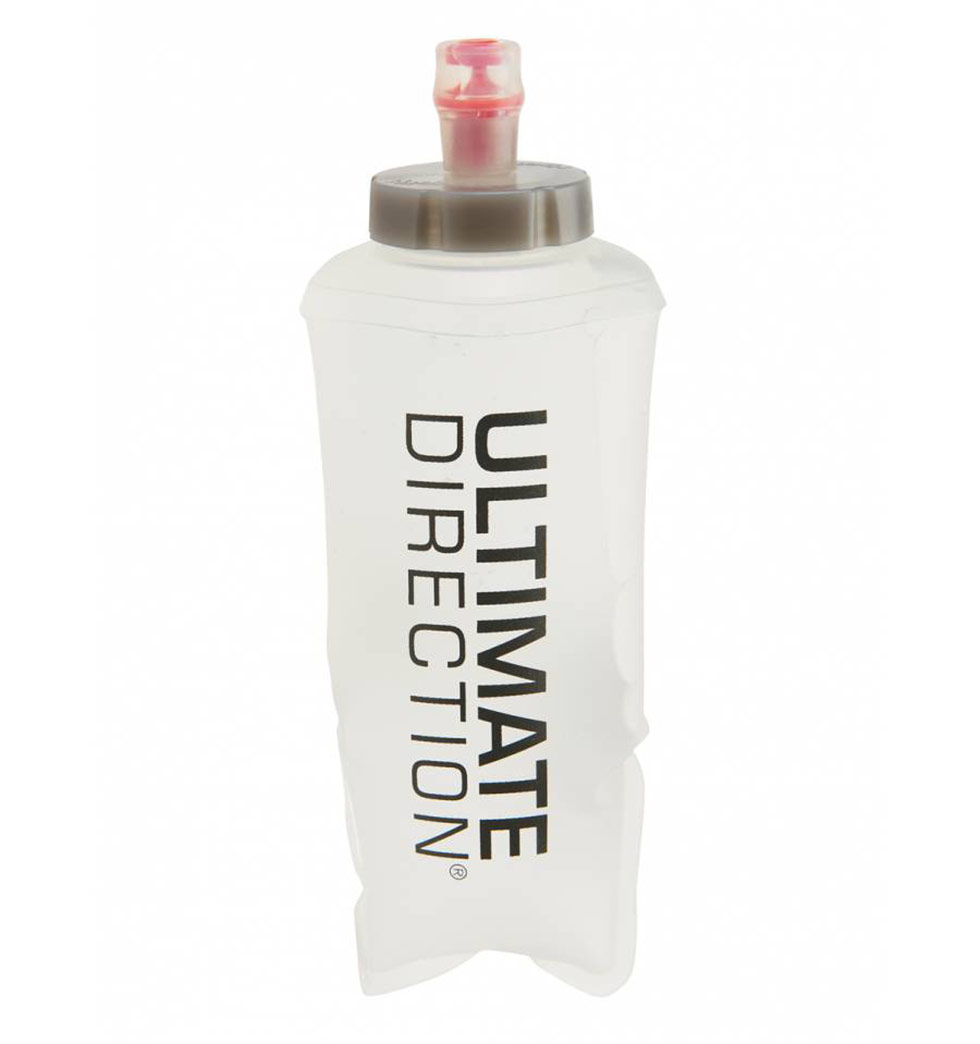 One downside of the soft bottle/pocket configuration is that there is nothing to hold the bottles up once they begin to deflate after drinking from them. This means that, by the time you get about halfway through a bottle, you may have to dig it out of the pocket in order to use it.
The final two pockets on the straps are both about the same size though using different setups with the lefthand pocket being made from that waterproof ripstop we covered above for keeping small things dry. The righthand pocket is the same size but uses the much more open stretch mesh.
Since the AK Mountain Vest 3.0 doesn't come with an included hydration bladder, it has to be adaptable to whatever you may want to install and the first place I'll touch on this is the hose routing which appears on the straps.
On each side there is an elastic loop toward the top of the chest. These at once route the hose after coming out of the strap on top of the shoulder and also make a good way to secure the other end and keep it from flopping all around.
My solution, however much less elegant, was to put the end of my drinking hose into one of the pockets on the front of the straps. Easy access.
Two final things adorning the straps on the front of the Mountain Vest 3.0 are a safety whistle above the topmost lefthand pocket (no reason to use this in a real situation…yet) and two elastic loops on each side, one at the top and one at the bottom of each strap.
These clever little loops are for easy and immediate access to your trekking poles on the front of your body rather than having to reach around to the back or having to remove your pack as is typical.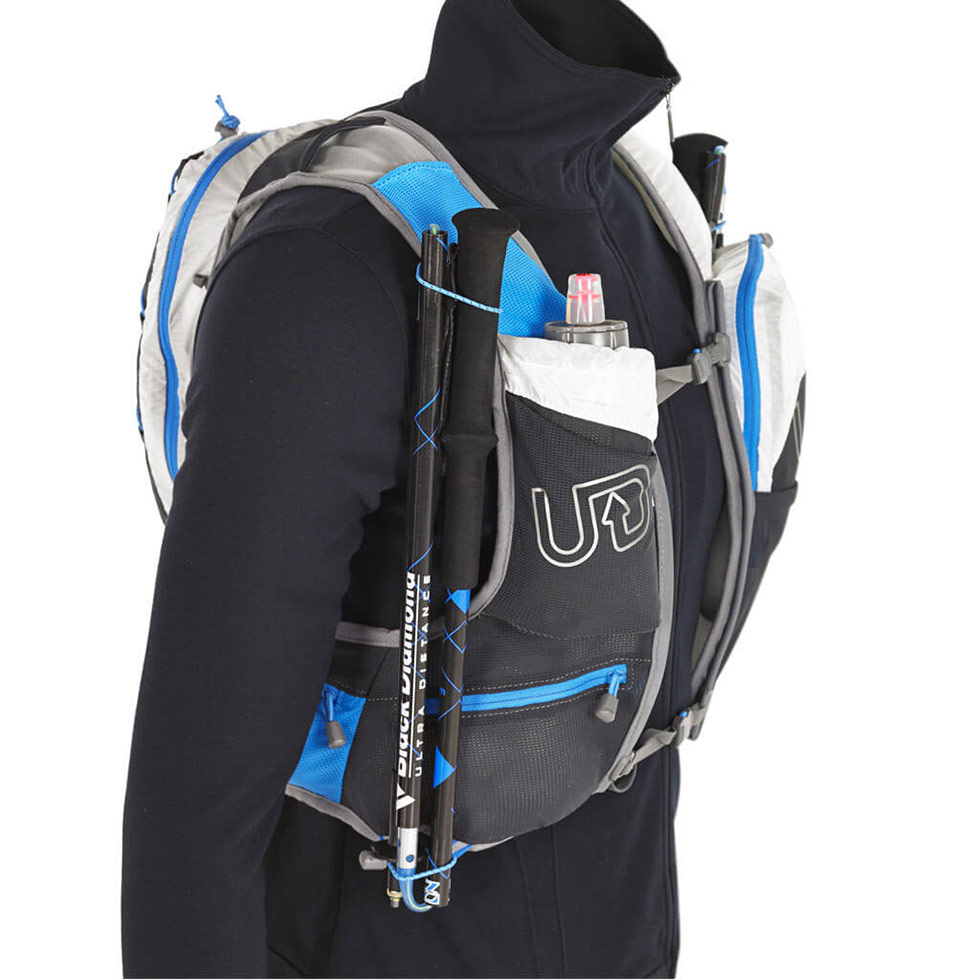 While I didn't experience this at all, there are people who've mentioned the straps not being tight enough to hold their poles so be sure things are properly secured before you go bombing down a hill and get tripped up on your own falling poles.
Moving around to the back of the Ultimate Direction AK Mountain Vest 3.0 the first thing we'll look at is the main compartment which is made from the same waterproof ripstop as earlier. Within, there is a hook & loop fastener at the top to suspend your actual hydration bladder and a mesh divider running up from the bottom of the pack to keep the bladder separate from any other contents.
Regarding the hydration, I used a 3.0 liter, rigid-backed hydration bladder from Osprey Packs (which is no longer made). For me, this fit perfectly into the allotted space and mounted easily to the hook & loop piece at the top.
It's possible to route the hose over each shoulder depending on your preference. I routed mine over my right shoulder just because it made stashing the end of the hose into a left-side stash pocket easier and it's also more what I'm used to in other hydration packs.
Apart from the main pocket on the back of the AK Mountain Vest 3.0 there are three more pockets (I told you this pack was made for adventure!).
The first two basically break the back panel in half and are made from our friend, the waterproof ripstop. While the material itself is waterproof, the zippers are not so just be aware.
The final pocket on the back of the vest extends the full height and is made from the earlier mentioned stretch mesh. This is a fantastic spot, I found, for shoving away jackets and bulkier items that you want fast access to.
Now, with all of these things shoved into the back pockets there is a chance that the pack can get a bit out of control in terms of how much it stands away from the profile of your body. To help combat this, Ultimate Direction has included elastic strapping to compress the pack.
Not stopping there, they've also decided to include eight additional hooks – three on each side and two on the top of the pack – around the perimeter of the pack where the elastic strapping can be extended and hooked in to further create a more compact package.
I love this feature and use it constantly when the pack is carrying more than just a bladder. Definitely well thought-out and worth using.
The final thing on the back worth noting is double ice axe loops, one on each side. When you get up in the high mountains around here, these are legit things to have along with you. Granted, if you live somewhere without much in the way of mountains or now it may be overkill, but even if you don't use them, they're just two very light pieces of strapping.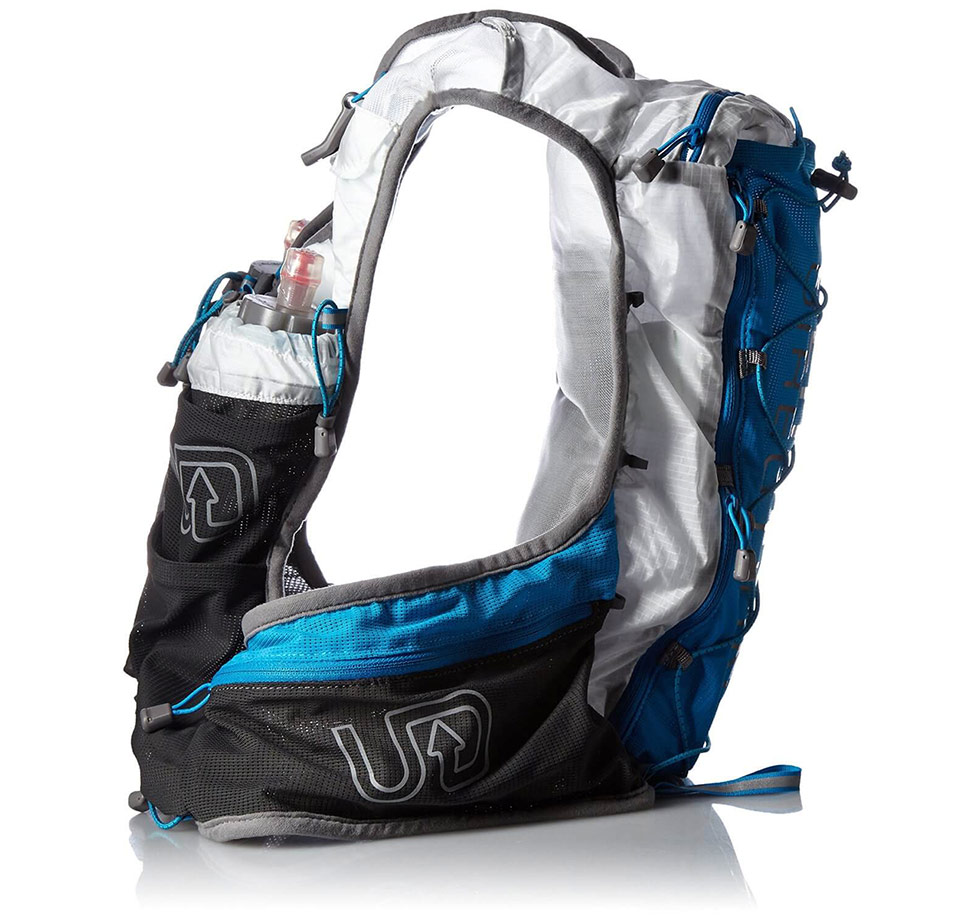 Fit
Earlier I mentioned that it's a semi-common thing for hydration vests to begin to fit differently as they get wet with sweat. This didn't really happen for me with the AK Mountain Vest 3.0 and I think it's due to the ripstop fabric and power mesh which makes up the majority of the body.
Here and there I did find myself adjusting the straps but I'm fairly certain that was a byproduct of some slippage from movement and moisture. Apart from that, I do think that the vest runs a little large.
Personally, I like vests to be quite snug when I start because then I can mostly have somewhere to go with adjustments. In this, I was comfortable, but if I needed to loosen up there wasn't really much play. So, if you're in between sees, I'd recommend going down a size (I was in a size Large).
Performance
So how does the AK Mountain Vest 3.0 actually perform on the trail (and on a mountain bike, and on a scrambling hike type of thing, etc.)? First, let's talk about the application that most of you are probably here for and that's trail running.
This summer as I was training for Transrockies, I found myself wearing hydration on all but maybe one or two of my trail runs and for a good chunk of those (probably about 80%) this was my go-to vest.
On those long, hot runs in the dry Colorado summer, the breathability of the Mountain Vest 3.0 was evident and I never felt stifled by it. The fabric(s) breathed well and the design moved with my body so that no chafing or hot spots ever appeared.
The huge amount of pockets and storage was a welcome addition when I went into higher – and cooler- climes as I was easily able to carry everything I needed and then some.
On a mountain bike (yes, I realize this isn't a bike-specific pack at all) the toughness and size of the Mountain Vest 3.0 made it a great do-all vest and the 3.0 liter bladder within provided ample hydration.
Thanks to my ability to find a tree with my handlebars, I can also attest to the toughness of this pack in the event of a rocky fall right onto my back.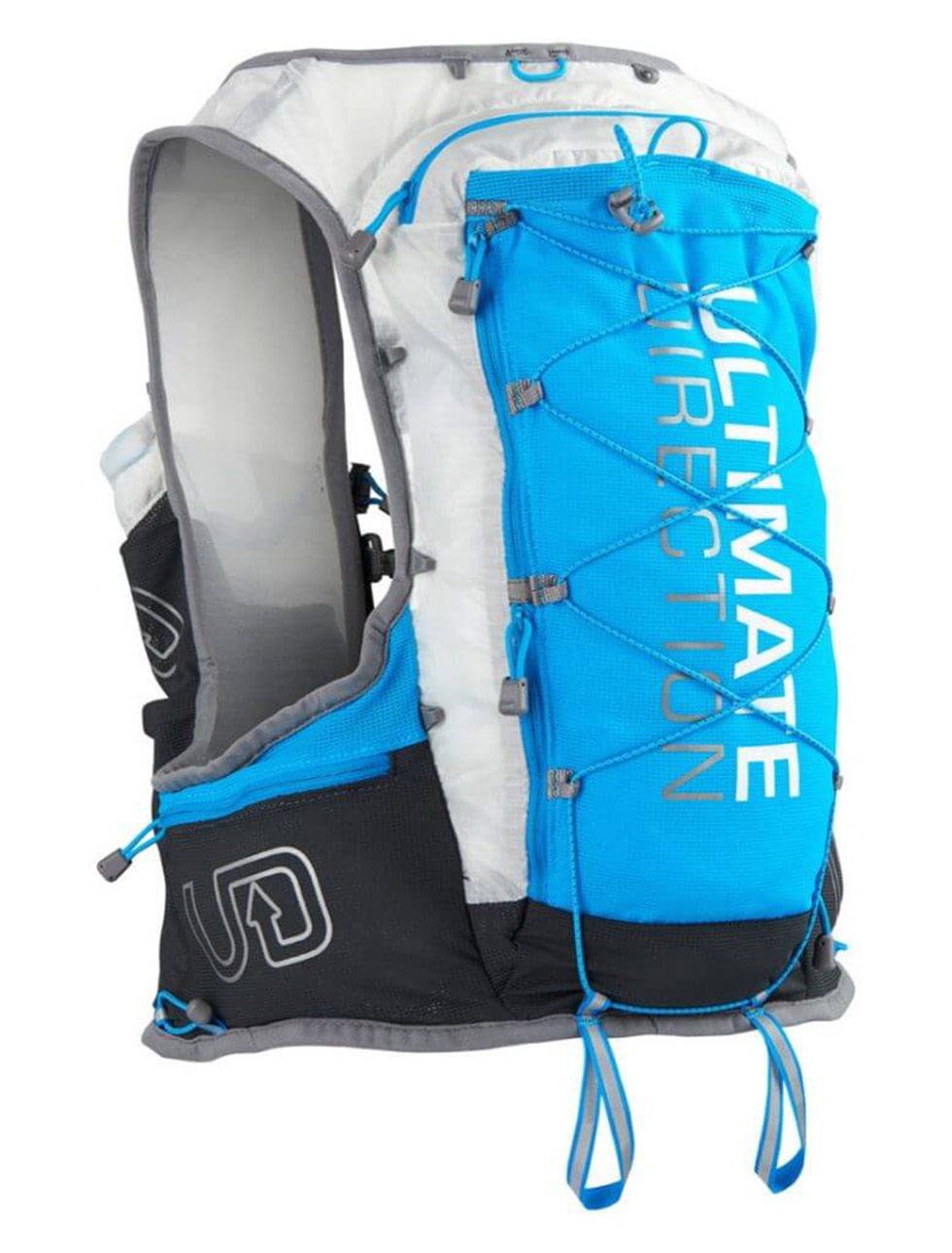 Overall
If you're a frequent Gearist reader or watcher then chances are you're a pretty "outdoorsy" person. By this, I mean that you're not just a runner, cyclist, skier, etc but rather, that you spend as much time outside as you can – finding new adventures or new perspectives on familiar ground.
Regardless, you need to stay hydrated and you need to carry a lot of stuff with you sometimes and the AK Mountain Vest 3.0 from Ultimate Direction has prepared for a ton of eventualities.
There is ample space for a bladder up to 3.0 liters (though I think they may actually say less) and with all the stuff you can fit in the myriad pockets included will have you out and about from morning to night.
Apart from the sizing taking a little bit of examining, this vest checks pretty much all the boxes I want for a go-anywhere, do-anything lightweight hydration pack. At $150 it's certainly not the cheapest thing out there (especially considering it doesn't include a bladder) but it is at the top of its category. I'd highly recommend the Mountain Vest 3.0.
View More:
run
,
Running
,
running vest
,
trail run
,
trail running
,
Ultimate Direction