**2023 Boston Marathon Results Update**
Before you head down to our review of the Adidas Adizero Adios Pro 3 below, we thought it was worth a quick race result from the elite runners in the 2023 Boston Marathon. In this year's edition of the iconic event, there were obviously many "super" marathon shoes toeing the starting line in Hopkinton but the race shoe on the feet of ALL of the top three men's finishers was indeed the Adizero Adios Pro 3. In fact, six of the top-ten men's finishers were sporting the Adios Pro 3.
On the women's side, the Adizero Adios Pro 3 took only one spot in second place but was still strongly represented throughout the top-ten women's finishers finding itself the chosen racing shoe for three women.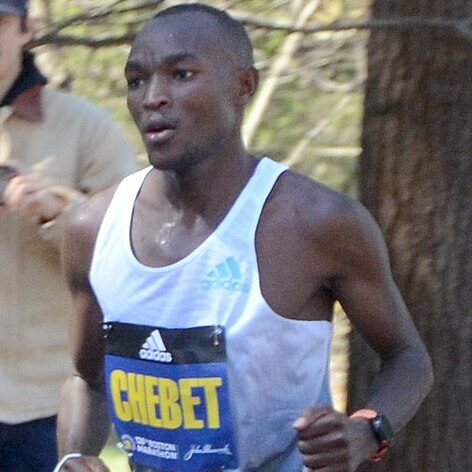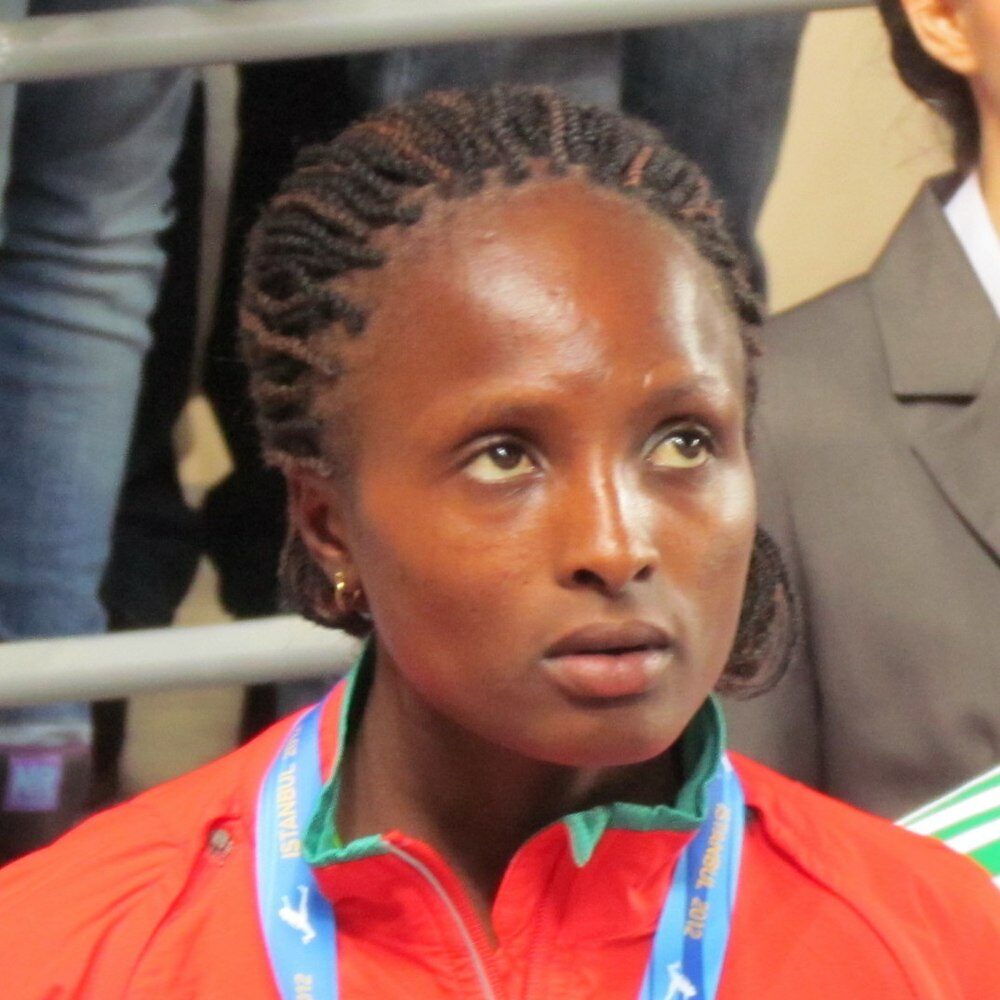 Specs and takeaways:
Name: Adidas Adizero Adios Pro 3
Weight: Men's size 11, 245 g (8.6 oz)
Stack Height: Forefoot – 33mm // Heel 39.5mm // 6.5mm heel-toe drop)
Sizing: True to size
Pros: Cushioned but with lots of pop
Cons: Tricky to lace just right; scratchy upper
Best For: Race day shoes; 10k to marathon depending on the runner
Price: $250 $175
---
Where to buy
---
Seeing running shoes on the feet of world record setting runners is one thing but getting those super shoes on your own feet and making them go is another. Enter the Adidas Adizero Adios Pro 3. For me [Brandon], this was my first time in this distance racing beast and while previous versions stand alone in their own right, this third iteration is widely acclaimed as truly great update.
For me, after the past few years of coming back from a car crash, speed hasn't exactly been on my mind when running is on the menu. I've just been getting the endurance side of me back online but this, this shoe made me want to go and while my personal brand of "speed" is a fraction of many people out there, for one of the first times in a long time, I let speed take the wheel.
Adidas Adizero Adios Pro 3 Outsole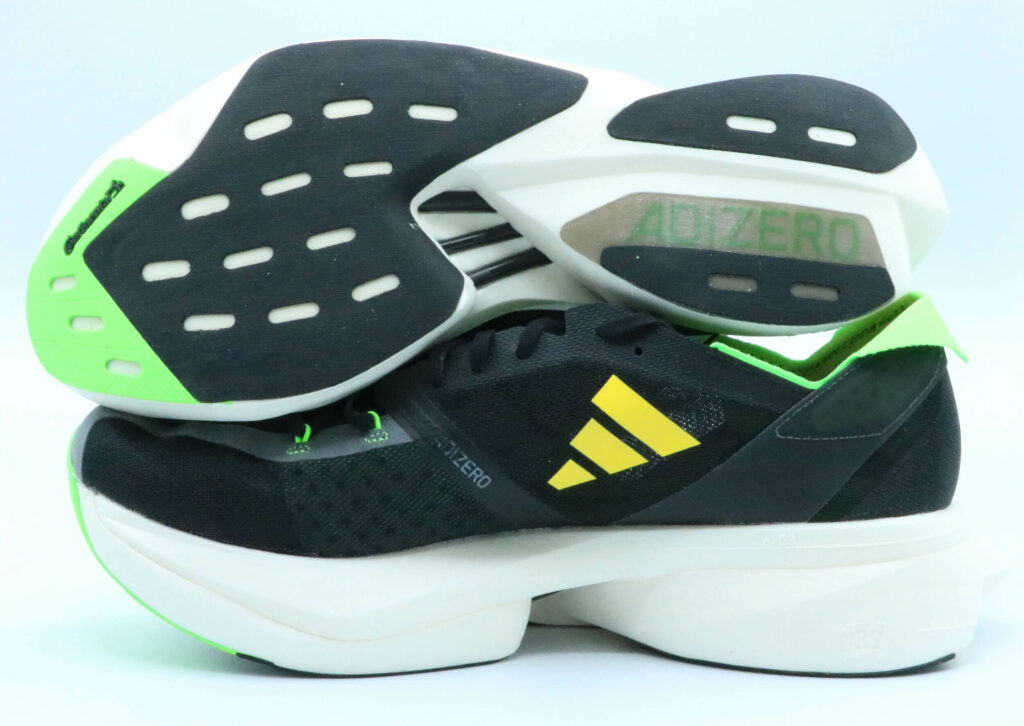 The outsole of the Adizero Adios Pro 3 is made from a minimally thin, yet maximally covered layer of Continental rubber. Laid out in mainly strategic areas or most abrasion, the outsole rubber of the shoe has gaps through the arch and through the centerline of the rear half of the shoe. There is also a distinctive cutaway just under the little toe which saves some weight and is also a seldom worn part of a shoe for most runners.
The two primary materials on the Continental rubber outsole are the black and green rubbers in our pictures – the black being the more abrasion-resistant and the green in the toe area being a bit more grippy. In both cases, the rubber(s) are smooth for road-specific traction.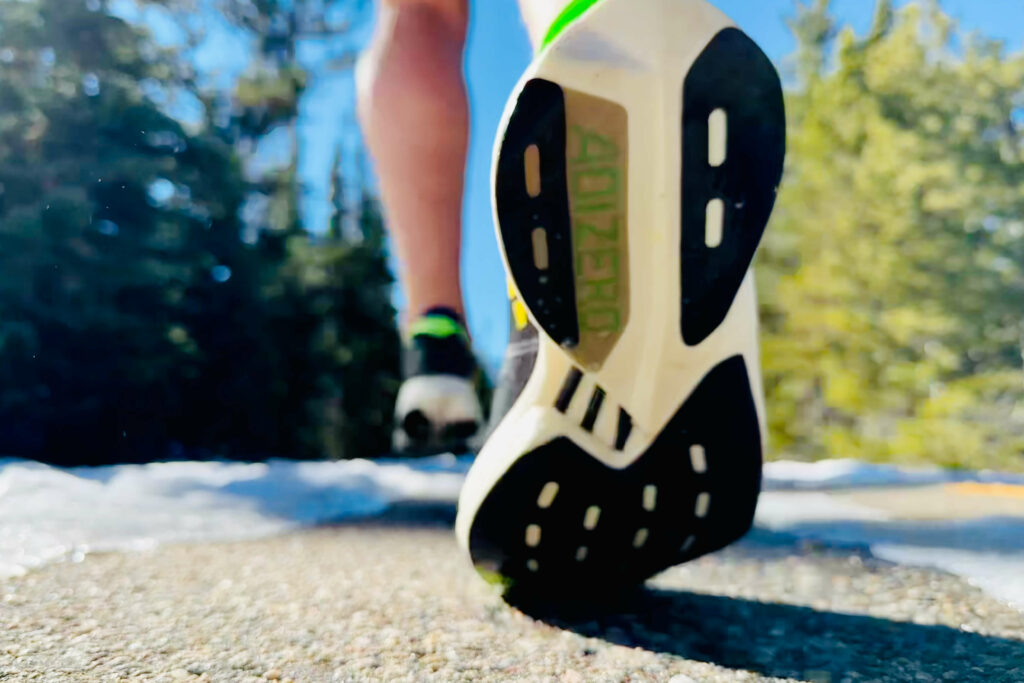 My Take: First, let's look at outsole rubber durability. With about 80 miles on my Adizero Adios Pro 3 the outsole is in good shape. Let's keep in mind that this is mainly a race day running shoe. A super shoe with one goal in mind and that is to go fast – on race day.
While I didn't even come close to wearing through the Continental rubber outsole, I can see getting probably around 300 miles in this shoe due to the material being relatively thin. Again, the Adidas Adios Pro 3 are race day shoes, NOT a daily trainer.
What about traction and grip? Well, Continental is one of my favorite rubber compounds in running shoes – both road and trail running shoes for that matter. With the Adios Pro 3 they once again knock it out of the park. Grip on pavement is fantastic both on flats, hills (up and down) and cornering.
I did wear the Adios Pro 3 on a semi-snowy (50/50) run one day when some unexpected snowpack was on the road. This is NOT a good shoe for winter conditions – both snow and ice. The smoothness of the outsole rubber has nothing to bite into the snow and you very likely slip despite the amazing outsole grip on dry pavement.
Adidas Adizero Adios Pro 3 Midsole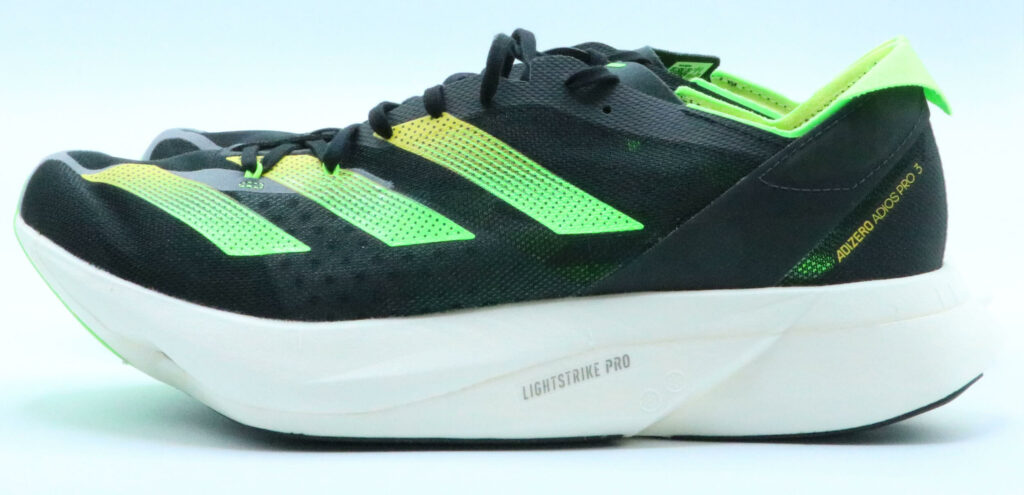 The midsole design of the Adidas Adizero Adios Pro 3 begins with two layers of their Lightstrike Pro foam with Adidas' carbon Energy Rods 2.0 sandwiched in between. These piece combine for stack height of 39.5mm in the heel and a forefoot stack height of 33mm for a 6.5mm drop.
While another of Adidas' midsole materials – Adidas Boost Foam – gets a ton of attention, Lightstrike Pro is the most resilient foam the company makes.
Embedded within the midsole Lightstrike Pro foam lie the Energy Rods 2.0. Unlike earlier versions where each "rod" was independent and began in front of the calcaneus (heel bone), Energy Rods 2.0 bring a quite different build where we find a kind of loop directly below the heel and each of the five carbon rods – which, in turn, lie beneath each of the metatarsals into the toes – are integrated into one unit.
Seeking to shave a bit of weight from the Adios Pro 3, the midsole geometry includes a few cutaways in areas which frequently go unabraded. As seen in our pictures, these is a small cutaway on the rear-medial heel, as well as the areas I mentioned in talking about the outsole above.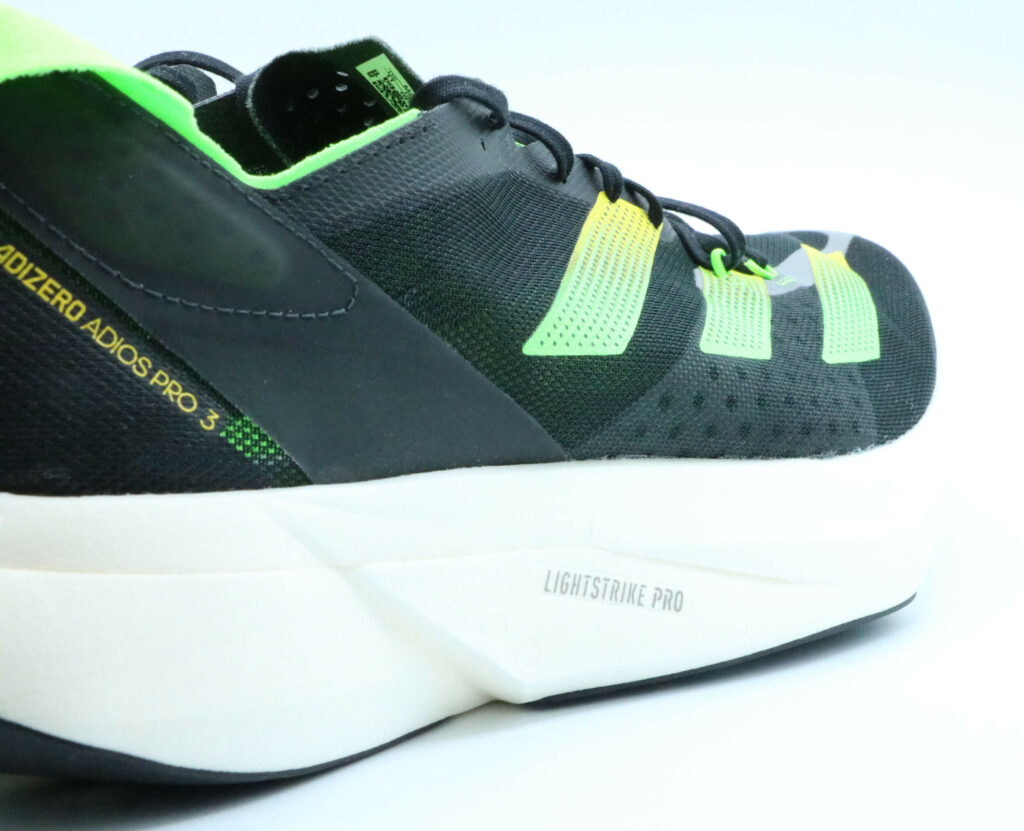 My Take: As my running life evolves, I find my tolerance for responsive cushioning increasing at a pretty rapid rate. The Adizero Adios Pro 3 brings that in spades. As always, I'll touch on much of the ride aspects of this shoe in the Ride section as well.
First the Lightstrike Pro foam. I'd say that it took probably ten miles of running in this shoe to get a broken in feel for me. With that said, I can't quite tell if that was me getting used to this ripper of it to me. Either way, the midsole foam is poppy and fun and even on longer runs, this cushioned marathon racer tamped down micro-vibrations and it was noticeable in fresher legs.
The midsole geometry has a deep, sweeping toe spring. While aggressive, this upward turn at the front of the shoe begins under the metatarsal heads so it isn't super sudden and drastic.
As for those midsole cutouts, being a neutral runner with a bit of supination here and there, I did notice the little toe cutaway a couple of times but was not bothered by it to any degree and in fact, I felt like it connected me to the later part of my stride.
Now for the full length Energy Rods 2.0. At no time did I feel the rods themselves pulling a princess and the pea under my foot. As for their energy return, it's very noticeable. The cushioned, softer ride on the load phase of the gait is replaced by the leaf-spring-like response, even at slower paces.
Adidas Adizero Adios Pro 3 Upper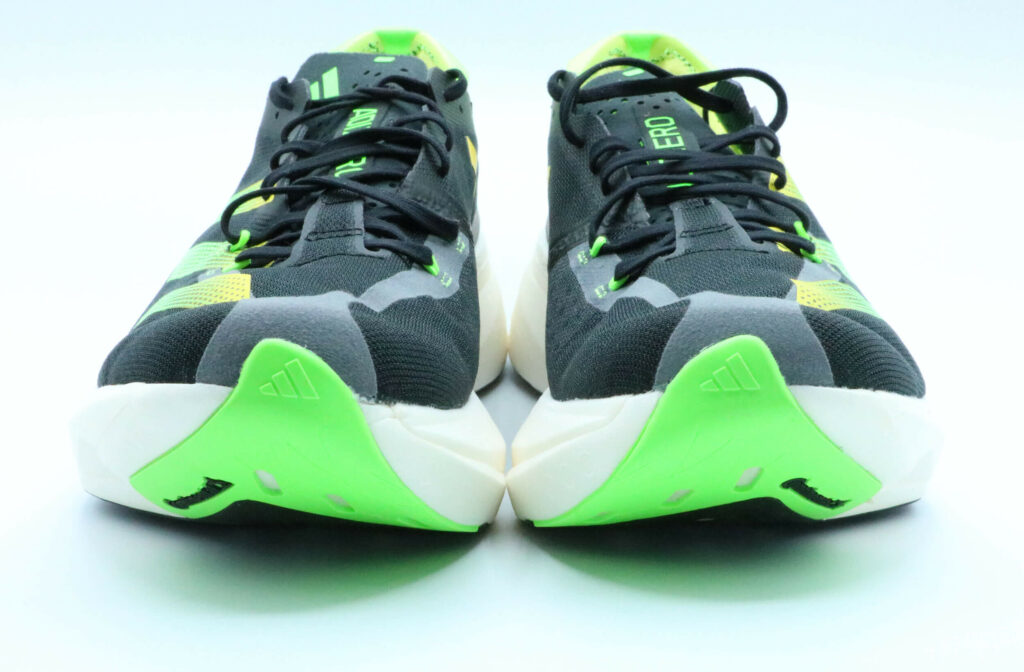 Made primarily from Adidas Celermesh the upper materials on the Adizero Adios Pro 3 are built to be light and fast. Partially made with recycled materials, the upper mesh is very open and breathable.
Internally, in the front of the shoe, just around the metatarsal heads (think ball of the foot and across), there is a support fixture which integrates with the lowest two eyelets for extra stability in the material.
The tongue which is not gusseted, is very thin and flat with external loops toward the vamp and again at the middle of the tongue to keep it from sliding.
Cushioning around the heel cup, ankle and achilles insert is minimal and the foam that is present has almost a sharkskin material covering it. This is ostensible to provide friction against your socks thus keeping the heel in place.
Rounding out the upper is a fold-over heel pull which, unlike many of its peers, folds down and out of the way to avoid friction on the achilles.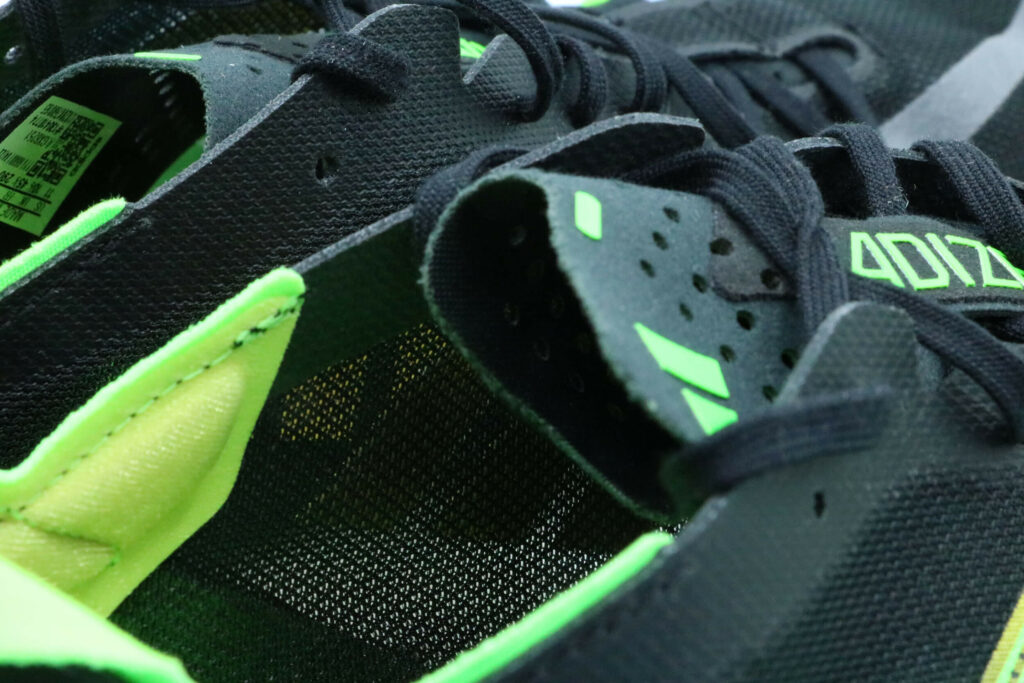 My Take: The upper of the Adidas Adizero Adios 3 is wide open in terms of the Celermesh. Tons of breathability and no holding onto moisture otherwise.While I'm not one for getting overheated in the foot area, if I were, this would salve that immediately. It also means that when running marathon distances – or pretty much anything where spilling water on your feet may be a thing – you're not going to be hanging on to moisture and hence, unnecessary weight.
While the mesh on the Adios Pro 3 is light, it's also quite scratchy on the inside. Being a purely sock-wearing runner, this doesn't bother me but if you go sans socks, you may find is to be a bit much. I've also seen where some people found their socks taking a beating during runs in this shoe and while I didn't notice that at all, keep an eye out for yourself.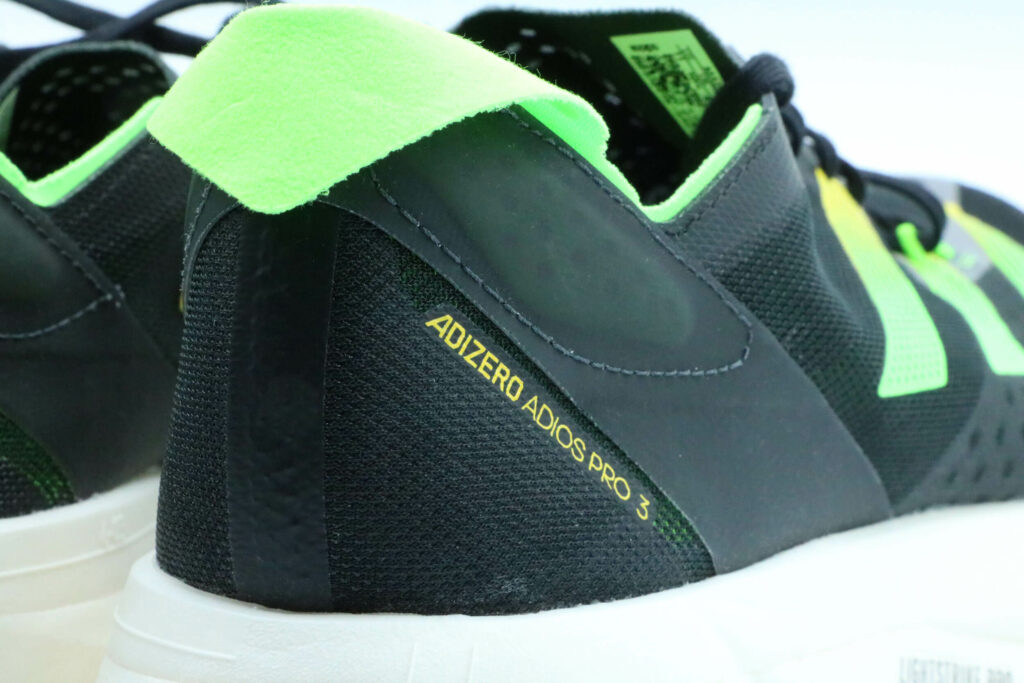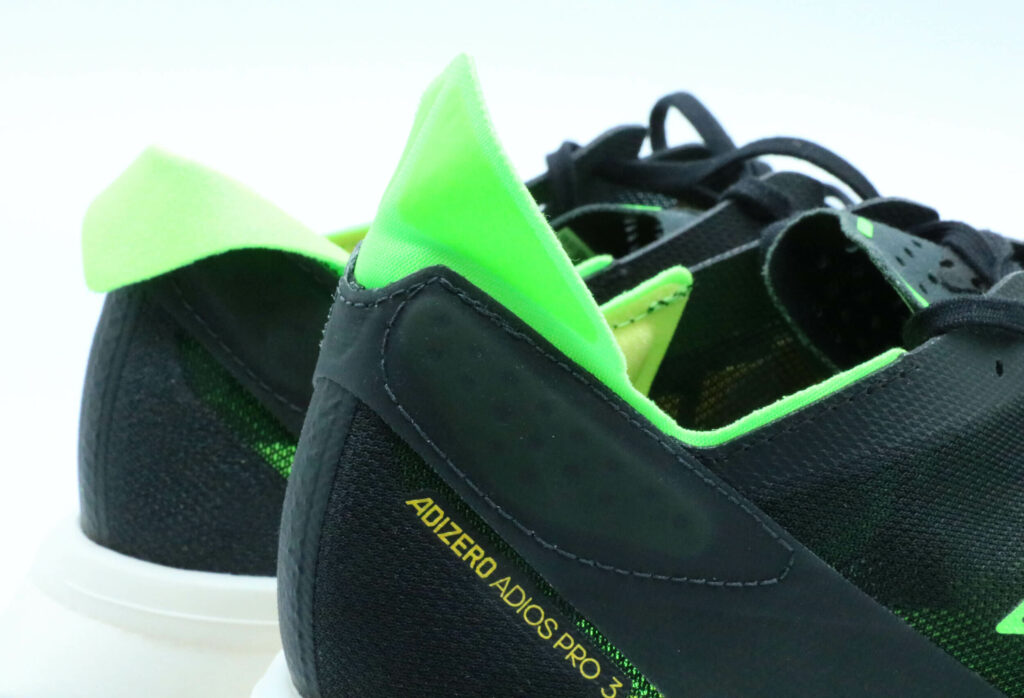 The tongue: I didn't have any problem with the tongue but it is rather thin. With that in mind, if you're someone who ties their shoes rather tightly, you may feel a lot of that pressure. Also, with a tongue this thin and flexible – which, for the record, I like in a road shoe – you're going to want to make sure that it's truly laying flat before lacing up because if it's folded over, you're likely going to be a bit uncomfortable when you get moving.
Speaking of lacing, I did find getting things dialed just right in this shoe is challenging. For me, I could get the entire forefoot just right but would find my heel a bit loose in the rear foot and would have to adjust. My recommendation is to take the time – especially if these are your marathon racing shoes – to make sure you know exactly what works best for your foot.
Adidas Adizero Adios Pro 3 Fit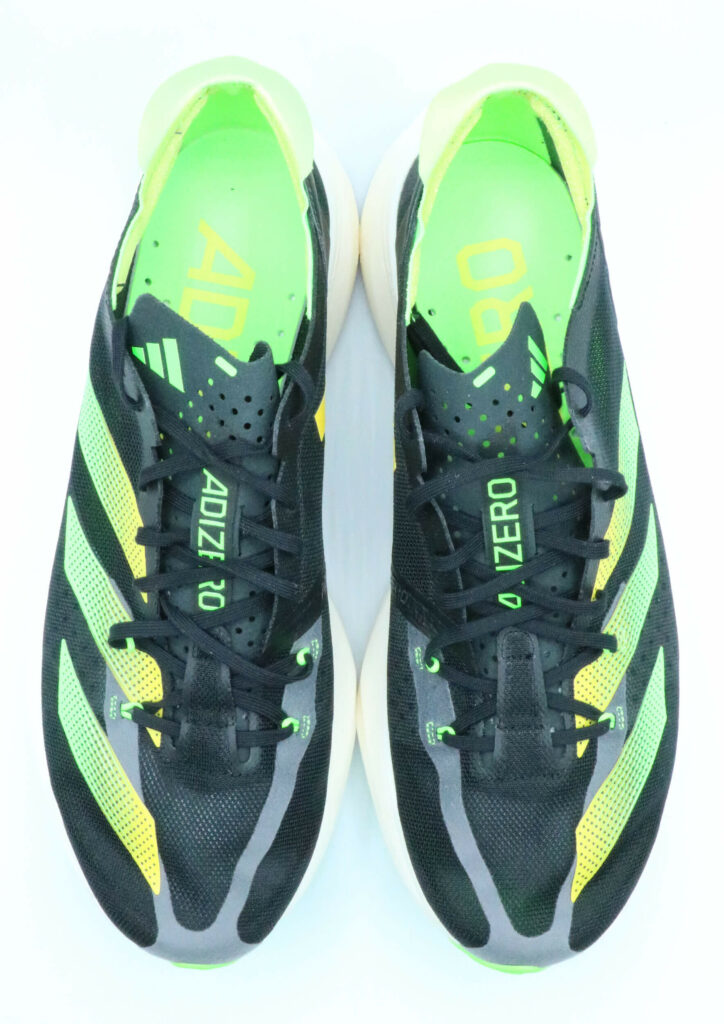 First, let's talking about the sizing of the Adizero Adios Pro 3. For my very average foot, I felt like it was a good width BUT, if you have wide feet, this is likely not be a great shoe for you – and there's no wide option that I know of.
As for sizing, the Adios Pro 3 fits my size 11 well but it does ride just a smidge on the large side. I would certainly not go down a size myself but if you're in between sizes, it may be a good idea to err on the side of the smaller.
The forefoot of this shoe is definitely set up like a more aggressive racing flat and accordingly, the forefoot fit comes to a bit of a point. With that said, this is kid of where some of the additional space at the front (in terms of sizing) comes in handy and didn't result in any pinching.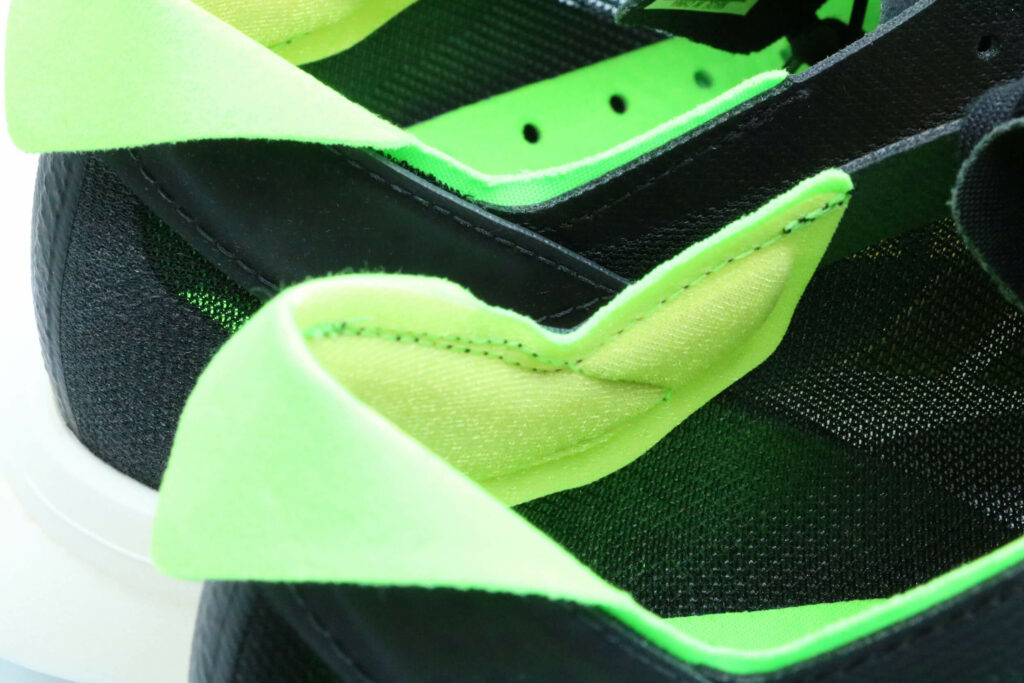 Through the midfoot, I like how wrapped my foot felt. While this is one of those areas I mentioned above could be a bit tricky to lace up, for me I found no problem and was comfortable at a variety of paces.
The heel. While I was ultimately able to get the heel cup properly wrapped and my foot comfortably held in place, the heel cup is a tricky thing to nail for sure. This is almost certainly part of the reason for the sharkskin like texture of the fabric covering the padding in that area. Otherwise, once it was dialed in, the flexible heel cup – which gets most of its structure from the fact that the celermesh doesn't have any give to it – didn't budge.
Adidas Adizero Adios Pro 3 Ride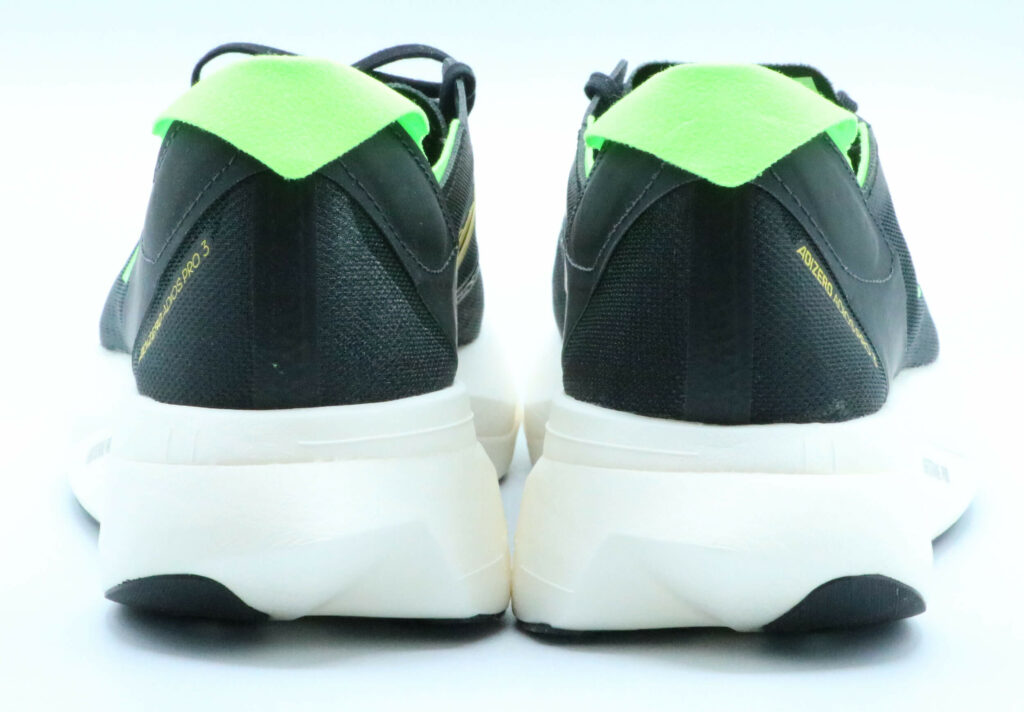 As I mentioned earlier, I'm someone whose running tastes have expanded to include not just shoes with more ground feel and often a firmer ride, but those which have extra cushioning and, thanks to technology like carbon plates, bring poppy goodness to the party as well.
The Adios Pro 3 doesn't simply add a bunch of extra foam to get the cushioning part on board. While there in plenty of Lightstrike Pro to go around, it's the material itself which provides cushion on top of its inherent energy return.
Then there are the Energy rods. For me, I felt like the ability of each metatarsal to operate independently made for a very stable ride. Now, I'm not saying that shoes with a carbon fiber plate are unstable, I'm just saying that in this case, the connectedness to the ground was very obvious for me.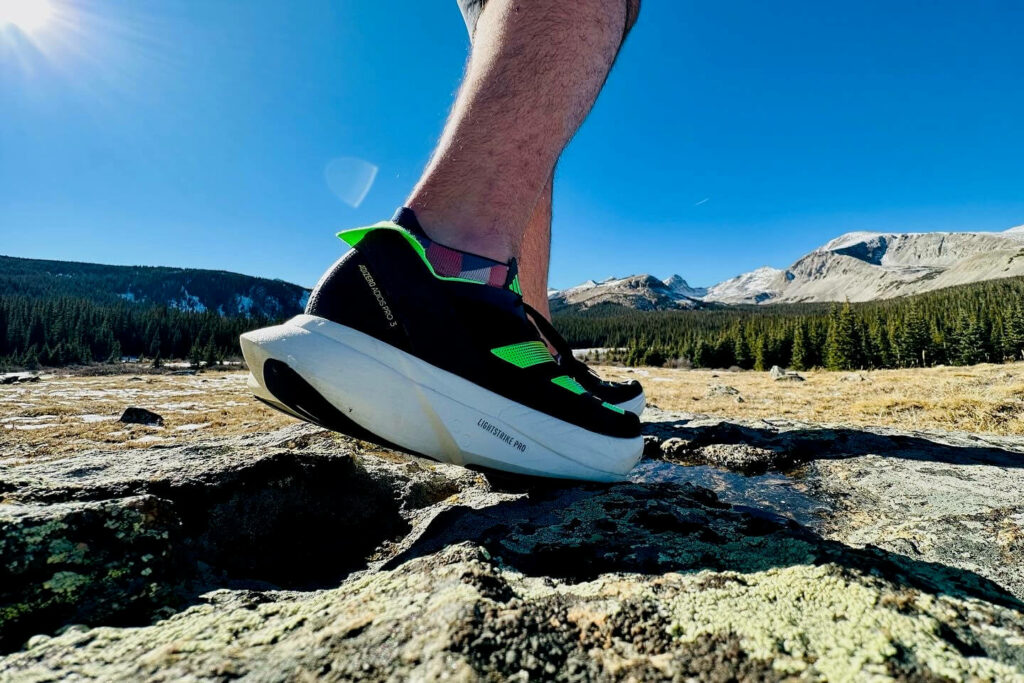 Probably the biggest knock on this shoe is one that goes away if you take the time to address it. Lacing. I know it's not the biggest thing in the world and its something which I got dialed after probably my second run in these. That said though, it's something that can make or break running in any shoe and this one seems to highlight that fact.
The ride of the Adidas Adizero Adios Pro 3 is fun and fast. The Lightstrike Pro foam combined with Adidas' Energy Rods 2.0 provides great cushion while at the same time bringing enough power to easily outpace the ability of the runner (or maybe that's just me).
Adidas Adizero Adios Pro 3 Overall
While it initially came in at $250, the Adidas Adizero Adios Pro 3 is now consistently on sale (check out our links for some good deals and to support Gearist!) and at around $175 it's a fantastic buy.
This shoe wants to go and with the price coming down (and Adidas probably working on the nest version of this shoe), it's super accessible and will be ready to go for your spring marathon season.
Have you had a chance to run in the Adidas Adizero Adios Pro 3 of any earlier versions of the shoe? Tell us what you thought in the comments below!
---
Where to buy
---
2022
,
Adidas
,
Adidas Adizero Adios Pro 3
,
Gearist
,
Marathon
,
Review
,
run
,
Running
,
running shoes