If you're a longtime reader of Gearist – and especially of my reviews – then you know that one of my favorite things is when a piece of gear is versatile enough to go confidently and comfortably outside of its ostensible purpose to be used in other activities. Today, I'm taking a look at the Terrex Fast GTX Surround which, by all appearances, is a mid-height, fast hiker. However, with the technology and construction beneath its veneer, this boot is a lot more than just a hiker.
Outsole
The outsole of the Terrex Fast GTX Surround is identical to that of the adidas Terrex Boost GTX which we reviewed a while back. It's the same material, same layout, and same design and, for me, performed the same. So, in lieu of throwing a new bunch of words on the page – and after having read through the outsole section of the Terrex Boost GTX for accuracy – here's what I thought of that outsole:
So before I get into talking about the outsole of this shoe, I think this is one of those times where I should mention that what I'm about to say may sound like hyperbole to some but I that is not the intent. Sometimes, things are just so good at their job that you've just got to come out and say it and such is the case with the outsole of the Terrex Boost GTX [Terrex Fast GTX Surround].

For years now I've been a huge fan of Continental bike tires because of their traction and durability – and whenever I veer away (usually because there's a FAR cheaper option) I always come back. With that said, imagine my delight when I opened the box of the Terrex Boost GTX and I found the outsole marked with the familiar Continental logo. Right away, the influence of a mountain bike tire was clear in the lug setup and the stickiness.

A full-contact outsole makes for a smooth transition from mid or rearfoot, forward. For increased front end protection, the outsole comes up over the toe forming a solid, though kind of minimal, bumper – which I used far more than I'd like like to admit. The lugs themselves are 5mm deep though in spots where the outsole is contoured away from the ground the edges of the lugs can be as tall as 7mm. For ascending and descending taking charge of different parts of the shoe the lugs are laid out accordingly for maximum traction in each situation.

You know, sometimes you get a shoe that does well on one type of terrain and not another, for instance, a shoe that can handle really well on jagged or angular rocks but just doesn't grip as well on smooth, flat rocks. In the case of the Terrex Boost GTX, I have yet to really find a terrain where it doesn't excel. On smooth rocks it was like having suction cups on my feet and on jagged rocks the outsole stuck just as well, enhancing the overall handling of the shoe. On smoother trail it obviously handled well and even when the material underfoot got a bit more loose, the 5mm deep lugs held very well.
With regard to durability, the Terrex Fast GTX Surround went with me and Baby Gearist up Gray's Peak and several other, very rocky mountains over this past summer and in that time, there is little to no wear of the outsole of this shoe. In fact, to even see any real wear at all I had to turn on some bright lights and look very closely at the outsole. Having put probably about 50-60 miles on the Terrex Fast GTX Surround, this is beyond impressive and my love affair with Continental continues!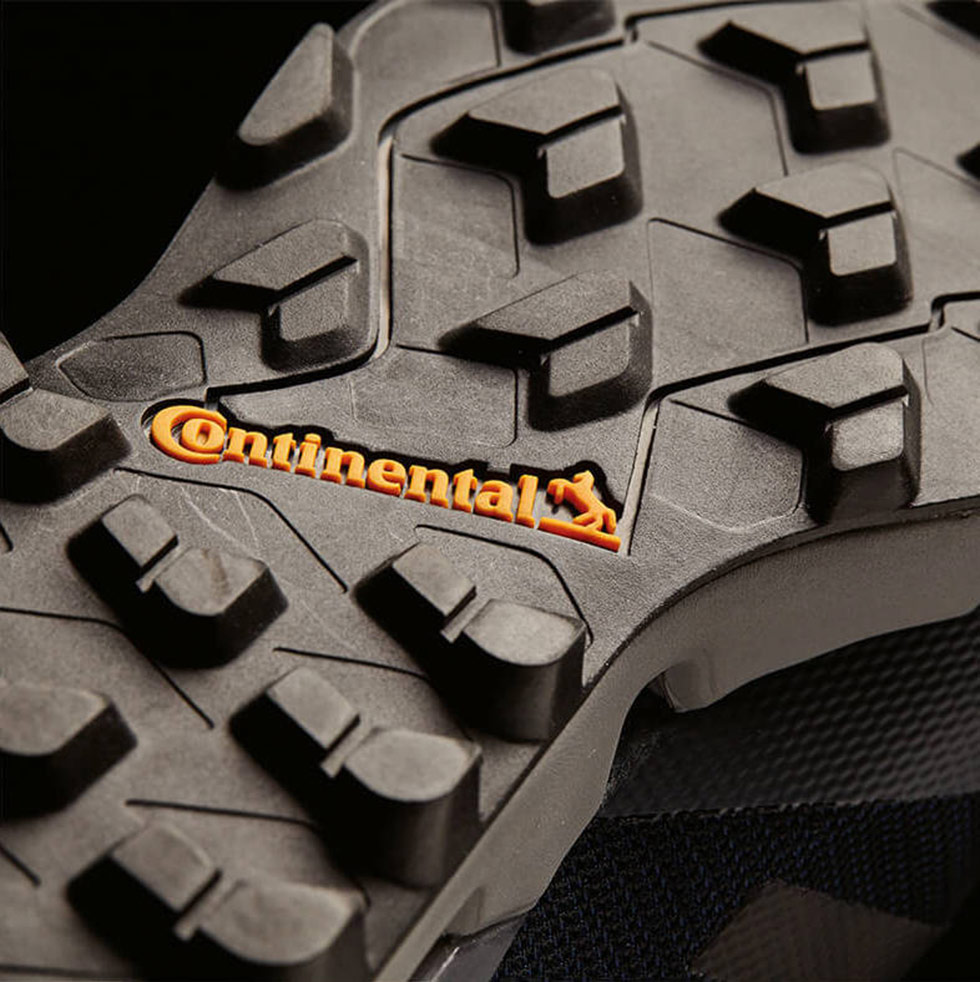 Midsole
The midsole of the Terrex Fast GTX Surround is something that really stands out in this shoe due to a very cool partnership between adidas Outdoor and Gore-Tex. First, the midsole foam has some obvious channels cut into it as you can see in the below image. These channels feed into a sort of network of crosshatched channels which run under the foot – and wouldn't be visible unless we tore the thing apart. These channels are meant for ventilation in 360° to keep the foot relatively sweat-free and comfortable. "But Brandon!" you might say. "If these have Gore-Tex surrounding the foot, how are they breathable?" Well, adidas worked with Gore-Tex to use a technology where the material under foot is a bit thinner – but no less waterproof – than most other Gore-Tex. In this way the underfoot, midsole channels allow air to flow through the midsole and keep the overall temperature of the foot lower and more ventilated.
This boot came with me on hikes of several hours over this past summer and into the early fall, over terrain that went from wet and slick to rocky and scrambling to loose and covered with scree. In each case, the midsole kept me comfortable and agile – even in cases which you'd think would call a more burly boot. As for temperature regulation and comfort, I was very impressed with my feet never really getting hot and the added bonus of being able to stand in water and feeling the cool liquid pass underfoot was super refreshing.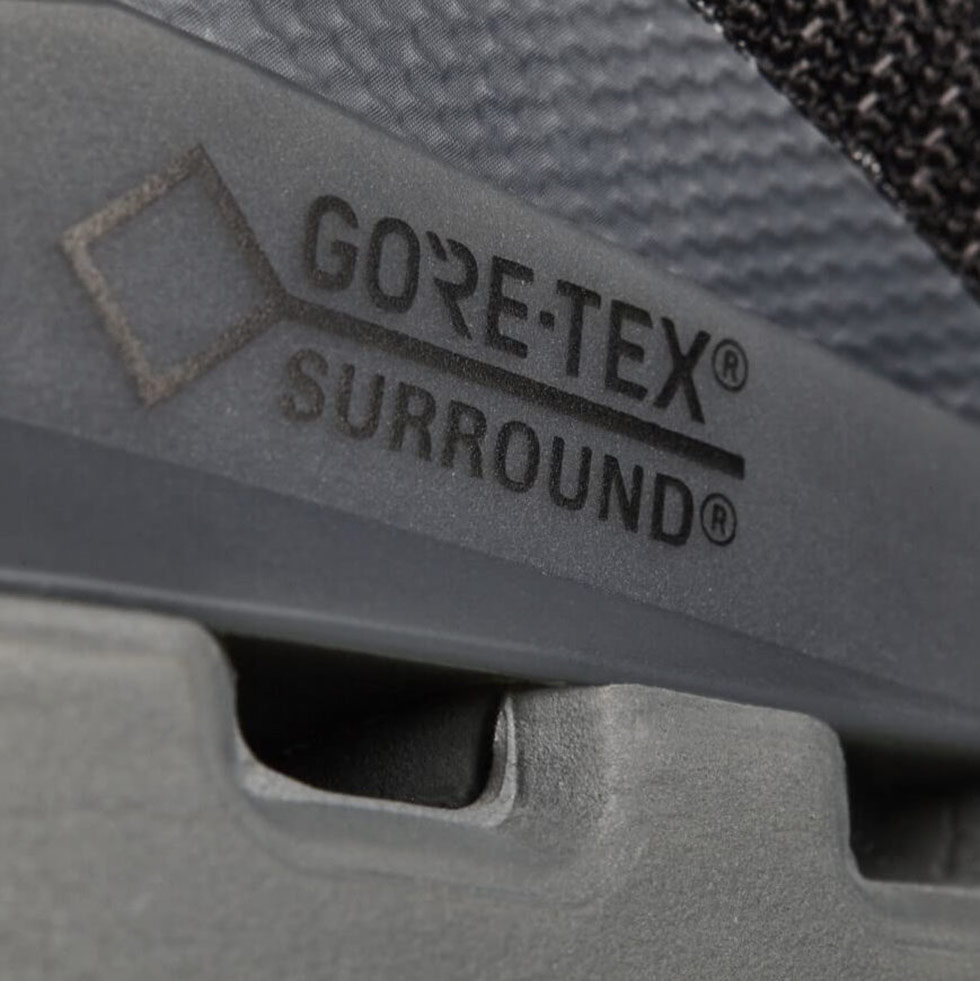 Upper
Once again, with the upper of the Terrex Fast GTX Surround, I find myself with a ton of comparison to the Terrex Boost GTX and this is where I want to submit an idea to you guys. This is not necessarily a new idea, but one that can be controversial because of the exclusive categories into which we like to put gear. That idea: the Terrex Fast GTX Surround is a boot, to be sure, but it is also a running shoe. Now, before we get all up in arms, hear me out.
The main body mesh of this shoe is almost (again) identical to the Terrex Boost GTX with its very durable and beefy mesh, which is also surprisingly flexible. Additionally, as with the Terrex Boost GTX, the Terrex Fast GTX Surround sports a welded rand which both protects the sides of the feet to an extent, but it also solidifies construction and cohesion to the midsole. The minimal toe cap does its job without being too constrictive or beefy while relying on structural elements to reinforce its purpose. The rear of the shoe is definitely a departure from the aforementioned shoe in that is has a very built-up heel counter which is further reinforced by heavy welded material and a bit of a plastic cradle coming up from the midsole.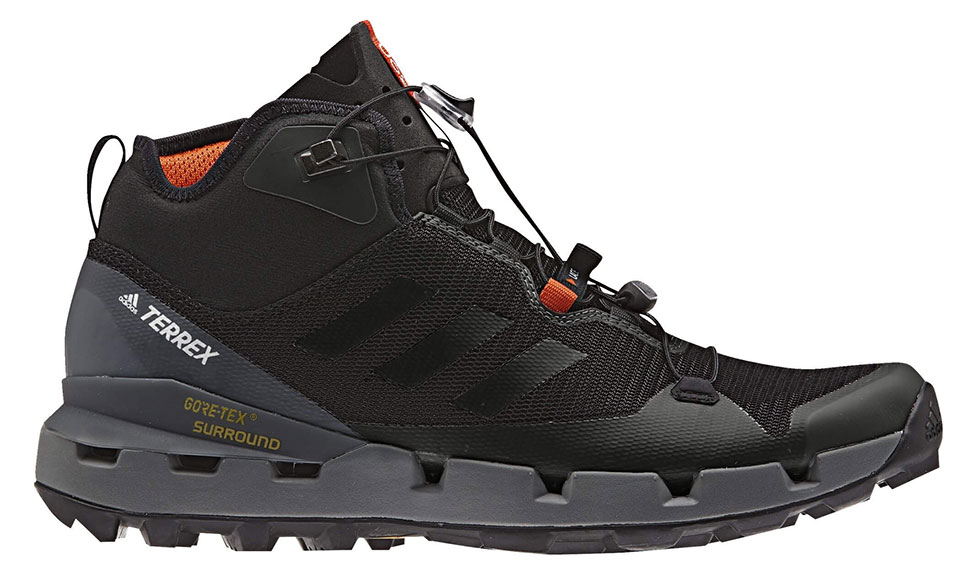 Of course, there is the internal Gore-Tex which I mentioned above to keep things dry and the speedlaces from the Terrex Boost GTX also appear on the Terrex Fast GTX Surround. The thing that creates the most visible and functional distinction between the shoes I've been talking about it the collar of the Terrex Fast GTX Surround or, the part extending around the ankle, giving this the appearance of a "boot". This section of the upper is well-padded and has a comfortable, interior mesh. Rounding out the upper is the tongue, which is gusseted to the top of the foot, right where a normal shoe would end. The tongue itself is made from a combination of synthetic leather and foam-backed mesh.
Now, with all the information in mind, here's why I think that the Terrex Fast GTX Surround is a solid trail running shoe and it's actually pretty simple; until you get to the collar which surrounds the ankle, this IS the Terrex Boost GTX (without the BOOST foam in the midsole, of course). In my experience with this shoe, I made sure to include some running after I noticed on my first time out just how similar the fit and feel was to the Terrex Boost GTX. That actually turned into a couple of shorter trail runs in some early-season snow in the high country. Each time, the shoe performed wonderfully although due to some rubbing on my leg of the higher tongue, I would strongly recommend wearing socks that come above the collar.
As far as durability, as with the outsole of the Terrex Fast GTX Surround, I had to basically bust out a microscope (no, not really) to know that this thing had been worn at all. I'd add again that this isn't something I was simply wearing around to go on coffee runs and the like; this is a shoe which I beat the hell out of and the upper has held up wonderfully.
Fit
Once again, after having tried on the Terrex Fast GTX Surround and the Terrex Boost GTX at the same time, I've come to realize just how similar they are and that certainly extends to the fit of both. The fit of the Terrex Fast GTX Surround is rather aggressive and makes for a very agile performance. With that said, there are varying opinions on the fit of this shoe. I happen to think it fits my average foot perfectly, but if there were a wide foot trying to get into it, it may not be so easy. However, in reading some customer reviews online, I've found that while some agree with me there are others who feel as though this fits a wider foot just fine. With all that being the case, I'd strongly recommend trying it on first.
As for sizing, these fit me perfectly in my standard men's size 11 without a problem. I'd also add that while the collar is very supple and moves well with the leg, it's worth wearing a higher sock to avoid and rubbing.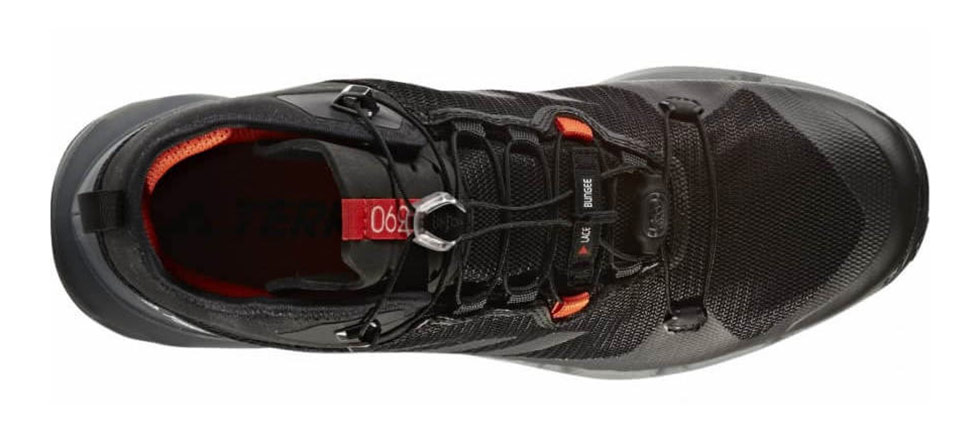 Performance
The performance of this shoe, from both a "ride" perspective (a term I'd normally reserve for a running-specific shoe) and with regard to more hiking-based activities is quite impressive but is also one of the places where the Terrex Fast GTX Surround most stands apart from the Terrex Boost GTX. The main reason for this is that the latter has a Boost foam midsole and this one does not.
First, as a hiker, this shoe is excellent. The grip on such a wide variety of terrain is impressive and both the outsole rubber and the design/layout are big wins for me, They clear mud well and are very agile over pretty much anything you can throw at them. This includes some pretty intense scrambling (Class 3+) as well as looser terrain. As for longer hikes, I found them to be quite comfortable, though I would like to see a wee bit more room on the lateral side of the toe box for when feet get tired and swollen.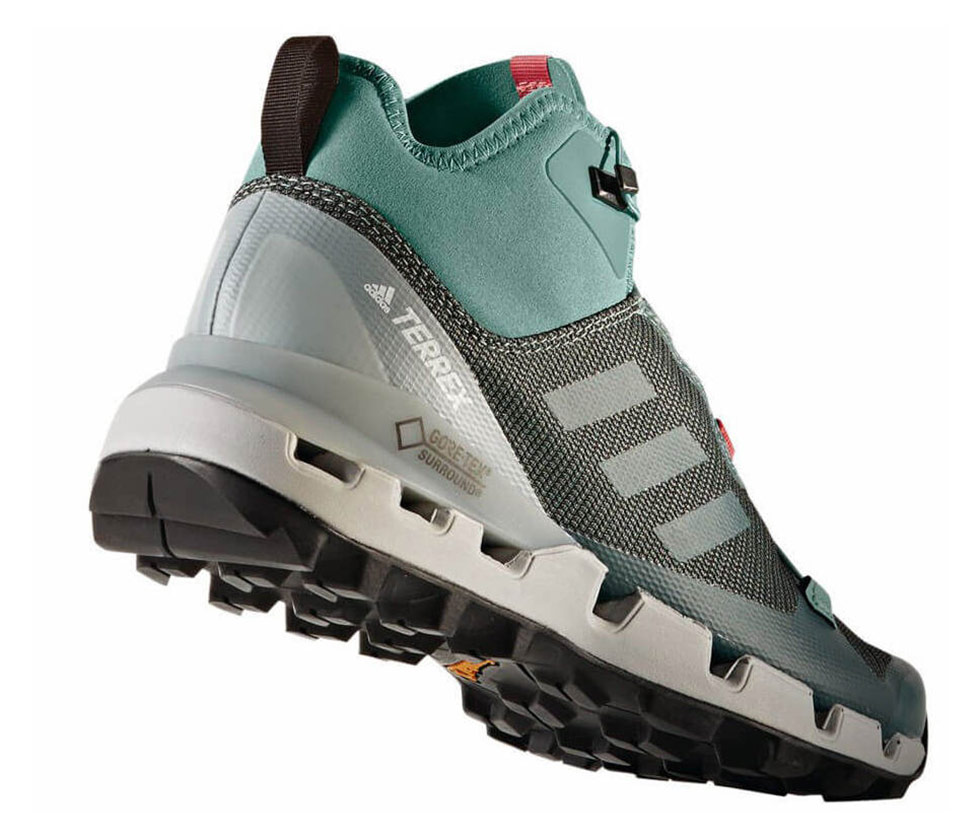 As a running shoe, the grip and agility are very similar to that of the Terrex Boost GTX. As far as the cushioning goes for running, the channels in the midsole give quite a bit of flexibility to the midsole which is deceptive in just looking at the shoe. I'd venture to say that there may even be a hair more forefoot flexibility in the Terrex Fast GTX Surround than in its running counterpart. It is a bit strange running in what looks and sometimes feels like a boot and I probably wouldn't do it too much in warmer weather (if it weren't for the fact that the majority of the testing of this shoe came in warmer months with some high-altitude cold thrown in for good measure). For winter though, I could easily see this being a shoe to come along on those runs that start out quick and end up as snow-covered slogs.
The downside for this as a running shoe/boot is actually kind of an upside for it as a boot and that's the weight. In my men's size 11 the Terrex Fast GTX Surround tips the scale at 15.7 ounces (450 grams).Yes, it's a bit heavy for a trail runner, but not THAT much heavier than some other, beefier trail shoes out there and only ONE ounce more than the Terrex Boost GTX.
Overall
To be honest, I'm really not sure if anyone else will really look at this as anything more than a light and fast hiking boot and in that it certainly excels. The materials and construction of this shoe are very solid and they should last a long time. This is a very good thing especially in light of the price tag which comes in at a rather steep, $225. Again, the materials, construction and overall quality of this boot make that tenable for the right person and with its versatility and ability to actually work as a runner as well, the Terrex Fast GTX Surround is a shoe worth checking out.
View More:
Adidas
,
footwear
,
hike
,
hiking shoes
,
run
,
running shoes
,
Terrex
,
trail running
,
trail running shoes