Here I go, harping on my love of versatility again. First, let me say that whenever I put a shoe on to go hit the trails – as opposed to a boot – my mind almost immediately goes to running. In fact, I can't remember a hiking shoe that I've not run in in the last five years or so. Part of it is my love of trails (which is good since Gearist is based in Colorado) and part of it is my belief that if you're using solid running technique you could pretty much run in tissue boxes and be ok. When Columbia sent us the Peakfreak XCRSN XCEL Outdry (by the way, XCRSN = excursion), even though this hiking shoe (multisport, to be fair) was looking back at me, I couldn't wait to see if it had the chops for a few runs as well.
Outsole
The material of the Peakfreak XCRSN XCEL Outdry's outsole is pretty straight forward. Made from a super-durable, non-marking rubber (for which the wife says, "thank you!"), which combines with the variable pattern lug layout to form Columbia's Omni-Grip system. Omni-Grip is meant to adapt to a wide variety of surfaces by way of rubber stickiness as well as it's lugs both on dry terrain and in water.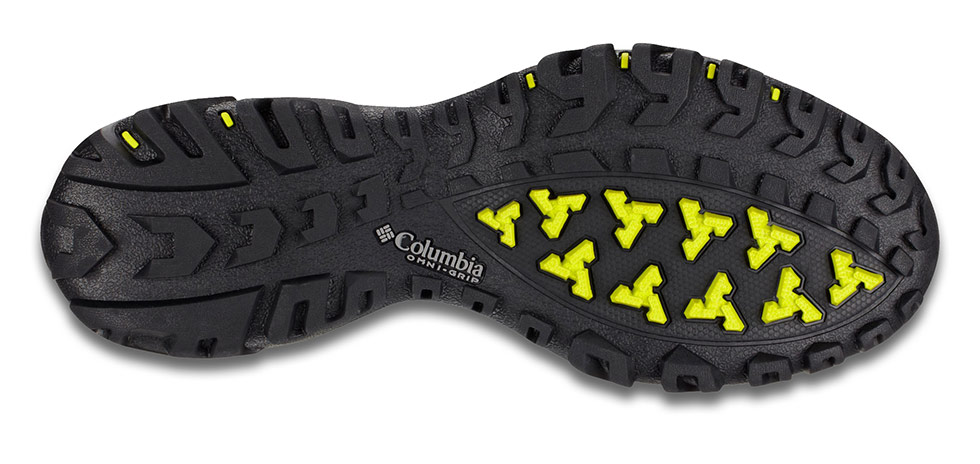 The first thing I'll say about the outsole of the Peakfreak XCRSN XCEL Outdry is that it's been crazy durable. With over 80 walking, hiking and running miles (on pavement, snow/ice and trails) the outsoles barely show any signs of wear at all. As for grip, while the lugs aren't particularly deep (maybe 3mm), the arrangement sticks very well and in muddy conditions, didn't pick up much baggage. When I ran in the shoe I didn't have any sort of, "I'm running in a hiking shoe" feeling at all and in fact, the grip translated very well, so much so that I've got around 25 running only miles in them. To be honest, while the design of the outsole may look kind of complex, it's actually quite simple and it's main focus is, quite simply, traction and I found that it performed extremely well.
Midsole
For the midsole of the Peakfreak XCRSN XCEL Outdry, Columbia has used their proprietary, Techlite foam. Among its selling points, Techlite is meant to be lightweight and resilient with plenty of cushioning. Since this shoe was built primarily as a hiker I was interested to see how cushy it actually was. On my initial walkabout with it, both on pavement and trails, the cushioning was really nice without being spongy at all. This feeling carried over once I got to running which I really enjoyed.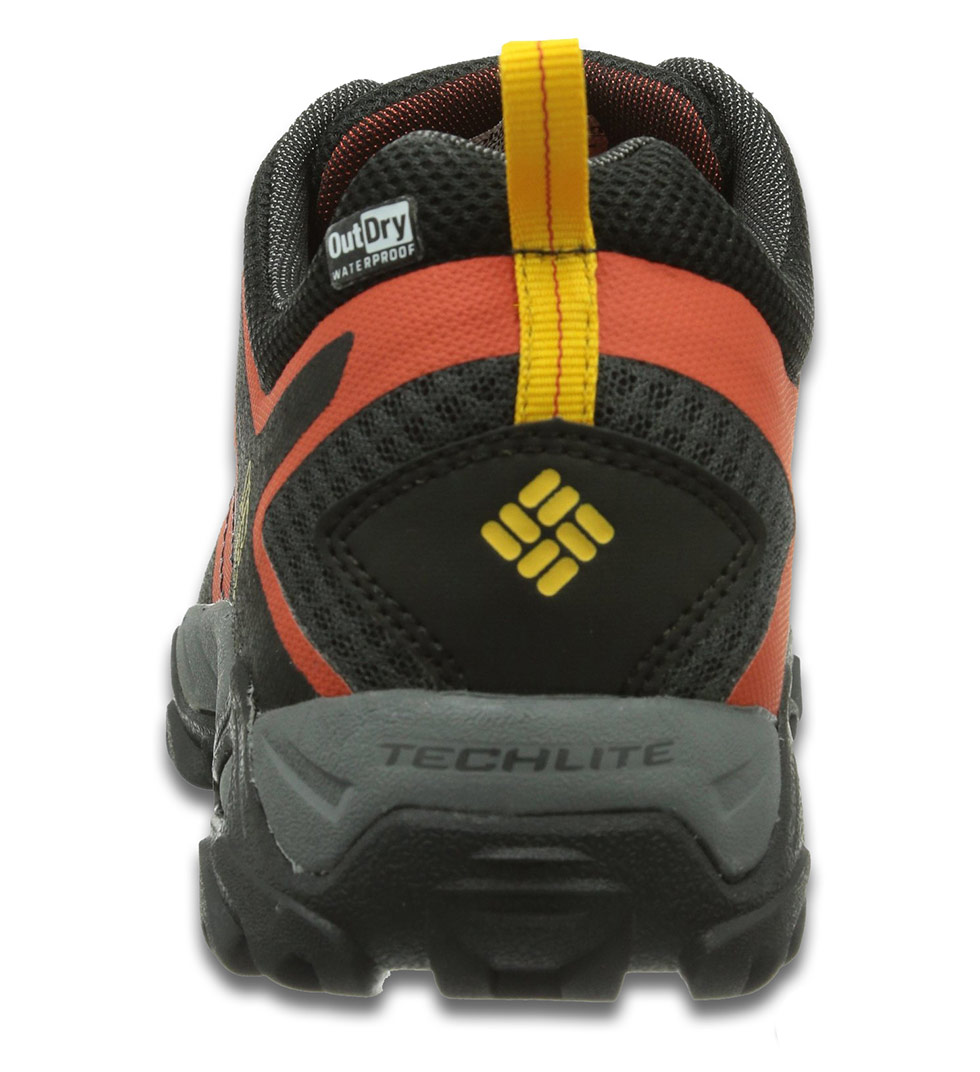 Interestingly, the Peakfreak XCRSN XCEL Outdry doesn't have the most sensitive ground feel in the world, but again, I think that can be chalked up to it being meant as a long-haul hiker and wanting to preserve feet. It's not a dead ground feel, to be sure; it's just a bit muted. While I cannot speak to the exact measurements of the stack height, my best guesstimate is that it's somewhere around 6-8mm.
Upper
The upper of the Peakfreak XCRSN XCEL Outdry is where I think this shoe shines the most. Before we get to the star of the show, OutDry, let's talk about the rest of what the upper of this shoe has going on. The heel counter of the Peakfreak XCRSN XCEL Outdry sports a graduated rigidity meaning it gets more flexible toward the top. This is typical of most shoes simply due to the fact that the connection to the midsole beefs up the stiffness but in this case it seems more deliberate and the result is a flexible feeling that still cups the rear of the foot nicely. At the front of the shoe a flexile yet still beefy toe cap protects the front end of the shoe and reinforces the construction. The support structure of the Peakfreak XCRSN XCEL Outdry is made up of some heavy-duty, bonded, textured overlays that feel far more substantial that what we find on many other shoes – keeping in mind of course that this is a badass hiker. The overall presence of foam is pretty minimal which I like and it definitely keeps things breathable as well.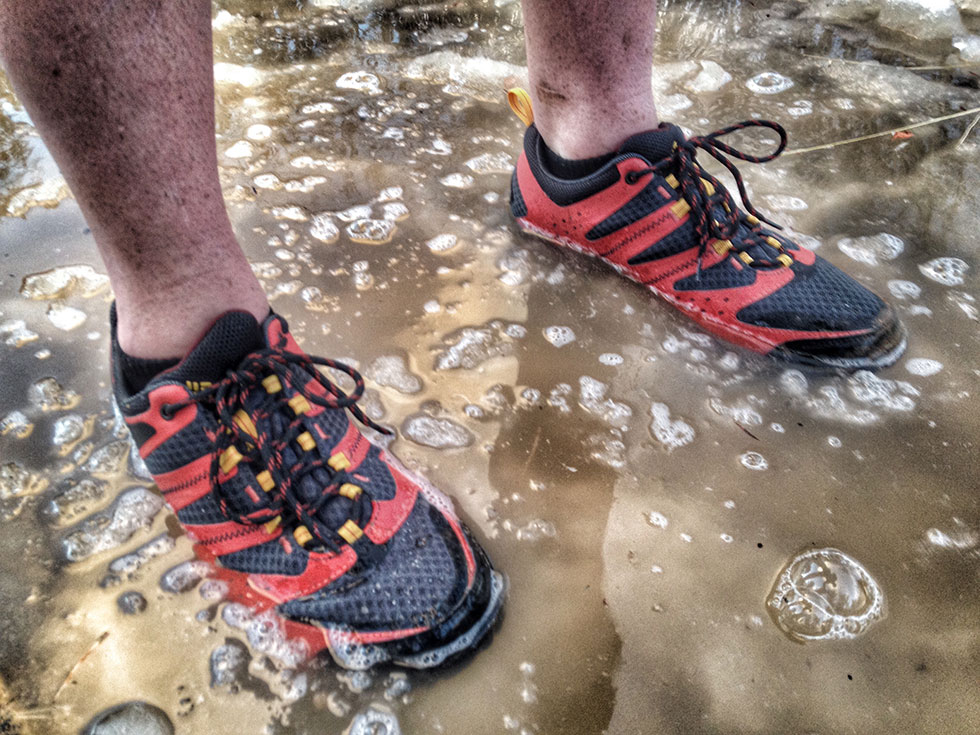 Now for the OutDry: the Peakfreak XCRSN XCEL Outdry is a shoe meant to slog through pretty much any terrain condition that can be thrown at it. One of the first runs I did in this shoe was about a 50° f day on a set of trails that I love. This beautiful day had been preceded by heavy snows and that meant that I'd be slogging through some very wet and sloppy muck. Almost immediately I was in puddles of water several inches deep – and so it went for about the next hour. During that time, with a couple of exceptions of water coming over the top of the collar, my feet never got wet once. In fact, I was further amazed by the breathability of such a waterproof fabric. Super excellent added bonus of the upper overall, I've never seen something clean up so easily from being caked with mud and grime. This upper is legit. Period.
Fit
The Peakfreak XCRSN XCEL Outdry has a rather generous fit through the upper. To me this is most likely to account for thicker, more hiker-y socks. It's not sloppy but it may require the some people cinch down the laces quite a bit.One the plus side of that is that if you're someone with a wider foot, there should be plenty of room for most feet. Sizing is spot on though the upper being a bit beefy (as it should be) gives is a very open feel so I'd suggest tying the shoe fully to get your proper fit.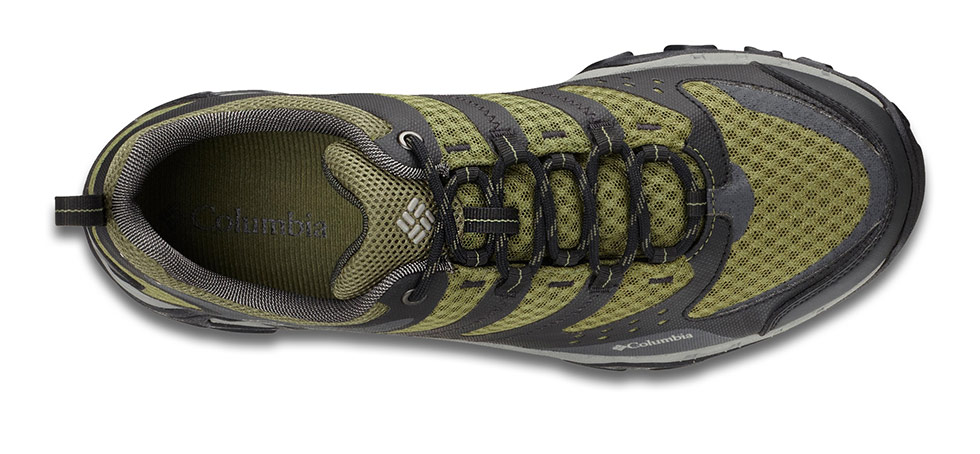 Performance
Testing the performance of the Peakfreak XCRSN XCEL Outdry was much longer that I'd typically do. This was mainly because this is a "multisport" shoe and as such needed to be put through its paces. As I mentioned before, for me this meant running, hiking and kickin' around. As a hiker, this shoe rocks. Columbia labels it as "lightweight" but since the runner/triathlete in me routinely sees shoes 7 ounces and less, the advertised 12.9 oz. per shoe was a bit of a shocker. However, this is actually very light for a beefy hiking shoe (really, go look!). The traction is very good and it handles well on mud, snow and rocks as well as regular old dry terrain.
As a running shoe, I was pleasantly surprised. Being that it's rather heavy for a runner I had some trepidation that it would wear my legs out, but it didn't. In fact, because I found myself being a bit more deliberate and actually aiming for puddles and trail muck to run through, I felt good on all my sloppy runs. As for more technical terrain, the Peakfreak XCRSN XCEL Outdrydoes fine but since the lugs aren't that deep, it doesn't dig in as much as more technical terrain geared running shoes.
Before we leave the "performance" section of this review, let me be clear: the Peakfreak XCRSN XCEL Outdry is not a running shoe per se. However, I like running in it and the ruggedness and waterproof aspects made it a ton of fun.
Overall
The cool part of the Peakfreak XCRSN XCEL Outdry is that it's a safe bet for several things. If you're a runner who hikes, this is a good option. If you're a hiker who likes to pick it up out on the trail, this is a good option. For $110 it's also well priced for a shoe that can carry you over (and through) mud, slush, snow and dirt across four full seasons. [Peakfreak XCRSN XCEL Outdry]
View More:
Columbia
,
footwear
,
hike
,
hiking shoes
,
run
,
running shoes
,
Terrex
,
trail running shoes