Today we're going to be going in depth with the adidas ultraBOOST X. While the name certainly conjures up images of propulsion and movement, it could just as easily be called "Ultracomfort". From top to bottom and front to back, everything about this shoe is built for comfort. But it doesn't just leave comfort as its guiding principle – this shoe is a performance drive shoe that will make even seasoned runners notice a thing or two.
Outsole
As we have seen with other adidas offerings, the rubber on the outsole of the ultraBOOST X is made by Continental. The rubber is a very thin layer with lugs laid out in a grid/web/waffle like pattern called STRETCHWEB. In between the grid lines as well as a torsion system cutaway that I will talk about below in the midfoot section lies exposed boost foam from the midsole.
One of the biggest standouts of adidas' use of Continental rubber in the past has been its outstanding traction – though those were admittedly in shoes which required more grip since they were trail shoes [AdidasRAVEN BOOST review | adidas TERREX BOOST GTX review]. In the case of the ultraBOOST X the traction was solid for sure on pavement in both wet and dry conditions. When looking at durability and my ~35 miles, I have not seen much in the way of wear which is great. However, I am curious what would happen with a runner whose gait leaves them sliding into the pavement and thus, adding a lot of friction to the outsole. I say this because the rubber of the outsole seems so thin that if someone were to add undue friction to the equation, I'm not sure how long it would hold up. However, the pedigree which Continental rubber has does ease my mind a bit.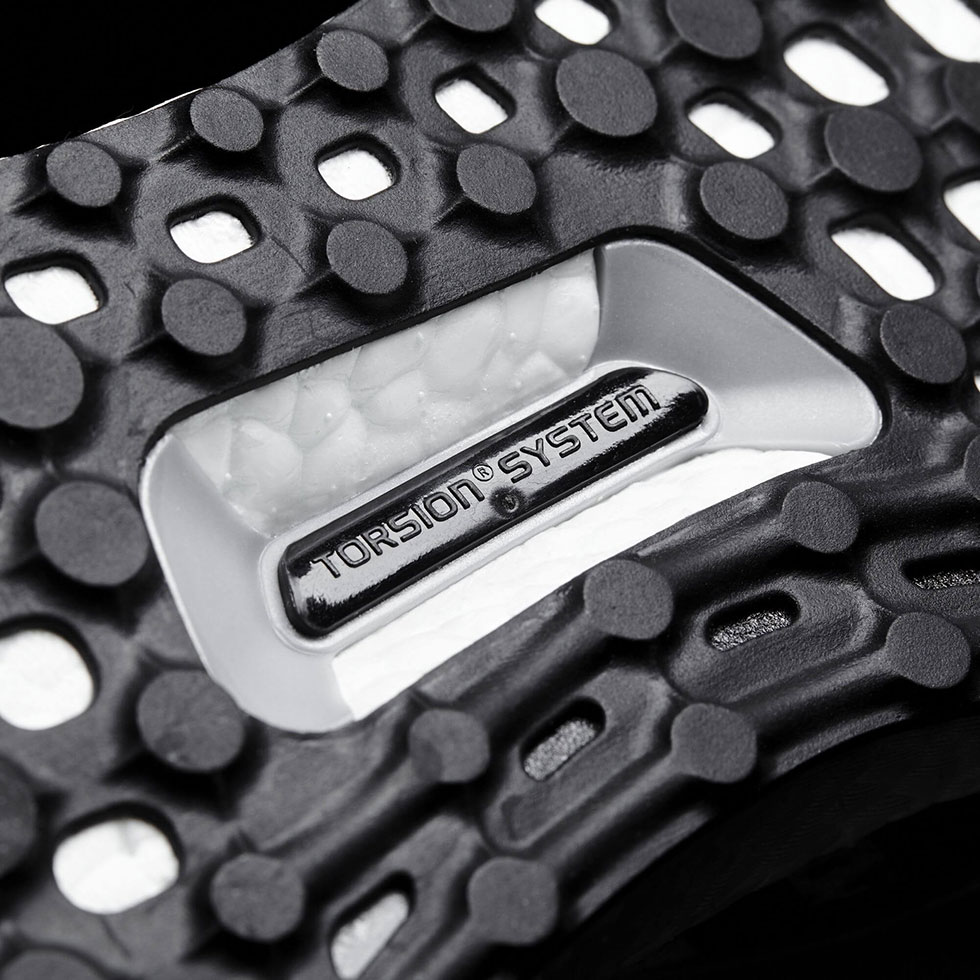 Midsole
The midsole of the ultraBOOST X is made entirely from adidas' boost foam. Just in case you're not familiar with what boost is, it's a TPU foam which is made by compressing small nuggets into the mold/shape desired. Developed by BASF, the material first showed up in adidas running shoes in 2013. Being that it is made entirely from one material, the midsole of this shoe is fairly simple in design (with the exception of the Torsion System I'll touch on below). The heel in the ultraBOOST X has a stack height of 29mm and the forefoot, 19mm giving it a 10mm net drop.
The Torsion System, under the midfoot, gives some midfoot and rearfoot structure since the boost foam is so malleable. This system is described thus:
"TORSION® SYSTEM between the heel and forefoot for a stable ride; Dual-density 3D heel counter designed for women's feet helps increase stability around the heel and allows for optimal movement of the Achilles"
There are a couple of mentions about how the ultraBOOST X is designed specifically for women (and I've found a couple of things online about what they may have been referring to that speak about arch angles and such) but, to be honest, it's pretty vague why this is a good shoe for ladies but not for men.
This is my first experience with boost foam and I have to say, I love the feel. It is bouncy, responsive and fun to run in and the material is one more way that comfort in action stands out in this shoe. While I've gotten in the requisite ~35 miles that we test on, none of my runs have been much over 4 miles, a fact I'll touch on more in the UPPER and FIT sections below. However, in those abbreviated runs, the response of this midsole material is quite a standout for me and well worth trying.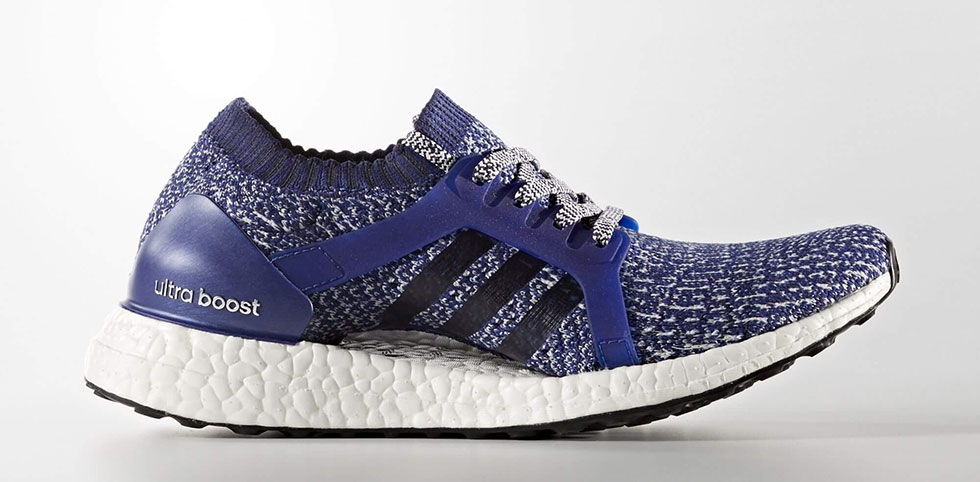 Upper
The upper of the adidas ultraBOOST X is made of a very stretchy material called Primeknit which is very similar to Nike's Flyknit with single-piece knit construction. Unlike Flyknit though, the upper seems to be uniformly stretchy with the exception of the reinforced big toe (which is still uniformly stretchy). It has the look and feel of a sock and while I pretty much always wear sock with my running shoes, I can easily see where people who can go without (or sockless devotees) would certainly want to.
When looking at the ultraBOOST X one of the most interesting and striking things you see the floating, adaptive arch which I thought was very odd and a bit gimmicky. This disappears, however, when your foot settles down and it feels VERY comfortable. It doesn't look or feel weird which surprised me as it just looks like a normal upper. Through this area, while some may be looking for "support" (which is kind of a myth which we should talk about some time), the feeling of having a close-fitting sock is very present and actually feels like a supportive structure or sorts.
The only external support structure on the upper is a flexible plastic cage of sorts that comes up around the midfoot and is what the laces run through. This attaches to a rigid, two-sided heel counter that is backed with a dual-density construction for a more custom fit and feel. It's actually a really simple design – basically a sock attached to the sole.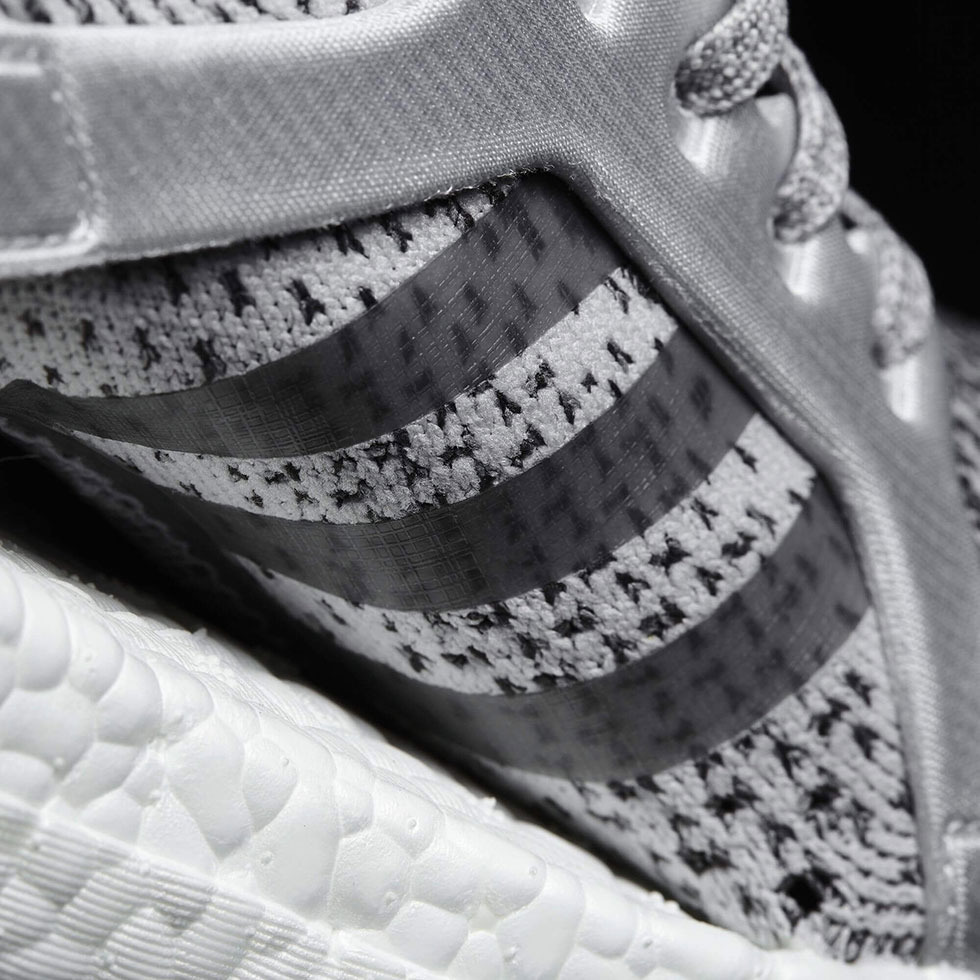 Fit
As for fit, I have found the adidas ultraBOOST X to run true to size in my size 9's (though there are v varying opinions of that here and there, some of which seem to be trulls size discrepancies in both directions and some which seem to by fostered by the close, sock-like feel of the Primeknit). In addition to the stretch, there is plenty of room in the forefoot, which I really enjoy being a rather forefoot runner. Even though the heel counter is very rigid it is still comfortable on my foot and while it didn't affect me, I did see where some people mention that it came in toward the achilles a bit too much.
Here's my problem. Because the upper is SO stretchy with no discernable support areas which may offer a bit more inflexibility, experienced some rubbing underneath each big toe. It felt like this was the result of my foot moving from side to side in the toe box. This is unfortunate for me and is what limited me to only run short distances (~4 miles) in the ultraBOOST X before a hotspot or blister would form. The shoe truly is incredibly comfortable to wear- I only wish I could run farther in it.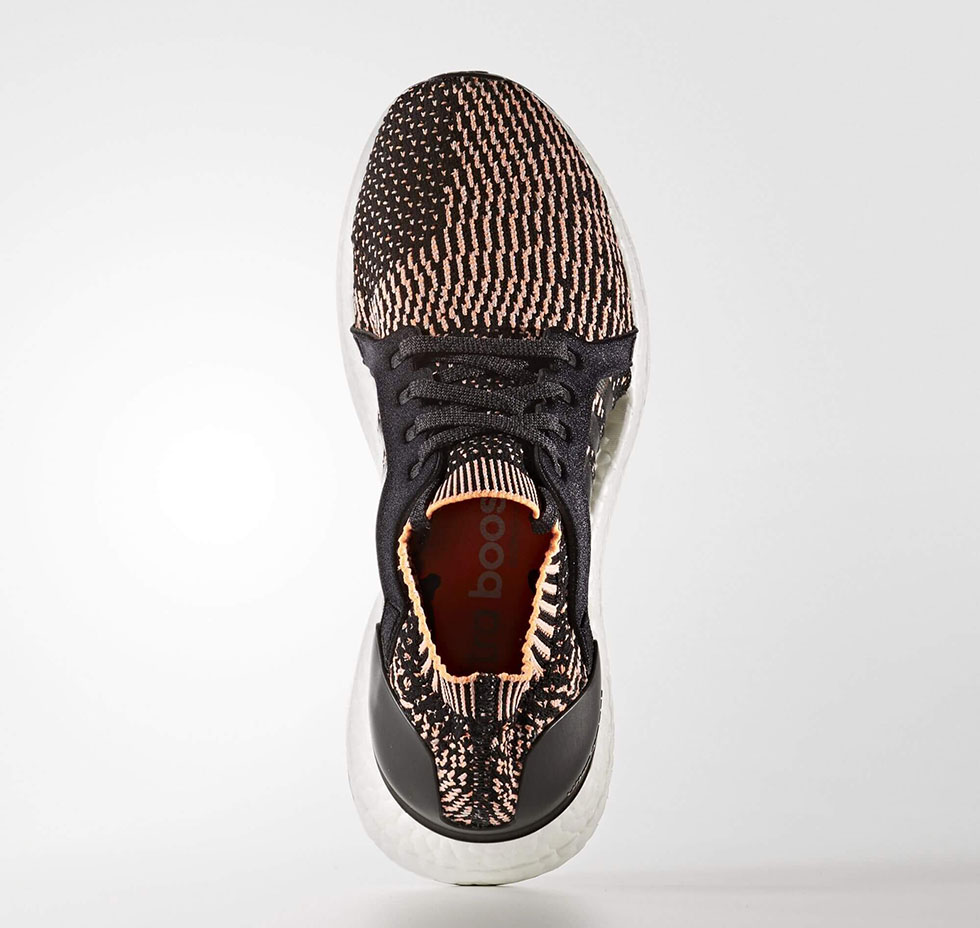 Ride
While I found I could only run short distances in the ultraBOOST X, I did enjoy the responsiveness and comfort. The boost foam lived up to its advertised function and is very springy with every run I had in this shoe being fun and fast. On my runs around the park, I found myself being able to pick up the pace and "race" others. The ride is smooth. The grip and cushy feel underfoot is amazing and makes you want to just go.
Overall
As tends to be the case with Adidas much of the time the ultraBOOST X is a bit pricey coming in at $180. It is a solid road shoe that has a place in my arsenal for short tempo runs and speedwork. Based on the feel though, if this shoe brings you the comfort it's capable of, I can see it being something you could easily wear all the way up to the marathon distance. If you are looking for comfort and bounce this shoe has plenty of it – for a price. 
View More:
Adidas