Years ago, I switched from my trusted old fleece-lined ski hat that had kept me warm on the slopes to a heavy, black, clunky helmet. Prior to the first day, despite the prodding of my older brother who definitely was more knowledgeable in regards to the latest ski gear, I was reluctant at best, but I gave it a try.
Well, let me tell you, I never went back! I was able to get used to the weight of the helmet and my ears were surprisingly warm after cruising down those east coast groomers. Once I moved out to the Tahoe area and was bombing down much more challenging terrain, there was no way I was going out on the mountain without the helmet; a new sense of security was a part of the package that I loved so much.
I never ventured beyond that first generation ski helmet, though, which I realize was a mistake now that I've tried the Bollé B-Style.
Fit and Comfort
It claims to be lightweight and of optimal comfort due to adjustable features for fit and venting for heat regulation. I would agree that all such statements are accurate.
The padded chin strap felt comfortable and it adjusted easily enough. The padding within the helmet and around my ears was cushiony and comfortable and walked that fine line of keeping the air out without crushing my ears.
My goggles snapped in nicely and stayed snug thanks to the goggle retainer clip at the back of the helmet. I didn't have a need to make any major adjustments beyond the chin strap, as the fit was nice from the start.
Other Features (Audio Compatibility and Styling)
Although there is an audio compatibility feature, I did not listen to music while wearing this helmet.
This skier isn't a fan of music on the slopes due to a childhood memory of an out-of-control music-listening skier flying down and taking out my then ten-year-old sister.


Fortunately, my sister left the mountain without broken bones and only a nasty boot mark on her face, but it could have been a different outcome. Maybe the headphones had no impact on whether or not the crash would have happened, but to be safe there will be no headphones for me while skiing, I'll tell you that!
As a result, I can't speak to how the audio compatibility feature works but for those interested in listening to music while skiing, the option is available. What I can speak to, though, is the stylish white with pink accents design and how it was a bonus in my opinion. It let the world know there is a girl under all those layers, which I loved! There is a range of color and design options available from solid black to lime green, as well, so there is something for everyone.
All in all, this Bollé B-Style really hit the mark. I'm glad I took the plunge and tried something other than the old, clunky, black, first-generation helmet.  This lightweight, comfortable, and warm helmet got the job done. Moreover, the white with pink accents styling made it even better! Even though I'm back living on the east coast now, when I make it out to Colorado to visit my sister and brother-in-law in February, you better believe this helmet is coming with me; I've found a great new skiing companion to keep me safe, warm and stylish!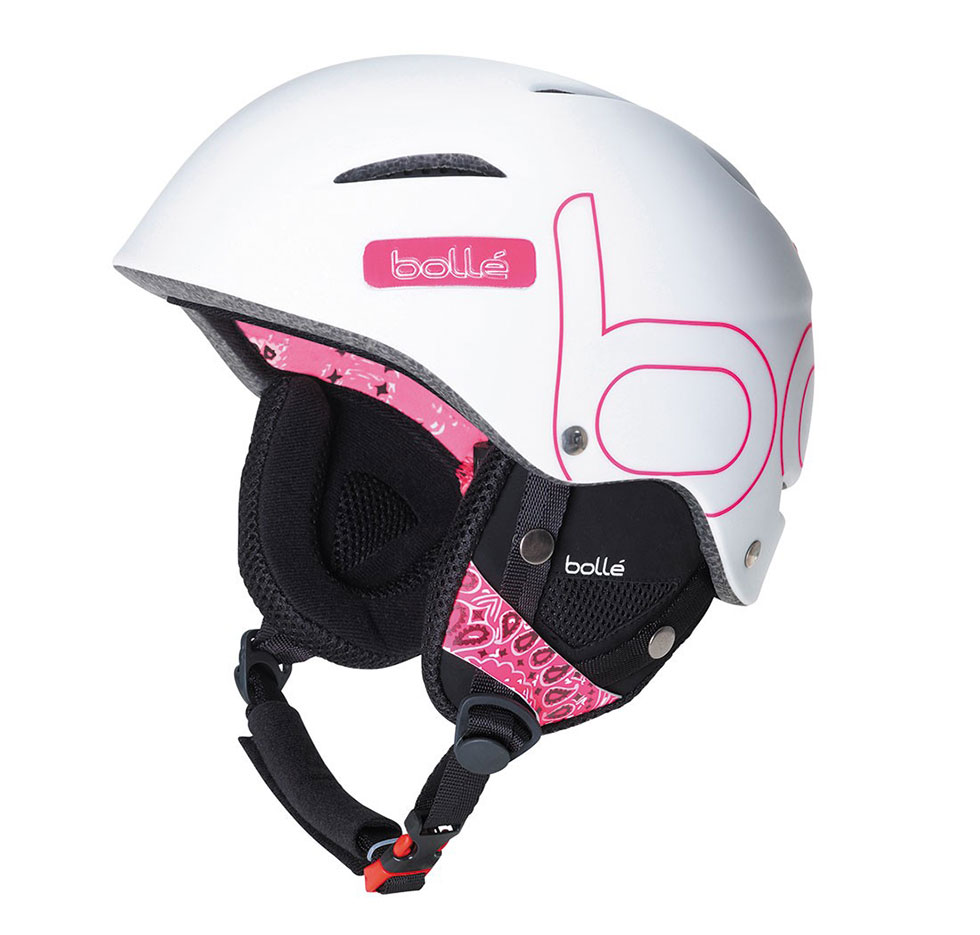 View More:
Bollé