Successfully heading out the door for any kind of prolonged physical or survival activity can largely be boiled down to one thing: efficiency. Efficiency of movement by having the right apparel and footwear, efficiency in burning the least amount of calories (fuel) for the most amount of work and efficiency of the gear you bring with you. In that vein, the word efficiency covers myriad aspects of our gear: weight, necessity, size, ease of use, etc. Additionally, the term efficiency in everyday use can refer to "green" products and our ability to stay in contact with our technology (even when we're supposed to be off the grid!).
With it's PowerSync line, Bushnell set out to keep our gadgets and gizmos charged all while adding the least amount of weight in a compact package. Today we're going to take a look at the super compact (yet mighty) SolarWrap Mini. Before we get into the details and the review, here are some specs for your perusal:
Weight: (oz.)3.1
Size: (in.)4.3″ x 1.25″
Deployed Length: (in.)18.25″
Charge From Wall:4 Hours
Charge From Solar:10 Hours
USB Outlets:1
Power Output:5v, 1a
Battery Type:Li Ion
Now, in case those specs above didn't quite sink in, we'll try to impress upon you just how compact this thing really is. First its weight; the last thing you want to do to yourself is add weight to your pack. At barely 3 oz. this thing weighs about as much as about 3 average slices of bread. Then there's the size; not wanting to take up extra space in you pack, the SolarWrap Mini is only 4.3 inches long. That's about the size of a large glue stick we all used to use in elementary school.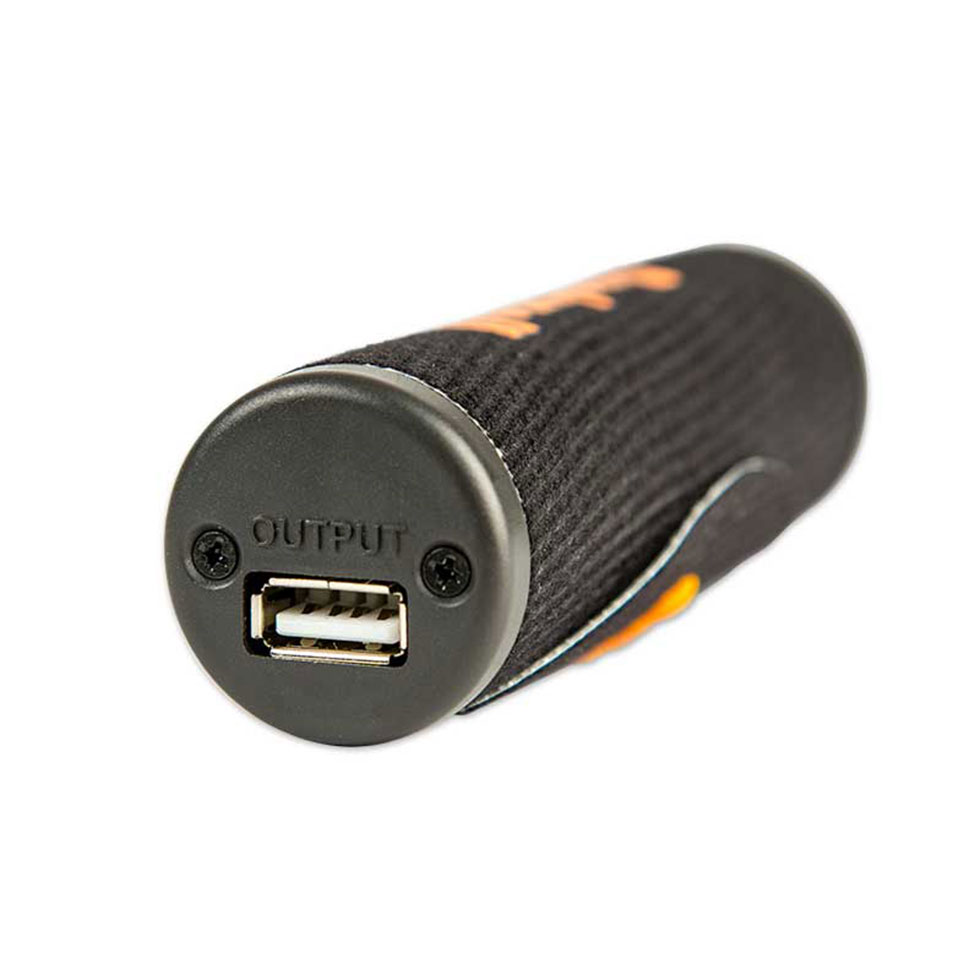 Panel Charging Time
The SolarWrap Mini doesn't hang itself out to dry in the charging department providing ONLY its solar panel for charging its on-board batteries. On one end there is a micro-USB input and since the micro-USB is one of the most widely used plugs in existence today, it's a fair bet that you can probably find one or twenty laying around your home. The advertised time that a wall charge takes is four (4) hours. In our testing, we saw it come in at about 3:50 so that time is pretty dead on.
Now for nature's power source, the sun. The advertised time to charge the SolarWrap Mini to full power by way of the sun is ten (10) hours. In our first test of solar charging, we laid the (completely dead) Mini on a flat surface with no nearby trees and a Southern exposure. At about 10 hrs. 20 mins. we had a green light (full charge indicator) and were ready to go. On another test, we affixed the (again, completely empty) Mini to our pack and went for about a 3 hour hike. While there is no progress indicator to tell exactly how full the battery was – apart from the red "not full" indicator light and the green "full" light – when we finally wrapped it up, we did have enough power to bring an iPhone 5 with a 30% charge to about 70% inside of 1.25 hours.
Device Charging
The SolarWrap Mini's advertised charge capabilities are as follows: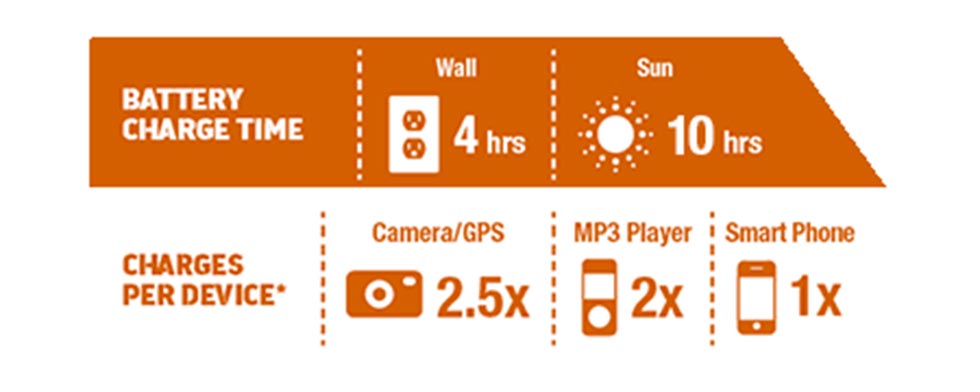 The devices we'd be charing were an iPhone 5 and an iPad Mini. From 10% charge, the iPhone 5 made it to a full, 100% charge in just about 1.5 hours. We then plugged the SolarWrap into the iPad Mini which was at about 30% to see how much, if any, juice was left over. While it certainly didn't move the charge that much, the iPad Mini did manage to make it to about 34% before the SolarWrap died. While Bushnell doesn't really push charging a tablet, the SolarWrap Mini did get about 50% of a charge into our iPad Mini with no problems. In our experience, devices charged right in line with their advertised promise. The security of having a power source on a multi-day excursion is certainly a big help in the peace of mind department and with this device being able to bring a lifeline device like a cell phone or GPS back to life, it's definitely something best not ignored.
Portability
As we mentioned in the beginning of this review, this thing is super light and compact. When it's rolled up, the tail end of the SolarWrap – the end not attached to the battery holding barrel – has a hook-and-loop section that attaches to itself as it's rolled up. Also keeping things nice and locked down are two end caps that are joined by pieces of elastic. These end caps do a really nice job of keeping debris out of the plugs on each end of the barrel. The one possible drawback to this, and really any portable power device, is that you may have to bring a few cables along to charge various devices if you need more than one type of plug. No huge deal but definitely worth mentioning.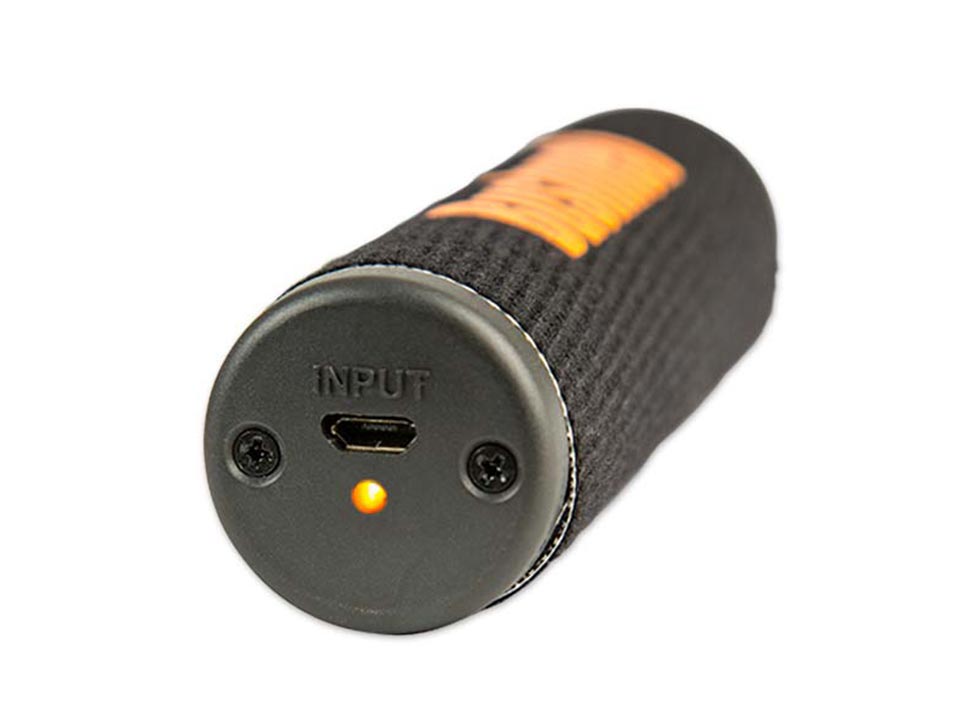 The SolarWrap Mini truly is super portable. It's small enough to fit pretty much anywhere in a pack or even in your pocket. However, I think it's portability and charging method makes it prime for simply being attached to the outside of a pack while moving. That way it's always charging, even if it's only a little.
Using the SolarWrap Mini
There are two ways to charge the SolarWrap mini as we mentioned: wall charge and charge from the sun. On the tail end of the panel, there is even a reinforced hole from which the Mini can be hung (as I did on my pack). Here are the steps to use each (yes, the steps are absurdly simple and that's why we're showing them to you):
Wall charge:
Plug micro-USB cord into wall.
Plug the other end of the micro-USB into the Solarwrap Mini.
Wait until the charge indicator turns green (~4hrs).
Use.
Solar charge:
Unroll the SolarWrap Mini
Place on a surface where it can get the most amount of sun possible (or wherever, so long as SOME sun is getting to it).
Wait until the charge indicator turns green (~10 hrs).
Use.
Now, to charge a device:
Plug the device cord into the SolarWrap Mini
That's it.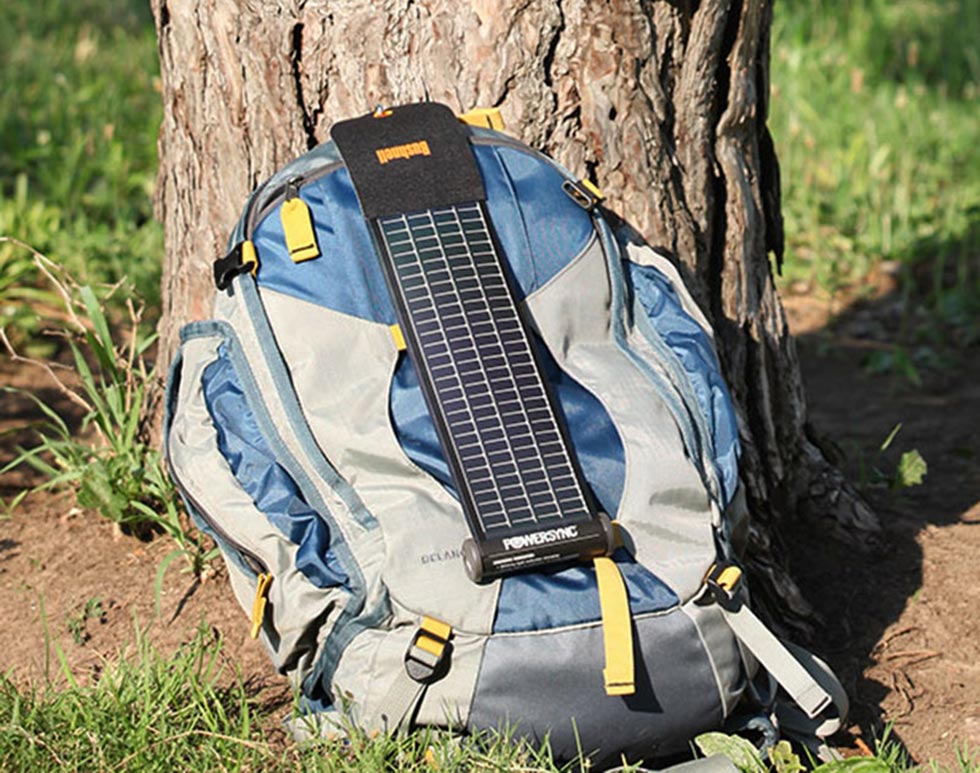 Value
If you buy directly from Bushnell, the SolarWrap Mini comes in at $89.99. However, on Amazon.com you can find the SolarWrap Mini for as low as $49.99 – and it's the Bear Grylls Edition so you know it's extra hard core! At that kind of price, this is really something that cannot be overlooked. There are other devices on the market similar to this one but for the price, weight, size and overall portability, you'd be hard-pressed to be out the Mini.
Bushnell does offer an entire line of PowerSync products that vary in price and some of which pack a MUCH larger punch than the SolarWrap Mini (at a much large size and weight cost). We haven't had the opportunity to check them out yet but we'll certainly let you know as soon as we do.
View More:
accessory
,
Bushnell
,
camp
,
camp & hike
,
travel