To the best of my knowledge Gearist has never reviewed a "training shoe". When I say "training shoe what I mean is something that has applications in functional fitness which may include running (which Gearist does a lot of) but may also encompass lifting, aerobic workouts apart from running, hiking and pretty much anything else that an active person may undertake.
For me, these things come in the form of running, hiking and everything else that comes with being the mom of a 6 year-old daughter (aka, Baby Gearist). The shoe I'm walking you through today is a lightweight, amphibious beast that I wasn't sure what to make of at first, but it has become one of my go-to's for workouts, going to work as an elementary music teacher or getting to the store. Let me introduce you to the OluKai 'Eleu Trainer which is available for men and women.
Where To Buy
As of Spring 2021, stock seems to be running low on this cult favorite, now discontinued shoe. At last check, you can still find them at Amazon.
Outsole
The outsole of the OluKai 'Eleu primarily consists of well-placed sections of sticky rubber in between which is some exposed EVA foam. The rubber is placed in such a way as to give the shoe (from this end) a good deal of flexibility which definitely comes in handy on iffy terrain.
As part of its mission to be a kind of do-anything shoe the OluKai 'Eleu has a legit amphibious side to it – which is kind of a no-brainer since it's also part of OluKai's Hawaiian Lifeguard Association (HLA) collection. While you might think that it's a bit tricky to find water in Colorado sometimes I had plenty of opportunity to get my feet into rocky creeks and shorelines in the surrounding forests and foothills. As I mentioned in the opening of this review I also found myself wearing this for pretty much everything from workouts to casual wear.
When running and hiking the grip on dry and rocky trails is very good and the flexibility of the shoe lends itself to being able to work with whatever is underfoot. On wet surfaces and even IN the actual water, the sticky rubber performs very well and it was only on the most slippery of algae-covered rocks that I found a couple of instances of questionable grip (or maybe the thing in question was judgement!). As far as durability goes, I'm impressed with how little wear is shown on the outsole despite the amount of time I've spent with the 'Eleu on my feet – though I have to admit that if you're spending your time scrambling around the rocky Hawaiian shoreline where this brand was born then lava may treat the shoe a bit differently.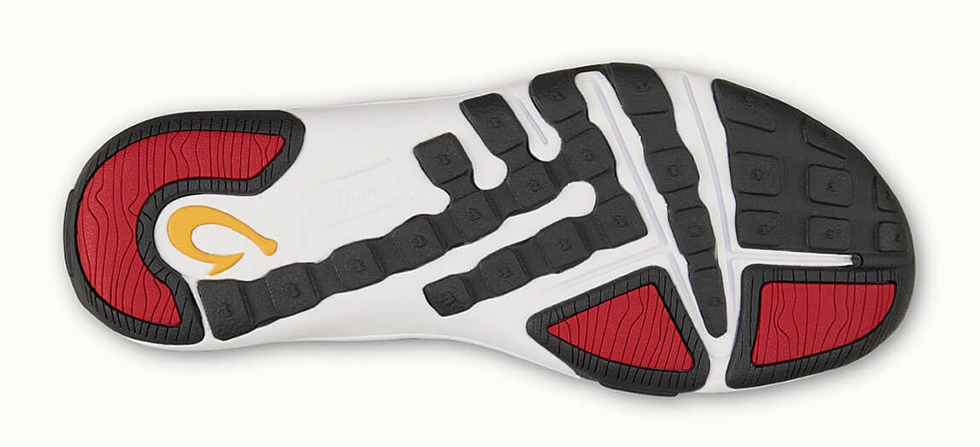 Midsole
The midsole of this shoe is very simple and to-the-point with EVA construction and very low stack height (~3mm of drop). Thanks to this relatively low profile and volume the flexibility that begins in the outsole continues here as does the very light weight of the shoe which, in this women's size 9 comes in at 7.4 ounces. The ground feel is great though there is protection especially when hiking/walking. When running on trail some rocks are a bit much so if you're going to actually run (versus hiking or walking) on a trail with this, it's probably best to stay with well-groomed trails.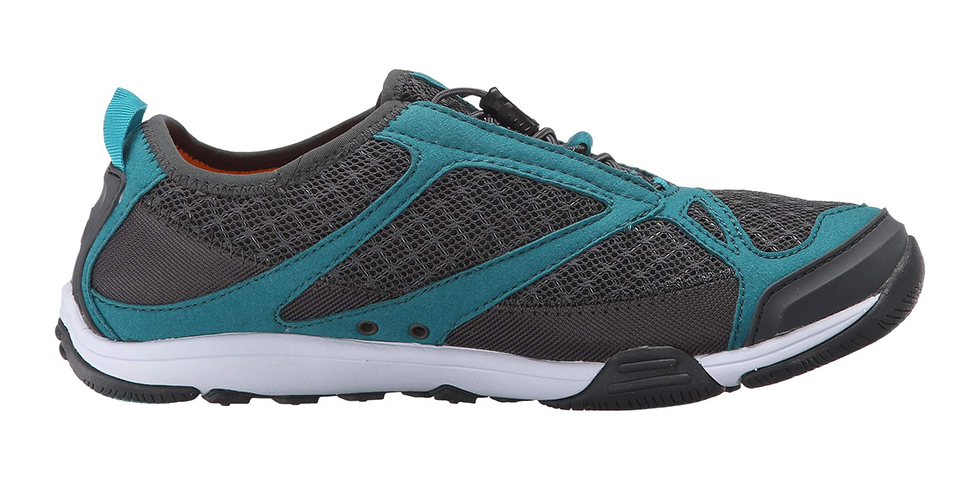 Upper
Far more durable than I would have thought after feeling it in hand for the first time, the upper of the OluKai 'Eleu is constructed mainly from a double-layer mesh. On the exterior the mesh is woven with differing thread thicknesses which cranks up the durability but still keeps the shoe very durable. On the interior, the fabric against the foot is very soft and smooth with an almost neoprene feel to it. This construction is simultaneously comfy and keeps things dry quickly even after being under water – even though there are only two true drain holes on the medial arch of the shoe.
Wrapping the lower 1/2 inch or so of the upper is a heavier canvas rand that increases the durability in off-camber situations. At the toe and at the heel counter area of the shoe there are sections of molded rubber for both protection and added durability. The support straps of the shoe are all stitched on rather than the current trend of bonded or welded overlays. While it may be a bit heavier this makes a lot of sense to me since, if this shoe is spending a lot of time in the water, bonded overlays can delaminate here and there.
The lacing system on the 'Eleu is a bungee/speedlace setup which is easily adjusted and allows a lot of room for going with or without socks. The fully-gusseted tongue is quite wide and, for me, was very comfortable the entire time I wore the shoe with no problems. However, since the tongue does provide so much room it is necessary for it to fold over a bit so the further you tighten down the laces, the more you may feel those folds (and as Brandon always says, you shouldn't be tightening down your laces that much anyway!).
Fit
The sizing of the OluKai 'Eleu in my women's size 9 was just as I'd expect so you should be fine in whatever size shoe you typically wear.
With the shoe's entire upper being very flexible and pliable, the fit of this is kind of what you make of it when you tie it down. For me, I kept it pretty middle-of-the-road and never felt any pinching or tightness. The toe box and entire forefoot area is very comfortable with a good foot-shape to it (though I'm sure Brandon would probably say there could be a little more "room on the lateral side", as always).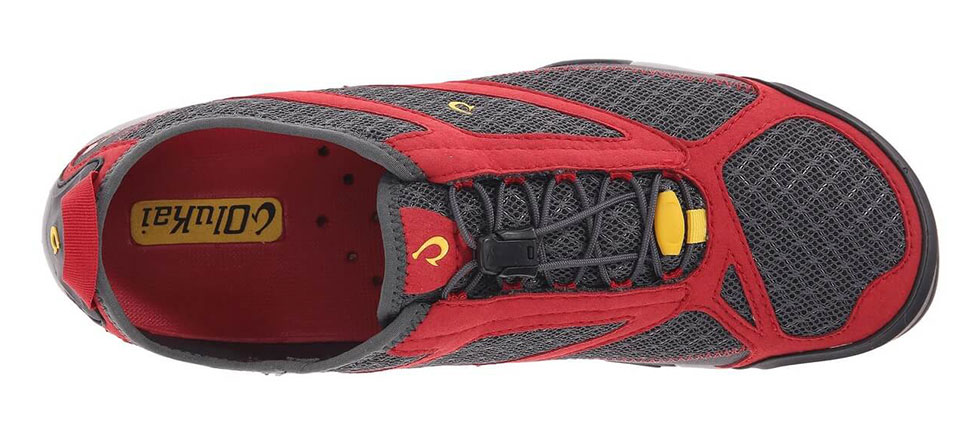 Ride
As I've mentioned above, this shoe is kind of a do-anything piece for me. I don't run nearly as many trails as Brandon and prefer to stick to roads and pathways (dirt and paved) and on that kind of terrain these feel almost like a slipper of sorts. There's nothing that screams to you, "I'm a running shoe!", which is likely a very good thing and part of what I think makes it so adaptable for so many different applications. On rockier terrain you WILL be much more aware of any points of jagged edges underfoot but not in an uncomfortable way though again, if you're running this will even further highlight pointy rocks and such so choose your route wisely.
Overall
I have to say that I wasn't sure what to expect from the OluKai 'Eleu. First, because it's not a brand I've ever worn and even though I knew of them I thought they only made flip-flops (their flips are incredible looking, BTW). Second, this is a rather lightweight and open shoe and I thought that my Colorado back yard would beat the snot out of this shoe but it's held up well beyond what I though was possible.
The big story here is durability and comfort and for its $110 price tag (for men and women) you should get that. While I think that some may question where this shoe fits into their lineup, for me it's become an indispensable everyday shoe in which I can do anything I need to – from workouts to chasing down Sadie or Sydney and that's a big win.
View More:
footwear
,
OluKai
,
run
,
running shoes