Anyone who travels a lot knows that there are certain specifications that make for a perfect long weekend travel bag. The bag needs to be roomy enough to fit lots of layers, but small enough to slide easily into an overhead compartment on an airplane, bus or train. The bag also must be easy to carry and weather resistant.
Patagonia sent us their Black Hole 60L Duffel claiming it more than fit the bill of what we were looking for, and boy were they right!
Materials and Construction
The Patagonia Black Hole 60L Duffel is a burly bag made from highly weather-resistant 14.7-oz 1,200-denier polyester with a TPU-film laminate and a DWR (durable water repellent) finish which protects gear from travel and rough hangling.
Its main compartment is accessed by a zippered U-shaped lid, which was a pair of zippered mesh pockets on the underside for small items. The bag also has a zippered exterior pocket that holds items you needs to access quickly.
The bottom panel of the bag adds structure and helps cushion the load when the bag gets tossed into your trunk or onto a baggage cart. The bag has several carrying options that include: webbing handles with a snap closure, haul loops at either end, and removable backpack straps.
There are also four daisy chains that let you lash additional gear to the outside of the bag or tie down the bag to a roof or horse. Empty the bag weights a mere 963 g (2lbs 2 oz).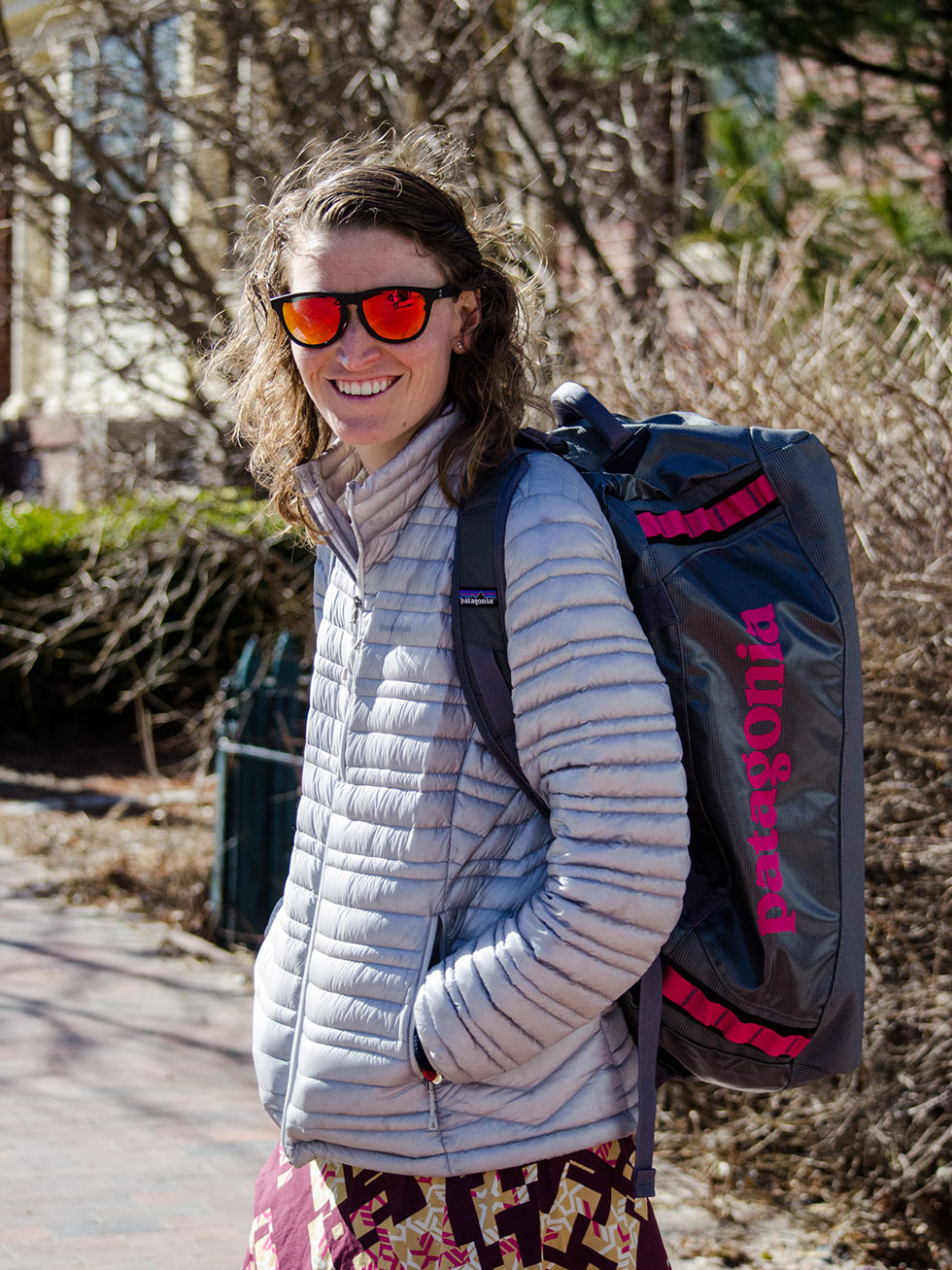 Performance
For a durable weather resistant 60L bag, the Patagonia Black Hole 60L Duffel is very lightweight empty. I've used the bag on a few long weekend excursions and have really liked how roomy it is.
I wish it had a few more pockets inside to keep gear separate, but do like the few it does have. The mesh pockets inside are perfect for keys, toothbrush, teabags, wallet – essentially all of the little things you don't want to get lost among the rest of your clothes.
I was able to fit enough apparel to last a 4-5 day trip in March, but the bag could definitely outfit a week or so adventure in the summertime. The backpack straps are great for any time you need to haul the bag a longer distance and can be removed.
The haul loops at either end of the bag are great for when you need to grab and go.
The bag comes in a variety of colors and sizes, so size down if you are looking for a small weekend bag, or up if you are looking for a bag for a longer trip to fit more gear. I had to carry this bag through a bit of rain and snow a few weekends back and was impressed by how well the bag repelled the elements.
Overall
At $119 (though we've found it for as low as $107 at our partner links below) the Patagonia Black Hole 60L Duffel is a great investment for the weekend warrior, and a trustworthy companion for any traveler whether their journey be by land, air or sea.
View More:
bags
,
camp & hike
,
Patagonia
,
travel