Being completely honest, the name of this jacket pretty much says it all – well, the "minimalist" part anyway. Hello Hansen has long been one of the standard bearers for foul weather gear, especially in the yachting/sailing world and the Odin Minimalist jacket brings all that experience and quality to bear for the more land-based adventurers among us (though, to be fair, this probably isn't scared of open water).
Materials and Construction
The body of the Odin Minimalist jacket is made from 100% HellyTech Professional fabric – which is made from Polyamide – in a 2.5 layer construction. This fabric is extremely lightweight but its toughness and durability is very impressive. Each of the seams on the jacket is sealed for further waterproofing and minimal to keep bulk down. The zippers – of which there is one on the left breast pocket and then the main, full-length zipper – waterproof YKK Aquaguard inclusive and while both are lightweight, they show no signs of coming off track or failing.
The slightly drop-tail hem of the Odin Minimalist jacket contains no elastic but rather, has a single-hand pull cord for adjustment. The sleeves end with an extended top half of the cuff and an elastic bottom half which simultaneously accomplishes fitting around possible glove cuffs and also keeping the weather at bay. The helmet-compatible hood is the only other place on the jacket where adjustability truly comes into play with a single-hand pull cord at the back of the head for more sagittal/crown adjustment, and pull cords at the cheeks for a more complete tightening around the face.
During the time I've been using this jacket, I've had it stuffed in packs and pockets – both loosely and in the left breast pocket which doubles as its stuff sack – and have generally beat the hell out of it. It's been rained on, snowed on and sweat in and the construction has held up remarkably well. It's always interesting to me when I get something of this relative weight in my hands that is supposed to be durable because the weight and feel seems to belie what I'd expect – but this is a very welcome instance of cognitive dissonance much in favor of the Odin Minimalist jacket.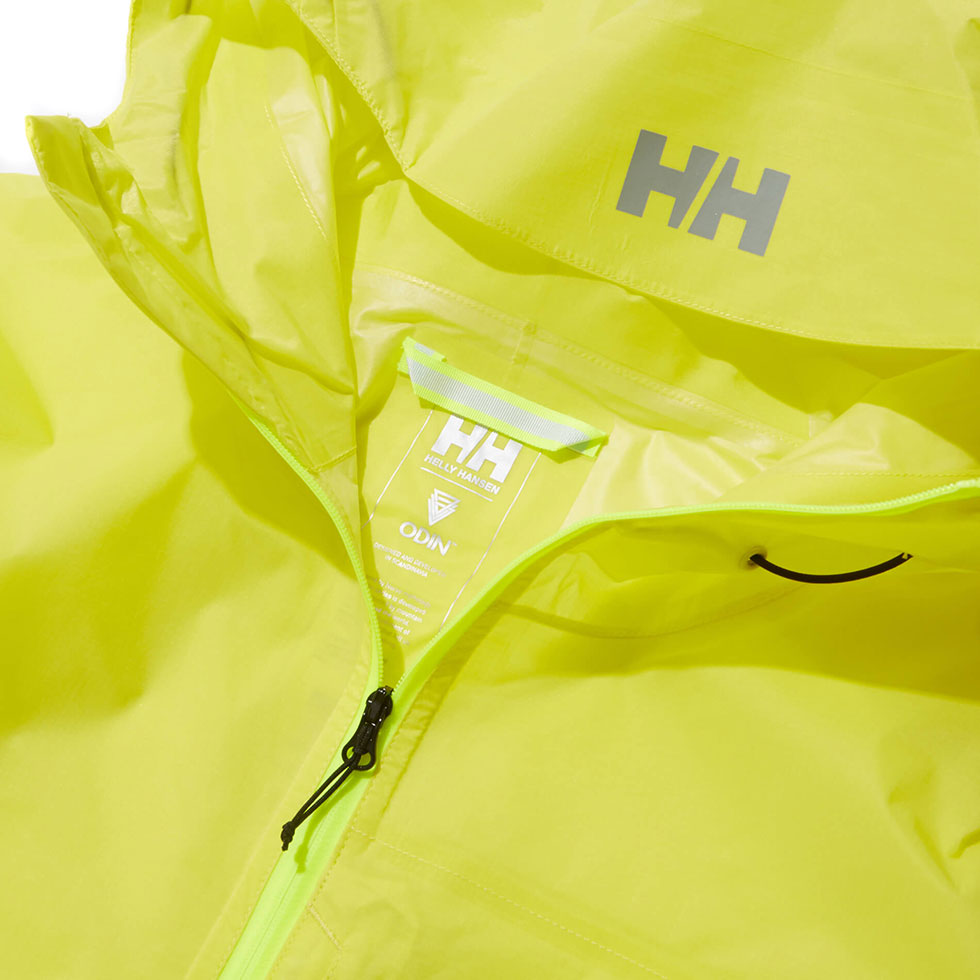 Fit and Wear
As I've mentioned in a lot of previous reviews, my shoulders are often the bane of my existence when it comes to the fit of tops. The reason for this is that I'm very broad-shouldered and the sleeves of things don't always keep up so well. with this in mind, the first place I'm going to talk about fit is across the shoulders and in the sleeves. In both places I've experienced no pulling in the Odin Minimalist jacket. I've worn it with just a tech-t underneath as well as a lightweight hoody and in all cases I've felt perfectly comfortable – which is honestly amazing.
The hem falls well within the length that I'd expect in this and makes it (for me) a jacket that works in cycling applications just as well as when on your feet. Around my head I found the adjustability of the hood fairly easy to deal with though the cheek cords have a unique eyelet lockdown which I'd definitely recommend becoming familiar with prior to use.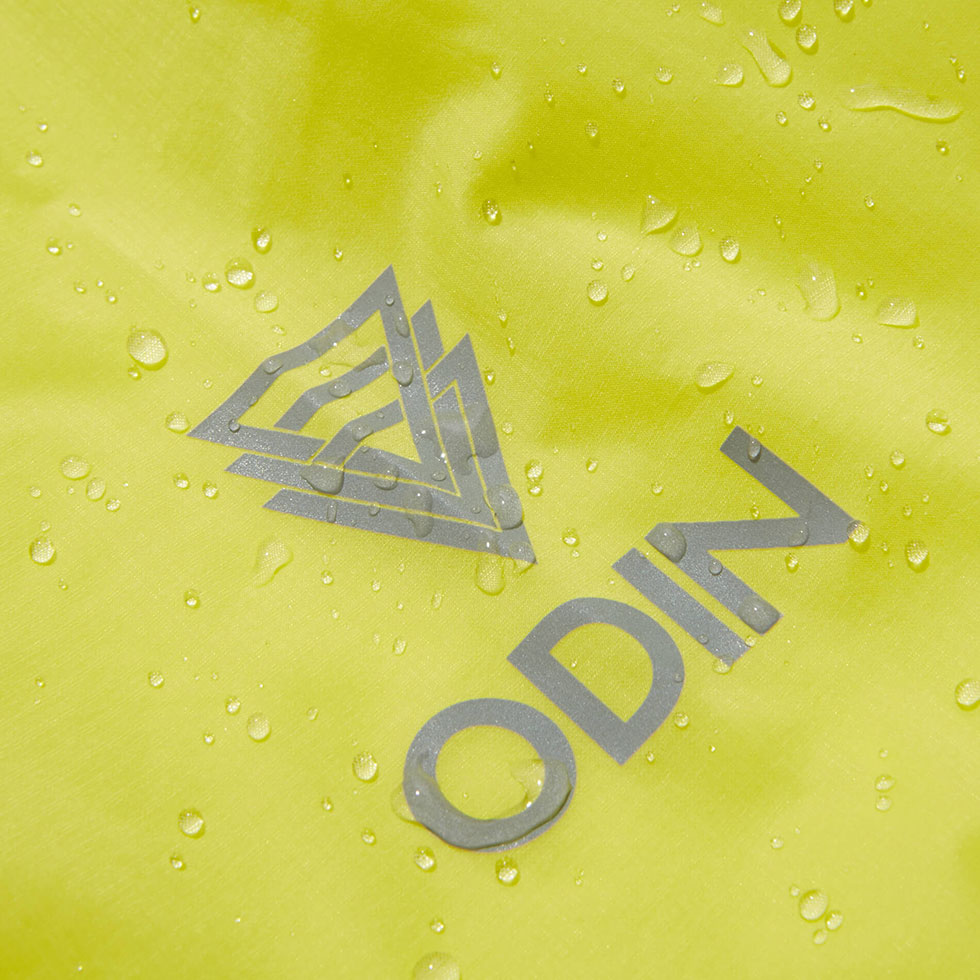 Performance
As I mentioned above I've worn the Odin Minimalist jacket in myriad different conditions but the one that tops them all was my fairly recent hike up to Chasm Lake at the base of the Long's Peak summit in Rocky Mountain National Park. On this particular day the weather action didn't really start until after we'd climbed to our ~11,800 foot goal. Literally the second we turned around to come down, the first drops of rain began to fall. Since it was already kind of cool, I decided to put on the Odin Minimalist jacket over the lightweight hoody I was already wearing within about 5 minutes. As we continued down (and still within the first 15 minutes or so) the weather went from meh to bad in an instant. The rain started to pour and was joined by HEAVY, pea-sized hail. This would not stop for the next hour (and was joined by lightning and thunder just for good measure).
During this event and in the days after, there was more than one occasion to break out the Odin Minimalist jacket and never once did the waterproofness of the jacket come into question. The consecutive days thing is worth pointing out since that can often be the downfall of "waterproof" jacket but in this case I saw nothing of the sort.
Also on the way down from Chasm Lake we were actually running on what was a rather technical trail, especially when combined with rain, hail and the consequent mud on the ground. Even under my hydration pack and over that light hoody the flexibility and fit of the Odin Minimalist jacket shone. The other big takeaway from this was the breathability when the moisture level ramps up. I tend to be a fairly hot-natured person and when running, I heat up very quickly. In this case, even though it was cool outside I never got overheated in the slightest – which was amazing to me since I can get too warm in sub-zero temperature with no problem.
One thing I missed a couple of times were hand pockets. On the one hand (no pun), I under stand not having these on the jacket both for weight and bulk savings – not to mention one more place for water to try to sneak through. On the other hand, I sometimes just wanted a place to put my hands or phone and there wasn't a place where I expected it. Again though, this jacket certainly lives up to the "minimalist" part of its name.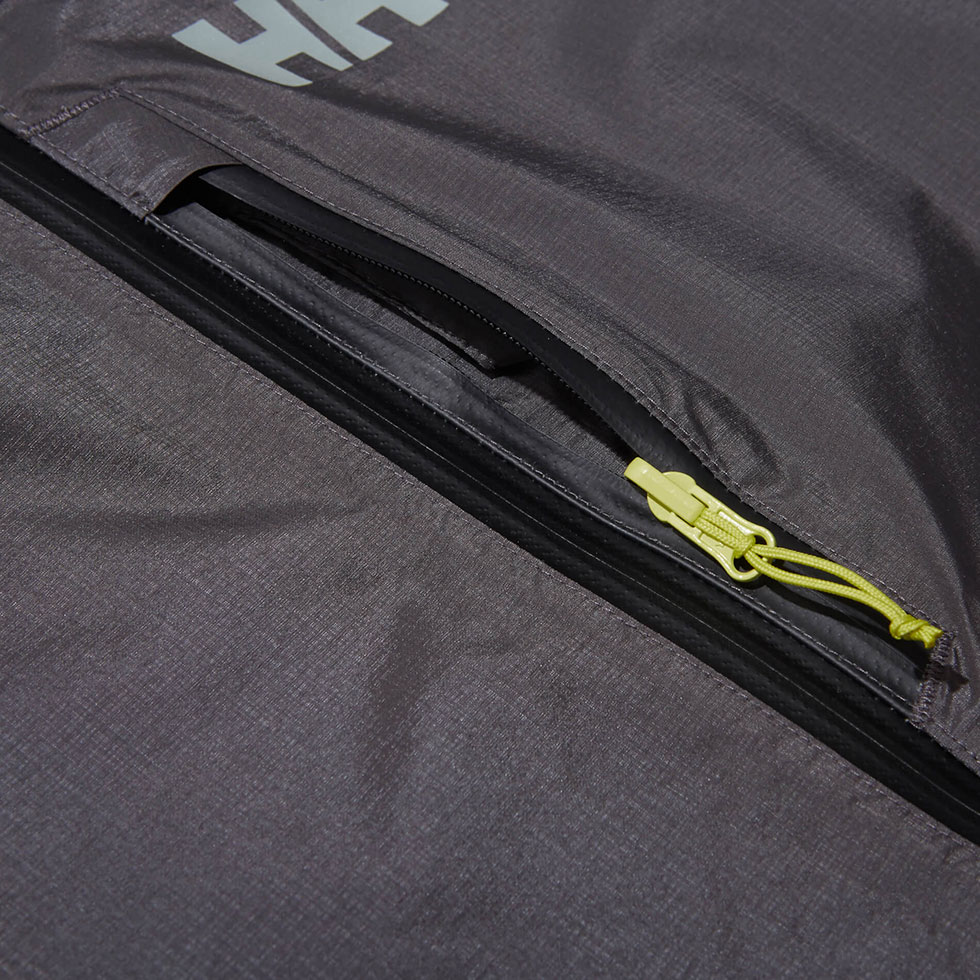 Overall
From my experience, this jacket is one that is so packable and light – 5.4 ounces in my men's size large – that it's more of a question of "Why would you not bring it along?" for me. Well, a reason why you might balk at it is the price tag which tips the scales at a steep $220. I will say that it's a jacket that performs on demand every time (in my experience) but that price is going to slow some people down (though if you do some digging online you can find it for less).
The Odin Minimalist jacket is a tough act to follow and regardless of the price, for those that have to deal with persistent rain and precipitation, this may be what the doctor ordered.
View More:
camp & hike
,
clothing
,
Helly Hansen
,
hike
,
jacket
,
Rain Jacket
,
run
,
trail running
,
travel