When we head out the door these days, we rarely do so without our mobile phone. Not only is is a digital tether to all our various social media outlets (and Gearist!) but it's a camera, map, GPS, even a two-way-radio. It's not just a matter of convenience but it's become a matter of safety in many cases. Regardless of how you use your phone or any of the other battery-sucking devices, if you want to keep them going – especially in cold weather when batteries die super fast – you need a power source. With all that in mind, we were super excited when the Outdoor Tech Kodiak was sent to Gearist. Let's see if it held up!
Construction
Right out of the box the Outdoor Tech Kodiak looks like a high-tech tank of a device. Standing 4 inches tall (3 in. wide and 1.25 in. thick), it's size may lull you into some sort of false sense of delicacy, but you'd be very wrong. The outer shell of the Kodiak is made from a polygonal design, impact silicon that, apart from feeling oddly amazing in your hand, adds to the device's shock protection. To access the actual functional parts of the Kodiak you simply open the top flap which is the only gap in the outer shell. When not open, this flap serves to make the Kodiak water/dust/debris resistant to an IP67 rating which means that not only will it keep out all the bad things for electronics that I just mentioned, but it can also be submersed in up to 1M of water and still come out ready to rock.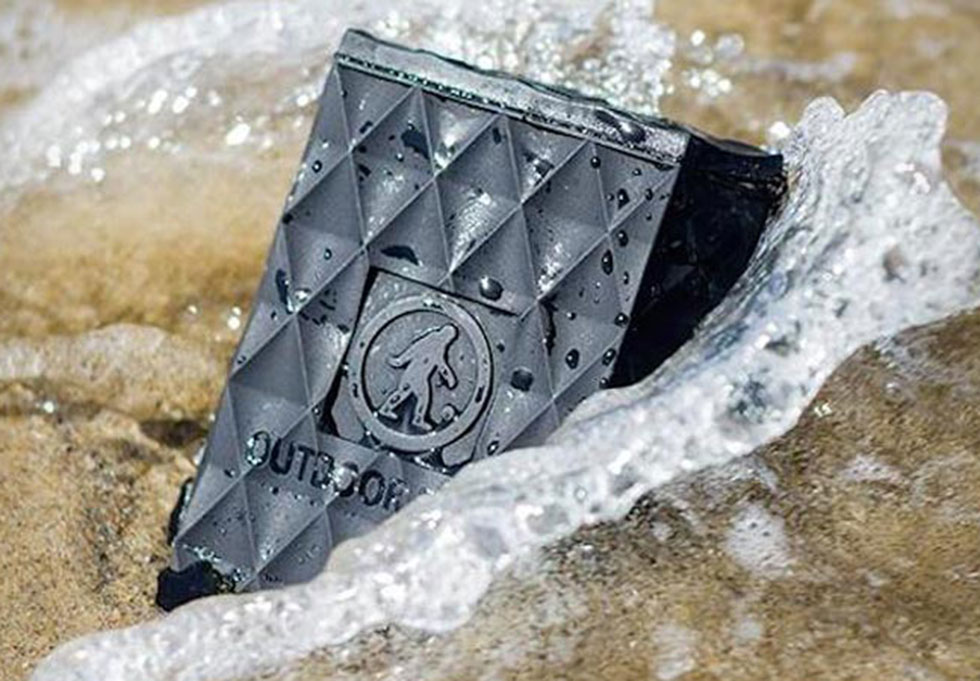 Under the flap the features are very simple and straight forward. First is a set of 4 LED lights that form a crescent around the status button. When the status button is pushed, these lights illuminate to give you an idea of how much juice is left. For a good ballpark number, each light represents pretty close to one full charge of a smartphone. On the other side of the face lies its two USB ports – a Smart USB port for outgoing power and a micro USB port for charging the battery itself. With the flap closed, just so you don't have to open it to check on how much power is left, you can simply press the status butt through the silicon top and the LED lights are easily visible through it.
Function
The Outdoor Tech Kodiak, while certainly not the only game in town when it comes to portable power banks does bring a capability that many comparable devices lack – the ability to charge larger devices as well. Its Smart USB port means that it's capable of "knowing" the charging requirements of the attached device. For instance, if you're charging your smartphone, the Kodiak throws out 1.0 Amps versus when you plug in your tablet (or anything else that requires a bit more umph) and it automatically switches over to putting out 2.1 Amps.
The 6000 mAh lithium-ion battery itself did a fantastic job in our testing of charging my iPhone 5 from about 3% to full power just about 4 times. It managed this in just under 2 hours in semi-airplane mode (wifi and cell turned off but bluetooth on). Charging the Outdoor Tech Kodiak itself took over 6 hours (can't be totally sure since I was sleeping) which was perfectly acceptable. A few times I actually combined the Kodiak with a solar charger that I've previously tested in order to top it off a bit when it wasn't in use.
Performance
I mentioned above the bulk of the Outdoor Tech Kodiak's charging capabilities so now I'd like to focus on its performance from a getting the snot kicked out of it point of view. First the claim of it being shock-proof: this is very true. On a more than one occasion I gave the Kodiak to my almost 5 year-old daughter to hang onto knowing that there are few tests that can match the destructive capabilities of my precious angel. Even with a baker's dozen drops tallied up when I finally gave it a reprieve, the Kodiak was still ready to go.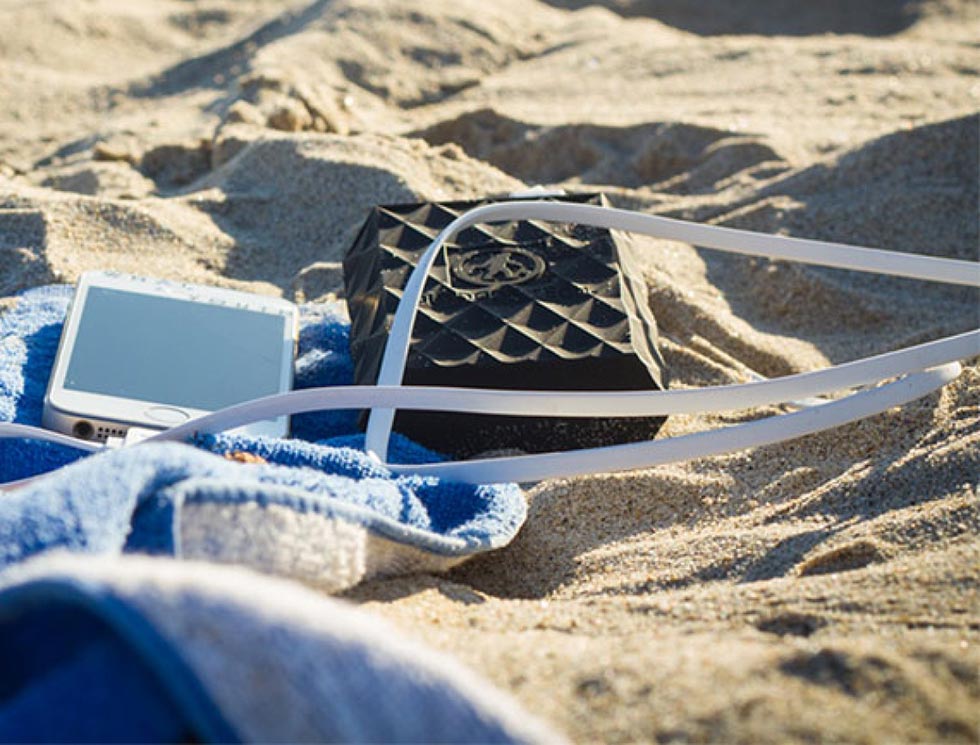 Another test that I put the Kodiak through was all about the cold. As we know, batteries perform like garbage when it's cold out. So, since it's winter in Colorado, I made a point of leaving the device in my car for about 2 weeks straight where nighttime temperatures routinely found their way into the single digits and below. During this time I didn't use the Kodiak and when I did finally allow the little guy to come in from the cold, I fully expected one light out of the four to light up at best (it was full when this experiment began). To my surprise, I saw four flippin' lights staring back at me. Even when I've been on the ski hill and in the back country, I've never seen any hint of diminished performance due to cold.
Overall
The Outdoor Tech Kodiak comes in at 9.4 ounces, which for a battery of that capacity and endurance is pretty good. I would like to see the Kodiak sporting more than one USB port on it for charging multiple devices when needs be (one of its soon-to-be-released big brothers does in fact have this). At $49.95 (check it out on Amazon HERE) and in a variety of colors including camo and all black (ours is red) this thing is a solid deal and doesn't necessarily need to be limited to outdoorsy types. With its ability to maintain a charge in adverse conditions over a sizable amount of time, this would be fantastic for emergency power in a glove box or any other place where you might find yourself in need. All in all, the Outdoor Tech Kodiak is a rock-solid power bank to keep you connected even if you beat it up a little (or a lot).
P.S. There are some more great things coming from Outdoor Tech that we can't wait to show you so stay tuned!
View More:
accessory
,
camp
,
camp & hike
,
Outdoor Tech
,
travel