We all have that one piece of gear that is our go-to. Whether or not we've replaced it along the way, that piece of gear is so solid, so consistent, and bulletproof that it becomes the workhorse of our arsenal.
Today, the shoe that I'm going to be looking at is just such a piece of gear. It's not necessarily something that blows you away, but it's such a solid performer that, even on bad days, you can slip it on and go for it.
Let's take a look at the Challenger ATR 3 from Hoka One One.
Outsole
As usual, let's start at the bottom and work our way up. Hoka has used carbon rubber in the heel and forefoot with the midfoot being exposed foam.
We saw this done on the Bondi 5 as well so we know that with this, you get the cush of the foam as well as a durable rubber where you need it the most. The lugs, which are not hugely aggressive, are 4mm deep.
I found the traction of the Challenger ATR 3 to be very solid and open to a wide variety of trails. However, for my taste, the traction and performance stand out more on smoother, more groomed-feeling trails that on technical and rocky/rooty terrain.
The Challenger ATR 3 is a good hybrid shoe with lugs that have done well on pavement for me when it's called for. Having run 100 miles in this shoe on both trails and pavement, I've found very little wear or breakdown of the rubber.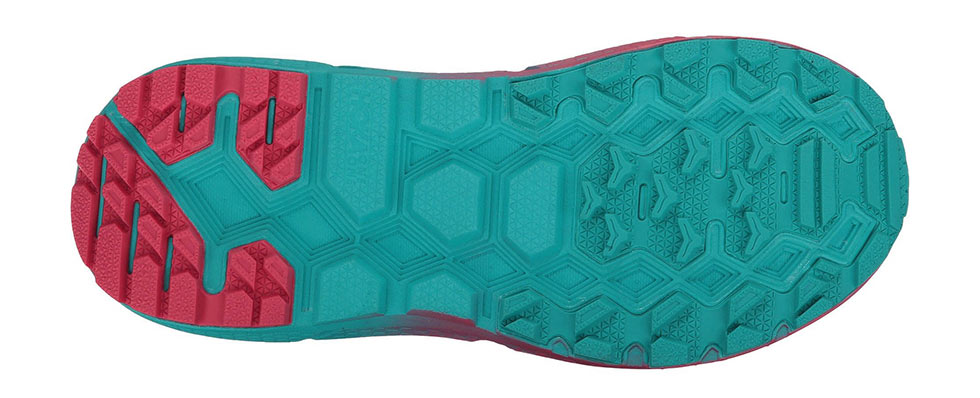 Midsole
With a stack height of 29mm in the heel and 24mm at the metatarsal heads the Challenger ATR 3 has a net drop of 5mm.
Like other Hoka shoes, the foot actually sits down in the midsole a bit in kind of a bathtub of sorts which adds a feeling of stability and security. The cushiony feel of the Challenger reminds me a lot of the Clifton, which I love.
I have also read that many nurses and people that are on their feet all day are enjoying the comfort and softness of this shoe.
When running long distances in the Challenger ATR 3, I really like the cushy feel along with the early stage rocker shape that keeps me moving forward. The less discomfort you feel the more miles you can go, and that's what I need from a shoe.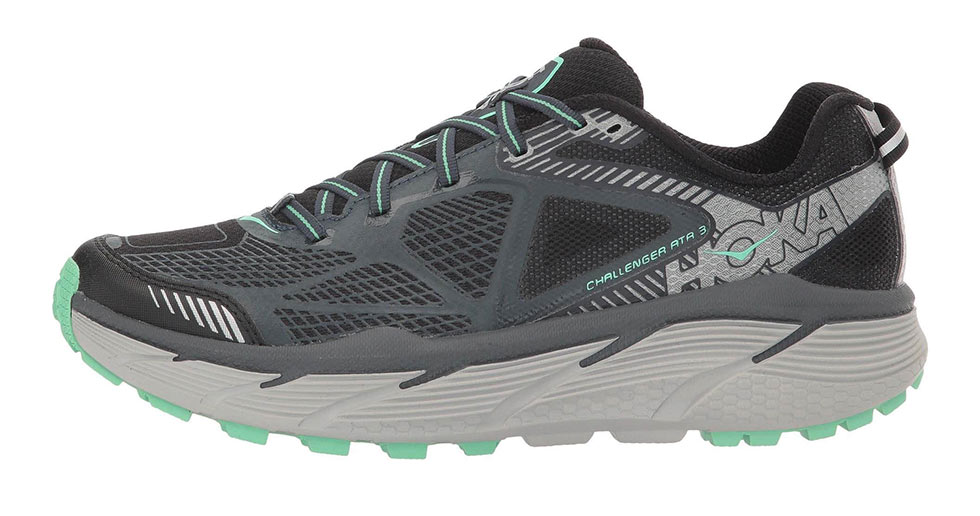 Upper
The upper is made of a dual-density mesh which seems to be a bit more burly than previous generations of the Hoka Challenger ATR. The overlay design is Hoka's 3D Puff Print frame and I've got to admit, I'm still not sure why it's called that as the print is completely flat.
The Challenger is reasonably breathable but on hot days, I noticed some heat build up so be aware and adjust expectations accordingly if your feet tend to get warm.
There is a good amount of foam cushioning around the heel cup and the tongue as well.
The durability of the upper has been great and I have no wear showing after my 100 miles apart from a bit of dust and such – but what true trail runner doesn't want to get their shoes dirty?
I have read that some people have seen excessive wear at about 100 miles, which is disappointing, but I haven't experienced that at all.
If I had any criticism of the upper, it's the lack of reflective features. There is the one small loop on the lacing at the front and a loop at the heel. I would love to see more especially with daylight hours lessening with the change of season.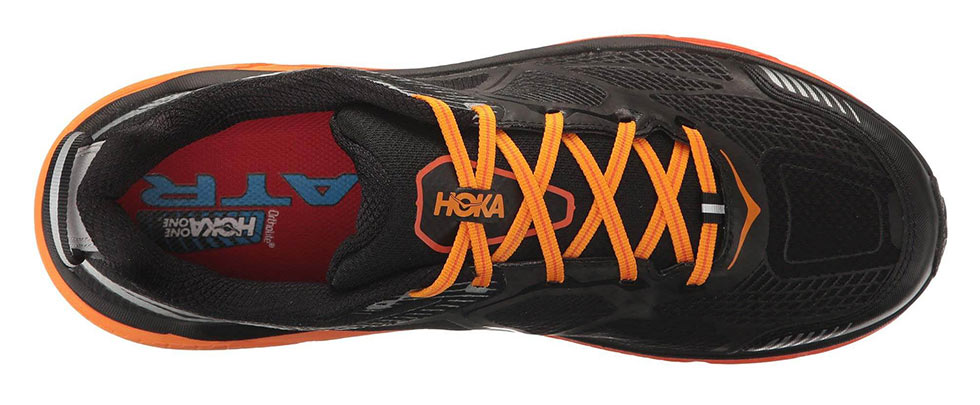 Fit
I always go up in size with my running shoes and with that in mind I do feel this shoe runs true to size expectations, although I have read where some people feel it runs a bit small.
I had compared the Challenger to the Clifton when talking about the midsole, but as far as fit goes, I have found the Challenger to have a little more room in the toe box which, being a very forefoot runner, I like.
The fit is great with a solid midfoot feel that doesn't require any adjustments once underway. The foam around the heel cup and tongue kept things in place without me having to use the top eyelet. I have a narrow heel so this was great for me in getting that locked down feeling.
Bottom line is that I was comfortable and comfort is good when going long distances (any distance, really).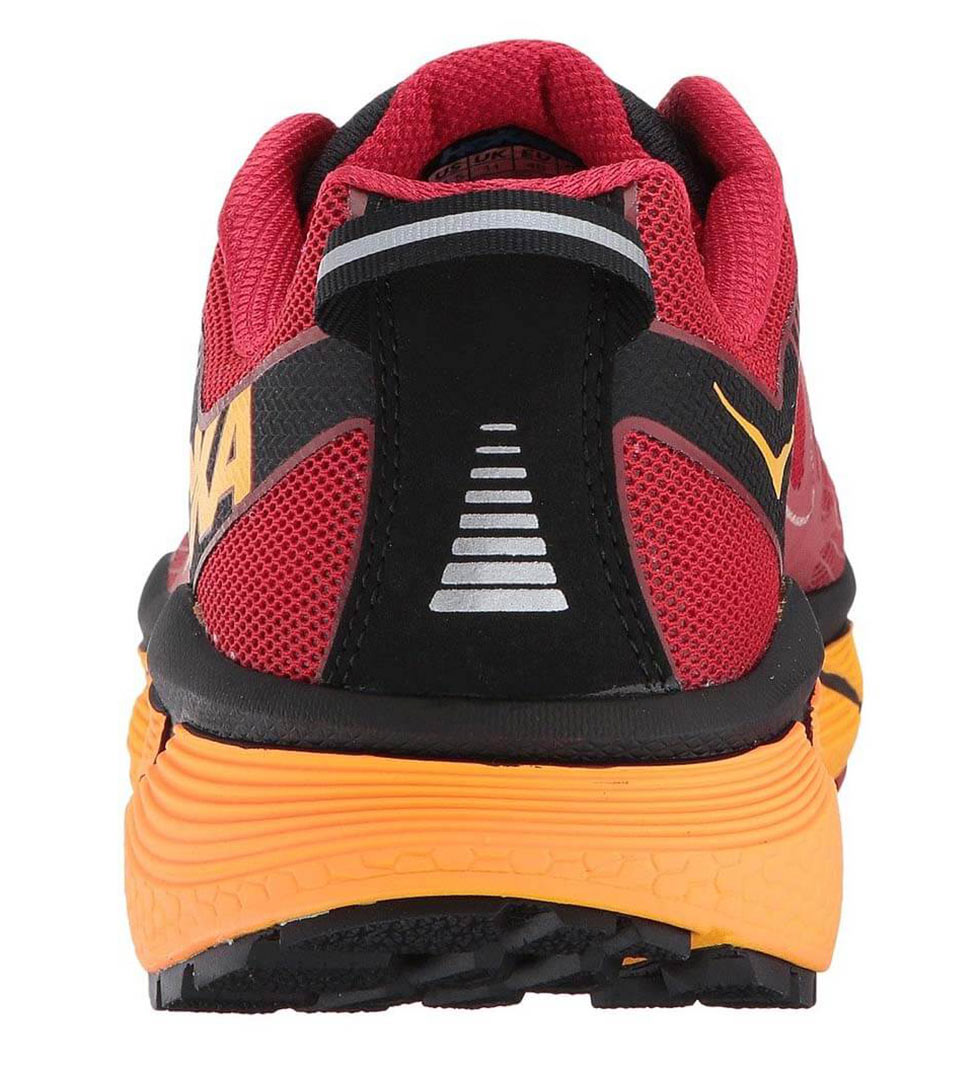 Ride
The Challenger ATR 3 is my first trail shoe from Hoka. I have found the ride in this shoe to be very stable and enjoyable.
I was a bit hesitant at first at the thought of running trails in a shoe with such a high stack height, but like my other Hoka road shoes, I was relieved to experience the same stable feeling.
I have run on mostly buffed-out trails here in Virginia in wet and dry conditions. The lugs are not very aggressive so they feel comfortable to me when I have to run on pavement to a trail from my house.
The ride is smooth, easy and grippy. Weighing in at 7.9 oz in a women's size 7 they are nice and light. Training for a few ultra distance races, most of my runs in the Hoka Challenger ATR 3's have usually been 10+ miles.
My feet are never sore and I haven't had any issues with blisters, etc. It's a comfortable, cushiony shoe.
Overall
The Hoka One One Challenger ATR 3 is the shoe that I grab when I need to go on long, slow training runs. It has also been in my drop bag in case I have any issues with my feet during an ultra race. I know I can rely on this shoe when times get tough and that is very comforting to have.
The Challenger may not be that exciting shoe that I want to go blazing up and down the trails in, but it is that "workhorse" that will get me through the miles in comfort.
It's a consistent guarantee when I need it and that is some fantastic peace of mind.
Where to buy the Hoka One One Challenger ATR
Available in both Men's and Women's specific versions, The Hoka One One ATR comes in at $130 originally, it's a bit pricey but we have found it for about $100. (Check out the links below).
The Challenger ATR 3 is a solid shoe that I feel is worth the price- A consistent training shoe that will get you through the miles in comfort.
View More:
footwear
,
Hoka
,
run
,
running shoes
,
Terrex
,
trail run
,
trail running shoes