Always on the search for the perfect pair of multipurpose baselayer yoga pants or leggings, I was pretty excited when lululemon sent over a few of their Wunder Unders for us to try out. I am going to tell you up front that we are big fans of these pants, but depending on your body type or the activity you intend on wearing these pants for there are a few differentiations you should know about.
Materials and Construction
Regular Luon v.s. Full-on-Luon: As indicated in the photo above Wunder Under A is made from the regular luon and, Wunder Under B is made from the new full-on-luon fabric.
The lululemon signature regular luon fabric is a combination of nylon, polyester and lycra and is soft and breathable like cotton but has four-way stretch like spandex. The overall effect is that the regular luon is cozy soft and feels like a second skin.
The Full-On Luon (Amazon Link) is a tight-knit version of the Luon fabric which gives incredible support and coverage and feels more like a pair of spandex. The full-on luon has added lycra fiber that moves with you and keeps its shape. Both fabrics wick sweat and are quick dry and can be worn on their own or as a baselayer for colder activities.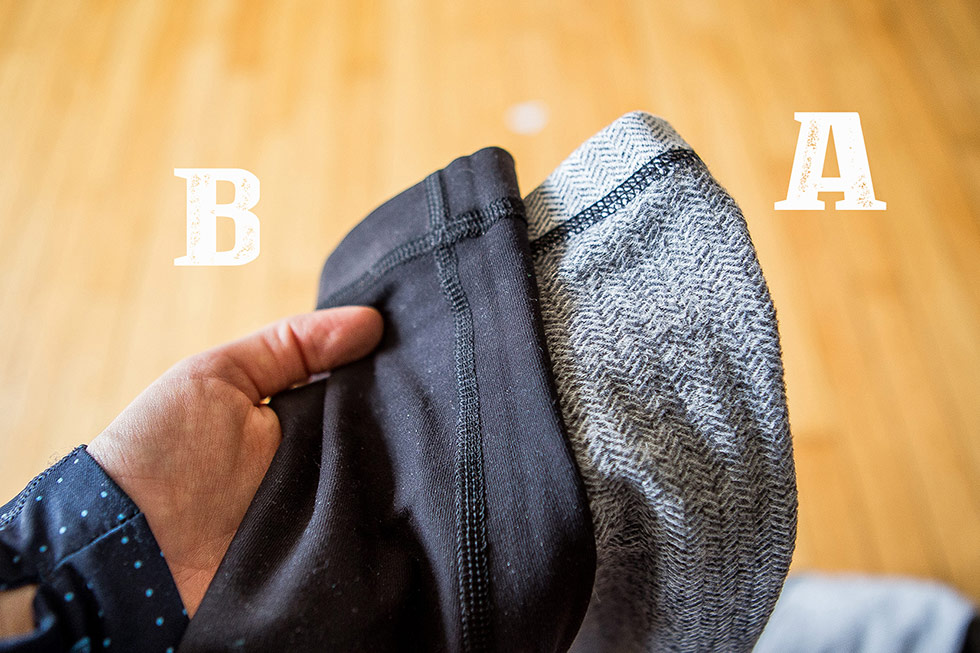 Roll Down Waist v.s. Mid Rise: High or low, the adjustable waistband on the roll down Wunder Under (A) can be worn up for more coverage or folded over for a hip-hugging feel.
The roll-down pant has Minimal seams on the waistband which means it lies smooth against our skin, no matter which way we wear it. The mid-rise pant (B) has a wide, smooth waistband that helps eliminate any rumples at the waistline regardless of size and has a signature slit pocket in the waistband perfect for keys, cards or cash.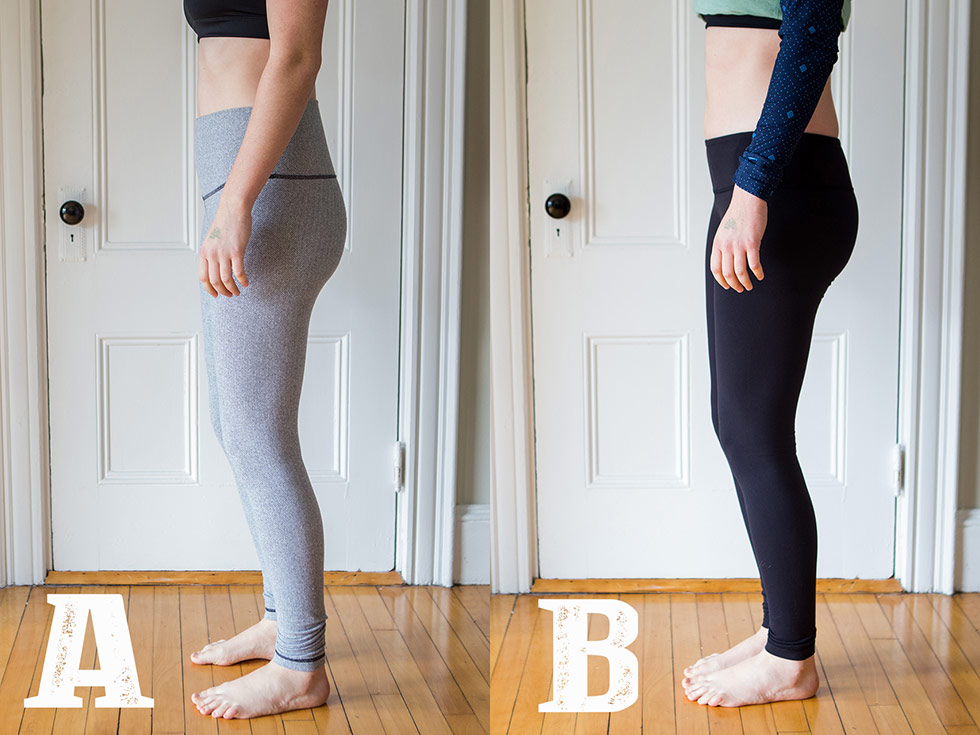 Both pants have a long inseam perfect for tall gals, and lululemon offers complimentary hemming for shorter ladies.
Fit and Wear
Where to begin!? I've worn both of these pants as a baselayer cross country skiing and snowshoeing this winter and preferred the regular luon and roll down waist for those activities as it felt like a better insulator. Wearing the roll down waist high eliminated any possible chilly drafts around my midsection.
However, as spring has recently arrived and my activity gears have shifted into running, biking and more yoga, I've found that I prefer the full-on-luon material as it hugs my legs tighter during more vigorous activities. The small pocket perfectly holds a card or keys, although it doesn't have a zipper so I don't recommend cartwheels or handstands.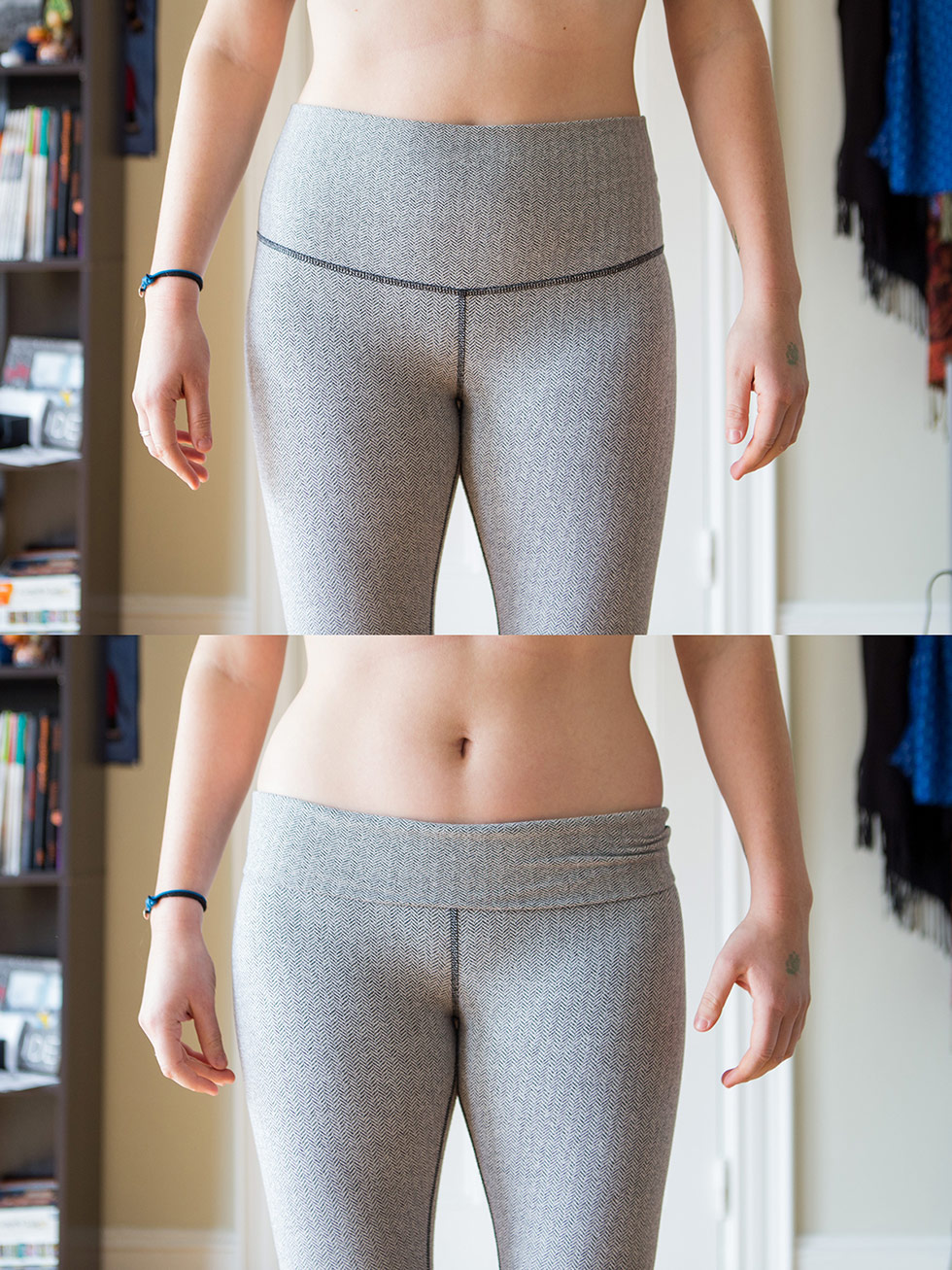 The versatility of these pants is also noteworthy. I wore mine the other day from the gym, to a photo shoot, and then threw a dress over them for happy hour with friends all the while they held their shape and stayed stink free.
As someone with frequent gut problems, the roll-down waist worn high is also incredibly satisfying when I am having an angry belly day; the super soft fabric just feels like a hug on my bloated, crampy belly.
My one key complaint about these is how careful you need to be with them in the wash. The luon material is a "strong" material and attracts "weaker" materials like cotton thus resulting in a lot of pilling when washed with say, towels and cotton t-shirts.
However, wash them with like-minded materials on cold and hang them to dry and you shouldn't have much of a problem.
The area in between your upper thighs with also pill a bit if you use these for running or other activities where there might be some rubbing in that area. If your problems with any lululemon products exceeds what one might expect out of normal use- contact their customer service team and they will sort you out quickly as they stand behind their product 100%.
Overall
After having tested both fabrics and waistlines I can say with conviction that the Wunder Under might be the most adaptable garment in the lululemon catalogue and definitely the gets the most use out of any of the active wear in the Gearist closet.
At $82-$92 (see below) the lululemon Wunder Under, regardless of which material or waistline you get, is an investment, but is definitely a pant where you will get the most from your dollar due to its versatility. [photos by: gpowersfilm.com]
UPDATE: Since original publication there have been some positive updates and new models. Check them out through our Affiliate link below.
View More:
clothing
,
Lululemon
,
pants
,
yoga