Earlier this year I learned the hard way that my stomach does not agree with Gluten. This little fact is all the more evident when I am out running since , no matter how smooth my stride (which I tend to think is pretty smooth), there is quite a bit more jostling than in say, cycling. So, I had to find something that would provide the energy that I needed but leave a lot of the things that might cause some turmoil behind.
Honey Stinger came to my attention a while ago after I'd been told by some friend that one of their favorite ways to fuel during a race was to just grab honey packets from McDonald's and use those. So, I gave that a try and I actually really enjoyed it. Let's face it, honey is one of those things that we have all had and we all recognize the taste, so no curve balls thrown there. But the energy is what Honey Stinger has aimed to harness, all the while throwing in some new vehicles for natures gold and some flavor twists.
Oh, also, some guy you may have heard of is part owner of this Steamboat Springs based company. In fact, this guy was passing out samples of Honey Stinger in the peloton at this year's Tour de France, quite the salesman! His name, Lance something or other…oh right, Armstrong (aka Juan Pelota).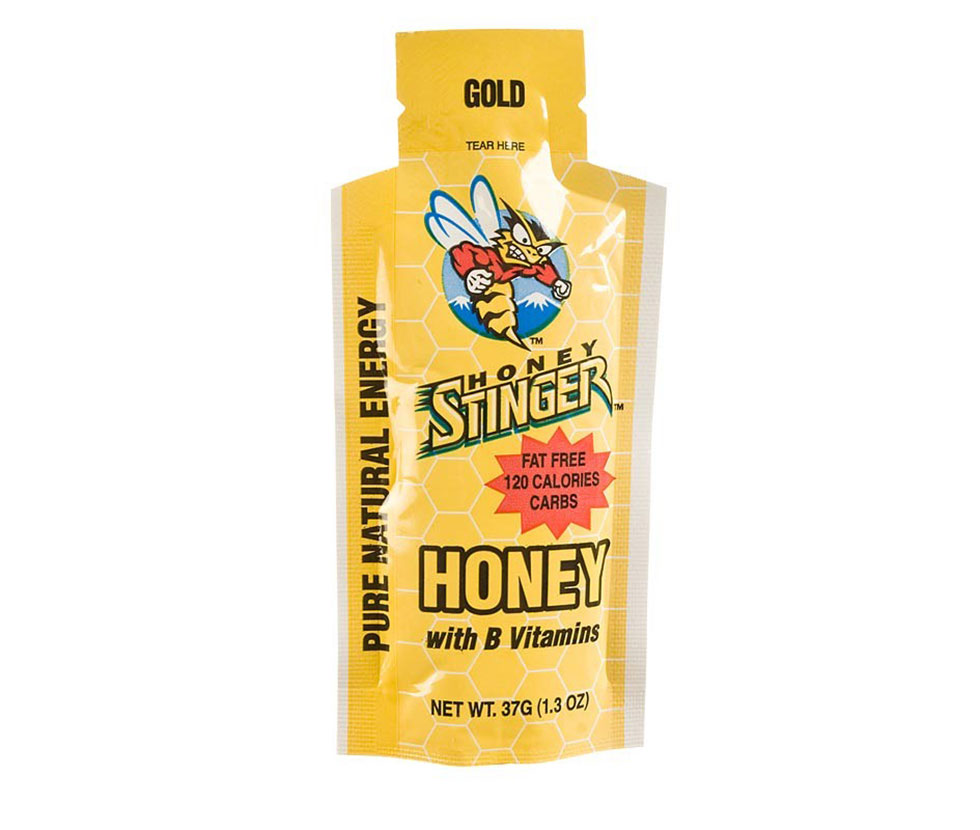 Honey Stinger Energy Gels
Alright, first things first. I think the word "Gel" is a bit of a misnomer for these guys, unless of course you consider honey a gel. The Honey Stinger Energy Gels are , well, honey. HS has taken the natural, slow burning, high output energy that comes from honey and has added a couple other things essential to training and racing and activity in general to the mix. These things include sodium, potassium and magnesium which, for those of you that sweat (see: pretty much everyone on the planet) are essential electrolytes that allow your body to absorb the fluids you take in.
Now for flavor; At the heart of the Honey Stinger lineup is the "Gold" flavor of gel. Yep, good ol' honey, and it is delicious. Moving down the flavor line is banana, which happens to be one of my favorites. I will take a second here to say that, as with a lot of gels, you may want to have some water nearby to kind of wash it down. Not that the flavor is bad in any way, but you never know how throwing back a packet of honey or any gel is going to make the inside of your mouth feel. Personally, I just take a sip of water because it helps with the absorption of the gel, but that's just me.
Back to the flavors. Honey Stinger also offers up chocolate, strawberry and ginsting (get it?). All the flavors are a welcome addition to the monotony of water and sports drinks and are very lively. The strawberry and ginsting use kola nut extract which gives the honey a bit of a "darker" honey flavor. It is the kola nut extract in these two flavors that also brings 32mg of caffeine to the party in these two flavors for an extra kick in the pants.
I really enjoy the Honey Stinger gels. They are tasty and they deliver energy naturally without a crash. Little tip; they make a great sweetener for tea or coffee and give it a little flavor twist. They also work really well as a supplement to a shake or smoothie.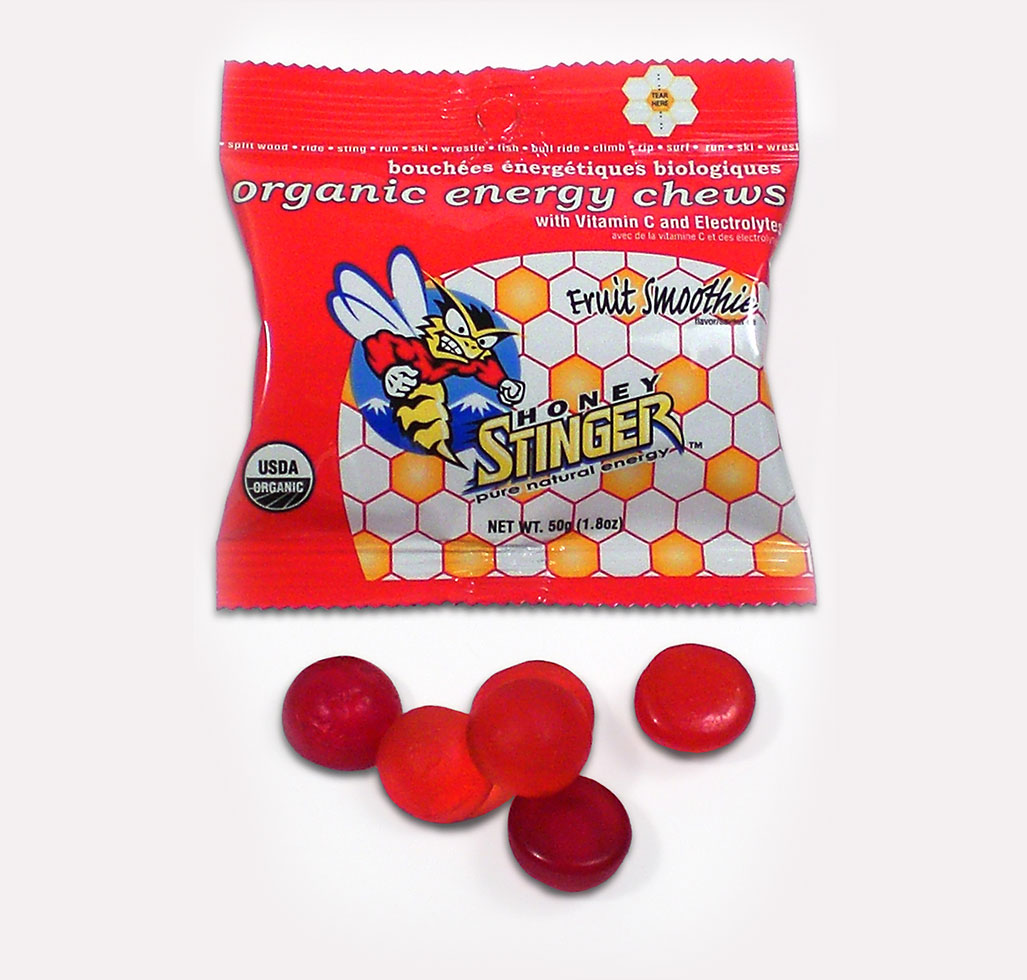 Honey Stinger Organic Energy Chews
My wife is quite fond of calling the Honey Stinger Organic Energy Chews "Gummi Bears". They're that good. Made from honey and organic tapioca syrup, the chews are the first of their kind to have naturally occurring fiber and protein. From the HS website:
<blockquote>Made with USDA certified Organic ingredients. Gluten-free, dairy-free, non-GMO ingredients. 0g Trans Fats and no partially hydrogenated oils. 100% RDA Vitamin C along with 1g protein and 1g fibre per package.</blockquote>
HS chews come in Fruit Smoothie, Cherry Blossom and Pomegranate Passion Fruit flavors, all of
which seem to have and addictive chemical in it that makes you crave it fortnightly (credit: So I Married an Ax Murderer [LINK]). Not really of course, but it's a good thing these delicious little buggers come in bags that limit your intake!
Like the energy gels, the chews are easy to carry and hold up well in heat. Using honey, they provide the sustained energy burn and performance enhancement that the gels bring. HS chews are also a great organic snack for kids and adults alike.
To sum up…
Honey Stinger is a great group of people that are serious about making an awesome product and that seems to be where the seriousness ends and the fun begins. Their blog, "Stinger Buzz" [LINK] gives frequent updates on the exploits of Team Honey Stinger. Look out for Honey Stinger and it's products to be putting out more great, healthy products while having a bunch of fun. Maybe along the way, you'll get to see that Lance guy doing a triathlon or two powered by Honey Stinger!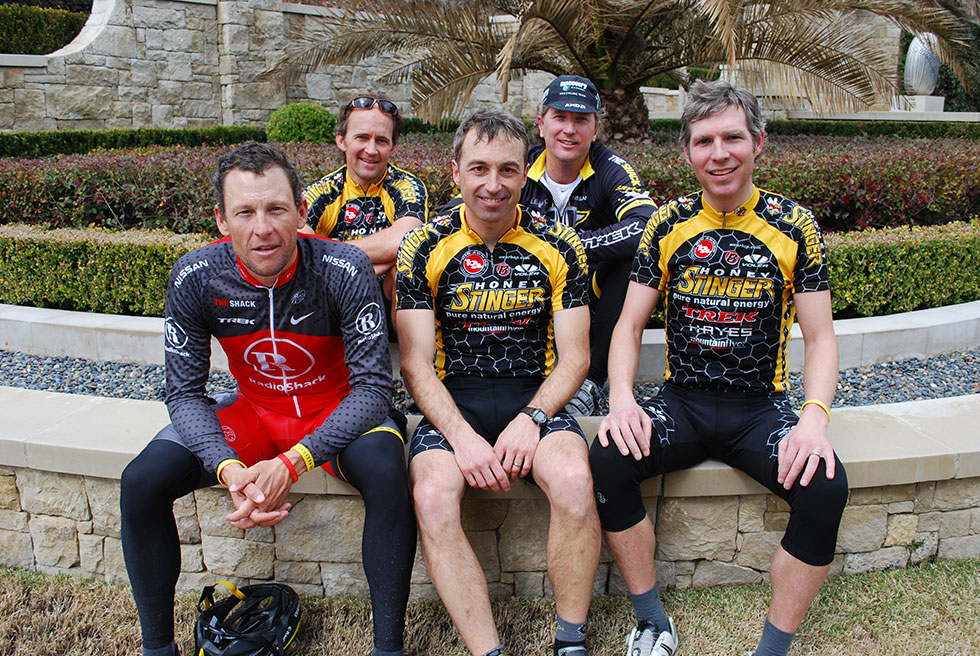 View More:
Honey Stinger