The Elite Barrier Convertible Jacket from Pearl Izumi is not very unlike the Elite Barrier Vest we recently tested. In fact, they share quite a few similarities, with both meant for cooler rides where chilly wind or rain might be present. Unlike the Elite Barrier Vest, the Convertible Jacket has the added benefit of – you guessed it – being able to convert from a jacket to a vest. Whether you only ride or do many activities outdoors, you're sure to find plenty of use for this waterproof jacket.
Materials and Construction
Nearly every wind or rain jacket will have a polyester construction, and the Elite Barrier Convertible Jacket is no different. It's a soft, lightweight polyester (called "Elite Barrier" fabric), though, so it's easy to roll or fold up the jacket into a small volume. This is especially convenient when you want to take an extra layer with you, but not necessarily wear it from the get-go.
The jacket has a full-length front zipper with a really sturdy pull-tab. On the inside is a draft flap, a plastic-reinforced tab of fabric that sits behind the zipper. This is an additional element to seal in warm air and prevent further wind from slipping in.
What I love about the Elite Barrier Convertible Jacket is the many pockets it features. The two hand pockets both have zippered closures that prevent further rain from seeping in, and at the back is a larger mesh pouch also accessible via this same kind of zipper. Instead of having storage only on your backside, the hand pockets make it possible to store something like a phone in a more accessible location, while still protected from water.
Pockets aside, the main attraction on the Elite Barrier Convertible Jacket is the removable sleeves. Around each armpit is another zipper that starts just beneath the collar bone at each shoulder. What's great about this is that you can also just unzip part way if all you're looking for is just a little more aeration. Pull the pull tabs down and back and you fully remove the sleeve.
To clarify, what you end up is not two separate sleeves, but rather one piece where the sleeves are attached via a layer of fabric that extends across the back and also temporarily attaches to the back collar of the jacket and at the upper back via 4 small patches of velcro. Underneath this layer of fabric is a wide mesh area that allows for a lot more breathability when the sleeves are off. Once it is off, the back pocket is a great place to store the sleeves while you're out riding.
However, when it comes time to wash the jacket, it's best to reattach the sleeves to prolong the quality of this outer layer.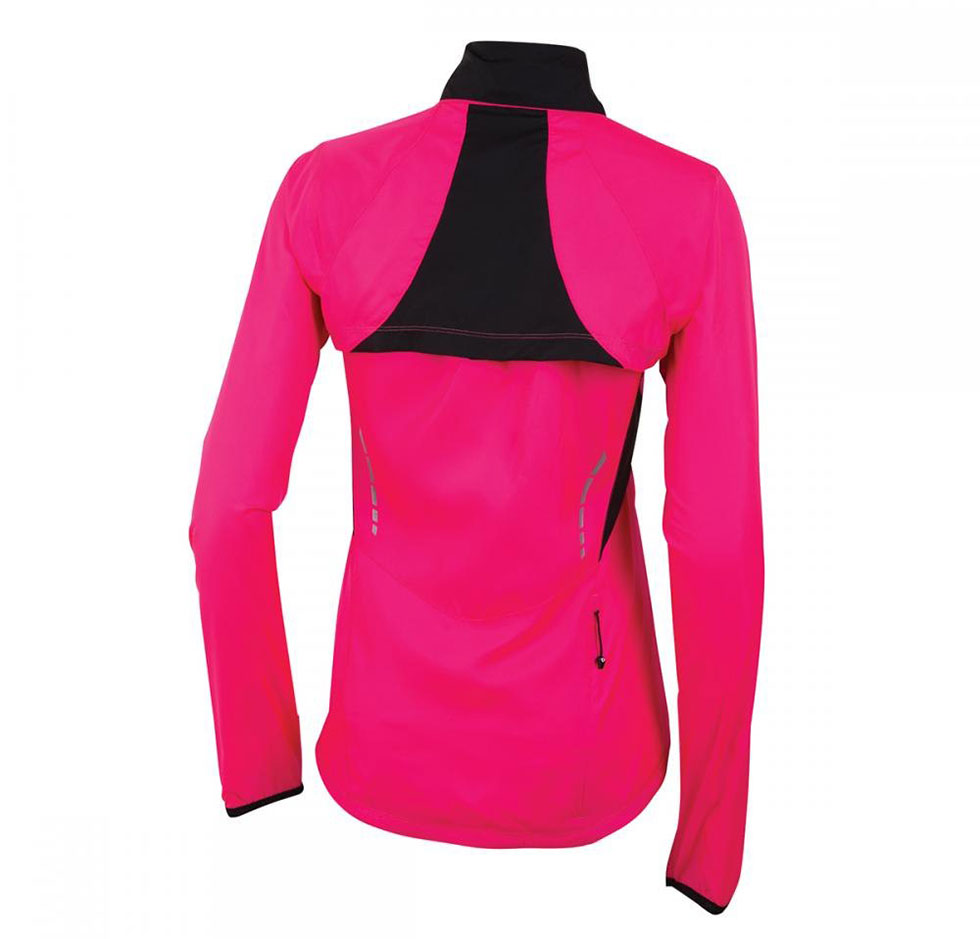 Performance
The Elite Barrier Convertible Jacket was obviously designed for riding. Long sleeves with cinching at the front meant that your arms stay covered even when you stretch forward.
A substantially longer backside (compared to the front of the waist) also covers your lower back at all times. It can also be cinched on the left side, a design that's operational with one hand. It may seem like a small thing but a well-designed jacket collar can make a huge difference in how warm you feel.
The diameter of this collar was perfect for me; zip the jacket up fully and you've got a nice layer of fabric sitting enveloping your neck, but not tightly.
All of these features are designed to keep you warm, and though you have the option to remove the sleeves when you get too warm, the thin polyester material and the mesh upper back really help to keep you cooler longer. Finally, reflective overlays are present on the backside and around the arm holes, so when the jacket is just a vest you get some more obvious reflection.
Fit and Wear
If you've seen some of our other latest reviews of Pearl Izumi cycling gear, you'll know that the sizes tend to run on the small side. One size up from what I typically wear seemed to fit me very well. The jacket leaves a bit of room to move, but also to wear over another layer. It also has a semi-form fit, which really means that it has a great cut for a jacket.
Overall
Now that I've gotten the chance to test the Elite Barrier Convertible Jacket, I'd put it on the must-have list for winter and spring riding. The jacket retails for $110. If you're from the States, this is a very common and acceptable price for some good-quality cycling apparel. Compared to the Elite Barrier Vest we recently reviewed, the jacket is only $30 more, a worthwhile spend to have two tops in one.
View More:
Pearl Izumi