If you pay attention at all, or happen to have been caught in an errant glint of bling-blindness, you've probably noticed that watches are now large. This is likely just a nod to the fashion gods, but for those of us whose eyesight is less than perfect, it's a not entirely unwelcome paradigm shift.
Out of the box, the very first thing I noticed with the M1 Deep6 was is weight. However, weight seems to be a misnomer…maybe mass is a more accurate descriptor. The watch feels not only weighty in your hand, but very solid and well built. To be honest the weight was slightly concerning as I though it would feel as though I was wearing a boulder on my wrist (more about this in a minute). Though not as large as some other watches, the M1 Deep 6 case still comes in at a substantial 48.7mm wide and 13.3mm high. The weight (with included band) tips the scales at 124 grams (4.4 oz.) but I think it's how that weight is balanced that affects the true feel of the watch.
Being that this is a dive watch, the unidirectional bezel has a very smooth action with clearly defined positions with well marked five minute increments. Numbers inside the watch are clearly marked which fits in nicely with the "oversized" moniker. Around the face of the watch, sloping up toward the bezel are clearly marked numbers for 24-hour time (military time) and the "exploding" date is easily readable. The screw in crown is easily adjustable though not loose at all and retracts well within the diameter of the case so as to not compromise comfort.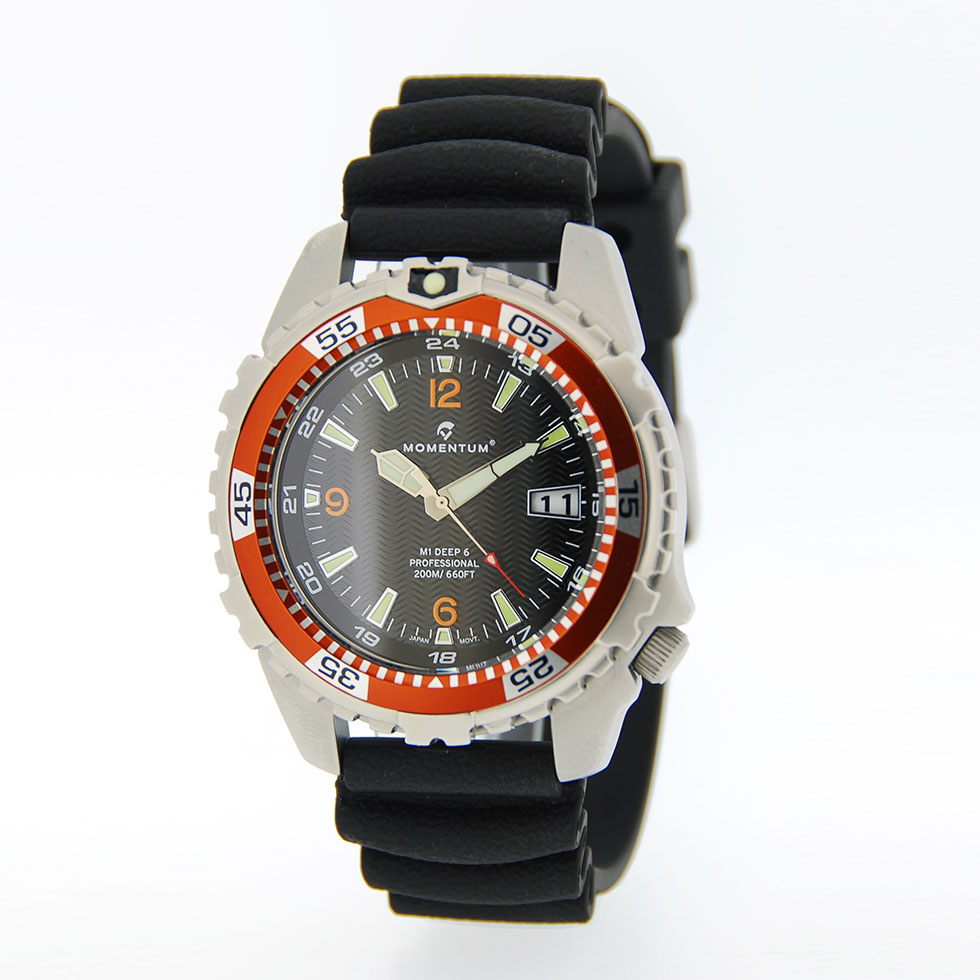 I am not a diver (yet) and on top of that, it's not exactly dive season in the Northeast so I was unable to put the M1 Deep 6 through it's true intended performance paces. However, I can say that this watch was rained on, sweated on, showered in, swum in and I'm pretty sure bled on and it's performance never wavered. As for the weight I keep mentioning, I was really surprised at how well the weight disappeared once I put the watch on. The balance and solid construction kept it very well set on my wrist regardless of hits size. I will say that on someone with a smaller wrist the watch may look a bit out of place, but if it's a matter of taste then I guess it's all subjective.
The one drawback I found with the M1 Deep 6 is it's band. The included band is a dense rubber model that differs from the band in the picture on the company's website (though to be fair, there is a disclaimer specifically addressing this: Note: Due to production variables and product improvements, all watches and bands may not be exactly as shown.) The band made the watch difficult to get on and off at times and almost seemed as though the buckle was not made for the band. It should be said though that there is an available stainless band.
Despite the band issue, this watch is extremely well built and it's action seems accurate and quietly elegant. Regardless of it's size, the M1 Deep 6 is not ostentatious or over the top. Their extendable 2/4/6 warranty makes for a very wise purchase which brings me to price. Though I am not a watch collector to the extent of many people, I can recognize a great price when I see it. For it's functionality, looks and constructions, the $140 (Amazon) price tag on this watch comes in WELL below what I would expect to see.
[UPDATE: I spoke to Mike from Momentum watches and he gave me the skinny on the band:
The stock band is the diver rubber (most of our pictures show this band, as it's predominantly sold as a dive watch).  This band is a bit longer and can fit over a wetsuit.  As I figured you don't really dive and would mostly use it as a sports watch I sent you a slightly shorter natural rubber band we sell on many of our sport outdoor watches (Logic, Cobalt, etc).
View More:
Momentum