Two years ago, Nathan introduced their next generation pack line, named for Rob Krar who assisted in the development of it. They called the line the VarporKrar which came in two capacity choices and was embraced by so many. This is the next generation version and as expected, updates are a good thing. For 2019, Nathan's VaporKrar hydration pack has enhanced the little things to make the pack a real trend-setter.
For me, the original VaporKrar had it all, their now signature compression fit so NOTHING as in nothing bounced up and down while I ran in addition to multiple pockets that could hold an amazing amount of gear. I participated in The TransRockies Run in Colorado and had to, or should I say choose to, carry such things as a small first aid kit, emergency blanket, extra arm warmers, a hat, gloves, a small bottle of spray on lube, a phone and just enough stuff that …just in case I was caught in a storm at 10,000" or had a blister on mile 20 I was covered. All of this and more, did I fail to mention a 1.5L bladder and my iPhone and food…and yes there was some empty space left!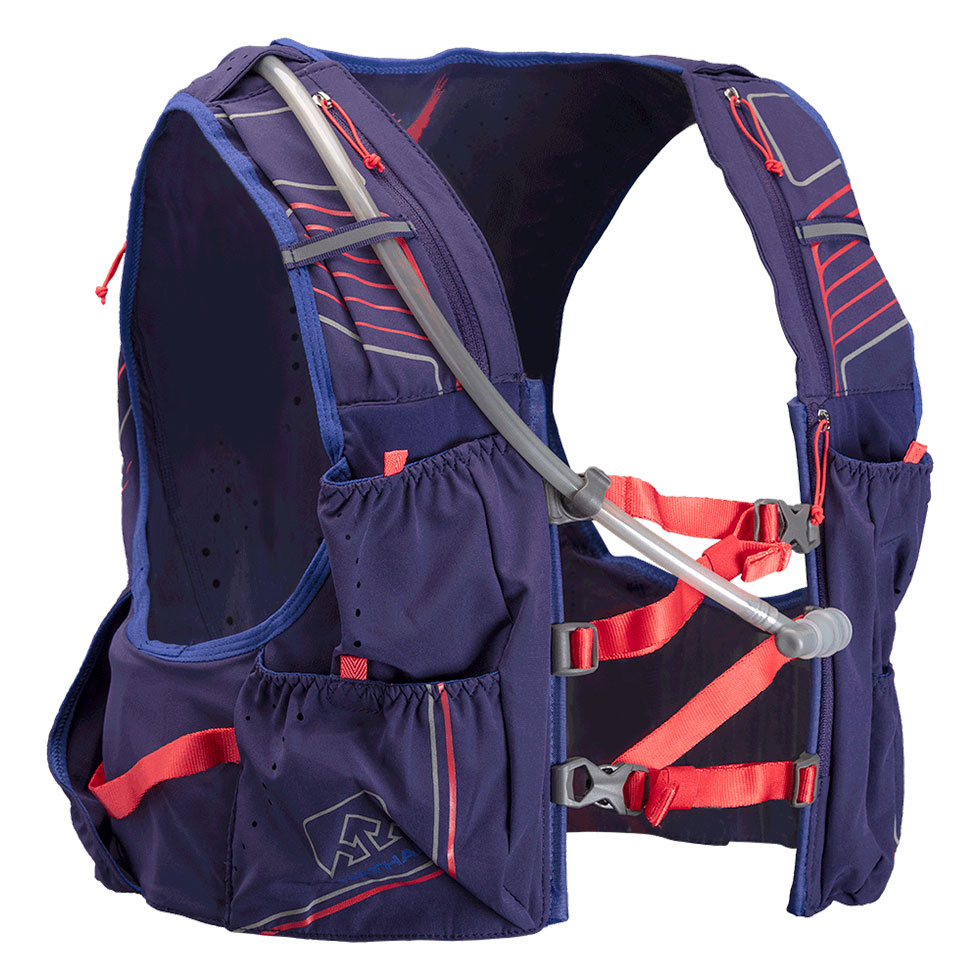 But wait, I mentioned little improvements in my opening statement! The original version only accommodated a ~300ml soft flask in each front pocket. I personally would have preferred 500ml or more space and an additional space for my iPhone. I had seen Nathan-sponsored athlete Michael Wardian use what looked like the same pack I had but with bigger bottles.. of course a sponsored athlete's gear could have been slightly altered or tailored to fit. I had been trying to cram in a larger flask to no avail. Now for this version, 500ml+ flasks (which are not included) fit easily in the new larger front pockets. Nice job Nathan. Now about that iPhone yes, Nathan has added a zippered pocket under one of the larger pockets which is the perfect spot. Of course you can put anything you want zipped up in that pocket but since it fits my iPhone, why bother? To me, two front flasks and the phone tucked away has worked flawlessly!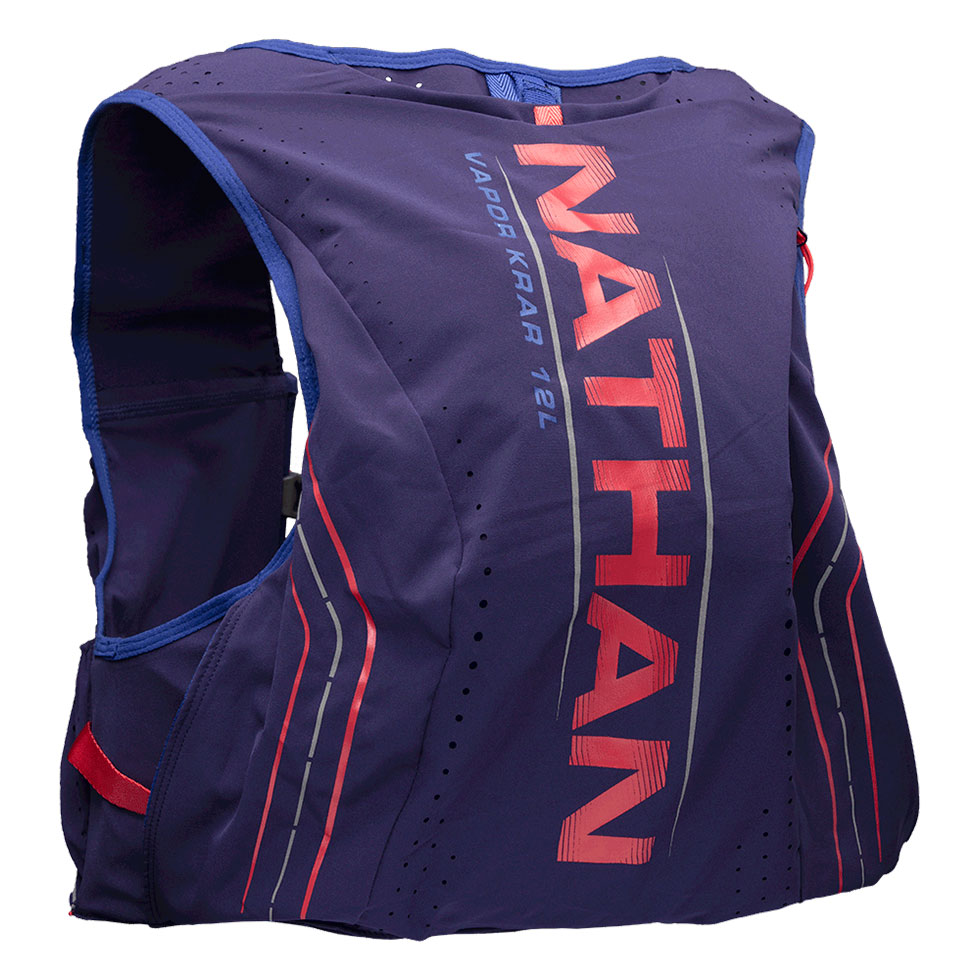 The VaporKrar 2 is set up so as to bring you full circle back to what is this pack all about. Starting with six front pockets, you get two small, upper-placed pockets for things such as salt tablets, room for a lip balm or just about anything that is still small but you want within reach. This is also where a safety whistle has been placed in case of emergency. Just below these pockets are the double pocket combo where the deep, taller pocket, designed for 500ml+ flasks or similar items can go with a smaller pocket attached below for smaller items like gels/bars/waffles and such. Both sides of the vest are this way. The Left side of the vest (users left) has a zippered water repellent pocket that is meant (to me at least) for a phone/slim camera/personal item to be safe and within easy reach.
The rear of the VaporKrar 2 is where the "stuff" goes. A nice pocket with a built-in holder for the supplied 1.8L insulated bladder which tucks nicely to your back. Layered on top of this pocket is a half-the-height-of-the-bladder space pocket.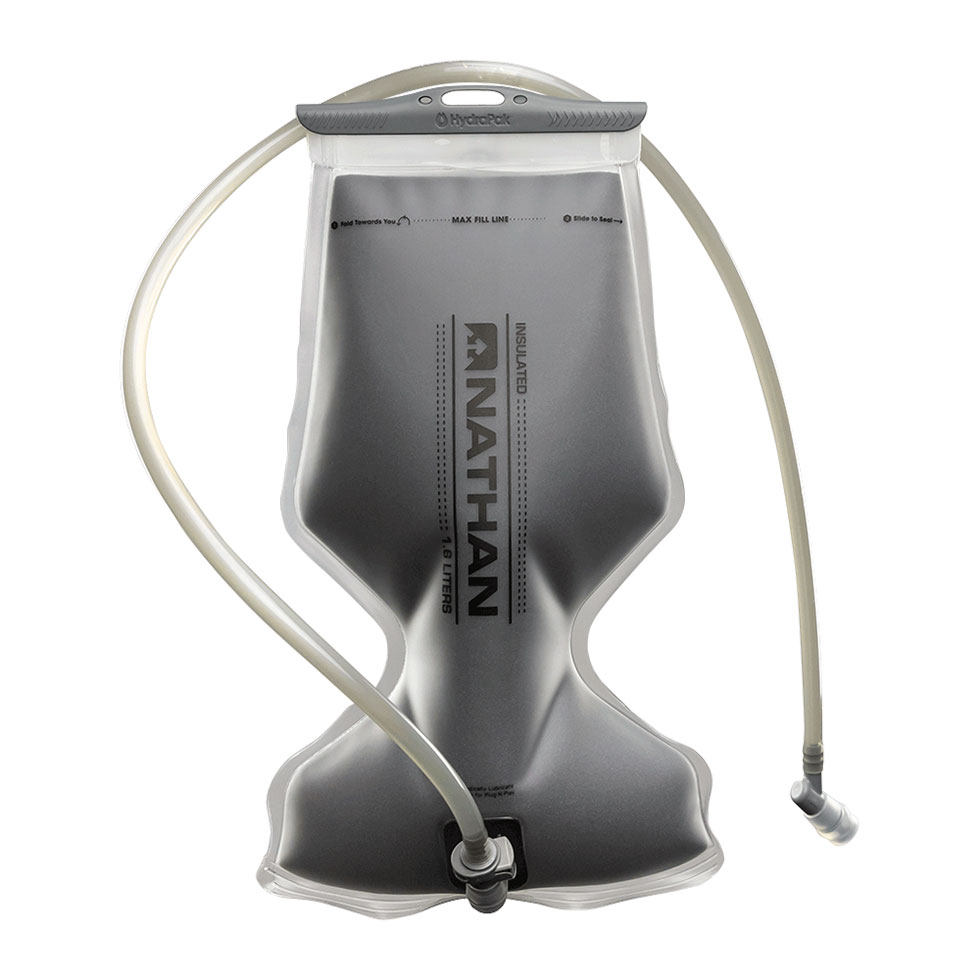 I tucked a headlamp, extra batteries and a small jacket in it easily. Layered on top of the that is full length outer zippered space where one can easily cram in another jacket, pants, a hat, and just stuff! All this is held firm by the compression fit of the pack. There is a built-in hook to hold your keys as well. And yes another pocket, along the bottom rear of the pack is a smaller niche that you can reach through from either side of the bag that I used for my rain pants and jacket storage but could fit – and is probably meant for – poles. I actually never knew that Generation 1 of the VaporKrar had this spot till I looked at mine. Oops! I sure could have used that space instead of holding the poles all day!
Fit
As you can already tell this pack fits nicely. In the front is a cross sternum strap method that can snug tight or stay loose. It's very easy to adjust and to also move on a track higher or lower to alleviate any stress or pressure point on one's chest. On each side of the rib cage is an adjustable strap that cinches the back tighter to the body as well. So if the pack is less full, cinch it up a little and if loaded up let it out while also using the front straps to maintain the tautness to make the pack balance for you. Part of the beauty in this is in its simplicity.
Now the big thing to me is the sizing system. Nathan uses and shows on its website and on the pack is a simple measuring guide to get you in the right pack. I'll be straight up. Im 6"1 170 pounds and a lean-ish runner. I am a medium or large, based on height and what I think is universal. I am not a small – at least not since about 10th grade. On the Nathan though, I am a small. They were kind enough to send me a small after the medium I had initially could never be made comfortable. Side note; I was a medium in the first generation of this pack. Now in all fairness, the sizing system is accurate as posted and the small fits me well. But, I'm just saying that not everyone knows things can be tried and exchanged these days and a tall guy should not have a size small in their vocabulary. This is a pet peeve of mine, compression tight companies do it as well… I know you're an XLG but you should be in our XXS tights. Just call them medium or large.. adjust for us please! Again, go by the Nathan sizing system, it's accurate it just feels weird to think I'm a small.
In a nutshell, the Nathan VaporKrar 2 pack is money. Stuff it, pull the straps , nothing jiggles, nothing bounces. It all stays nicely on your body. If you're using a bladder system, the hose threads though the shoulder (on either side), popping out at the perfect place to not hit your face and a built in magnet holds the hose secure on the pack. I always cut the hose so the valve is about three inches below the magnet holder so it never flops about. Easy to do. The front flasks go right in the pockets and do not bounce around at all. As you drink from the flasks and the bottles get smaller they just stay put in the pockets, no bounce. No odd movement.
For me I have poor shoulder mobility so I can't say that you couldn't put poles or a camera stick in the rear of the pack without taking it off. I've seen people do it, I just can't. So for now, my poles have been in the wrap around open space. Again – easy and out of the way. Nothing will ever be perfect for anyone but the VaporKrar is pretty close to it for me.
At $199, retail is a bit high to me but the bladder is insulated, and I can see having this pack for many years to come. It works well for a short excursion and, as I found out doing live coverage at Western States 100 earlier this summer, it holds a lot of gear. I had multiple clothing, nutrition, lighting options, notebooks and more crammed into it not knowing if I was coming back to the car, freezing at the Escarpment or sweltering in the canyons or pacing someone from Green Gate to the finish, it held it all and come to think of it, Now I know where I left something…in the pack! Check this pack out. And yes they have a ladies version built for you that offers the same storage but fits the woman's body.