Hello autumn! As summer is coming to a close, and the season of pumpkins, crunchy leaves and cool evenings is upon us,'tis also the season for some back to school shopping! Whether you are entering high school, heading off to college or simply transitioning into the fall season at your job, fall is a great time for a new laptop backpack. Enter the Patagonia 25L Black Hole backpack perfect for carrying your laptop, books, snacks and waterbottles while keeping the items inside safe from autumn drizzle.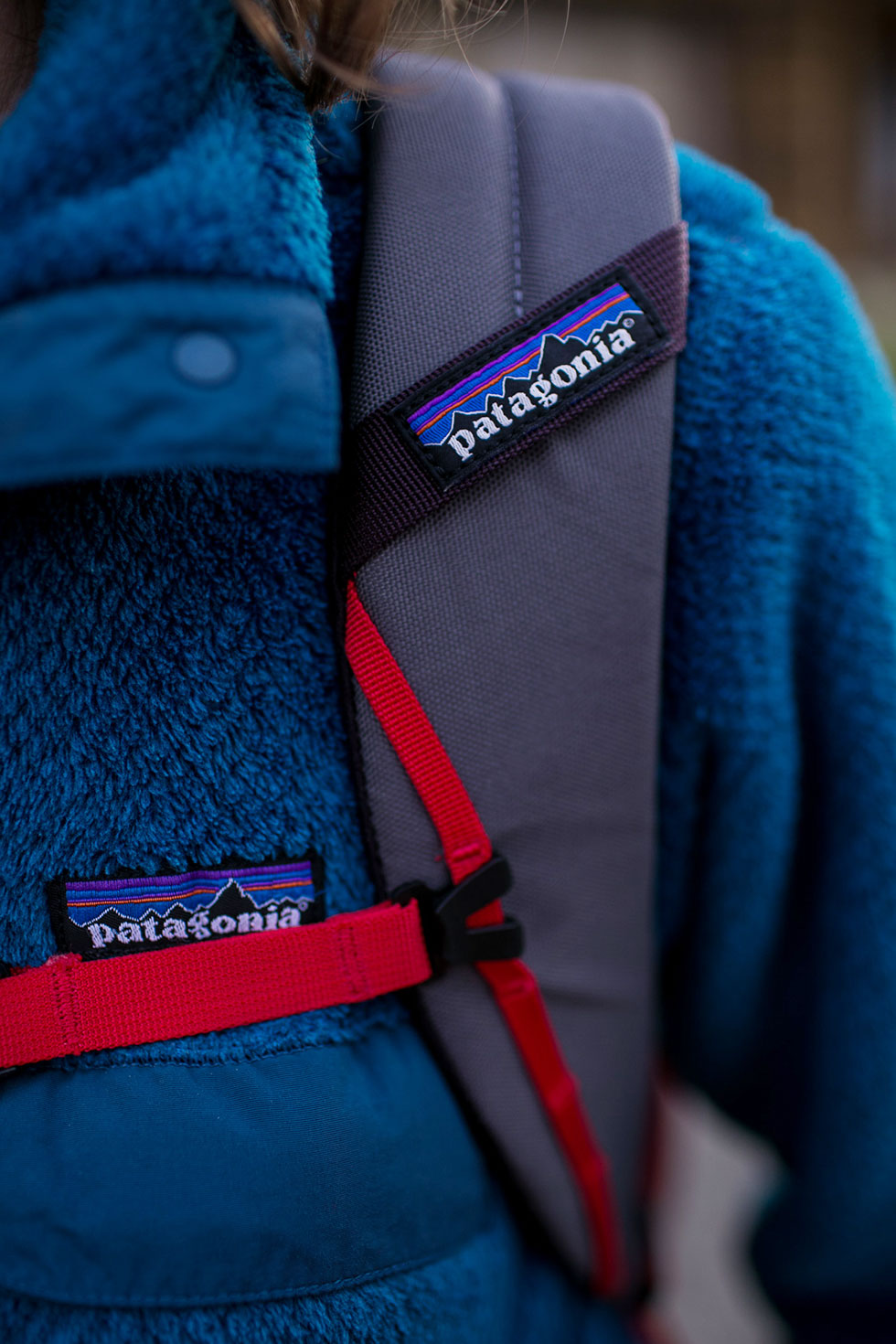 Materials and Construction
The Patagonia Black Hole Pack 25L is made from a light and strong polyester ripstop with highly weatherproof TPU laminate (13-oz 450-denier, 100% polyester ripstop (50% solution-dyed) with a TPU-film laminate and a DWR (durable water repellent) finish to be specific). It has an easy access main compartment with a padded sleeve that holds most 15″ laptops, a padded sleeve for a tablet or external harddrive and a zippered top pocket for small items. There are a few little sleeves and pockets inside the front of the pack good for pens, cell phone, or spare change. The pack has a heavy-duty molded back panel for comfort and durability, a padded shoulder harness, a sternum strap and a simple webbing belt. The two stretch-woven pockets accommodate a wide range of water-bottle shapes and sizes and the pack has a top-mounted, reinforced haul handle. The pack weighs in at 680 g (24 oz) and comes in a selection of rich colors.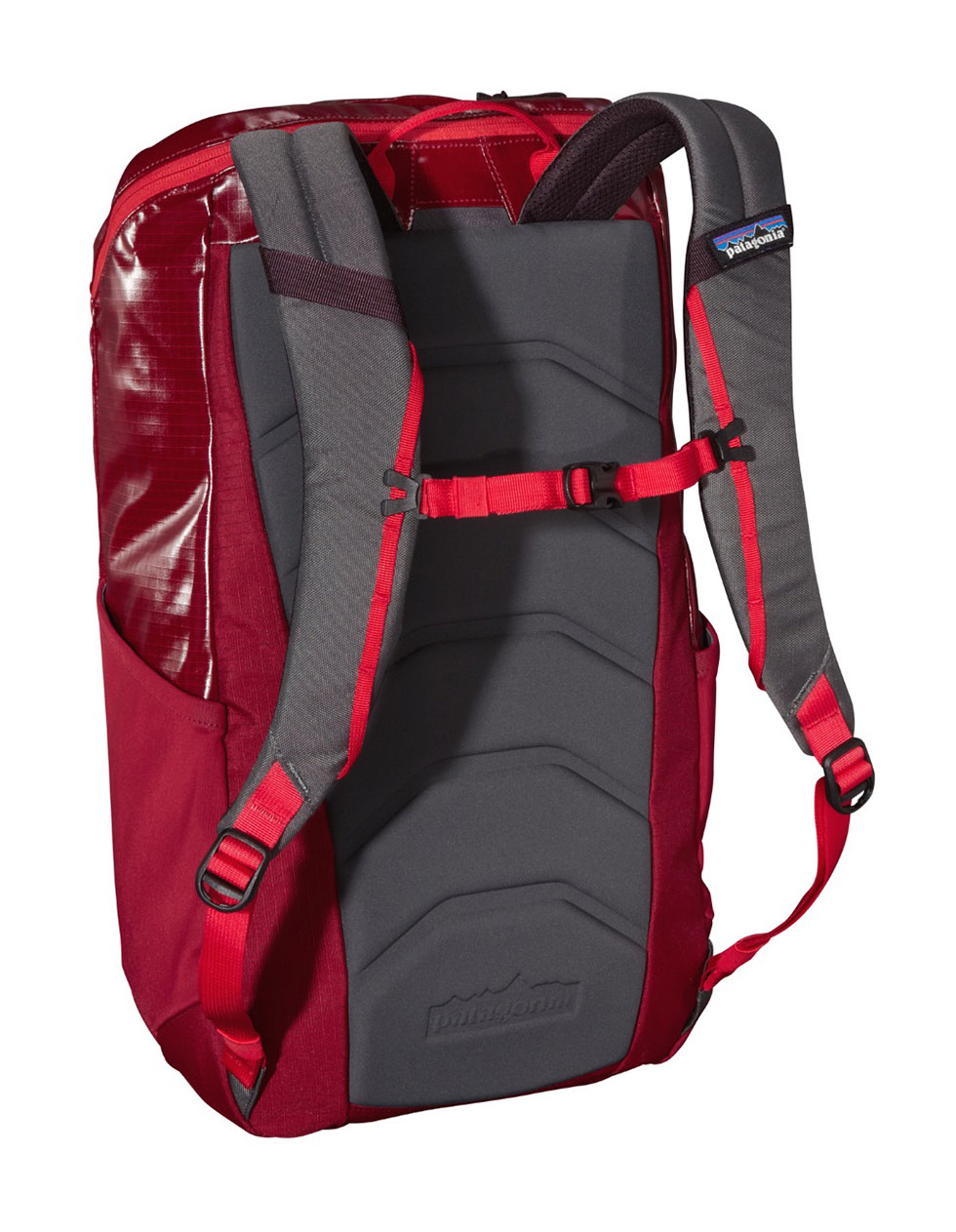 Performance
After we tested the Patagonia Black Hole Duffel this spring (CLICK HERE) I was hooked on the durability and water resistance the packs in the Black Hole line provided.  Next up on our testing cue was the Black Hole 25 L backpack.  At any given time this pack might be carrying, a laptop, camera bag, extra layers, lunch, books, farmer's market goodies or overnight necessities.  For a 25L pack this backpack provides endless possibilities as it's simplicity in having one main pocket and only a few extra nooks and crannies can hold much more gear than a 25L pack that is divided into many different compartments.  On a good day I'm carrying my 15″ laptop, DSLR in a padded case, snacks, a raincoat stuffed in the bottom and all of those little odds and ends in the top zippered compartment.  The two waterbottle holders are great for holding up to a 32oz waterbottle or mini tripod/small umbrella/flipflops.  The back and straps are padded enough for a comfortable carry, whether to work and around town or on a hike.  It's not crazy breathable so I wouldn't recommend it for an all day sweaty hiking adventure, but if you are looking for your next daily backpack, this one's a keeper.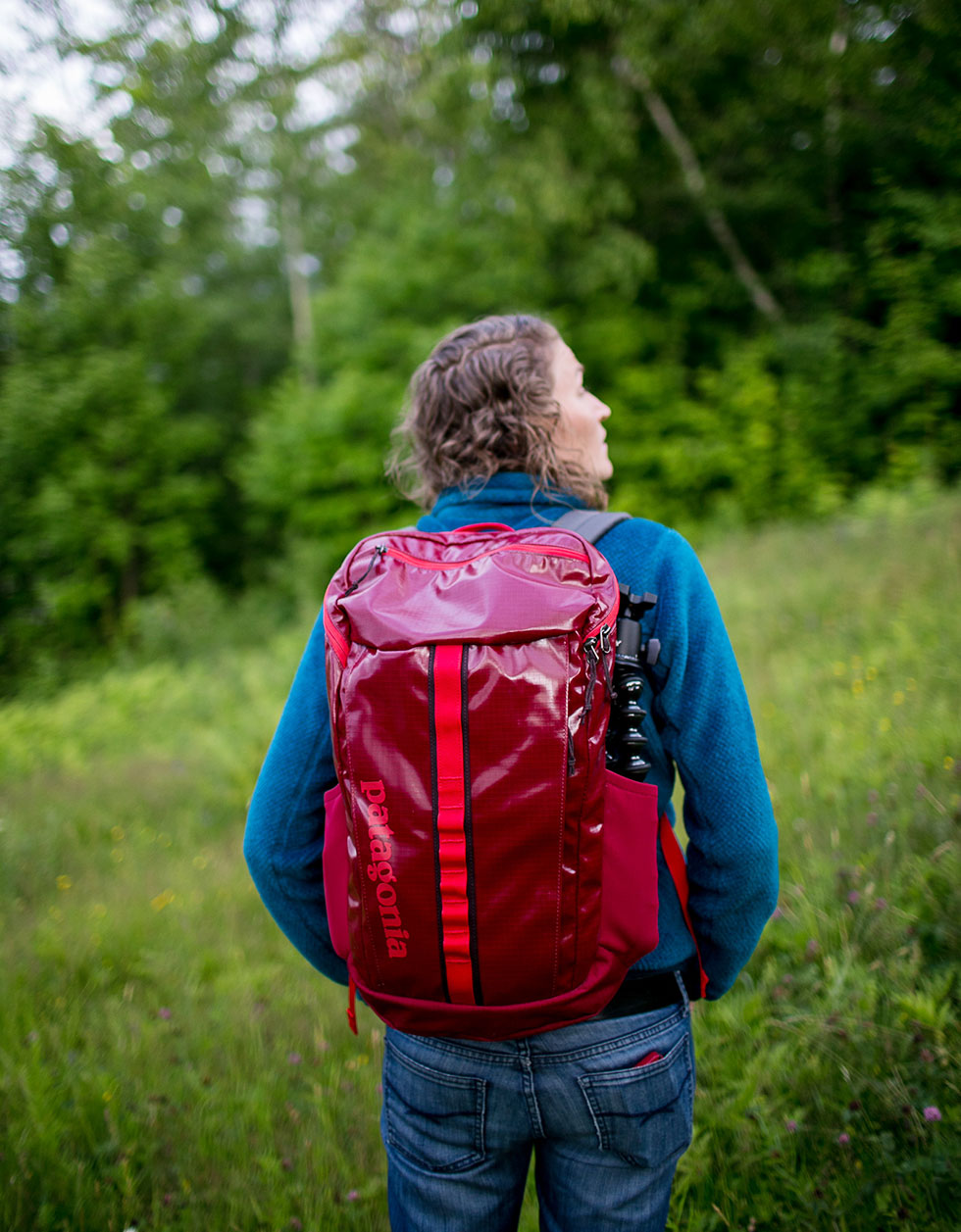 My favorite feature of this pack (and of all of the Black Hole line) is the durability and water resistance of the outer coating. The weather here in New England can be so unpredictable that I hate having to worry about my equipment while I'm running from a shoot to a meeting to a coffee shop. Disclaimer: This pack is not waterproof, but does an excellent job repelling water for a time. As long as you don't throw it in a puddle or leave it out in the rain you're gear should be safe! The other thing that is great about this pack is how well it holds heavy gear. Even when it's stuffed to the gills with technical equipment, the pack still carries the same way it would if it only had a few light things in it – a huge plus given how heavy camera equipment or books can be.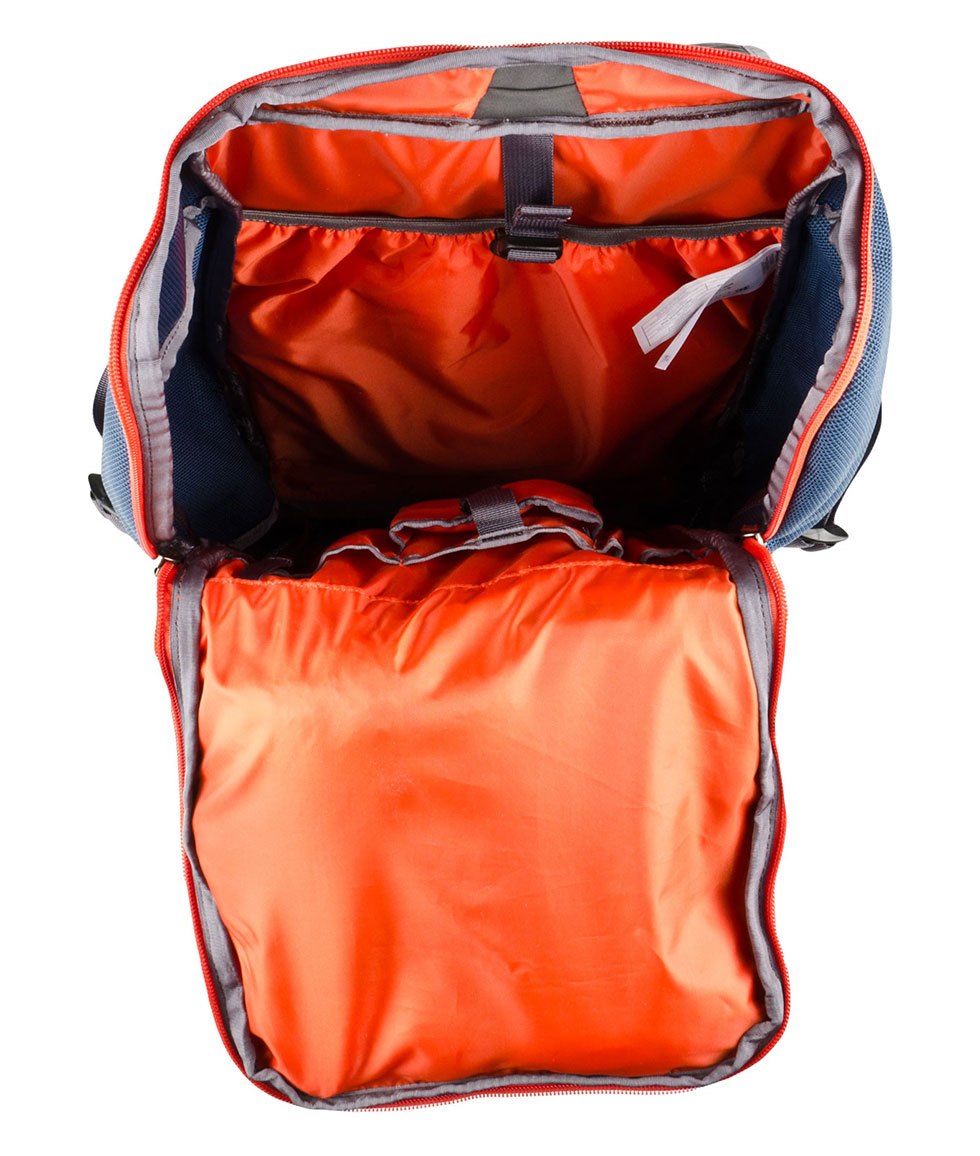 Overall
If you need one pack to take you from school to work to play, at $129 (we found it for under $100 at some of the links below!) the Patagonia Black Hole 25L Backpack is a one stop shop that will carry of plenty of gear, be with you for the long haul and keep your gear protected and dry.
View More:
backpack
,
bags
,
camp & hike
,
commute
,
cycle
,
Patagonia
,
travel