Specs and takeaways:
Name: Roll Recovery R1 Percussion Massager
Weight: 20 oz (570g)
Size: 5.6" x 3.6" x 1.85" (14.2cm x 9.1cm x 4.7cm)
Power: 40W Rating (50W Max Power)
Battery: Li-ion 2200mAh 10.5V-12.6V
Stroke amplitude: 7mm
Speeds: Four speeds (1800rpm, 2200rpm, 2600rpm, 3200rpm)
Where to Buy
You can find the Roll Recovery R1 at a variety of outdoor retailers
The increasingly competitive percussion device market is a tricky prospect but here we're going to look at the Roll Recovery R1. A definite industry innovator, Roll Recovery's flagship R8 was a disruptor and with the compact size, attractive design and accessible price tag, the R1 appeals to amateur and elite athletes alike.
Materials and Construction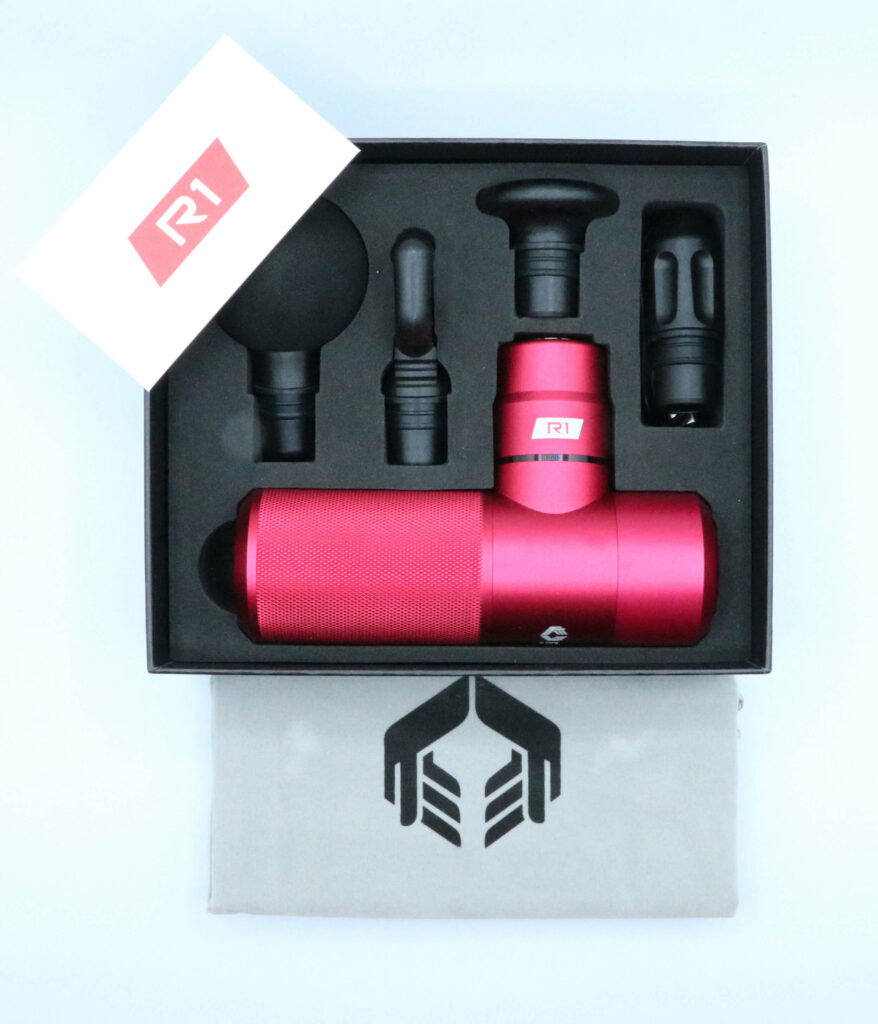 Roll Recovery's R1 has a cylindrical, aircraft-grade anodized aluminum body which measure 5.6 inches tall and 3.6 inches across (which includes the massage "arm" itself). The lower half of the main body is grooved with crosshatching for increased grip. At the bottom of the main cylinder (on the base of the R1) we find the power button, status lights and USB-C charging port.
The massage arm – where the actual percussive impulses take place – has at its end a simple receiver where (your choice of) one of four different massage heads attachments can go. The interchangeable massage head attachments include:
Soft ball head
Spike head
Flat head
Dual head (basically a double-sided spike head)
Switching out the heads is simply a matter of pulling one off and pushing the next on into the press-fit receiver.
The first thing I'll say about Roll Recovery's R1 is that the quality of materials simply feels top notch in the hand. This is super important because the same pulses that help percussive massage devices work on stiff muscles can also compromise the build quality and basically shake apart other massage tools sporting cheap, plastic bodies.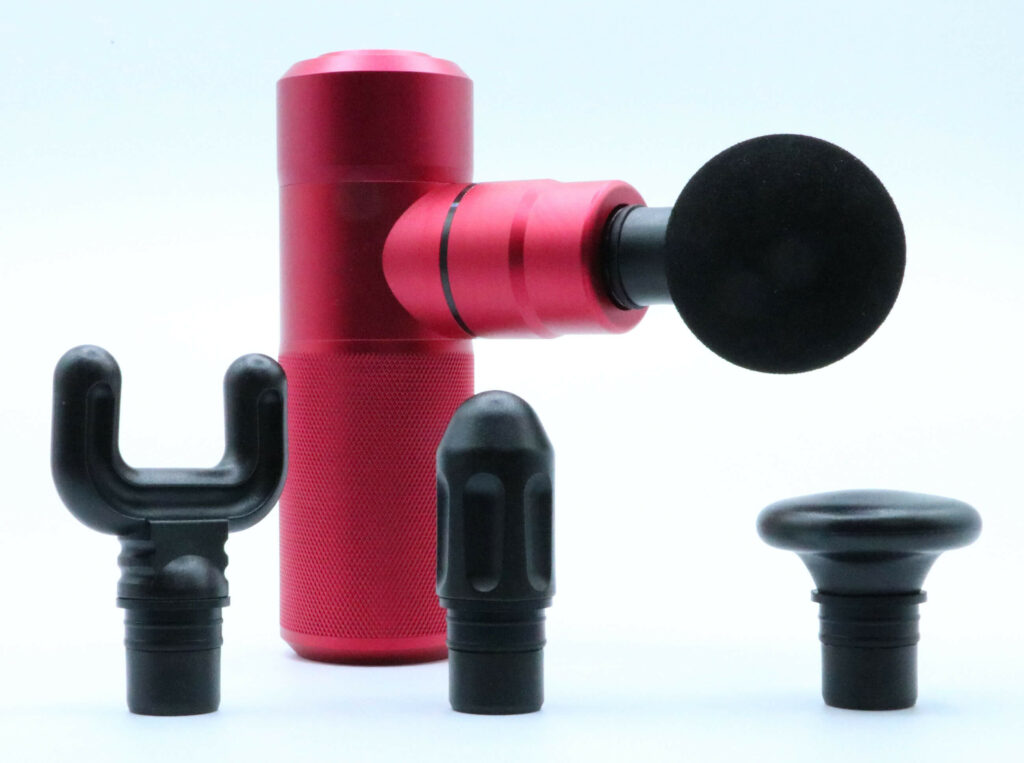 As for the size and overall compact characteristics of the Roll R1, this isn't simply an attractive package but one that is designed to be a minimal travel companion. There are really no bits and bobs hanging off this effective massage tool and those interchangeable massage head attachments are small enough to easily be stowed in a toiletry bag should you need more than just, say, the soft head. The crosshatching on the grip came in very handy for me because I like to really torque onto affected areas of my body to address the most stubborn muscle pain. Finally, the integrated USB-C is a great call as more and more standards surrounding that protocol are becoming the norm.
The one possible drawback I can see for some (though this isn't something that hindered me, personally) is that the massage arm is in a fixed position. With some tissue massage therapy tools like some from Theragun (Therabody) the arm can be moved to get the just-right-angle to get to some muscle groups. If that's a standout need for you, the Roll R1 just doesn't have it. Again, I'll say that this definitely did not take away from my use of the R1 massage tool though to be fair, my wife was a huge help at getting to some hard-to-reach spots on my back. This is one of the most compact, yet complete massage guns I've tried.
Performance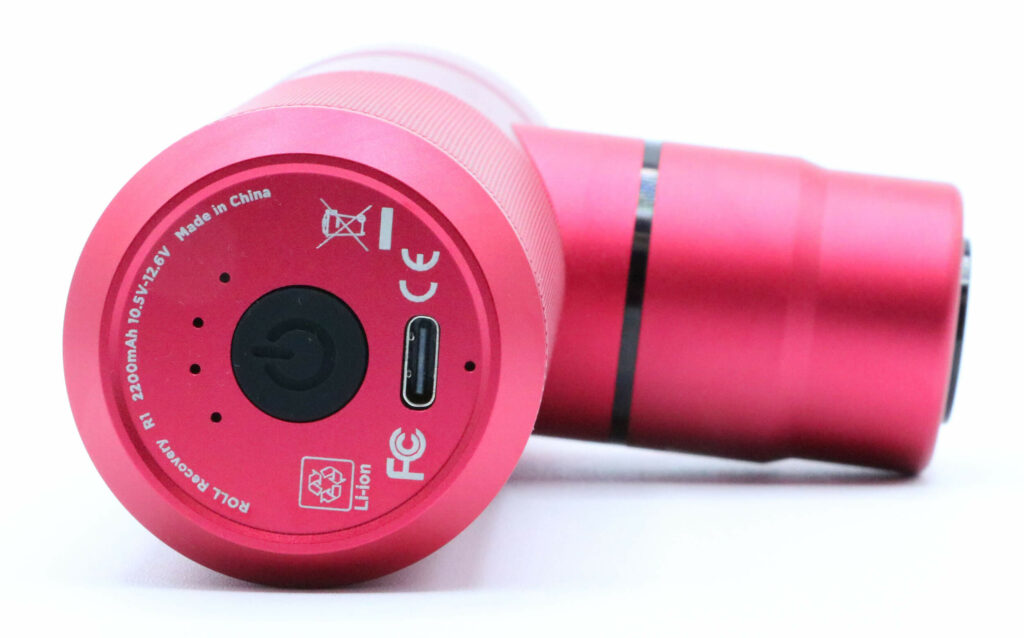 Before we get too into my personal review of the Roll Recovery R1's performance, let's talk about a bit of data.
Battery: Li-ion 2200mAh 10.5V-12.6V
Power: 40W rating (50W max power)
Amplitude: Each stroke of the massage tool is 7mm
RPM: 4-levels of 1800rpm, 2200rpm, 2600rpm, 3200rpm
First let's talk battery life and charging. Honestly I have yet to run the Roll R1's lithium ion battery all the way to dead through its more than 7 hours of battery life. This is mainly because I plug it in each night after using it. From what I've seen from other users and from Roll themselves, the battery life is affected by the intensity level you're using. For me, since I tend to use the lowest two levels probably 75% of the time, I've always had plenty in the tank. If there's a shorter-than-usual period in between usage, never fear, the Roll Recovery R1 charges (from as low as I've had it) to completely charged in just over 2 hours
In addition to having solid LI battery technology rolled up in the RI, there is also a 15-minute auto shutoff timer to preserve battery. With my two-year-old son having figured out how to power up the R1 and NEVER remembering to turn it off, this feature comes in very handy. There's no battery power level when it's not plugged in but again, the R1 charges quickly so it shouldn't be a big deal.
Next, amplitude; there are competing devices in the deep tissue massage therapy (percussive) end with amplitudes of more than double that of the Roll R1. With that said, not all exceptional recovery tools HAVE to go to the the edges of what's needed. For me, I've found the 7mm stroke length (amplitude) of the R1 plenty of depth for most muscle groups. The possible exceptions to this would be my thighs (quads and hammies) and glutes. In those cases I was able to push into the relaxed muscle enough to get deep blood flow going to the right spots. I can see where those who want a deep tissue massage from a percussive device like this without having to push may want more amplitude but for such compact, functional tools, I wasn't bothered.
Now let's look at the RPMs of the Roll Recovery R1. I've got to say that I don't use the full-on 3200rpm top speed of the R1 very often. Maybe I'm just a wimp because the actual power generated by this compact massage gun feels like a jackhammer on my sore muscles.With that in mind, if you're looking for a high RPM percussive therapy badass, the R1 brings it. I also have to think that some of the lacking on the 7mm amplitude is compensated for by the high number of RPMs while still keeping the Roll R1 as one of the more compact massage guns on the market.
Overall
With a smaller package like the R1 sports, you'd expect poor battery life, but you'd be wrong. With a smaller package, you'd also expect a less helpful tool when addressing tissue repair and again, you'd be wrong. You might also expect a noisy motor but in this case, the R1 sports an extremely quiet motor (which is why I can't tell when my sone turns on the R1 and then leaves it running on the couch – again, good thing for the 15 minute auto shutoff).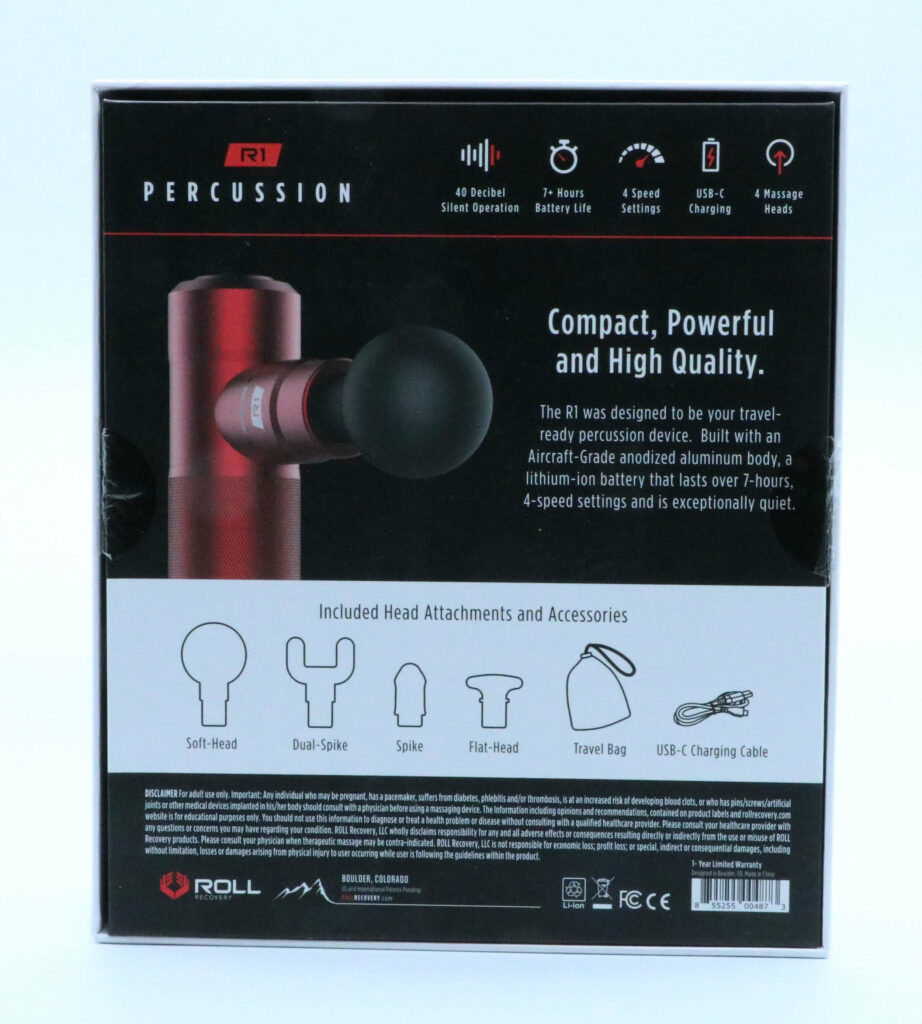 Now here's the kicker: The R1 from Roll Recovery will only set you back $129. That's right. For a brand with athletes at the forefront, you'll get all the mechanical engineering know-how in a package chock-full of quality materials (with some rather neat color options like the ruby red color I've got) for less than $130. That's fantastic.
Since their inception, Roll Recovery has focused on thinking outside the box to be a leader in recovery and with the R1 percussive massager the've again brought the thunder. This Boulder-based company is right down the road from us and we're happy to see not only the success they're finding but that they're doing it the right way with the needs (and wallets) of athletes in mind.
Massage Gun
,
Massager
,
Percussion massager
,
recovery
,
Roll recovery
,
Roll recovery r1