When I say Salomon running shoes you say…probably trail, right? In the past few years, Salomon has actually been dipping their toes into the road running market and with typical Salomon panache, they've built shoes that are not just for fun, but for some serious kicking of ass. Today they shoe I'm going to talk about is the big daddy of Salomon's road running fleet – the Salomon S/Lab Sonic 2.
Outsole
As we begin with the outsole of the S/Lab Sonic 2 we see an outsole which is almost entirely covered in Salomon's premium, wet traction Contagrip. I've spoken about how amazing this rubber is in the past but since it's been a while, let me assure you that this is still one of my favorite compounds on the market today. In the case of the S/Lab Sonic 2 the Contagrip is arranged in two primary sections (check the image below); The heel of the shoe has a segmented crescent of Contagrip which allows for flex in the heel of the shoe. The front half of the shoe, in front of the arch, is a series of segmented rows of rubber which appear to be a nod to the skeletal structure of the foot and, once again, allows for generous flexibility in the front half of the shoe.
Rounding out the outsole is the visible, silver section of Salomon's 3D Profeel Film. Where some other shoemakers us a fairly rigid shank or other torsional feature in this area, 3D Profeel Film is a bit of lightweight TPU film which, while it may not have quite as much aggressive snap as other technologies, definitely makes for a controlled and smooth transition from the rear to forefoot.
First, allow me a second to comment on the Contagrip rubber which abounds on the S/Lab Sonic 2. The traction of this material is wonderfully sticky and I've found that it is most obvious when compared side-by-side with other rubber on a wet surface.
A couple of years back Salomon had a demo at the Outdoor Retailer tradeshow which had an angled slab of marble (if memory serves) which had a sheet of water flowing over it. The object was for someone to stand on the marble in one shoe containing the previous version of Contagrip and one shoe with the new, premium wet traction Contagrip and see the difference. To say it was shocking is an understatement and I'm thrilled to see this version of Salomon's rubber compound carrying on so successfully. Its durability is also very impressive and with about 50 miles on it, I can see no significant wear apart from the blazing red picking up some darker colors from the pavement.
As for performance, the grip of the S/Lab Sonic 2 had me dying to see how this could handle some light trail and guess what… they crushed it. Seriously though, while this isn't a particularly "luggy" shoe, I definitely think that if you're mostly running on groomed trails that aren't super rocky or rooty, this could be a great option. I've got a lot more to say about the performance of this shoe but you'll have to read on to see.
Midsole
The midsole of the Salomon S/Lab Sonic 2 is almost certainly my favorite part of this shoe. Made primarily from a single-density EVA foam called EnergyCell+ the midsole actually uses a system called VIBE which also incorporates another material known as OPAL. Opal is made from TPP (Thermoplastic Polypropylene) foam and is similar to, though softer than, TPU foam (things like BOOST or Everun) and with VIBE, 6mm deep units (or pods) of OPAL are inlaid in the heel of the EnergyCell+ midsole material. Each of the foams are certainly meant to work independently but they're also meant to interact with one another to attenuate (reduce) impact shock. For a bit more on the technology, check out this video:
https://youtu.be/2h4DcKrfMzc
Now I guess you'd like to know what I thought of the midsole of the S/LAb Sonic 2, right? I will get into this more in the RIDE section of this review below but I can tell you that the shock absorption of the midsole on this shoe if impressive without deadening ground feel. Additionally, I felt that the road pop in the Sonic 2 is one that makes this a shoe which can go for shorter, more aggressive miles but also one which can throw down a very good marathon. It's cushioned without being squishy and responsive without having too harsh a ground feel. For my geometry nerds out there, the stack in the heel of this shoe is 24mm and 16mm in the forefoot for a net drop of 8mm.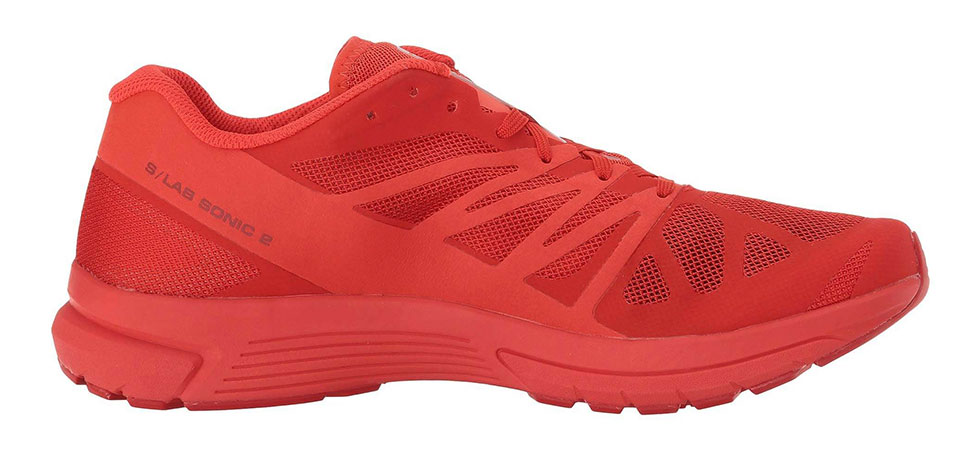 Upper
If you've been in Salomon S/Lab running shoes before then the construction of the upper on the Sonic 2 will come as no big surprise. Made from a super-breathable, single-layer mesh, the Sonic 2 may not be a shoe that you would want to wear on cold-weather runs – unless, of course, your feet can handle things like that. Personally, I ran in them in temperatures of about 15°f with some thicker socks and I was fine.
The support structure is Salomon's Sensifit system and is a series of bonded overlays which are very lightweight and flexible yet the arrangement and number of them give plenty of support to the foot and create a secure connection of the upper down into the midsole, Apart from going from the misdole to the laces, the overlays also extend in a light toe cap as well as back into an externally reinforced strap around the heel counter. I love the lightweight feel of this upper as it enhances the overall performance of the shoe and simply feels less constrictive on longer runs.
Internally, Salomon's Endofit system appears again with its lightweight and stretchy, bootie construction. This, again, enhances the lightweight upper construction and brings along with it a very secure feel without the foot feeling cutoff. The lacing in the S/Lab Sonic 2 is of the traditional variety (rather than speedlaces) in the form of very lightweight laces with a tiny bit of stretch thrown in to keep the foot comfortable with movement without being too loose.
From a durability perspective, I've noticed no wear on the upper of this shoe at all. I would add that this does include a bit of light trail thrown in for good measure and still, no picks or wear spots.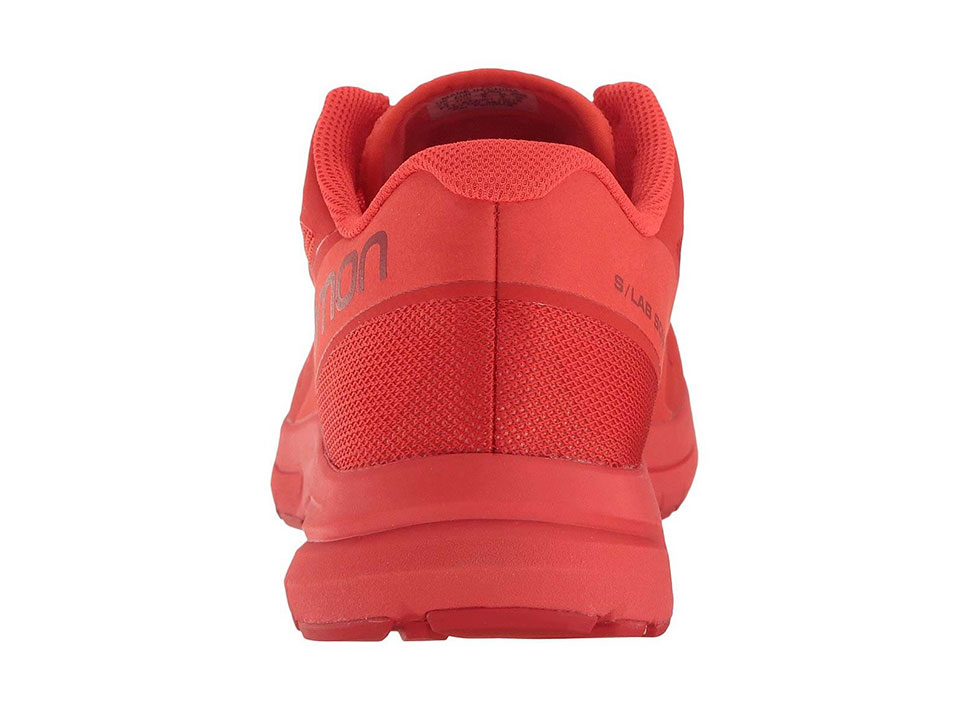 Fit
The fit of the Salomon S/Lab Sonic 2 is interesting if you're used to Salomon. A brand that is well known for a more Euro / racer-y fit (see: narrow), with this shoe Salomon has gone with a much more relaxed fit. Now, while I didn't have a problem with the narrower fitting shoes with my completely average foot, the fit of this is fantastic and on longer runs I felt fantastic. Conversely, on runs which ask for more agility or torque, found my foot completely comfortable without getting slide-y on turns. Now, I'm not saying it's "wide", I'm just saying it's "wide-er". If you've steered clear of Salomon in the past because of width, I definitely think that this is well worth checking out.
As for sizing, the S/Lab Sonic 2 fit my very average foot perfectly in my normal size 11's.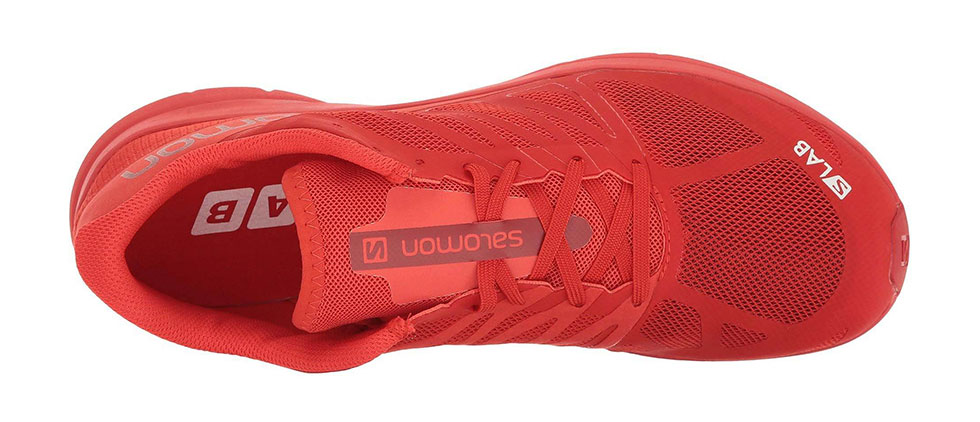 Ride
When I was outlining the RIDE section of this review I was thinking about all the things I'd like to say. However, now that I get into it I find myself wanting to go with a bit of a less-is-more approach. The ride of the S/Lab Sonic 2 is one that I thought was going to be aggressive with potentially too much ground feel for some people. However, Salomon's VIBE system is something does a fantastic job of providing a peppy ride without sacrificing on cushion. At the same time, it's not soft or overly cushioned to the point of sacrificing performance or ground feel. The Sonic 2 does a great job of riding in the space where you can wear it for just about any distance of run. To be honest, while I have some time to make my decision, this is a shoe which is in serious contention for my shoe for Ironman Boulder in June of 2018. TIme will tell!
Overall
Some people are critical of reviewers who don't really have anything negative to say about a given piece of gear (I do have a bit of a thing with this shoe so hold your horses) but if I'm being honest, I don't really have any problems with the construction, fit, quality or performance of the Salomon S/Lab Sonic 2. This is a great shoe and I think you'd be good to go with distance from 5K to marathons and beyond. Now that that's been said, the price of this shoe, as with all S/Lab shoes (and other gear) is quite steep at $180. If you're shocked by that then you likely haven't seen prices on other S/Lab shoes before. It's an expensive shoe but there are others in the Salomon road running line which bring a lot of the same or similar technologies to the table with a more approachable price tag.
Again, the Salomon S/Lab Sonic 2 is a fantastic shoe and I think that it does a wonderful job of balancing performance and comfort from both sides. While it is expensive, it could be the shoe that you find as good as I do and that may just be worth it.