The classic camera bag conundrum is finding one that safely carries your gear and doesn't look the part. No one carrying several thousand dollars of gear on their back through an urban area wants to be screaming "Hey! Check out my camera bag!" Here at Gearist, multi-functionality is important to us. As consumers investing in a product you are only going to use for specific activities is often tough on a tight budget. So when well-loved bag company Timbuk2 designed a camera insert for their popular messenger bags and sent one over to us- we knew this was something we had to test out.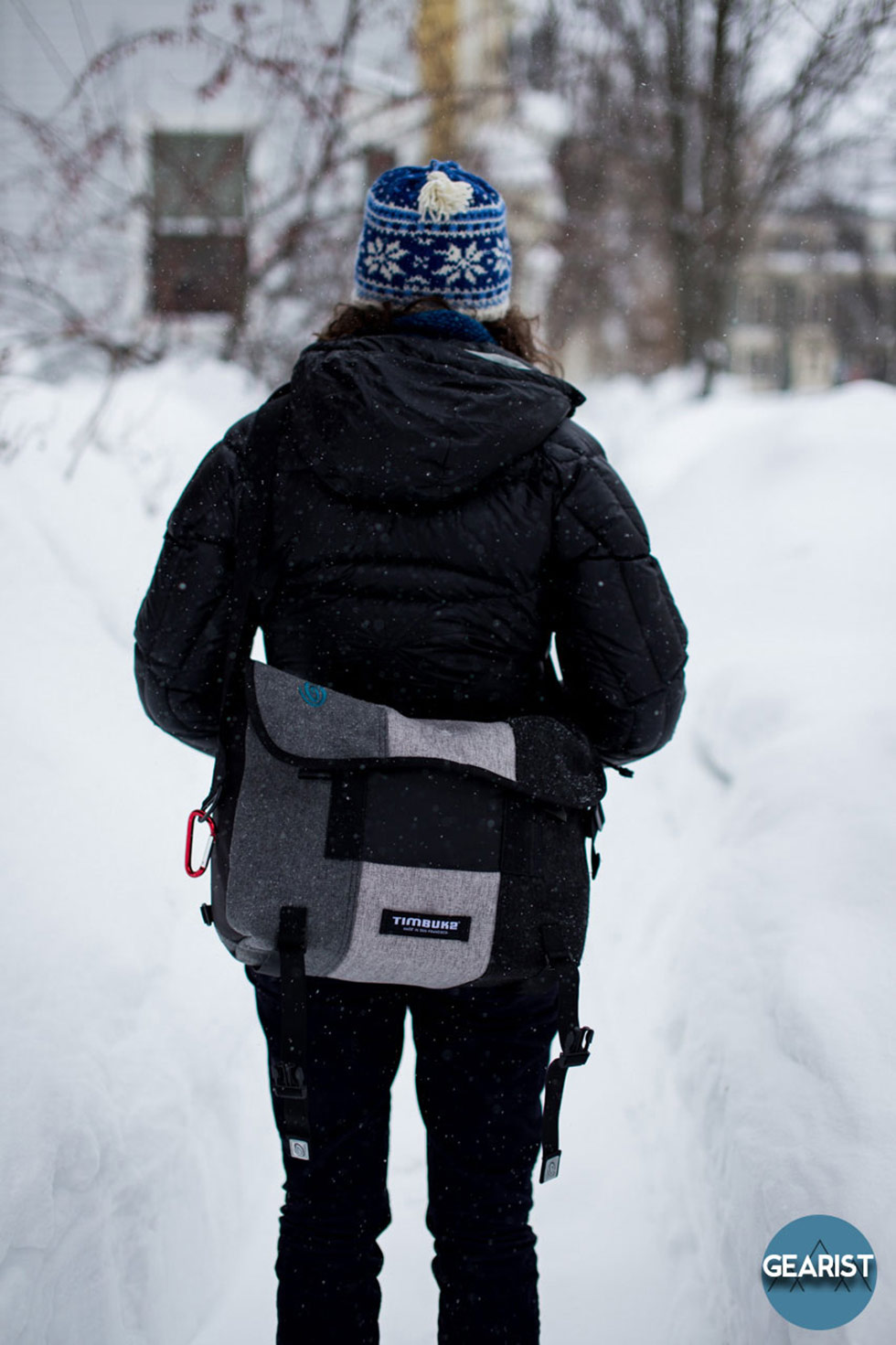 Construction
The classic Timbuk2 Laptop Messenger Bag was designed in San Francisco by a bike messenger so from the outset you know this is a bag made for people on the move. Its shoulder strap features a curved air-mesh pad with rubberized grippy stripes to keep the bag in place securely over one's shoulder. The bag also has a low profile handle on the top that makes it easy to grab and go. Inside, the bag's waterproof TPU liner and corner wings keep water out and distributed internal pockets and organization balances the weight of your carry and makes the bag comfortable to carry for long periods of time.
Add the Snoop Camera Insert and presto! The good-looking, tough-as-nails Messenger Bag has turned into an incognito camera bag that could fit in at any venue- from concert hall to wedding reception. The camera insert comes in three sizes designed to fit each of the Messenger Bag sizes. It has adjustable padded DSLR camera and
lens compartments for multiple configurations, a scratch resistant Tricot liner and an easy grab handle. The insert is easy to remove even when full of equipment and leave behind- or use in a different like-size tote bag or duffel. I found this extraordinarily useful as there are often times when I am traveling that I don't want to bring my camera everywhere I go and would rather swap it for a light jacket, book and lunch for a picnic.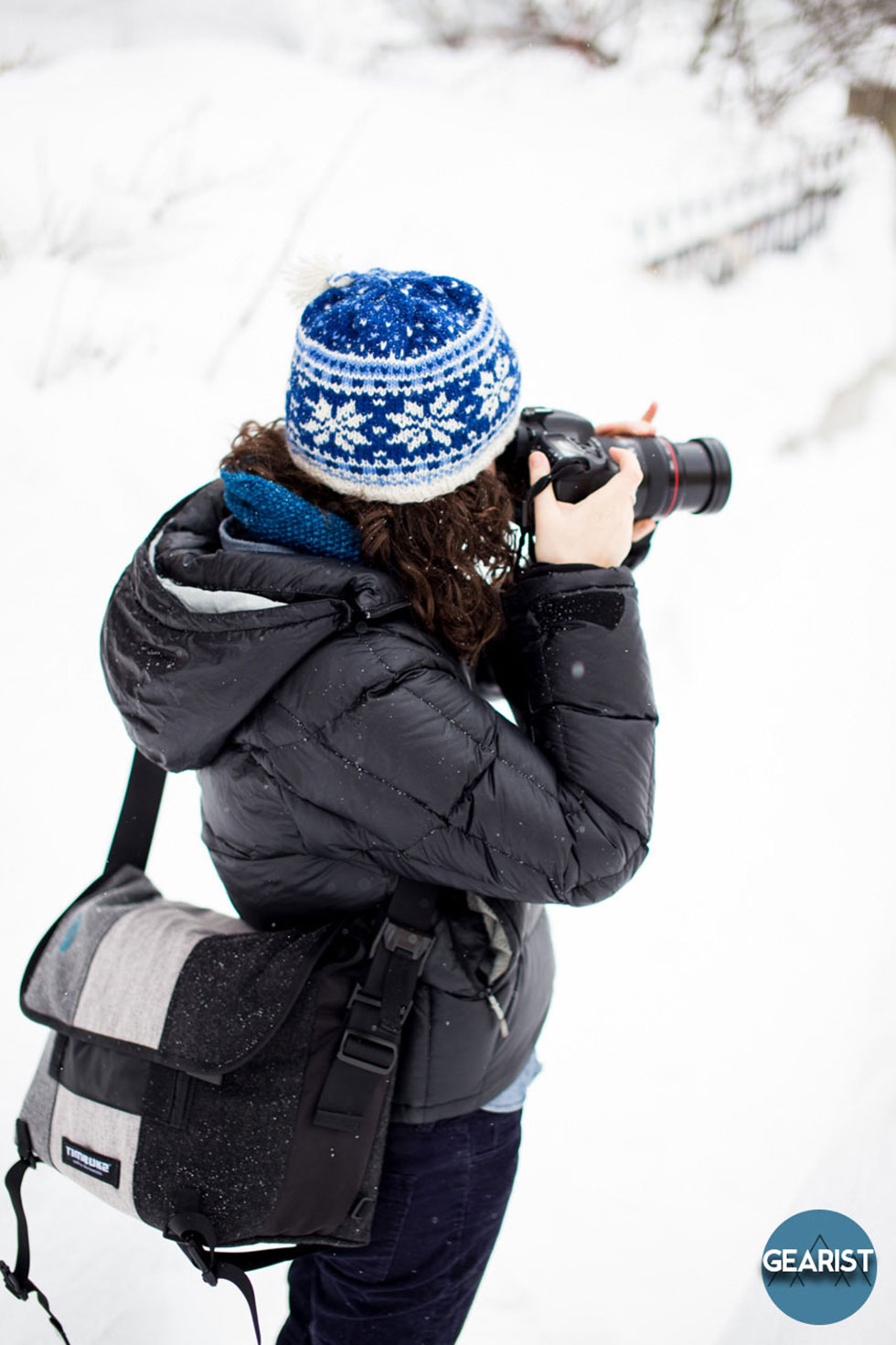 Details
I had so much fun picking out which colors I wanted the exterior and interior of my size Medium bag to be – and let me tell you – there are tons of options! I do recommend the nylon prints for anyone who is going to be getting some hard use out of their bag rather than the wool ones that I chose that look super chic but must be worn more gently.
The bag showed up in a plastic shipping sack with a map of San Fransisco on it- which I thought was the coolest, as I always love when companies put effort into the little things like packaging details. It took me two minutes to unwrap and put together the bag and camera insert, rearrange the hook-and-loop padded inserts and I was ready to go!
The bag comfortably fit my 15" laptop, DSLR with attached 24-70mm lens and I was able to pack an extra lens, thermos of tea, mittens and a hat when I headed out for a chilly shoot.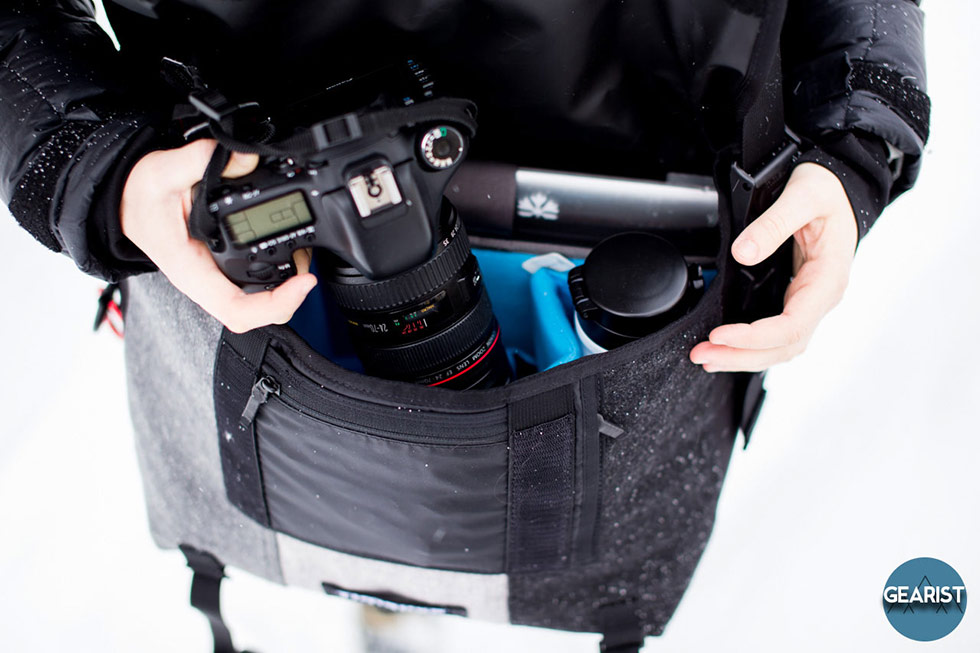 When packed to the gills with all of the above items- the flap closure barely covered the opening of the bag, but if you carry it as just a camera bag(no laptop) or just a laptop bag(no camera insert) the bag closes just fine. I loved how many different little pockets the bag had as well- small compartments perfect for memory cards, batteries, wallet, cell phone, keys etc…
Overall
I would recommend this bag to any photographer out there who needs a versatile bag that looks professional and fun at the same time who doesn't need to carry a lot of equipment on them at all times.  I would also recommend the Messenger Bag to just about anyone on the go who needs a laptop bag for work, school or play.  Regardless of the price (Varied pricing based on size) it makes a great investment that will last the test of time. 
View More:
Timbuk2