As I've said before, snow helmets – whether on skis or a snowboard – aren't any longer these oddball things you see every once in a while. The very large majority of snow-seekers can be found wearing some sort of head protection. At the same time that helmet wearing has been on the rise, we also know that people don't want to be away from their smartphones for long and as a result more and more helmet brands are looking to add audio capabilities to their helmets. Such is the case with Bollé and when they sent over the Synergy helmet with bluetooth audio, we were excited to get it on the snow.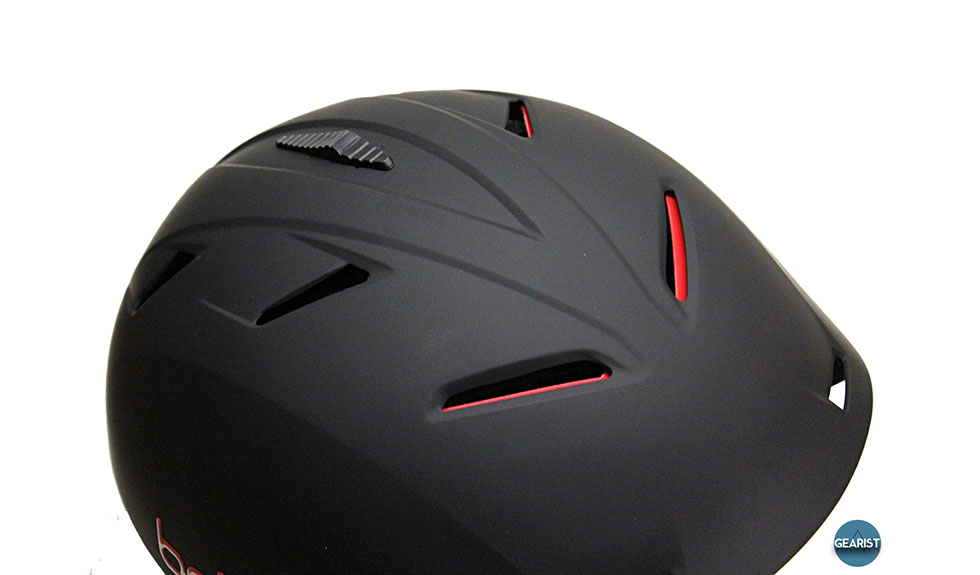 Materials and Construction
The Bollé Synergy helmet is made with hybrid construction which, in this case means that the outer shell and the inner construction are separate entities brought together in manufacturing. The top half of the helmet is made from Acrylonitrile Butadiene Styrene (ABS), a thermoplastic polymer and it serves as the front line of defense from impact as well as any penetration. The lower section of the Synergy helmet, and making up the bulk of the helmet's structure, is constructed using in-mold construction which accounts for a good amount of weight savings and is also its biggest style point.
Venting on the Synergy helmet has 2 primary parts, the first of which is a set of two pass-through vents in the on the brow. These operate independent of the rest of the vents in the helmet and serve to allow warm air escaping through the top of your goggles some place to go rather than it getting trapped and thus resulting in fogged up lenses. On top of the helmet there is a set of six vents – three on each side of the sagittal plane – which are easily opened and closed by a slid on the crown of the helmet, even with gloved or mittened hands. These vents are obviously meant to pull in cooler air (when open) it's not enough to just open a hole in the helmet, that air has to have some way to move around the head. Looking at the rear of the helmet, where the top and bottom sections meet, we can see a set of four vents whose sole purpose is to give the air coming in from the front vents somewhere to go.
The interior of the Synergy helmet is lined with a completely removable liner and ear pads which means that when your sweat begins to make things a little funky, it's easy to pull the interior apart and throw it in the wash. The fabric on the ear pads, brow and back of the main liner is made from a very soft fleece which not only makes it feel good against your skin but it keeps away any chafing that could occur. The ear pads are also audio ready (as the description of the helmet would lead you to assume!) and this particular model comes with a Bollé branded Outdoor Tech Chips bluetooth audio system. We reviewed the Outdoor Tech Chips a while back:
If you're anything like me, when you go up the mountain for a day of skiing or snowboarding you want to get every ounce of the day on the hill that you can. With those hours come a bit of need for some audio stimulation to make lifts go by quicker and give a nice boost on your way over the lip of a new run. Unfortunately, for some of us, traditional headphones or earbuds…[<click here for the full review]
Rounding out the Bollé Synergy helmet is a snap-down, rubber goggle retention strap to keep things in place and keep you from leaving your goggles somewhere up the hill when you eat it. The helmet's retention system is Bollé's Click to Fit® dial-tightened sizing setup which did a great job for me and even gave room for a thin beanie on one particular, -10° day. The chin strap is a traditional plastic buckle and its strap has a wrap of the same super soft fleece that lines the interior of the helmet for even more comfort.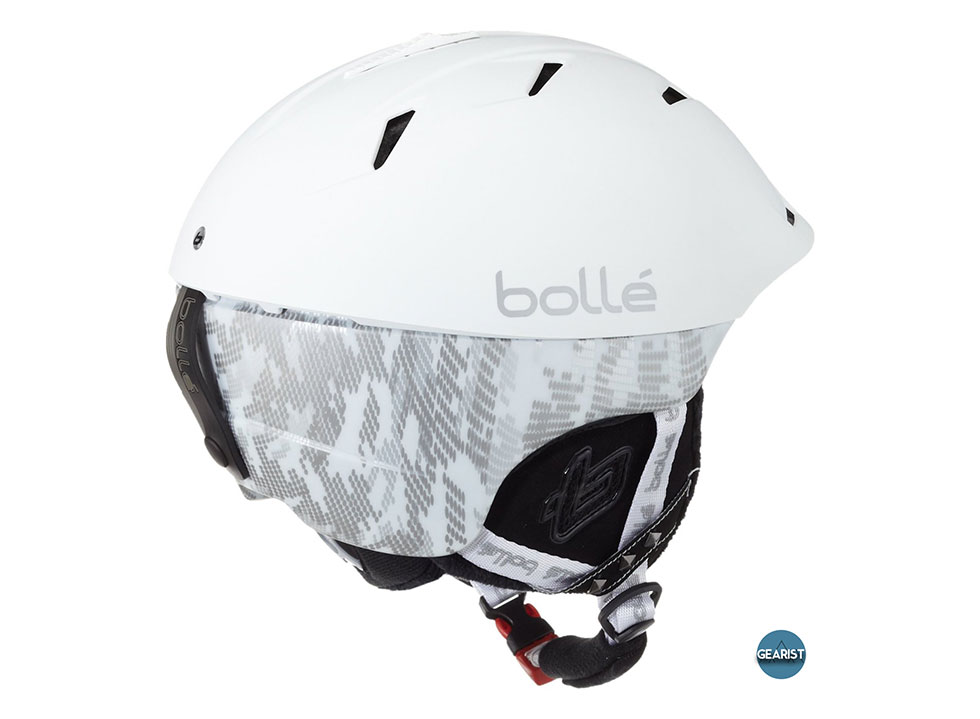 Performance
First, let's look at the fit and comfort of the Synergy helmet: Being that I have a giant head I'm always a bit afraid that a helmet won't quite make it. In this case I went for the large (duh) which has a range of 58-61 cm and it fit perfectly. From a comfort standpoint, I really enjoyed the plush interior and the retention held my head nicely without feeling like I had a cable wrapped around my head. My ears were nice and warm, though since I have free earlobes they sometimes were able to sneak out. The ability to be able to open and close vents is always something I love to see in a helmet and Bollé has executed nicely. When I'm working hard, I can keep my head ventilated and comfortable which means less sweat and, in turn, less chance of super fogged up goggles.
The audio from Outdoor Tech is really very solid and not only allows for listening to music/podcasts/etc. but it also makes it easy to answer your phone, even with a gloved hand, very easily.
As for crash protection, I'm happy to say that I didn't have the chance to test this out for myself (thank God). However, the Synergy helmet is CE and ASTM approved so we're going to assume that, should you really bust your ass, the Synergy helmet will keep your dome in one piece.
Overall
The Bollé Synergy helmet is a quality piece with everything you'd want to see for your snowy adventures. Comfort, warmth and solid protection make this at the very least worth trying on. With its audio system included the Synergy comes in at a VERY well priced $199, which considering the fact that Outdoor Tech's Chips come in at $129 by themselves, makes this a hell of a deal.
View More:
Bollé