As I sit and prepare to write this review, I'm well aware that I'll be writing about what is meant to be a hardcore hiking boot. The materials and construction in these boots are top quality with design meant to handle long treks and gnarly terrain with ease. No with that in mind, and knowing that I very seldom comment on style points, the Eriksson GTX from Vasque is all of the above on top of being one of the best looking boots I've seen. Enough about that though, let's get into the nitty gritty of this shoe that Vasque thought worthy to be the namesake of one of the most badass and important explorers the world has ever known, Leif Eriksson.
Outsole
The outsole on the Erikkson GTX is made from Vibram Summit rubber ("Summit" is also the name of the last mold on this boot). Without question, Vibram is the grandaddy of boot/shoe rubber and it's only fitting that this boot includes this very durable and rugged material on its outsole. The lugs on the outsole are 5mm deep and are arranged in such a way as to compliment the natural motion and mechanics of the wearer's gait.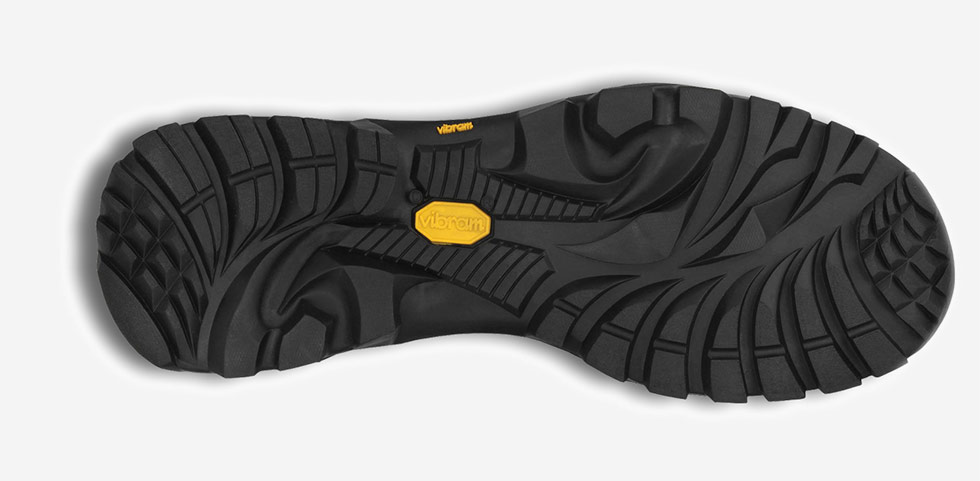 While testing this boot I've been lucky enough to be able to take it on/through just about every type of condition. It's been on dry singletrack, muddy backcountry treks, snow-covered game trails and plain old concrete. From a durability perspective, the Eriksson GTX's outsole performs like a dream. The lugs are deep enough that even if
you're putting on an enormous amount of miles they'll continue to provide ample grip until they're all but gone. The arrangement of the lugs that I mentioned above does make for a very smooth and uninterrupted gait cycle – not to mention leaving a rather pretty print in the snow. With regard to traction, these did a fantastic job on just about every surface. The one time I felt a bit less than confident was on packed snow. In this case I did feel a bit of give, mostly going uphill, that caused me to have to pay a bit more attention. However, throw on some trail spikes and this is a fantastic snow hiker (more on that below).
Midsole
The midsole of the Eriksson GTX is made from three parts. First is the EVA foam which serves as the basic cradle of the shoe. Much like in a running shoe it adds cushioning and comfort to the ride of the shoe and in this case it's no different. From a comfort perspective, this shoe felt very much at home on my foot and not at all like a stereotypical unforgiving hiking boot.
Second is the PU (polyurethane) heel cup with an attached EVA shock pad. One of the things I've seen in some boots is that the heel can get a bit "swimmy" this is to say that the foot can have the tendency to move around more than you might want. Sometimes this is about the upper being too rigid to conform to the foot and other times it's that there's no set place for the heel to sit. In the Eriksson GTX however, the PU heel cup shapes the rear of the boot very nicely and provides a very secure feeling. The underlying EVA shock pad also goes a step beyond the existing EVA of the midsole and makes descents, or pretty much any heel engagement, that much more comfortable.
The final piece of the midsole of the Eriksson GTX is its TPU (thermoplastic polyurethane) torsion control chassis. Look, when you're hiking, especially if that hiking turns more overland than on trails, keeping control of your foot is a big deal. Rolled ankles and slips are no fun when you're 10 miles away from anything with no phone signal. The torsion control chassis in this boot really stiffens up the midsole but oddly, is built in such a way as to still allow the foot to function comfortably.
Upper
As I mentioned above, the Eriksson GTX gets big style points in my book, but no let's look at the functional take on the upper of this slick looking hiker. Constructed from 2.2mm full-grain, waterproof leather, this upper is tough as nails from the outside-in. Complimenting the leather is a super beefy, rubber toe cap (rand) that starts just behind the big toe on the medial side and extends to the middle of the foot on the lateral side all while extending well over the tops of the toes. This toe cap is a fantastic addition to these boots and keeps the beautiful leather protected in the place that usually gets beat up the most.
All the hardware on the boot is made from low-friction metal and gives a lot of space for adjustment to accommodate different foot shapes. Two pairs of laces come with the Eriksson GTX, one yellow and one grey. Both are classic euro-style inspired designs and kind of (ok, more than kind of) made me want to yodel every time I put them on. The tongue is attached to the body of the upper all the way up to within a half an inch of the top, creating a really wall constructed, waterproof container.
Moving to the interior of the boot, the waterproof-ness of the exterior of the upper is further complimented by a Gore-Tex liner which is very soft and comfortable. I've had the Eriksson GTX is water, mud and snow several times and not once did I feel anything other than completely dry.
Fit
First, sizing for me was spot on so going with your normal size should generally not be a problem. The rear of the boot fits very well and I like the feel of a well-defined heel cup. Also, the upper and placement of the lacing allows for locking down nicely where you need it and expansion where you may need a bit more room. The forefoot felt nice and tall to me, allowing my toes plenty of room to wiggle when I needed to do so. I would like to see a bit more room on the lateral forefoot, right toward the toe. Not that I felt pinched but I do think a bit more toe splay, especially on longer hikes, could be enhanced by maybe 3-4 more mm of clearance in that area. It also comes in a wide width.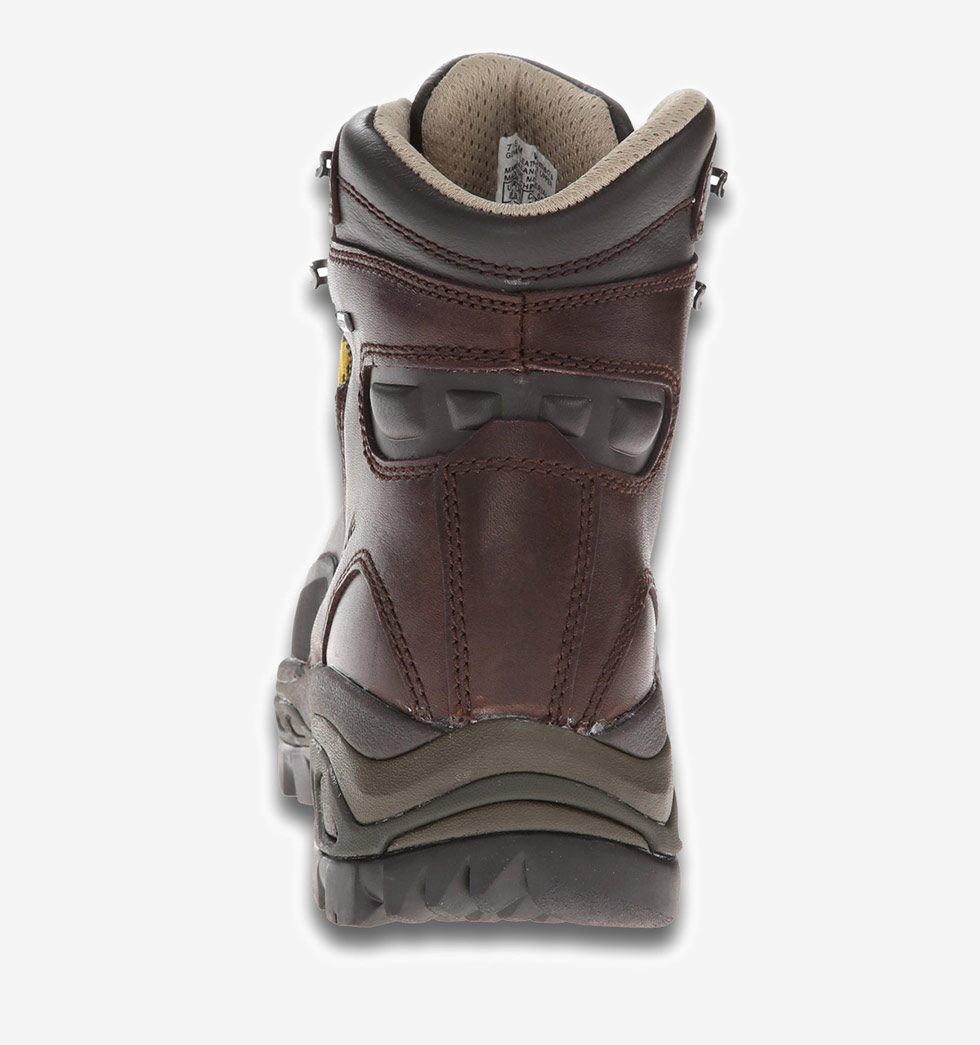 Performance
We've covered traction of the Eriksson GTX so now let's cover other performance points. First, comfort; maybe it's just the placebo effect of having such a beautiful boot on my foot but I really like how my feet feel in these. The ample cushioning and supple upper make it a next-to-custom fit right out of the box – though with breaking in this becomes even more so. On just about every surface I was very confident of the traction. As I mentioned above the only possible exception to this was on packed snow. In that case, there wasn't a bunch of slipping an sliding around, just a small lack of grip here and there. Donning snowshoes or trail spikes/crampons brought the performance level to an entirely different area and any thoughts of slipping went immediately out the window. Additionally, that toe cap I mentioned above does a fantastic job of staving off scuffs from these tools which keeps the boots nice and pretty!
The Eriksson GTX weighs in at 3 lbs 9oz (pair total, men's size 11) which is fairly standard for a boot like this. Even with its weight, the boot doesn't feel particularly heave on the foot but does provide all the toughness you'd want in something much beefier. I should also mention that, from a warmth perspective, I was comfortable in this boot slogging through deep snow in below-zero temperatures with no problem.
Overall
The Vasque Eriksson GTX is a beautiful boot whose looks belie the toughness that oozes from within. Vasque has been building shoes inspired by the Alps and this boot clearly carries on that tradition of style and excellence. The pricetag is a bit steep for some, to be sure. This boot retails at $219 [$119 on Amazon] which isn't a stretch when you consider the durability. I really enjoyed the Eriksson very much and would recommend it highly. While I would like to see a tad more toe box room, that's not a deal breaker and it's well worth trying on (especially at that price we found below!).
View More:
camp & hike
,
footwear
,
hike
,
hiking shoes
,
travel
,
Vasque